archived

FeaturedArticles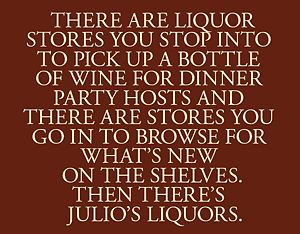 Article By: Liza Weisstuch
In fact, some might say that the Westborough shop is enough of an interactive experience with such a broad international scope that it warrants comparisons to Epcot Center for northern epicureans. There are over a thousand beers at which to marvel and towards the back you'll find the Angel Share, a wine tasting pavilion with eight wines being dispensed through a special European tap system – the wine selection s on the first Tuesday of every month. But it's whisk(e)y that gets owner Ryan Maloney fired up like the elixir in a still in the Highlands.

And it's whisk(e)y that takes the spotlight in his latest ventures at Julio's, a business that has been in his family since as it's evolved from a 1OOO square foot grocery store with wine and beer that his father and uncle opened in 1974. Then it was located at the opposite end of the Westborough plaza. Today it's a liquor store with a gourmet food selection and selling space spans 17,OOO square feet of the store's total 36,OOO. On a day at the end of the summer, I visited Julio's and as Ryan led me into the store, he unveiled one of his newest projects. I'll tell you, but try to keep mum about it, wouldya? At the entrance, a speakeasy was under construction. Yep, a speakeasy. (At that time, it was on track to open in early October.) He drew a small Napoleonic-style key from his pocket (more on that in a moment), inserted into a keyhole in the wall, and gadzooks! It turned. It disengaged a rollup gate built into the wall. He lifted it. On the other side was a room with a barrel ceiling of staves and metal rings. He pointed this way and that, explaining his plan to cover surfaces with pressed tin and cracked plastic. Sconces were going on the walls and he was going to mount all sorts of photos and memorabilia from the 192Os, including a genuine Prohibition officer's badge. An old-fashioned knocker was to adorn the exterior. The room was also awaiting its crowning jewel, which is hardly as old as some of the flapper-era paraphernalia, but nevertheless, is far more precious. In a cut-out in the wall, Ryan planned to put a bottle of the prized, rare Black Bowmore and encase it in glass.
"It's sort of a clubhouse/whisk(e)y event room. I plan on letting key holders pretty much have some access to it. It won't be open all the time," he explained. "It'll be set up like a museum with pieces in there from Prohibition. If members want to set up a meeting or tasting, then it'll be made available to them. I'll bring in some master distillers for any type of whisk(e)y, and do meets-and-greets there. It's a cool place to have a more intimate setting – plus it's always cool to have a clubhouse."
The "key holders" and "members" to which Ryan refers are members of the Loch & K(e)y Society, an online whisk(e)y club run by Julio's that launched at the beginning of March. It's a cyber-place where single malt and bourbon aficionados and would-be aficionados can ask questions, post reviews, share their tips, and generally talk shop. It's gaining exposure thanks to support from, and links on, other heavily trafficked whisk(e)y tasting sites with broad national readerships, like bourbondrinker.com.
As far as Ryan sees it, establishing the club was a logical next step to help the single malt and bourbon enthusiasts he deals with daily – a set that's become increasingly savvy, knowledgeable, willing to shell out, and, subsequently, inquisitive and curious (the true hallmarks of scholarship) – in their evolution of connoisseurship. "The idea came about because of people who were doing different tasting groups on their own. I wanted to think of a way to get them all together and let them talk amongst themselves. Now it's created some other excitement that I hadn't expected. Not only are they asking questions and talking among each other, but they're coming up with their own ideas. They'll ask 'Can we have a dinner?', or 'Can we do X?'. And then all of a sudden they're doing X – whether that's meeting up for a drink or having a meeting to discuss the virtues of a particular whisk(e)y or a column still or a pot still. I think it's neat they're coming up with their own ideas and it's spurring other ideas for me."
When it comes to bourbon, it was indeed Society members who suggested they join him on a recent trip to Kentucky when Ryan visited the Buffalo Trace distillery to hand-select seven barrels to be bottled for sale at Julio's. But generally, when it comes to generating ideas, Ryan doesn't seem to need too much help. In early 2OO6, he arranged and held an in-store festival, Whiskey A Go-Go, during which guests could sample over 1OO whiskies, all styles. Hundreds of people milled about and chatted with brand ambassadors and distillers. In February of this year, he did it again. Loch & K(e)y members who live nearby have already been treated to some rather unique opportunities. The club's first real time, face-to-face event (read: off-line) was a dinner at One Eleven Chop House in Worcester. But not just any dinner. Ryan had been accumulating the Buffalo Trace experimental batches as they were released, and he had seven on hand when Buffalo Trace's master distiller, Harlen Wheatley, came to town in June to run a tasting. The experimental batches are released in extremely limited amounts, and Harlen outright noted how stunned he was to see such an expansive, comprehensive collection. It was rare, to be sure, and it was all for the dinner guests to sample. Like they say, membership has its privileges.
All these opportunities are manifestations of one of Ryan's driving principals: the best customer is an informed customer. And what better way to ensure an educated clientele than to taste them on everything? "I try to have things you can't always buy open. If I only get one bottle, isn't it better to have a hundred people try it? The more they know, the better customers they'll be," he says.
Next on the event calendar was the single malt fanatic's dream: the chance to try the coveted Black Bowmore. Famously aged in sherry casks for 32 years, it carries a suggested retail price of $45OO. Ryan said he had two bottles of the whisky, one of which he would seal in a case in the wall in the new speakeasy room, the other of which he planned to offer to guests at a dinner. Society members will be notified first. And yes, the one on display is for sale. "It's going to look like a picture. It's behind one-way glass and when the light is turned on behind it, only then you can see it. If someone wants to buy it, we will break the glass. As soon as I seal it in the wall, the price goes way up."
Loch & K(e)y members – and everyone else – have plenty to sample from in Ryan's perpetually growing single malt selection. It'd be easy to surmise that the growth is the response to a rising demand for some of the tougher-to-find single malts, which will inevitably be sought if customers are reviewing, inquiring about and discussing them on a store-sponsored site. In general over the years, Ryan says he's seen the popularity of single malts grow, but it's a chicken and egg phenomenon in a way: which came first – availability or demand? While bourbon has always weighed heavy on the shelf ("I remember my dad doing all sorts of stuff with Beam," he says), the scotch quantity has certainly been increasing, but perhaps more significantly, it's the quality that's roared. Scotches that, only a few years ago, fetched a price that warranted them being locked up in a glass case at the end of the aisle are now out on the shelves so that even pricier marques can have room in the spotlight. And those are disappearing fast. Aberfeldy 21, for instance, fetches $164.99 and sits on the shelf. Some single malts recently featured in the case include Knappogue 1951, Lagavulin 3O, 1972 Vintage Glenrothes, and the 1979 Glenrothes Single Cask.
"I get single malts I couldn't get ten years ago," says Ryan. Good thing, because as customers become more adventurous, they want to see how big the flavor can go, or how out there the experiment can be. "With scotch drinkers, it can be a lot like the trend in wine where people start easy and approach bigger styles." He adds that one of the great things about scotch drinkers, especially ones whose tastes you've cultivated, is that most tend to have an open palate and a broad-minded approach. Even an individual will have a wide variety of tastes, which leaves room to sell the big gun brands but gives him reason to stock smaller niche products.
"I like to see stuff that might not necessarily be in the 'ordinary category'. If it's good, it's good. I'm not looking for someone who sticks to the rules. That's why I love some of the stuff that John Glaser does with Compass Box. He does stuff that's just not typical. Otherwise I've always stuck with the majors. Major scotch companies put out great items. I think of Glenfiddich, they're still one of the number ones, but what's great about single malt drinkers is they have 1O to 15 bottles open at any given time and they drink according to their mood, their palate. And since there are so many other things out there that people can appreciate, that's where hand selling comes in. They're trusting me and in a lot of cases, they'll try it. It's about getting to know them, a person's likes and dislikes. I try to do that as much as I can. That's what we're basing our store on."
Laphmore

Peat's peat. Right?

Peaty Scotch whisky is soaring high in popularity with the growing crowd of single malt Scotch whisky connoisseurs. The smoky reek of peat-infused malt is enticingly bold, and it's something for new drinkers to grab hold of; it's easily recognized. They hear the description of smoke and iodine, and happily they can immediately agree, "Yes, I get that!" The island of Islay, home to the peatiest of single malts, is Nirvana for these folks. You can almost imagine them shouting, a la Mike Myers's SNL character, "If it's not Islay, it's crap!"

Beam Global, which has beefed up its position in Scotch whisky, has two single malts that simultaneously typify and confound that concept. Laphroaig is the biggest-selling Islay single malt, one renowned and celebrated for its uncompromising peat character. The other malt, Ardmore, is new to the single scene (other than a very few independent bottlings), but is an interesting contrast to Laphroaig: it's a peaty Highland whisky, and thereby hangs the tale.

"Islay whiskies are known as the peated malts," explains associate brand manager Halley Kehoe. "It is what distinguishes them from the Highland and Speyside malts. But what's interesting, as we weave Ardmore into it, the peaty flavor from Laphroaig is very different from a Highland peated malt, because of the nature of the peat. The Islay peat has the elements of the island, the seaweed, the salt. In the Highlands, it's got decayed tree matter, and it has a different kind of flavor."

That may not seem like a big difference, but if you put it in terms of beer, it does. The peat-loving whisky fanatics are kind of like beer geeks that are hopheads – they want it big and bitter! But when you face them with a beer that's heavily hopped with an unfamiliar strain of hops – Styrian Goldings, for instance, or Strisselspalt – they may not even recognize it as "hoppy". So it is with peat.

The island peat character is the most familiar. If you've got a peat freak, and they haven't had Laphroaig, they deserve the chance to try it. "Laphroaig's been around since 1815," says Kehoe. "When we started talking about Laphroaig, people didn't even know where Islay was. You could say we invented the category. We have the corner on the peat market."

There are five core bottlings of Laphroaig: the standard 1O Year Old, bottled at 43%; a 1O Year Old Cask Strength, Laphroaig Quarter Cask, a 15 Year Old, and the 3O Year Old. The 1O Year Old is the standard, but, Kehoe admits, "The purists would consider the Cask Strength 1O Year Old as the quintessential Laphroaig."

The Quarter Cask is an interesting new – and old – angle. "It's aged in standard ex-bourbon barrels, explains Kehoe, "then it's put in the quarter casks. They're a quarter the size of the large hogsheads the industry uses, and the wood-to-whisky contact is 3O% greater. There's a lot more oak coming through. The quarter casks are custom-made cut-down Maker's Mark barrels.

"It's actually a throwback to the earlier days of whisky-making," she continues. "When whisky was transported, the hogsheads were too big to transport.

So they would put the whisky in smaller casks that horses and ponies could transport. When it got there, they realized that the whisky tasted different. It's an old part of Scottish whisky-making that wasn't in practice."

As for the other two expressions, well, some good news and bad news. The good news is that they're very different: the 15 Year Old smooths out some of the outrageous smoke, the 3O Year Old is partly aged in sherry casks for a rounded character. The bad news is that this is the last year for them.

"We'll be moving to a 25 Year Old and an 18 Year Old bottling," confirms Kehoe. "For the most part, it's a stock issue. We have run out of 3O Year Old, but we have 25-year old-whisky, and we have quite a bit of 18-year-old. We know that the 3O and the 15 Year Old bottlings have a fan base, so consider this fair warning: stock up! They'll probably be available through the first or even second quarters of 2OO9, depending on the store."

There's not a lot of Ardmore, either. There's only the one bottling, first released in the US market in March of this year. Ardmore was built in 1898 to provide malt for the Teacher's blend, and that's what it has done for 11O years; it is the "fingerprint" malt for Teacher's, the base of its identity. The new single malt drinker would do well to remember that most single malts exist for that purpose, and think about finding a blend they like for every day drinking; there are big differences in blends.

Ardmore, though, has finally stepped out into the spotlight, albeit in a small, quiet debut; an off-Broadway trial. Only 3OOO cases were shipped to the US, "and they're going to the top Scotch whisky accounts," says Kehoe, and confirms that, yes, some of it did go to Massachusetts. "For the first few years, we'll be limited in stock, but in a few years we'll have a lot more stock." They're using this time of allocation to slowly build brand awareness by tastings with brand ambassador Simon Brookings.

The bottling is simply called Ardmore Traditional Cask; there is no age statement. "What we've done is create a 'flavor package'," explains Kehoe. "Robert Hicks, our master blender, has worked on Laphroiag, Ardmore and Teacher's for many years, and that's the approach he wanted to take. It's a range of ages, from six- to twelve-years-old, that will change from batch to batch to ensure consistency." According to Kehoe, Ardmore is also finished with the Quarter Cask method.

New and old, peaty and . . . more peaty. That's the story on Ardmore and Laphroaig. Just remember: not all peats are created equal, and they're certainly not created the same. -LEW BRYSON