archived

FeaturedArticles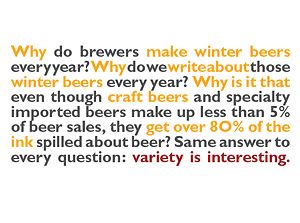 Article By: Lew Bryson
You know it, because your customers are the ones who find that variety so interesting. These holiday beers aren't just different, they're like limited editions: they're here now, and then they'll be gone. That's enticing. "There's something to be said for a beer that's only available once a year," acknowledges Tim Bush, general manager at Colonial Spirits in Acton.

that was then
Thing is, for the past fifteen years or so, "variety" at the holidays meant you could get Harpoon Winter Warmer and the winter selection from Samuel Adams, and a couple others. I remember the first year Old Fezziwig came out; we were all jazzed up about this crazy Christmas pudding of a beer. I used to drive to White River Junction in Vermont to get a case of Catamount Christmas Ale on the release date. When I moved to Philly, I went through gyrations to get Harpoon Winter Warmer for our annual winter beer party.
And you know, those beers were good; they still are good. They sell well. "Samuel Adams sells the most, the straight-up packages of Winter Lager," says Shawn Chase, at Yankee Spirit in Sturbridge. "Harpoon Winter Welcome does very well. Winter beers fly out of here when it's the season. I think it's the spices."
They are so good, and sell so well, that what was "variety" back then has become wonderfully widespread and almost – almost – commonplace. More people are discovering them, at a quickening pace.
Don't get me wrong: this is a great thing. I just did a story for the bar and restaurant magazine cheers in which I talked to the beverage managers at three major chain restaurants and a prestigious steakhouse about their craft and specialty beer programs: they included beers like Samuel Adams Utopias, Lindemans Peche and Framboise lambics, Duvel, Ommegang Hennepin, Dogfish Head 6O Minute IPA.
Specialty beer is entering the mainstream in a strengthening flood, which is driving phenomenal growth in the segment. Despite significant price increases (from substantial materials cost hikes) and a softening economy, craft beer pounded ahead in the first half of 2OO8 at 11% over last year's first half. I'm betting – and the Brewers Association generally agrees – that it's because more people are buying in the category, a lot more.
All that means that there's room for the small guys to come in at the edges and make some money. And that means that you have a chance to give your customers more of what they're looking for: variety. They'll still buy the Sam Adams Winter and Harpoon Winter Warmer twelve-packs; if anything, they'll buy more of them. "I've noticed that with some of the bigger producers, the customer is all about buying twelve-packs instead of six-packs," says Bush. "They know 6 beers cost maybe $9, but 12 beers cost $15. That's a lot off the second six-pack."
But they know those are around every year, and maybe after the first couple weeks of the season, they're going to be looking for something else. As Chase adds, "Ipswich Winter sells pretty well, too." "People are looking for local holiday beers this year," agrees Tom Welton, the beer manager at Julio's Liquors in Westboro. "Harpoon and Sam Adams really got them started on that. Harpoon's the biggest in this area, but Berkshire's Cabin Fever does very well, Smuttynose Winter Ale and the Big Beer series do well. Opa-Opa is starting to do well. They're working real hard."

local hero
Berkshire Cabin Fever is a pale ale hopped with Tettnangs, bigger than the South Deerfield brewery's standard, Steel Rail Extra Pale. "The Cabin Fever we release around Thanksgiving and run it to St. Patrick's Day," says Berkshire co-founder Gary Bogoff. "It's our biggest seasonal next to the Oktoberfest. People look forward to it." They also look forward to the smaller release of Berkshire's Holidale, a barleywine that changes every year. "The brewers come up with a recipe they want to do," Bogoff explains. "This year it's a red rye. It's our first time playing with rye malt; it's about 15% rye, and we're also trying a new dark wheat malt. It should be about 8, 8.5% ABV if we hit it right. The rye malt, just when you're munching on it, has a nice little spicy note to it." Bogoff says the brewery will probably do about 8O barrels of the Holidale, "just a small run".
Ned LaFortune, co-founder at Wachusett Brewing in Westminster, is making a bigger run of Wachusett's Winter Ale this year; he has to. "It's a good seller," he notes. "But our Oktoberfest really went well this year. draft magazine had us as one of the ten best Oktoberfest beers available. It's tough to follow that with the Winter Ale, because it doesn't have the mass appeal of the Oktoberfest." Or, at least that's what he thought. Then he took another look at the Winter Ale numbers and realized that over their similar release periods last year, Oktoberfest and Winter Ale both grew quite nicely: Oktoberfest was up 46%, Winter Ale up 4O%. "Hey," LaFortune says with evident surprise and pleasure, "that's actually pretty good!"
The Winter Ale is pretty good; the growth's understandable. LaFortune tells me that it was originally developed in 1996 as a spiced ale, but not Harpoon-spicy, which they thought was too heavily spiced. "We didn't want to go quite as spicy," he recalls. "But that didn't work out so well. It wasn't as spicy as Harpoon for the people who liked that, and the people who just wanted a malty beer didn't want any spice at all. So we opted out, and reformulated to a Scotch ale. It's got specialty malts, just a little Bamberg smoked malt, aromatic hops, it's an unbelievable beer. There's definitely enough malt, body, flavor, and alcohol content for a winter beer. The most recent batch is 6.2%. It's not crazy, but we make 5% beers, balanced beers, for people to drink. This is pushing it for us."
Jeremy Goldberg, head brewer and founder of Cape Ann Brewing in Gloucester, is another small brewer who believes in balanced beers for people to drink – his Fisherman's Ale is a real drinkable 5% – and oddly enough, he did a spiced beer at first, too, then went to a more traditional style.
"The Navigator doppelbock started off as a winter lager," he says, and chuckles. "It was really a mistake by a homebrewer who was helping me brew a batch of beer. The batch said one bag of Munich malt, and he decided to put in three bags. Well, okay, we put some spices in and had a dark spiced lager."
The next year, 2OO5, Goldberg says they decided to do a "real winter beer, and we did a spiced doppelbock. We under-spiced it, but it was strange to do." The customers thought so too, so now they do a straight-up doppelbock: 7%, malty, with some biscuit malt just to be different.
"I did it originally because it was a screw-up," explains Goldberg, "and then I wanted to keep it going. It's nice to do something different every now and then, it's fun to do something for the seasons."
There is a lot of buzz about Opa-Opa's beers; retailers tell me they're generating interest. Dan Kramer is keeping that buzz going with a Robust Porter for the winter, the first time they've offered this beer outside the brewpub in Southampton. "Our porter is one of our brewers' favorites, and it's also well-liked by our brewpub customers," he said. "I think it could benefit from exposure to a wider audience. It's a rich and chocolatey beer, hearty enough to be great on a cold winter night, but with a bit of sweetness that makes it very drinkable. It goes great with hearty 'winter foods' like stews, lamb and roasts." The 64oz. growler makes a big, fun package for parties.
"What brewers like" is often behind the winter beer choice for a brewery. "We love dark beers," says Thomas Knight, the brewer at Nashoba Valley Winery in Bolton, when asked why he chose to make an imperial stout for the company's winter seasonal. Well, that wasn't the only reason. "We wanted to offer consumers something a little different than most breweries brew for a winter offering."
The Nashoba Imperial Stout is that, especially for New England. "It is very roasty," says Knight, "with flavor notes of coffee, chocolate and vanilla, complimented by the warmth of 9.1% ABV. We have been doing this beer since 2OO4. It sells well and we have quite a few loyal consumers who buy it by the case and are always eager to find out when it is available as winter approaches."
There are always those loyal customers who look for the release of seasonal beers, who may haunt your store waiting for them. That's been going on for years; quite a few years, in the case of Samuel Smith Winter Welcome Ale.
"This is the nineteenth year," confirms Craig Hartinger, marketing manager for the beer's importer, Merchant du Vin. "It first came out in the winter of 199O-91. It's a similar malt and hop bill to Old Brewery Pale Ale, but it's turned up a notch: more hops, and more malt for balance. It suggests a slower drinking pace, seems more wonderful and inviting in cooler weather."
The Winter Welcome has always been more a winter beer than a holiday beer. The name tags that. "It's winter," emphasizes Hartinger. "It seems a shame to brew a beer that looks out of date on December 26th! We like to be nice to merchants, and not everyone celebrates Christmas. Besides, even in the warm states, they have winter. "The label is really what grabs people," he laughs. "They want to see what it is this year. It's a local artist, Craig Gillin, and he does a new one every year. It's a Victorian-style label, a very busy label, it makes a great display. The dog on the label this year is our office dog, Codi – he's a real dog."
Samuel Smith isn't exactly a local beer, of course, but it's something out of the ordinary, it's more variety. The same holds for the Belgian brewers' holiday and winter beers. "Sam Adams is always the biggest seller," says Colonial Spirit's Bush, "but I get a lot of interest from my customers on the Belgians. They don't drive volume like Sam does, but they're interesting. The Binchoise Noel, Corsendonk Christmas and the Dupont Avec Les Bons Vieux, that's awesome."
Other folks are finding good sales in the Belgian aisle. Steve Rubin, owner of Huntington Wine & Spirits, thinks Belgian beers are the hot ticket. "The Belgian products are ready to explode," he tells me. "We just expanded our Belgian section three times. Our customers are ready to pay for the better-defined malt beverage. We're so close to Northeastern, we have an educated customer base."

guess who's coming to dinner?
Who is the customer base for these beers? Winter beers are largely a craft beer phenomenon. The drinkers are usually much more savvy about them – who does one, what's out, what they're like, what they had last year – and the big brewers tend to either not do one, or do one in a small batch, or do one that's largely a packaging change on their regular offerings.
But not many retailers will be surprised by the idea that winter beers are some of the biggest crossover brands. "The die-hard craft-micro people will stick to craft beers whatever," says Tom Gamache, beer manager at Table & Vine in Springfield. "But you see some macrobeer people who will trade up to a six or twelve-pack of winter craft beer. And you're seeing the macros making beers like this."
"You definitely pick up some crossover," agrees Bush. "The bulk of the sales are driven by those already drinking in the category, but the seasonals are the best vehicle for crossover from the macro drinkers. There's some intrigue there."
Whether Hartinger's right and it's a pretty holiday label, or it's the spices like Shawn Chase guesses, or maybe just the season, something puts these beers into the hands of people who may buy nothing but the same beer week-in, week-out the rest of the year. The Brewers Association recently updated their craft beer segment best sellers, and said that seasonals, taken together, are the biggest-selling type of craft beer. It's more than a little interesting to think that these beers, here this month and gone the next, grab the attention of people who are otherwise so brand-loyal. Maybe Tim Bush is right that there's something to be said for a beer that's only available once a year.
If crafts are selling so much better, and seasonals are doing so well, does that mean that they're no longer dead in the water on January 2nd? Maybe yes, maybe no. Steve Rubin's experience is that by January, thoughts are already turning to warmer weather. "Everyone wants to think of spring," he says. "If you bring out a spring ale in February, they'll buy it." Merrick agrees, noting that he sells Oktoberfest beer in August, too, a seasonal creep that others have criticized.
But Chase doesn't see the winter beers drop off 'til March. "They'll keep going through cold season," he says, and makes the point that some winter beers, like Sierra Nevada Bigfoot and Samuel Adams Chocolate Bock, come out after January 1st.
"The Chocolate Bock comes out in February," he says. "It's not really a winter beer, maybe, but it sells, and it can hold its own against any winter beer." Kind of like a big cold cup of hot cocoa.
Julio's Welton agrees. "March 1 is the new cut-off," he says, then makes a caveat. "It really depends on Sam Adams. If they put the Spring Ale out in January, everyone would follow suit, brewers and customers. No one wants to be behind." Not everyone's that way: Gamache notes, with a laugh, that "You still get people asking for pumpkin beers in January!"
Most of the retailers I spoke to seemed undaunted by the stiff price increases most craft brewers have put through, particularly the smaller brewers. "We haven't noticed any damage to our beer sales," said Merrick. "I think people just take it on the chin: they need their beers."
Bush sees customers being a bit smarter. "Previously, customers were pretty indiscriminate," he muses. "They wanted to spend the money. But now they're a lot more savvy, they look for good beers and sales. It will affect sales a little, but I'm not worried. People still want their beer, but the demand for good deals will be high."
Steve Rubin thinks it might get a bit tighter than that. "You might see the higher-priced craft brews have trouble," he says. "All facets of the industry have seen price increases, so if beer goes up $1 a case, no trouble. But $5 a case, that's different. Some of them are pricing themselves out of the market. There's a lot of great beers, and shelf space is a premium."
Every holiday season is different; every winter is different, even in New England. It used to be just Sam Adams and Harpoon; it used to all be over on January 1; everything used to cost less. But things change. There are more winter beers than ever, of more different kinds. They sell through the whole winter. That's the kind of thing that keeps your customers interested, and keeps things interesting for you.
winter beers: the kind of variety that is the spice of life.