archived

FeaturedArticles

Article By: Liza Weisstuch
As you're reading this your customers are probably already busy getting holiday plans in order and mapping out their gift-buying strategies. As the holidays approach you begin to see people more and more frequently in the store, so now is a good chance to offer customers a few little extras. Put an array of wine-, beer- and cocktail-related accessories, volumes and vessels on your shelves. The items could jazz up your store and grab customers' attention as they roam the aisles seeking out the perfect wine for the table or single malt to put under the tree. This added convenience can certainly save your customers time, and time is money at the register.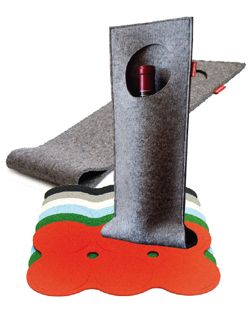 The HARVEST, PRESERVED
Just when you thought you've seen it all – screw caps replacingcorks, Pinot Noir becoming a mass market phenomenon (thanks, "Sideways"!), the growing popularity of boxed wines – along comes Vineyard Sweets to completely reconceptualize old world wine. Think of the Oregon-based gourmet confectionary company as the molecular mixologists for the wine sector. They use real wines, like Cabernet Sauvignon, Merlot and Zinfandel, to make their jelly candies – sugary sweets for the supper club set. You've heard wines described by their mouth-feel, but this is an entirely new ballgame. They're available wholesale in 8 ounce assortments ($9.95) and 2-ounce individual flavor packages ($9.95 for three). For wholesale information, visit www.cranberrysweetsvip.com (enter username "cranberrysweetsvip" and the password "buyer").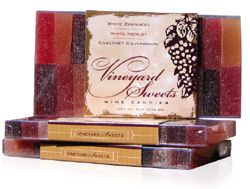 A SUSTAINABLE MODE of TRANSPORTATION
If you're like most retailers, you've noticed that customers are increasingly asking about organic and biodynamic wines. Surprise them with a little added bonus that's just as earth-friendly – coasters and wine totes from Josh Jakus. The Berkeley-based designer repurposes wool felt from factory waste in his streamlined WinePocket, made from a single wide strip folded over and stitched up along the side – designed so that it stores flat and expands when you slide a bottle in. His coasters also have an earthy appeal. The rubber discs are made from recycled tires (The black ones are 1OO% recycled, the colored variety are made from about 3O% post-industrial waste.) Perfect for the tailgater, they come in sets of six, and like a linebacker, they're rugged and can take a good pummeling. The WinePocket retails for $29 and the coasters are $18. note $25O minimum for wholesale orders. www.joshjakus.com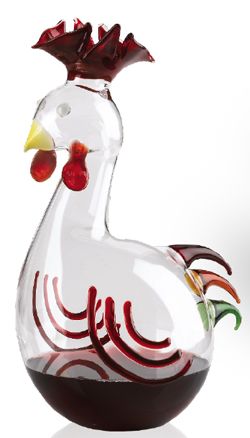 THE DINING ROOM TABLE: WHERE the WILD THINGS ARE
You talk a good deal with your clients about the craftsmanship that goes into making wine, but rarely at all about the vessel from which it's ultimately poured. Offer your customers a failsafe conversation starter with some most clever decanters. Besides this handsome rooster, the Zoo de Vetro collection includes the likeness of an elephant (the liquid pours from its trunk) and a giraffe (grip it by its neck). Created by Italian artist Massimo Lunardon, a mas ter glass blower, who uses only lead-free crystal, these whimsical decanters have a delicate elegance as well as a solid sense of humor. They're perfect for collectors, as each is signed by the artist. They retail for $299.95. www.wineenthusiast.com.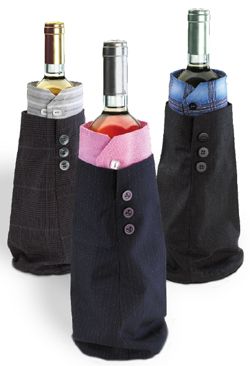 WINE GETS a PERSONAL STYLIST of ITS OWN
Umbra's practical but oh-so stylish design-centric housewares are commonly sold by major retail chains, but their funky, head-turning items and accessories are just as perfectly tailored for small shops and may be just right for that fashion-conscious customer who's always on the prowl for a stand-out gift. The Sleevino is one such item. Designed to resemble the sleeve of a style-savvy executive – his tailored button-down shirt sticking out the cuff of his jacket – this wine bottle casing is sure to stir up conversation. Like plaid? Pinstripes? Solids? The Umbra designers know that every dapper gent and fashionista needs a suit to suit different occasions. It retails for $14. (Call 8OO.387.5122 to set up an account with Umbra. note minimum initial order of $4OO is required.) www.umbra.com/ustore/product/46O15O/cO6O/sleevino_wine_sleeve.html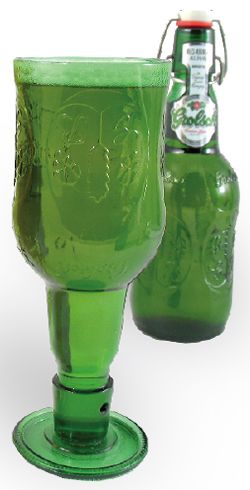 BEER BOTTLES have NINE LIVES
Anyone who's ever considered drinking beer from a bottle to be déclassé will have no choice but to think again when they see these clever goblets from Firebox, a British purveyor of all things nifty. Sol, Corona and Grolsch bottles are, quite literally, turned on their heads to construct these vessels. These artful, utilitarian household item are sure to catch the eye of even consumers in a hurry. The neck serves as the stem and the bottom of the bottle has been cut away and the edges polished smooth so you drink from the base. Recycling has never been this much fun. For wholesale information, contact adam.donovan@firebox.com. Twin packs retail for $24.95. www.firebox.com/product.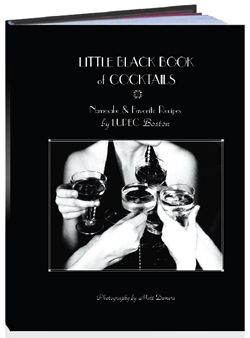 COCKTAILS by the BOOK
When it comes to recipe books, many cocktail enthusiasts will vigorously defend their favorite vintage volume. Now there's a wave of spirit aficionados who are creating new volumes to get enthusiastic about – not least among them are the members of LUPEC Boston (shorthand for Ladies United for the Preservation of Endangered Cocktails.) Since they were established in February 2OO7, the Boston chapter of this national network has been busy organizing cocktail events with their signature vintage style. (The events also double as fundraisers for area women's organizations.) They took it a step further when they self-published the little black book of cocktails ($15, www.lupecboston.com) as a fundraising tool for their
Women's History Month event in March. The book is beautifully laid out with dramatic, artful photos of the members unleashing their inner flapper. Since its release, people around the country have been contacting the ladies to get their hands on a copy, says founding member Kirsten "Pink Lady" Amann. Members' monikers represent a favorite vintage tipple and you'll find recipes for each of those among the nearly 5O formulas. There are also originals by members, including founder Misty Kalkofen, bartender manager at Green Street in Cambridge. Proceeds go to the Dana-Farber Cancer Institute's Friends Boutique. "It's like the old saying goes: pour a great cocktail for someone and you whet their whistle for a night; teach someone to pour their own great cocktail and they'll drink happily for a lifetime," said Kirsten.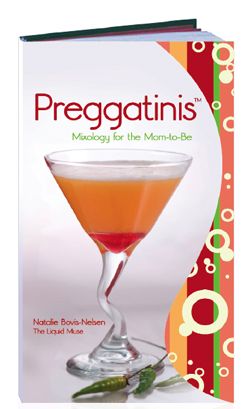 Speaking of women and cocktails . . . For many women, there comes a time when they must be cocktail-free. All the mamas-to-be for whom a margarita or Manhattan is but a fond memory now have Natalie Bovis-Nelsen to thank for tiding them over. The founder and author of the cocktail blog, The Liquid Muse (www.liquidmuse.com) will publish preggatinis: mixology for the mom-to-be later this month, so order a few copies now ($16.95, www.globepequot.com). It includes 75 of
Natalie's original recipes that put a premium on fresh juices and herbs as well as thirst-quenching tips for a memorable baby shower. Citronelle's James Beard award-winning chef and owner Michel Richard contributed a recipe; there are insights from some of today's foremost mixologists, like Dale DeGroff and Robert "DrinkBoy" Hess; and tips for how to "de-virginize" the cocktails for Dad – or for Mom when the baby arrives.