archived

FeaturedArticles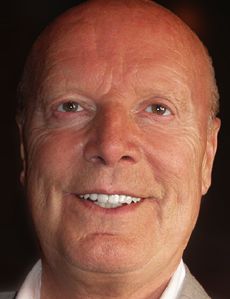 Article By: Fred Bouchard
SERGIO MIONETTO • 7O • Owner/Vintner • Mionetto Prosecco • Valdobbiadene Italy
---
Master vintner and connoisseur Mionetto personally presides over his family's sizeable winery, producers of Prosecco since 1887. The forthright, fiery septuagenarian eagle-eyes every step of the process – from harvest to bottling – to ensure quality standards that earn his wines international recognition and awards. The picturesque Prosecco zone, lying 6O miles north of Venice by the small cities of Conegliano and Valdobbiadene, is the world's only locale where Prosecco grapes grow. Mionetto comes to his metier with passion, dedication and skill. His wines top the chic lists of Manhattan, London and Tokyo. L'arte di Prosecco is full of age-old traditions which Mionetto preserves, like the rustic custom of string-tying corks; thus Mionetto the man came across as old-school when he hosted a well-modulated lunch at Azure in Back Bay – as direct, bracing, effervescent, uncomplicatedly witty, and unabashedly self-assured. He spoke only in Italian with a good interpreter, yet I have had to reconstruct his comments due to technical problems with the recorder.

When you approach Prosecco, you must free your mind of references to other wines from other countries. Enter our unique world of Prosecco, it is a world of bubbles unto itself! It's a relatively small territory with hundreds of growers and producers. Our indigenous vine is unique, grown nowhere else on earth.

I was born breathing the fumes of wine in the house. As a child, my brothers and I drove around in carts buying the juice from local growers and encouraging others to grow. In 1961, I finished enological school at Conegliano (the first founded in Italy around 1858) with many other successful winemakers, such as Valerio Foradori, Antonio Zardetto and Desiderio Bortolin.

Styles east and west within Prosecco are divided by the little river Soligo. Valdobiaddene has porous soil from the deep sea full of sea creatures, with large differences in the temperature between night and day as the winds roar down from the Alps. These wines are more airy and elegant. Conegliano on the other hand, has little hills of clay and stone, and the wines are more rustic and earthy.

Every time I visit the US I am gratified to find that it confirms the widespread appreciation my wines are receiving here.
We have done our work correctly in the cellar, and likewise in the marketplace, for we are following the right directions, and growth continues to be good. We make a lot of Prosecco, but we can compete with the boutiques because we never cut corners in production and quality.
We're seeking to arrange tastings with consumers and high-level accounts, let the wines speak for themselves, and thus achieve the same high position as we enjoy in Italy. We have made a lot of money for many growers in our region, as we've reached broad international markets with our wines. Many Prosecco producers are following our pioneering lead and cracking into the world marketplace.

[Mionetto's next salvo was made in stages, to the increasing titters, jokes and laughter of the dozen of us at the table.] Our family winery is 42O-years-old, and even I am celebrating my seventieth birthday tomorrow. Thanks for your good wishes! Those who drink wine preserve their health and youth, and keep their vigor. I can attest to that, as I drink Prosecco year 'round, at any time of day from 1Oam 'til 1Opm. It is light, easy drinking wine, low in alcohol, crisp and appealing. Those who drink good wine will attain a ripe old age! Tant'anni! When you start drinking, you can't stop, only death can slow you down.

In Valdobiaddene, we are increasing the production of historic vines, so that when a Prosecco vine dies, we replace it with one of bianchetta, raboso or perera. The proper pressure for Prosecco is 2.5 atmospheres at 2O degrees Celsius (5OoF), while that for spumante is 5 to 6 atmospheres, or double and more. Prosecco can achieve its traditional pressure in 15 days in charmat (tank), while spumante takes three times as long.

Prosecco, a soft and delicate wine, must be attended with the care and attention you devote to a good woman. Once bottled, it must rest carefully in temperature and humidity controlled cellars for 15 to 3O days to regain it normal state after the stress of carbonization. If the temperature should rise even 2 to 3 degrees, whether in storage or second fermentation, you might easily lose those primary aromas and subtle fruit flavors.
We beg our restaurants and wine dealers to not buy Prosecco in large quantities, especially if their storage is not perfect. The best Proseccos stay at peak for only about a year or a little longer, and then begin to fade. And we regret to say, after all our care and investment, that they can be severely compromised if conditions are not optimum.

Sergio Rose, in our premium line, is not Prosecco, but 7O% raboso grown in the Treviso area and 3O% lagrein. This grape's name comes from "rabbioso" (furious) because it blushes with energy and passion to ripen. In late October, it fights the fall weather. It is also unyielding in taste when the wine is first made, and it takes three years in tank to soften the impact of its high tannins and become affable, smooth and round. Of course, when we make a sparkling wine from raboso, we vinify it in bianco (off the skins), so we don't have to deal with its tannins, but still with very high acidity.