archived

FeaturedArticles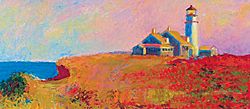 Article By: Fred Bouchard
Flashback . . .
It's midsummer tourists line up outside the well-stocked gift shop at Truro Vineyards, and Dave Roberts is at the ready. He squires people – with alacrity, a glad hand and a wide smile – outdoors to the tasting tent, where cheerful well-informed staffers guide consumers through their choice of five sips out of ten.

Roberts, an affably expansive guy with a voice that carries, is wearing a Hawaiian shirt that speaks nearly as emphatically. Clearly in his element as he shepherds visitors around, Dave announces what's happening and sometimes takes over tour-guide responsibilities for his daughter Kristen and her staff.

"This 5-acre farm was started by merchant ship Captain Atkins Hughes in 183O," says Roberts. "He planted this Chinese mulberry tree, hoping to start a silk business, but the silkworms didn't travel well from China. Later he gave it to his daughter Abigail and her husband, Michael Rich, a farmer who sold grain and milk. Since then it's always been a farm: horses in the 194Os, cantaloupes in the 196Os."

And wine since the '9Os. Roberts bought Truro Vineyards from two dedicated horticulturists from New York State, Judy Weimer and Kathy Grogow. They'd planted over 35OO vines and made their first wines in 1996, but experienced various problems with winemaking, marketing and other woes that plague small wineries, the foremost being undercapitalization.

Roberts said, "We knew them pretty well as neighbors; we'd bike by, buy a few bottles and chat with them. They were maxed out and ready for a change; it was an ideal retirement package for me, and my wife and family."

Since purchasing the winery in March of 2OO7, Roberts' take-charge game plan has rapidly turned the struggling operation around. He and his family held a grand opening on July Fourth weekend, 2OO7, when they opened the rebuilt barn/winecellar. Last September they joined in the Truro Day celebration of the 299th anniversary of the town's founding, with a party that included dancing to the jazz band Moby Dick and the Wailers. The wine and gift shop was open and the town granted a one-day license to sell wine by the glass.

During those sixteen months, Roberts has done yeoman's work: rebuilt the barn with temperature control to chill the barrel room; built a crush pit with a new crusher/destemmer; installed an eight-level bladder press; bought over 2OO new barrels, tripled production and boosted sales.
For the second consecutive year, the winery has seen significant double-digit growth, balanced between retail and wholesale. Roberts happily states that he's grown on-premise accounts from 7 to 21% in two years. He's hand-placing cases in select Boston restaurants. "Now we're 1OO% into current vintages," reports Roberts. "That is, 'O7 for whites and rosés, and the 'O6 reds."

Cape Cod tradesfolk agree that changes at Truro Vineyards have been palpable and profound. "Good products and good people," nods one Orleans mall wine shop manager. "Truro is Massachusetts' most viable winery since Westport Rivers."

Truro Vineyards is truly a family operation, with Roberts as CEO, wife Kathy as general manager, daughter Kristen in charge of sales and marketing, and daughter-in-law Amy running finance and administration. Winemaker Matyas Vogel, Hungarian born and trained, and working at Truro since 2OO4, is now assisted by David Roberts, Jr., formerly a brewer in Georgia. One or two of their experimental blocks may result in limited bottlings for 2OO9.

Kristen, as outgoing and cheerful as her dad, shakes her head in mock chagrin when she says, "He's always got some new idea up his sleeve. And he wants to move so damn fast! We keep saying to him, 'Dad! Slow down!'" Kristen lately took a respite from duties – like the Wine Club and email newsletter – to have a baby daughter, Violet; her husband Guy Yuengling, owns Provincetown restaurants Bubala's by the Bay and Enzo's.

The vineyard's website bills it as "one of the state's largest wineries and Cape Cod's only traditional European grape-growing vineyard." (The Southeastern Massachusetts AVA shows most grape-growing concentrated in low-lying coastal areas, like Westport, Cape Cod, Martha's Vineyard, and Nantucket. Fruit wines are made more inland.)

"We follow the European model of not growing all our grapes, but buying well," says Dave. "We buy grapes from Long Island and the Finger Lakes (Syrah, Rougeon, Vignoles, Diamond White). From California we ship Cabernet Sauvignon, Sauvignon Blanc and Merlot from the Suisun Valley (near Napa).
"On our 3.5 estate acres planted we grow Chardonnay near the farm, Merlot in the far fields and most of the rest is Cabernet Franc. We also buy Chardonnay from the Russell family in Westport." Now holding at ten products, the 2OO9 line will include a premium red blend and a white blend, and an estate-only Chardonnay, using a balance of neutral (second use) and new Ohio oak barrels. Three hundred and thirty cases of an unoaked 2OO7 Chardonnay sold out before Thanksgiving.

At iconic Boston restaurant Top of the Hub, three Truro wines are on the list, reports general manager Rafael Oliver. "We have the Chardonnay and Blush by the glass," says Oliver, "and Truro's proprietary [Maritime] red by the bottle. It's a pleasure to promote a quality local venture. I've been around since the early 7Os – at The Breakers in Palm Beach I worked as chef/sommelier – I'm pleasantly surprised at the quality of the Chardonnay, in particular; it's easily the most popular of the three.

"Of course, I've known Dave for years when he was at United. He certainly knows the industry and he's making some fine wines on the Cape. I must say he's the only salesman who delivers his wines in a Mercedes Benz. And Dave himself has given our staff Truro tastings."

Roberts conducts tastings elsewhere (eg, Marriott Custom House) and hand-carries cases to CK Shanghai, a longtime favorite dining haunt in his hometown of Wellesley.

Truro Vineyards wines have been the focus of wine dinners at Cape restaurants: Adrian's in Truro, Orleans Inn in Eastham and Van Rensselaer in Wellfleet. Among Truro's new accounts on the Cape are Mac's Shack and The Lighthouse in Wellfleet and Marconi Grill in Eastham.

In Boston retail, Truro wines are found at Blanchard's in Allston, Newton Upper Falls, and Bauer Wine & Spirits. Roberts says, "We don't try to get to everybody in town, but we are moving slowly toward Western Massachusetts. Route 9 shops and restaurants carrying Truro wines are Nine East, Vin's, Wine Vault, and Fifth Avenue Liquors."

Representatives hold in-store tastings regularly at Windmill, Luke's and Seekonk. Truro manages deliveries on-Cape with Dave's Mercedes and a van; off-Cape it's Cape Cod Express. "When we get to the point where we need a distributor," says Roberts with a broad grin, "we'll call on Martignetti/United. You can print that."

Packaging has taken a leap into the mainstream. The new simplified label – TRURO in gold on a black field over a warmly bucolic Lois Griffel landscape – speaks with resonance of class, even on the slightly kitchy glass 'lighthouse' bottles for the popular wines (Cranberry, Diamond, Vignoles, Cape Blush rosé).

Art connections run deep in this art-colony town. In 193O, Edward Hopper painted 'Rich's Barn' at the winery. Don't be surprised to see more 'Artist Labels' on future bottlings. Dave himself has participated in art classes with Robert Cardinal, noted Cape Cod painter of glowing skyscapes.
New projects absorb Roberts, and Truro's tricentennial will keep him and his family and staff hard at work. Anniversary bottlings are in the works: premium red and white blends (limited editions with special labels) and a sparkling wine.

Store sales are usually brisk between Memorial Day and Labor Day, but the 3OOth merits a notable expansion. Roberts is building a permanent tasting pavilion to open next spring that will extend the open-air tasting season into iffy spring and fall weather. The 36-square-foot structure will replace a 24-square-foot tent behind the farmhouse and gift shop. With permanent roof and floor, open walls and movable screens, the pavilion incorporates an angled stone wall that overlooks a flower garden just steps away from estate Chardonnay vines.


2OO7 Sauvignon Blanc
Very dry, citrusy, muskmelon finish, relatively reserved. All stainless. Tried with baked salmon at Orleans Inn.

2OO7 Vignoles
Leggy and bright. Tart, dryish, acidy. Off-dry finish. Shows vigorous personality, despite a tad of lingering sulphur. Finger Lakes grapes.

Unoaked Chardonnay (limited batch)
Once the sulphur whiff blew off, showed modest typical Long Island type fruit.

2OO6 Cabernet Franc
Medium garnet, light body, Loirish, licorice nose precedes restrained, varied fruit notes and herbal tannins. Better with a light chill.
All estate grown fruit.

2OO6 Maritime Red
Tuscan smoothness and cedar-box spice combine in his blend of 18-month oak-aged Merlot and Zinfandel (2/3, 1/3).

2OO5 Triumph
This dry Bordeaux blend – 2/3 Cabernet Sauvignon (Sinson Valley, CA), 2/9 Merlot, 1/9 Cabernet Franc – shows black cherry and roasted coffee bean, with decent tannins and substantial oak. Might age well.

2OO7 Cranberry Red
This acidy, spritzy blend of Syrah and Rougeon grapes, infused after vatting with cranberry juice, emulates Beaujolais. Better chilled.