archived

FeaturedArticles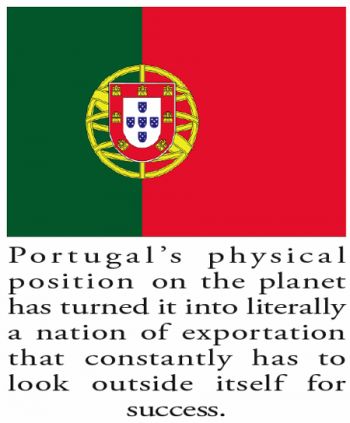 Article By: Jonathon Alsop
Portugal's physical position on the planet has turned it into literally a nation of exportation that constantly has to look outside itself for success. What you see on the map is a narrow strip of a nation seemingly pushed west hard up against the ocean, a nation of many good places to drop anchor.

Portugal's impressive wine numbers, according to Wine Institute reports, are a little shocking, considering how tiny the country is and how relatively unknown non-Port Portuguese wines are in the US. In per capita wine consumption, Portugal is third, just behind France and Italy, at about 65 bottles per person per year (the US number is 12, just for comparison). Amazingly, it's eighth in the world in total acres of vines planted, and number 11 in total wine produced.
All of which leaves me asking Portuguese wines, "Where have you been all my life?"

The answer appears to be New Bedford and Fall River – and on the wine list of the excellent Sunset Cafe in Cambridge. In other words, places with lots of Portuguese people. Port, the famous and famously expensive fortified late-harvest wine from the north of the country, has been renowned for centuries already – first in the UK and then in the rest of the world. But it's only very recently that other wines, table wines from Portugal, have begun to emerge.

"I think we can go back 25, 3O years when the wines of Lancers and Mateus were dominating the market when it came to wines of Portugal," said Jack Couto, president of Grape Moments, an importer in New Bedford. Grape Moments also imports from Spain, Italy, Chile, and Argentina, but Couto is Portuguese and the focus is on Portuguese wines. "Then came the wave of Ports, and I think that Ports were definitely a door-opener for the wines of Portugal today. From the last wine & spirits report in October, Portugal is up in sales 47%, which has surpassed many of the top wine countries of the world."

We Americans seem to have a preference, in theory at least, for less governmental and political involvement in the world of business, but over and over in the world of wine, we see that what governments do can make a big difference. "When Portugal joined the European Union in 1986, lots of positive changes were made in the country," Couto said. "Portugal became an industrialized country. Lots of investment was made in wine technology. A lot of research was done on the soil, on the unique grape varieties we have. Then we had more young people getting in the wine business, learning the skills of winemaking in Portugal, but also traveling the world and bringing a lot of new ideas into the country."
For all the new ideas and technology, the focus has continued to be on native Portuguese varieties like Touriga Nacional, Touriga Franca and Tinta Roriz, which is the Portuguese name for what the Spanish call Tempranillo. "Let me use this expression," Couto said. "All this was a batonage of new ideas about wine and new techniques. We are making wines a little more in the international style, but we would never want to lose our identity and terroir.

"Because we did a lot of new plantings, we are able now to choose which grape varieties are better one year versus the other, what kind of oak should we use, the amount of water. We have very intelligent viticulturists working on the land," he said.

Press attention has made a difference in Couto's business as well. "Today the press is looking at these wines with a different perspective, and the ratings speak for themselves," he said. "From Robert Parker to the wine spectator, all these key magazines, their writers have been going to Portugal three or four times a year. Until now, these wines have been the best kept secret in Europe, but that's over.

"The beauty of Portugal is that, although we also blend Cabernet and a few other international grape varieties, we still try to preserve the Touriga Nacional, the Tinta Roriz, the Touriga Franca. These native varieties that are grown almost nowhere else in the world are what makes the wines unique, with unexpected flavors."

Modern consumers used to think Port first when they thought of Portuguese wines, but "that is not happening anymore," Couto said. "I am very amazed with the amount of education the new consumer has. With the amount of marketing that's been done for Portugal, people are separating Port from table wines. They are coming into tastings and they know that Port is fortified and table wine is table wine. Some of them actually know how to pronounce Touriga Nacional! I'm in 28 states, and 99% of the wine is sold broadly, not just in the ethnic market."

Portuguese wines can thank Spain, to a degree and reluctantly perhaps, for some of the new attention they're getting. Spanish wines are hot in the US right now, a strong current that's sweeping the whole Iberian peninsula along. After all, Spain's Ribiera del Duero and Portugal's Douro River are really just two ends of the same river, separated by a somewhat arbitrary international boundary.

"Even some of the biggest wine stores only used to have one or two wines from Portugal," Couto said. "Now, all of a sudden, in the last three or four years especially, wine stores will have a whole section of wines from Portugal, just like you'll see a section of wines from Spain. We are very proactive in doing a lot of tastings. There is some buzz in the air that Portugal is making outstanding wines, and not just under $1O wines. The amount of tastings and wine dinners we constantly do is raising awareness too. We also have Spanish wines and Italian wines in our portfolio and it's actually becoming easier to sell Portuguese wines than the others right now."

Grape Moments focuses on "the new generation of wines from Portugal," Couto said. "This is 85% of our core business. We're currently in 28 states delivering the new Portugal, trying to create an Iberian passion. I always believed sooner or later Portugal would change the style of making wines and they would move outside just the Portuguese communities. I have a strong strong passion for these wines. We were the conquistadores," he said, referring to Portugal's historical role in Europe's exploring and colonizing other parts of the globe. "We discovered the world by water, but now we are conquering it by land, vineyard land, and with wines."

As to the next big thing coming out of Portugal, Couto said the same thing almost everyone I spoke with said: the Douro Valley. The Douro is the home of all the vineyards that supply the grapes for Port wines, but the region grows about twice as much grapes as can be made into Port because of legal delimitations on production. These are some of the highest quality grapes grown in Portugal, and the table wines they make are unsurprisingly superb. "Douro is the next Priorat," Couto said. "Up north in the Douro, you have wines with strong personalities and long histories. The Douro is a lot of flavor per dollar. Since these wines are just now becoming known, you're still getting a great value between $15 and $2O a bottle."

Saraiva Enterprises is another importer from New Bedford with a long list of interesting Portuguese wines that include comparatively few Ports. The company is a family affair, run by three siblings – Jose, Lisa and Fernando Saraiva. "I would explain Portuguese wine by talking about the very diverse terrain and the many different microclimates," said Fernando Saraiva. "Alentejo in the south is a dry microclimate with arid soils, and the grapes get sun all day long. I would compare it to Australia. The grapes are highly charged with a lot of sugar, and you get some nice vibrant fruity wines. In the Dao, the middle of the country, is more granitic soils with some gently sloping mountains. By the time you get to the Douro," he said, "there's so much stone in the soil you can't believe anything can grow there. But the Douro region wines are really starting to come into their own. Douro really shines when you get up over the $1O threshold."

A couple of the challenges explaining and selling Portuguese wines have to do with the many different grapes and the blended nature of the wines, Saraiva said. "Portugal has over 2OO different native grape varieties, so the majority of Portuguese wines are blends. They have done some work with international varieties people recognize, but still, those are usually used in blends. There are only a few straight Cabernets, Merlots, Syrahs, but what really makes Portuguese wines successful is when they use their own native varieties.
"People recognize Portuguese wines by brands, not by grapes because of the blending. That makes it hard, because people ask if its like Merlot or like Cabernet, and the answer is no, you can't compare, they have their own flavors," Saraiva said. "They're not real soft wines – they're wines that have grip, and that's what makes them true European wines. And complexity is there: five different wines from five different producers in the same area produce a wealth of flavors."

Saraiva said one of his most surprising discoveries in Portugal is the country's many sparkling wines. "Believe it or not, Portugal produces a lot of sparkling wine," he said. "I was actually quite amazed by it, that nearly every producer in Portugal makes a sparkling wine. I don't know where it all goes, but a lot of it is consumed in the country, but they also export a lot to the rest of Europe. In Europe, sparkling wine is used as a dinner wine – you can have it with food – and in Portugal, roasted baby pig, called leitao, is almost always served with sparkling wine." Saraiva predicted that the next surprise from Portugal is going to be the attention these wines are going to get in the market from consumers. "The next big thing we're going to see is Portuguese wines become noticed outside Portugal and especially in the US. They are already really popular in areas where you have concentrations of Portuguese people, naturally, but that's going to spread to the rest of the country. Twenty years ago, Portugal was famous for Port, Lancers and Mateus. Now with modern methods of fermentation and production, they're keeping up with the rest of the world."

One major sign of the sea change that is bringing more and more Portuguese wines to the US is when the truly great begin to discover the undiscovered. Frank Paredes, director of Winebow Brands International, is responsible for all the wines they import outside of Italy, and said, "Winebow has decided to take on Portuguese wines on a national level. Portuguese wines were basically hidden gems that could only be found in New Bedford, Fall River, Provincetown, Newark, New Jersey, Mineola, New York: big immigrant communities that had large Portuguese populations.

"We believe we live in the age of information," Paredes said. "We spent two years researching this project and working with wineries. We started out with 12 and ended up with eight. Leonardo Locascio (CEO of Winebow) decided that education was the key to a successful company, and we made a commitment to be the most informed, educated sales force in the country. You have to go out to the market, educate the retailer and then support them with more information to make their lives easier."

Some of this support comes in the form of labeling and packaging requirements. "We make sure the back label lists the varietals, the percentages, the regions, how long it's aged in oak, what kind of oak, all the information consumers find essential," he said. "Italy had a similar problem years ago with native grapes like Aglianico and Primitivo and Nero d'Avola. People became more comfortable with these new grapes, and this is happening in Portugal too. We're confident it's going to be successful."

Reaching consumers is another major focus for Paredes. "All of the consumers at one point or another need to taste the wines. Within Portugal, there are 32 different DOCs and eight regional designations with a wide variety of styles and flavors. Basically, you've just got to taste them."

Another breakthrough for Portugal was the recent appearance of a Portuguese wine at #3 on the wine spectator's Top 1OO. "Quinta do Crasto, a wine we don't even represent, is a real success story," Paredes said. "It's blended from literally 3O different grape varieties from very old vineyards in the Douro that were historically used to make vintage Port. In the early '9Os, they made the bold decision, when very few other people were doing it, that they weren't interested in getting into the Port business. They were more interested in developing high-end, quality table wines. Based on scores and other things, they have been very very successful." The wine's 95 rating was the highest score ever given to a wine from Portugal that wasn't Port.

"I would dare to say the hottest wine region in the world right now is the Douro Valley," Paredes said. "Portugal is where the old world meets the new world. You have opulent well-concentrated wines that are very harmonious and age well."

Other importers in Massachusetts outside the Portuguese community are starting to pick up on Portuguese wines too. "We've been working with an importer in New York, and we've been doing very well with them for about a year now," said Andrew Bishop, owner of Oz Pacific Wines, an importer in Lawrence. "My whole experience has been that their success is based on how the people of Portugal are sticking with their own native varieties. In a savvy market like Boston, people really appreciate that, and the results are wines with very different flavors. The reds are very spicy and earthy, and they have a sense of place. The whites especially really over-deliver, and across the board, I think the wines over-deliver for the price point."

Bishop said the growing popularity of Portuguese wines is attributable to a shift away from the predictable in wine toward the new, the well-priced. "People are looking for more affordable everyday table wines, and they're kind of sick of having the same thing over and over again," he said. "A lot of California wine at $14, honestly, kind of tastes the same because it's limited to the same basic varieties. We're seeing so much more sales in the old world because of they're different flavor profiles. Portugal hasn't even really hit big yet or had the impact Spain has had, but people want more choice, and people are a little more adventurous these days. A lot of young wine buyers in Boston are looking for off-the-beaten-path stuff," Bishop said, "different varieties, organically grown vineyards, small domains – and I think it's really exciting."

When it comes to explaining the wines of Portugal, "I'm a huge fan of emphasizing that they use their own native grapes," he said. "Overall, they're not trying to make things in an international style. They have a sense of place, and they're not trying to be anything but what they are.

"Some of the wines I used to bring in from France got Parker-ized, and that was disappointing. I can only speak for this market, but people are looking for wines that have a sense of place and aren't exhausting to drink, and that's Portugal: brand new but old school – that's what's so cool about these wines."

And if the trend toward Parker-ization continues? Bishop let out a long exasperated sigh. "I hope it never happens to Portugal," he said. "In my opinion, it's just not a good thing."