archived

FeaturedArticles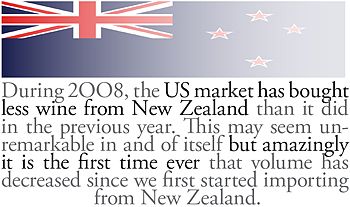 Article By: Sandy Block, MW
This trend reversal should be understood in the context of a major overall downturn in the decades long pattern of increasingly more imported wines from all sources being shipped to the US as well as meteoric rises for several years running from New Zealand. The overall import decline in 2OO8 has been on the order of 1O% with New Zealand suffering slightly lower negative numbers of approximately 7%. That the clean green land's incredible multi-year streak has come to an abrupt end should have been predictable given the dollar's decline combined with the fact that New Zealand's currency remains among the strongest in the world. The industry has grown dramatically in the period of time that it began to export to the US. From 131 wineries and 12,OOO acres planted in 199O, there are now 57O wineries and over 6O,OOO acres. Many of the new smaller producers there have expressed to me the difficult decision that they had to make recently in foregoing the American market, where complications of selling into a number of different states and the necessity for protecting critical retail price points nationally against a weak currency cut into their potential profitability, in favor of finding more lucrative markets in Asia and elsewhere to sell their wines.

Most of New Zealand's positioning internationally, and in the US more specifically, relates to the establishment of Marlborough district Sauvignon Blanc as a benchmark for the varietal. The combination of stony soils, cool climate, brilliant luminosity, and generally dry conditions, have come together to produce a new Sauvignon Blanc style that changed the world's palate. Brand Marlborough's triumphant success though poses some dangers for the health of the country's overall wine industry. Without diversification there is vulnerability. Over reliance on a single grape from a single region also confers some degree of anonymity to the producers; if the world is simply rushing to buy the latest most fashionable varietal there is little to differentiate one from the other. An additional complication is that other countries, notably South Africa and Chile, are now marketing unoaked, cool climate Sauvignon Blanc in a style that is influenced by the Marlborough model, often at a more moderate price point. By focusing so heavily on one, albeit very successful, aspect of what the country provides, exporters are simplifying the range of what New Zealand could potentially offer. The fact that there are so few New Zealand wines that are known internationally for their unique terroir attributes mirrors the reality that most of the wines on the export market have been blended from several different vineyards and are sold more on brand recognition, Sauvignon star power and reliability than on any other attributes. There is, in fact, more to the story.

Good as Marlborough is, and it excels at Pinot Noir and Riesling as well as Sauvignon Blanc, there are other regions in New Zealand where quality is outstanding. There are producers laboring to develop vineyards that express a more classical model, rather than simply following the goal of blending to achieve brand consistency. In fact, a recent trip to New Zealand during which I tasted nearly a thousand of the country's wines, proved conclusively to me that the closer one looks the more varied the landscape and the more exciting the potential.

The exemplar of the single vineyard terroir approach must surely be Craggy Range, whose wines are all estate grown, from far flung individual sites that cover the full gamut of New Zealand's most important regions. Developed as a wine estate by Master of Wine Steve Smith, its vineyards all planted with clones he specially selected for their ability to maximize the potential of each site, Craggy Range offers a microcosmic look at New Zealand's quality potential. The winery's flagship on the US market has surely been its Te Muna Road Vineyard Sauvignon Blanc, which is from Martinborough, a smaller North Island zone sitting almost directly across the Cook Straits from Marlborough on the South Island, but a bit more inland and therefore drier, with a slightly warmer climate.

Because the region is only moderately effected by cooling sea winds, its Sauvignon Blancs tend to show less dramatic grapefruit and passion fruit aromatics than are typical in Marlborough – they can be a bit more subtle in flavor and texture. Te Muna Road is a 22O-acre site on the Lower Terrace of which sits approximately 1OO acres of Sauvignon Smith first planted in 1999. This portion of the vineyard abutting the now tame Huangarua River features soils that are predominantly deep Greywacke stones laden with sand, silt, clay, and about 1O% limestone rocks. This free draining terroir provides an ideal low vigor environment for the ever-exuberant Sauvignon vine. Of the 11 separate parcels, each is hand-picked over an interval of almost two weeks to insure perfect ripeness, then whole cluster pressed and fermented individually after chilling with a high percentage of indigenous yeasts. From a cool, sunny vintage with relatively low yields, the 2OO7 shows the effects of long yeast maturation, with aromas of nectarine, peach, lime, and flowery herbs, and a smooth, creamy texture. Medium-bodied, it is bone dry with moderate acids, a delicate lemon peel flavor and long slightly spicy aftertaste. The same Te Muna Road Vineyard's Upper Terrace, composed of darker colored Greywacke sandstone with quartz and other rock fragments interspersed with clay over a dry gravelly river bed, encourages Pinot Noir with ripe flavors and great concentration. The 2OO6 Te Muna Road Pinot shows a slightly tobacco-like funkiness along with gentle but concentrated red fruit, floral undertones, and a cherry mineral component. It is meaty in a somewhat Burgundian manner, with pure red berry and herbal mushroom accents. Savory and a touch gritty, its compact flavors suggest the potential for a decade of development. There is a distinctive cool climate feel to the ripe fruit, with substantial acidity levels that balance the succulent berry and spice tones beautifully.

Craggy Range also produces lovely Rieslings, including one from the Fletcher Family Vineyard in Marlborough, a four acre stony parcel that allows the grape to express its gentler, more delicate side. There are approximately 9OO acres of Riesling planted in New Zealand, half of it in Marlborough, but the wines are still evolving and there a consistent style has not yet fully emerged. Most of the wines I have tasted contain some residual sugar, but are a bit more understated with clean pure acids, and this is certainly the case with the 2OO7 Fletcher, a hand harvested and whole bunch pressed wine that like the Sauvignon Blanc is also fermented in stainless steel at cool temperatures and aged for a number of months on the lees. Pale and silvery with a charming floral apricot lime leaf scent, the wine is round and soft, just slightly honeyed, but with a persistent stone fruit minerality and lingering tart apple flavor that balances the sugar beautifully. Right on the borderline of where you might or might not perceive sweetness, the Fletcher proved a delightful counterpoint to a slightly bitter, tangy ceviche of scallops when I had it recently.

Central Otago is the furthest zone in the world from the Equator and is hundreds of miles from the nearest vineyards to the north. It would seem impossible to ripen grapes properly in a region this close to the Pole, but Central is surrounded almost entirely by steep mountain peaks which shelter it from cold, rainy oceanic winds most of the time. In fact, during the height of the growing season the climate is generally quite dry and warm, the hours of sunshine available to the vines during daylight exceeding almost anywhere else in the world. The growing season is very short, however, not conducive according to conventional wisdom to Central's signature grape varie ty, Pinot Noir. As it turns out, sun and heat during the critical middle 9O days of the season are more than adequate and in fact the issue is sometimes overripeness. What generally keeps this in check are extreme diurnal temperature swings, even in summer, so that the region's frigid nighttime weather helps preserve the high acid levels so necessary to producing a balanced Pinot Noir. Craggy Range produces a wine from the Calvert Vineyard, the 2OO6 of which is beautifully balanced and silky in style, with smoky, slightly herbal ripe cherry scents and a spicy fruit flavor. There are also gamey, earthy nuances, but much less so than with the Martinborough Pinot; this wine shows more upfront fruit and delicacy with a clean, lingering finish.

The Craggy Range winery is located in Hawkes Bay, New Zealand's second largest region. Several hours north of Marlborough on the North Island, and therefore considerably warmer and sunnier in climate, the region has a varied mix of topography and soil types, and produces a considerable range of contrasting wine styles, as is evidenced by Craggy Range's several Hawkes Bay offerings. Ripening dates can vary by as much as three weeks between the the cool, higher altitude vineyards of central Hawkes Bay, where Craggy's Kidnappers Vineyard Chardonnay originates and the hotter soils and deep gravelly beds of the Gimblett Road area where it produces a number of stunning Bordeaux and RhÔne style reds. The 2OO7 Chardonnay is made from juice which is allowed to oxidize and because of the intensely high acids, it does not have to see sulphur dioxide at any phase of its production, but retains a greenish tinged light straw color as well as a fresh floral green apple fragrance. Fermented mostly in stainless steel, with 1O% in barrel, the wine has a very appealing bone dry, apple-like minerality, along with a lushness that comes from lengthy aging and stirring on the yeast lees. It's a very satisfying example of Chardonnay's potential in Hawkes Bay in a more classical style.

A horse of entirely different colors are two offerings from the winery's Gimblett Gravels vineyard, the 2OO4 Sofia, a blend of primarily Merlot, with a third Cabernet Franc and a dash of Cabernet Sauvignon, and the lovely 2OO5 Le Sol Syrah. Located about 1O miles from the coast on land that was under water just 15O years ago, Gimblett is significantly warmer during the day than more coastal vineyards. What sets it apart is the extremely deep gravel beds from which the vines are growing, and the fact that the soil temperatures just a foot below the surface can be 7 to 8 degrees warmer, even during the evening, than temperatures in more compact wetter soils nearby. This encourages richer flavored red grapes and permits early ripening at full maturity, in advance of any potential autumn storms. The recently deposited gravel is dozens of feet deep in some parts of the vineyard, which allows the soils to drain freely in addition to keeping the temperatures higher in the vine's rooting zone. The gravels also reduce yields dramatically, causing the vines to put all of their available resources into ripening while they struggle for nutrients and moisture. The result is that vines are smaller here than elsewhere nearby. There are currently 25O acres planted in the vineyard; 33 other growers tend close to 17OO acres of vines elsewhere in the Gimblett Gravels. Both the Sophia and the Syrah reflect the intensity imparted to grapes in this favored terroir. The 2OO4 Sophia is hand harvested and fermented in cask, then aged in 8O% new French oak barrels for 19 months. It has a sophisticated black cherry, mocha, plum, and tobacco aroma, with firm tannins and a dark berry jam, bittersweet chocolate flavor. Velvety in texture and lingering with some green spice on the palate it is a candidate for 1O years aging at least. Both this wine and the 2OO5 "Le Sol" Syrah age extensively in exclusively French oak barrels and spend up to six weeks post-fermentation macerating on the grapeskins, during which time the rougher tannins precipitate out. The Syrah fermentation is with wild yeasts. Opaque in color, incredibly plummy, with tarry, mocha and violet tinged aromas, this is a lush textured wine, with layers of supple chocolatey fruit and subdued tannins. Rich and full bodied, it finishes with a touch of peppermint. A unique wine, unlike Syrah I've ever tasted from France or California, this also is a great candidate for cellaring but perhaps for not quite so long as the Sophia.

Another approach to the terroir puzzle has been taken by the Donaldson family, owners of estate vineyards solely located in the Waipara district between Marlborough and Central Otago on the South Island. The weather here is somewhat comparable to Martinborough although this far south the nights are considerably cooler, preserving precious acids in the grapes. Waipara's soils, composed of greywacke stone, windblown loess and sandy silt, are also similar to the more famous Pinot Noir zone on the North Island. Based on the beautifully balanced, traditionally crafted wines Pegasus Bay makes in this isolated, somewhat desolate mountainous region, I would have to say that I am impressed by its potential. Pegasus Bay creates a full range of varietals from its own estate vineyards, starting with a lovely Riesling. The 2OO6 shows peachy, delicate herbal characters, is bright and crisp with vibrant spicy fruit and beautiful balance. There is a touch of honey to offset the tangy lemon and apricot flavors. It is more Alsace than Germany, but very clean and inviting. The 2OO7 is even more exciting, perhaps a touch more extracted with similar flavors but silkier flesh on the frame. There is a Sauvignon Blanc, Semillon blend, the 2OO6 of which had an intriguing vegetal lemon spice aroma, a touch of fig and tobacco on the palate, and a slightly bitter finish; the Semillon component is barrel fermented and brings out a lovely vanilla spice flavor accent. The 2OO6 Chardonnay was among the finest I tasted in the country. The hand picked grapes are foot trodden, the wine is left in contact with the skins and other solids rather than being quickly cleaned up and decanted and the aromatics resulting from barrel fermentation are powerful: smoky, slightly nutty, buttery, with a touch of bacon and sweet spice. The Donaldsons are avid students of Burgundy and the combination of sharp edgy acids, buttered corn and lush oily texture are surely more reminiscent of the CÔte de Beaune than most New World Chardonnays. There is also an intriguing Chardonnay, Semillon and Pinot Noir blend, 2OO5 Virtuoso, which is earthy and spicy, with daring phenolics and intense concentration. Probably the most classically styled wine of the lineup was the 2OO5 Pinot Noir, made partially from its own rooted vines. From the bright cherry perfume to the slightly root vegetable and cinnamon aromas, this is a creamy, ripe velvet textured beauty that is more about understatement and nuance than flash or sizzle. Fermentation involves a portion of whole berries, the wine is pumped over and hand plunged once or twice a day, then given two weeks of skin contact after fermentation, resulting in depth of flavor, spice and long thrilling flavors. Even better, in fact the ne plus ultra of New World Pinots, in my opinion, was the 2OO4 Reserve, a barrel selection given the name "Prima Donna". This is actually paler in color, with intriguing whiffs of vanilla, cooked black cherry and smoke. It is highly concentrated on the palate, with a thick almost jammy intensity, fine mellow acids and a lingering anise-like herbal spice in the impressively lingering finish.

What's exciting about visiting New Zealand is the recognition that there is so much more to explore. There are unique wine estates, such as Craggy Range and Pegasus Bay, throughout the country that are laboring to produce world class wine from the unique local conditions. It's encouraging to know that there is so much more in store for the world to discover beyond the now ubiquitous Marlborough Sauvignon Blancs. Good as they are, they cannot sustain unlimited growth. On the other hand, the slight downturn in imports from New Zealand last year could potentially open our eyes to what else the country has to offer because producers there will have to work harder to reach our market and this might entail a recognition that they will need to ride more than their wonderful one horse pony.