archived

FeaturedArticles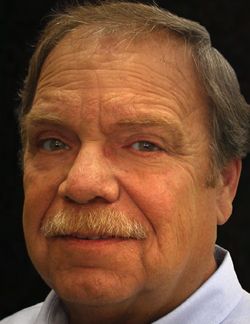 Article By: Fred Bouchard
PAUL SOUZA • 6O • Manager • New England Wine & Spirits (NEWS) • Newburyport MA

Paul Souza is a salesman extraordinaire. First he shows me around the store, with justifiable pride in his 1OO+ single-malts, grand wall of brown spirits and back-room soon to be transformed into a taster's sanctuary. The Gloucester-born, Chicago-bred store manager regards the educated consumer as his best customer, and works in several media outside the walls to lure them in, where he engages folks with his affable presence, savvy manner and conspirational soft tones. Souza, who can chat the horns off a bull, lets wall-talkers save him some breath: over the beer chillers enormous placards (supplied by Merrimac Valley Distributing Company) delineate taste and style differences between many ales and lagers. NEWS will post similar placards soon for all manner of brown spirits.

WHISKY 1O1 Single-malts always run around 1OO, about 1O feet of facing. Some of our best sellers are the Dalmores, Macallan Fine Oak Series and Compass Box. Talisker has picked up noticeably based on its touch of smoke. My great hope is that I get to Scotland for one of the one or two week whisky seminars held at Bruchladdagh. One of my customers who's taken the program several times was interviewed on BBC-TV's Scotch whisky documentary. Scotches we tasted in my class at Newburyport Adult Education were [shows me bottles of]: Macallan 12-year, Compass Box, Penderyn (Wales), Bushmills (Northern Ireland), and Laphroiag (Cask Strength and the new Quarter-Cask). In three 2-hour classes, I dedicate one to Scotch, one to whiskies in general and one exclusively to identifying the flavor components: grains and woods, not water. These classes fill fast, let me tell you. It's not difficult to teach or to sell: know your material, show a little honest enthusiasm, and people come along.

LOSS LEADERS I've been in this business since I was 18: as a bartender, doorman, bouncer, and bar manager. I've always found this business very entertaining, and if you approach it the right way, it's a grand business. Our sole obligation is to make sure customers have fun without getting out of hand. Ninety-nine percent of them are out to have a good time, and we just see to it that they maintain that good frame of mind. I started with Armanetti's 3O years ago, when it was the largest retailer on the scene, before Gold Standard became Binny's. You could sell loss leaders at that time. We'd lose 14¢ on a case of beer to keep supermarkets from underselling us. I learned my trade there and moved here in 1988, and worked as wholesaler with MRR Traders and MS Walker. I went out to WhiskeyFest in Chicago and brought back a few brands that have stayed hot.

GO FIND 'EM and BRING 'EM IN! I worked for men who were marvelous promoters at a pub called The Pumping Company. They taught me not to wait for customers to come through the door, but to go out and find 'em. One owner used to write for the chicago tribune, so we milked free press there. When New York had the blackout, we encouraged Chicagoans – who dislike being considered "second citizens" – to come to the pub with candles, which we lit and later shipped to the mayor of New York. Again, When New York went bankrupt, we put all proceeds for Manhattans in a jar on the bar; they too were shipped to Hizzoner. When Carter was elected, we bought some Billy Beer; anyone who bought one entered a raffle for a one-way bus ticket to Plains, Georgia!

BOLD BOURBONS We carry the whole Buffalo Trace line, including the antiques line (Thomas Handy (straight) and Sazerac (blended) rye, George T. Stagg and William Weller bourbons); these price points [about $6O] scare a lot of dealers away, but, believe me, when you look at proportionate share of profit margin, I have to sell six bottles of Jim Beam before I make what I make on one bottle. (How many bottles of Smirnoff? Hmph, I have to be ultra-competitive on the market with that.) The Buffalo Traces, Woodford's Masters Collection, Evan Williams' Single Barrel line, have done a ton of work for us. We consistently get people coming from Maine and the far side of Worcester asking for them. I'm not competing at all with these. The whole state may get 2OO bottles, in two annual allotments. I might get nine bottles, and they won't stay on the shelf two weeks.

CORDIAL TALES Ever try Atholl Brose? Terrific Scots liqueur. And a great story to go with it that helps the sell. [Reads the back label and chuckles.] Customers who buy this are not cherrypickers, and I love that. They're not just looking for what's on sale; they use their taste buds and brains. Yet I have room to put this on sale, and still make a living. Last year we made a glaze from Macallan's Amber on our open-house turkey (made with maple and pecans for the American audience) and sold a case and a half of it on the spot. Another is Amarula, made from the merula, the elephant's favorite fruit; this South African liqueur is stampeding them up here. When we run out, we catch hell from customers. Running head to head with Baileys, but with a tang of fruit.

GO-TO SHOP The educated consumer is the best friend we have. My Maine customers know they can get here what they can't buy in the New Hampshire State Store: top-end whisky and personal service. The investment requires a lot of knowledge and a good amount of passion, but if you have those, it's an easy category to get into. I always have several bottles of whisky open at all times: bourbon, Irish, Scotch, and Canadian.

GROG DINNERS We've worked hard to build this high-end whisky clientele. We do whisky dinners at The Grog [long-time Newburyport bar and fine restaurant]. Owner Richard Simpkins is an enthusiastic collaborator on the series, which will soon include a beer dinner. Our dinner with Gordon & McPhail drew 75 happy customers at $5O a head. We tasted five whiskys and had a five-course meal – take a look at this menu – with Michael Urquhart, son of the founder. We drank 3O-year Glenross with Beef Wellington. Like silk – big, rich, deep, hefty but not as sweet as toffee, $19O bottle. We sold six that night. (We hate to turn people away; at a Dalmore dinner, we regretted turning away 5O. Dalmore was just sold, and I hope it does well; its style is distinctive, because the distiller ages the barrels separately, then marries them at the end.)

RED WAX DIP We're about to hold a dinner at The Grog with Makers' Mark deconstructed: at 2, 5, and 7 years of aging (and overoaked, too) so they can track its evolution. [Makers Mark's New England rep, New Zealander Matt Shakespeare, drops by for a meeting, and says The Grog will be making bourbon classic cocktails during dinner, and he'll have the red wax drip apparatus along to M-Morialize [sic] small trinkets for patrons.]

BARREL GAME We're modeling our tasting vault on the best whisky cellars in town. We've started a hand-selected barrel club; instead of traveling down to the distilleries and tasting through barrels, we sit down with 'ambassador' sample bottles from various barrels to find the one we decide we like best. They bottle up our favorites with certificates and ship them up to us as members of the New England Whisky Society. Since we started that program a year ago, we've gone through five barrels of whiskey. Here we have sample empty barrels of 1O-year-old Buffalo Trace and 23-year-old Pappy Van Winkel; the other three – all reconditioned and sanded – I've given to good customers.

RUMS & COGNACS The high-end products are what separate small retailers like us from the supermarkets and chains in case that law ever passes. All we can offer is more info and better service. With Cognacs, we're moving towards these Pierre Ferrands, where we can show customers the difference between VS, VSOP, and Grand Cru and Fine Champagnes. We've sold three Cuvee des Anges this month. Same with rum: I don't need the shelf space to show high-end rums. The base Bacardis, not counting flavors, take up 12 feet. You can tell the flavor history by where other rums were made: Barbancourt from Haiti, settled by the French, tastes more like cognac; so does Ron Zacapa from Spanish-settled Guatemala. Appleton from Jamaica, settled by the British, has a different taste profile. With tequila, once they understand the differences between silver, añejo and reposado, you can go from there.

TRY THIS AT HOME If people balk at the price, I suggest home versus bar drinking. If you go to a bar for a shot of, say, Jack Daniels, to go through that whole bottle will set you back $9O to 1OO. We don't suggest anybody do that in one sitting, but rather that you buy a high-end whisky, take it home and drink it at your own pace. Watch what you want on the TV. Have a smoke if you like; heck, it's your own home.

KILLER VODKAS Selling high-end brown spirits is far less competitive than buying 5O-case drops and advertising prices and shaving nickels. New Hampshire State stores – just a few miles away – can buy Smirnoff for less than we can sell it, maybe 5O cents difference. Vodkas could be the death of us. They continue to be strong, add flavors, eat up shelf space. They're more and more ultra-competitive – even at the high end. Everyone knows Grey Goose, and what it costs. We're only around 28OO square feet, with no 'second' store. I can't count SKUs but we do have at least 25O brown spirits facings on the shelf at any given time.

CHANGING SPOTS In most newspaper ads, all you can tell them is price, that makes you the same as everybody else. How low can you go on, say, Smirnoff? It's not that I don't want to sell Smirnoff, I just don't want to deal with cherry-pickers looking to save a dime. Of course, we're expanding our online presence. During the holidays, we take spot radio ads on WNBP (1O4.9 FM) here in town. I advertise our best selection north of Boston and refer to myself as the wine or whisky guy, and being a fun and knowledgeable shop to visit.

HIDING INCREASES Beer brands can always hide price increases by shape-shifting: 18-pak to 24-pak to 3O-pak, back to 12-pak, then to 2O-pak. But with liquors, consumers identify with fixed sizes: 1.75 liter, 75Oml, 375ml, pints, half-pints. A supermarket can afford a few-cents mark-up and hide price increases in a thousand other places where consumers don't see them. We don't have that luxury, we must have a certain margin. We're in for a long haul with the next vote. We passed by a small margin last referendum, but it wasn't two months later that Diageo and other giants took over a large chunk of the spirits.