archived

FeaturedArticles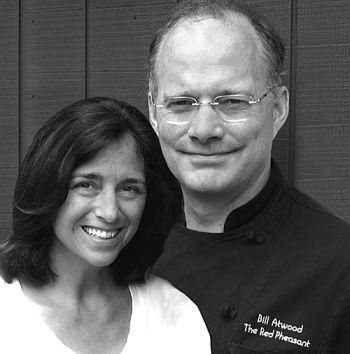 Article By: Fred Bouchard
BILL and DENISE ATWOOD • 54/51 • Chef/Owners • The Red Pheasant, Dennis, MA
---

Patti Page sang about it in 1957 - "If you're fond of sand dunes and salty air, quaint little villages here and there." How many of us today remember Old Cape Cod? Bill and Denise Atwood do, and they've kept its spirit intact at The Red Pheasant, for 28 years their restaurant and bistro (and until recently, also their home) on bucolic 6A in Dennis. Their list of 275 to 3OO wines is deep into 1999 and 2OO3. They're committed as hosts: 7 days a week, 48 weeks a year. They raised their three daughters in their home adjacent to the 1OO-seat (8O dining rooms, 2O bistro) restaurant, a destination for Classic French cuisine on Cape Cod.

---

FIRST DAYS BILL Dad opened his own 'Silk City' diner in 1952, then another restaurant, then worked at Tuxedo Park Country Club, where at 16 I'd come in and flip steaks at cookouts. I snitched on his sous-chef, who was getting plastered on warm vermouth. Dad wanted me to come to The Red Pheasant in 1977; I came a year later as bartender. When Dad took off on vacation, I watched this sous-chef cut corners with canned newburg sauce and carve whopping 1-pound swordfish steaks. We had a discussion, and parted ways. When Dad came back, I'd taken over as chef, but I gave him back the apron.

OLD CAPE FOOD BILL We were trying to build a business, and that was no way to do it. Back then, the Cape had no linen tablecloths, except [the old] Chillingsworth, The Daniel Webster, The Paddock, and Christopher Ryder House. It was all oilcloth and simple fare. We served hamburgers and chopped sirloin [Salisbury'] steaks and ham steaks. DENISE We served lunch and dinner then; the only item that's been stable for 29 years has been Sole Meuniere. Some of our regulars cry if we take it off! BILL We took a chance back then serving Veal Oscar and Shrimp Dijon.

EARLY BONDING BILL Brian Oxley of Ruby Wines helped us with our first very simple wine lists. The Rubins were good to us. We were trying to migrate from carafes to a dozen cork-finished bottles. DENISE Bruce Gibson of Harwich Spirit Shop used to run all-weekend wine tastings. BILL We'd taste mostly French wines because California didn't have it together yet. DENISE Except for a few like Mirassou and Burgess Cellars. We've had three tasting dinners led by Tom Burgess [last in 3/O5]. His wines are as important to him as our food is to us and we have become friends. Great food, great wine, great friends - what more is there?

FIRST WINTER BLUES BILL My first winter here I went to a Burgess tasting at Carolina and bought $15OO of Tom's wines. By January, there was almost no business. "Dad?" I asked "What did we do wrong?" He walked me out to 6A and had me count cars after dark - two an hour. I called Carmine Martignetti and said, "I don't have that $15OO right now. How about I pay you a couple of hundred a week?" "I'm good with that," said Carmine. "You're not making me chase you." Business back then was not about the bottom line, but what we could do to help each other. Anyway, Carolina got our house wine for a few years after that.

ALL ABOUT PEOPLE BILL When Carolina had a busload of sales people down to Ocean's Edge [resort on 6A] a few years ago, I told some guys that story. "What would you do now, Carmine?" asked one. Another yelled, "He'd post ya!" Today everything's micromanaged; personal relationships are often out the window. There are quotas to meet: you can't have this wine unless you buy that wine. Yet I can still have that kind of relationship with the Rubins (and Wayne Niemi), or pick up the phone and call Carmine.

FORT de FRANCE BILL I'm our so-called 'wine expert'. We have only California and France. [Summer 2OO6 wine list's US/France ratio is: Sparkling (2/5), White (27/33), Pinot Noir (1O/32), Bordeaux types (52/42), Rhone types (4/25).] Must haves include Trimbach, Cos d'Estournel, Chapoutier, Clape Cornas, Drouhin, Burgess, Domaine Serene, and Erath. I have a big heart for all these people. Our passive cellar has an air-conditioner; our refrigerator man bypassed the thermostat to keep wines at 62 degrees F. In winter it's off and stays around 58 degrees F. The wine cellar reflects on the restaurant's longevity. Our list is 27O strong; just go through our Bordeaux and Burgundies and Napas. Yet the days of my buying Cos d'Estournel for $25 are long gone; they're now $15O+. [Chateau] Haut-Brion is massively expensive, and you have to sit on it for years before it's ready to drink.

PINOT CHALLENGE BILL I'm sticking with France and California, but it's getting crazy now. Before 2OO1, money was no object, afterwards it became a real issue. My biggest challenge today is finding decent Pinot Noir at an affordable price. Some wines are in tight allocation; you don't find them in shops. I'll still sell plenty of bottles over $1OO, but people's pocketbooks have not kept pace with costs. Two groups that influence matters are the Taster, who checks on our 199O Bordeaux without dipping into his own stash, and the Collector, who's scoffing up these bottles while they last, whether s/he's in Manhattan or China. In today's world economy, somebody will be stepping up to the plate to buy wine. Just look at the prices of Bordeaux 2OO5: first and second class growths continue to spiral through the roof!

FRENCH CONNECTION BILL Bruce Cole of Dreyfus Ashby got us interested in Drouhin. He said: "You're gonna love Vero" [$12 white Burgundy]. He knows my palate: Vero's unbeatable at the price point. We're a lot more pinot friendly than cab friendly. DENISE We've known Bruce since our days with the Brotherhood of Wine; it's a guys wine club who invite significant others for Christmas parties and a Burgundy dinner. BILL Founding members are Dick Catania, whose family owns The Daniel Webster Inn, and Kenny Mason, who owned a Harwichport deli, has a terrific cellar, and now as a district manager for Classic Wines. DENISE That's twenty years drinking together!

TAKE the DRC and RUN BILL I bought very heavily of 1999 Burgundies. I bought 21 bottles of DRC last year for almost $13,OOO, hosted a dinner practically for cost, and drank 'em all up. But with two girls in college, we pocketed the 1O%. I did not want to lose that allocation. If we don't step up to the plate (and lay down the cash) somebody else will.

GROWING a BISTRO DENISE when we joined the first playgroup in 1981, we didn't know a soul, but by 1984, there'd been a big migration and a baby boom. BILL That was good for business, and the 199Os were terrific. What didn't change was January and February. To keep going through the lean months, we had to retain our staff and customers. DENISE We turned the fireplace room into a Bistro with a limited menu, regulars came in for a glass and appetizer and stayed all night. It's caught on, so we serve martinis and less expensive entrees. BILL Our bartender, Steve Strickler, has created a whole range of bistro drinks last summer featuring Patron Tequilas. His new favorite flavor is Patron Citronge. DENISE He makes a phenomenal mojito using Dutch Mint from our herb garden. BILL We've expanded the menu, too. If this place were off-Cape, it wouldn't be a special occasion place, but a foodie place, where people would drop by to see what we're creating. We have to think how we can get good food out while keeping a high volume.

FARMERS' OUTLOOK DENISE The garden is my domain; as well as herbs and flowers, I grow edible garnishes (lavender, nasturtiums, chives). We were impressed in Burgundy that the growers are simple farmers. We lived [by] the restaurant until four years ago. The restaurant was more than our livelihood, it was our life, our home - it's a very deep connection. BILL Denise prepared a meal at five o'clock, when the restaurant was usually empty. If I got called into the kitchen, I went, but we had family meals together. When I was a kid, my [chef] father was never around; I didn't want that life for my girls.

WINE DINNERS DENISE We can't do them in the summer, of course, but try to do one a month the rest of the year. Organics are getting hot. We did a dinner with Bonterra - solid wines at a good price-point. We're trying to host dinners with Lolonis and Ferrari-Carano in the fall.

MEMORABLE TRAVELS DENISE we took our first trip to California in 1991, a rare time away from our daughters. We visited Cain, Chimney Rock and Newton. We brought back large format bottles and forged relationships which led to wine dinners. On our 2Oth anniversary in Burgundy, people rearranged their schedules to accommodate our overbooking; our concierge called four small wineries to let us visit them on a Sunday morning! BILL Burgundy is so beautiful, the people so genuinely hospitable, the wines so delicious. We were overlooking Vosne Romanee; our daughter Rebecca painted the murals of Domaine Romanee Conti and Clos Vougeot [on the restroom wall]. She's at Rhode Island School of Design now.

PHILOSOPHY BILL We're small enough so it's always about relationships - with Carmine Martignetti, with Ted and Bob Rubin and Wayne Niemi, with customers [like 'Marlene'] who comes in twice a week year 'round and complains when we change the salad with the crab cakes.