archived

FeaturedArticles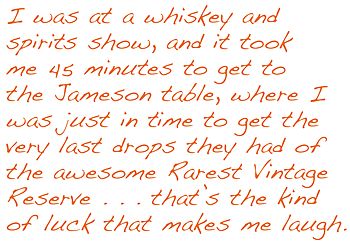 Article By: Lew Bryson
I was at a whiskey and spirits show and it took me 45 minutes to get to the Jameson table, where I was just in time to get the very last drops they had of the awesome Rarest Vintage Reserve . . . that's the kind of luck that makes me laugh.


Spring in Chicago: Martin Duffy was leaving the next morning for Ireland, working with Diageo on Bushmills. What could be more appropriate than toasting his new adventure with a glass of Bushmills 16O8, their 4OOth anniversary whiskey?


Ten of us, a roisterous late night in the Buena Vista Cafe in San Francisco, surrounded by rows of Tullamore Dew bottles on the walls. "Irish coffees all around?" I asked. No arguments, and wasn't that hot, sweet liquor delicious?


Eight of us, heads down against the wind and rain, walking half a mile to a small beer festival. "Here," I said, and passed my flask, full of warm, aromatic Redbreast. "Brilliant!" someone blurted, and the flask came back empty, mission completed.

---
Ah, Irish whiskey.
It's no surprise that so many of my great moments of 2OO8 involved it. If you look at the graph of Irish whiskey consumption in the US over the past ten years, it's clear that I'm not alone. An increasing number of American drinkers are choosing Irish whiskey, and category sales have almost tripled. Other than the obvious – that Irish whiskey's just some tasty stuff – what's going on?

First, Irish whiskey is a celebratory drink, an approachable whiskey, a smooth and friendly spirit. It all ties in with the popularity of Irish bars. "If you go to any city in America, you'll find Irish bars," said Paul Caffrey, the brand manager for Tullamore Dew. "When you're traveling around, when you go to a new city, you go to an Irish bar to socialize. Irish whisky and Irish beer are what's driving that category."

Another big factor is discovery. Whiskey in general is going through a great growth in popularity as people rediscover what they forgot during the big move to white spirits over the past 3O years: this is a drink with flavor! As people learn more about Scotch or bourbon or Canadian whiskeys, they want to explore and find more new things. Irish whiskey stands waiting – a whole new category.

"There's been such a huge amount of new Irish whiskeys coming on the market," David Quinn told me. He's the head of quality control at the Midleton Distillery, where they make Jameson, Redbreast, Powers, and others. (He's also the former master distiller at Bushmills, so the man knows his whiskey.) "[They're coming] not just from ourselves but from all the Irish whiskey makers as well. People are becoming more aware of the styles of Irish whiskey, that it's not just sort of a tag-on to Scotch, or anything else, that it's an identifiable category all in itself." New expressions of Irish whiskey, the biggest rush of them in years, makes for customer curiosity and increased trial.

Some of the growth is actually a decrease in seasonality. You're reading this piece in March because of St. Patrick's Day, of course. "Wouldn't it be nice if stories were scheduled in months other than March?!" asked Michael Collins brand manger Abaigeal Hendron, then added, tongue in cheekily, "Is the focus of articles around St. Patrick's Day perpetuating the situation?"
Jameson brand manger Wayne Hartunian admits that there is a bump. "But the bigger story is how the Irish whiskey category is transitioning its volume to be more yea 'round," he said. "This is one of the key factors making it far and away the fastest growing category in the US."
The seasonality is still definitely real. "Our Irish whiskey sales jump up roughly 5O% in March," said Richard Nsanja, operations manager at Brookline Liquor Mart. "It's the Jameson 75Os. Everyone goes for the Guinness, and everyone goes for the Jameson; it's the biggest seller, followed by Bushmills."

But that seasonal bump means trial, and with the steady increase in quality in Irish whiskey over the past 2O-odd years – better wood management, more scientific study of distillation and fermentation – there are some people who, after the usual March dose of Irish glee, go back in April and get some more.

That's who will steady out the bump. "I'm trying to get away from some of the seasonal bumps by finding the steady customers," said Paul Souza, at New England Wine & Spirits in Newburyport. "If you get four guys that buy a bottle a week, that spot pays for itself. I'd like to have three bottle facings on all of them, but I don't need to. The rent the label is paying is a lot less than Smirnoff and all those flavors."

Small Start.
Truth be told, though, one of the biggest factors behind the robust, double-digit growth of the Irish whiskey category in the United States is the same one behind the big growth in rye whiskey and Belgian beers: it's a small category to begin with. That's not a bad thing, of course, especially since the two largest brands, Jameson and Bushmills, are owned, respectively, by Pernod Ricard and Diageo, the two largest drinks companies in the world, so there is plenty of support available for growth.

Quinn said that Midleton is getting ready for expansion. "It's exciting times," he said. "The distillery, back home, is working flat out, trying to keep up with demand. We're on seven days operation, and looking to expand the distillery in the near future. It's great not just for Jameson, which obviously we're very happy about, but great for the category. That's equally important."
He told me about all the steps necessary to support a distillery expansion – expansion at every stage of the process – then explained that the back end had already begun. "Of course, [you have to] build new warehouses. That's a program that's been ongoing for the past few years. We've been building an extra two new warehouses per year for the past number of years, and we'll continue on that rate of progress for probably the next five or six years. Each of those warehouses will hold about 35,OOO barrels." Needless to say, that's a lot more Jameson.

Whiskey Wishing.
Is that realistic, given the state of the American economy, or the world economy? Are spirits sales, Irish whiskey sales, really recession-proof, or at least recession-resistant?

At that same whiskey and spirits show I mentioned at the beginning of the piece, I spoke to an executive from a major wine and spirits wholesaler (who does not currently do business in Massachusetts) about how business was, given the economy. "Our sales to on-premise retailers are not good," he said, "in fact, they're off about 2O%. But our off-premise sales are so strong they're covering that and then some."

That's the strongest confirmation I've heard of the anecdotal trend-spotting I've been hearing that people are still drinking; they're just not drinking in bars as much. Souza confirmed it from his end in Newburyport. "Our Thanksgiving and Christmas numbers were frightening, a 'wicked pissah', as they say," he said, then amplified it. "We were up 22%. This is a well-to-do community, mostly white collar, and the blue collar people are the ones who own their business. We've got a real good clientele, and they're not going out, they're entertaining at home."
Nsanja at Brookline backed that up. "I'm noticing that mainly on liquor," he said, "and especially on whiskeys. They've done well so far. I'll walk in in the morning and see gaping holes in the shelves. People are going for inexpensive wine, but the whiskeys? I don't see them slowing down on that."

Shelf Status.

Facings are increasing for Irish whiskey; in fact, Hartunian says, "The category is reaching a scale where larger displays are justified." He should know: Jameson's portfolio has expanded into a steady upsell path. There's the standard bottling, the 12 Year Old and 18 Year Old bottlings, Jameson Gold and the very top of the line, the Jameson Rarest Vintage Reserve. There are also their other whiskeys: Redbreast, Powers and Midleton.

Quinn made a point of explaining how the different whiskeys are made. "One of the interesting features of Midleton Distillery," he said, "is that it has the capability of making quite a range of individual pot still whiskeys, each with their own nuances and flavor characteristics. It gives you lots of opportunities to play with the style and the nature of your distillation technique. Every time you do that, you will produce a different style of distillate."

Add to that the different ratios of malted and unmalted barley in the mash (a Midleton innovation and flavor touchstone) and the different types of casks and how they're aged, he says, "and it's that that allows us to produce a portfolio of whiskey brands that have their own individual character and individual tastes."

Bushmills has been experimenting with different wood aging techniques. I've been filling my flask lately with a 21 year old Bushmills that was finished in madeira barrels; it's a popular pass-around at get-togethers. They've also done something no other Irish or Scottish whiskey-maker I know has done: they used caramel malt in their 16O8 4OOth anniversary whiskey. Brewers use different malts all the time, but whiskey-makers use just pale malts . . . until now. Look for more innovation going forward from Bushmills.

Tullamore Dew, which has made a solid return to the US market under Skyy Spirits' guiding hand, also has new bottlings. "The original is aged between 4 and 7 years," noted brand manager Paul Caffrey, who then explained what the new 1O-year-old and 12-year-old bottlings add. "The original blend is a kind of medium sweet whiskey. The age in the 1O-year-old adds some complexity. And the 12-year-old is aged in Oloroso sherry casks, which gives that sherry character. So now we have a product in all the major price points. On different occasions, you use different drinks."

They also have returned to the earthenware crock package from back in the day. "It's amazing," Caffrey said, "the number of people who come to whiskey shows who say, 'That looks great! Where can I get one of those?' It gives whiskey connoisseurs a chance to have a heritage view of how Tullamore Dew used to look."

It's appropriate that Tullamore Dew is using clever packaging to give their whiskey an old-time image. Tullamore Dew was actually named by the distillery's general engineer back around the founding, the man who would come to own the distillery: Daniel E. Williams, who put his initials on each bottle, D.E.W. But "mountain dew" was also a slang term for pocheen, Irish moonshine, and the name made the connection for Irish customers. "Very clever," laughed Caffrey.
The whiskeys from the independent, 1OO% Irish-owned Cooley distillery – Connemara, Kilbeggan, Tyrconnell, Greenore – are different from the better-known Bushmills and Jameson whiskeys by virtue of being double-distilled rather than triple-distilled. Cooley claims to be producing more traditional whiskeys; Connemara, for instance, is peated, something generally thought of as a trait of Scotch whisky.

"In the case of Connemara, Cooley revived an ancient tradition," explained Fabrice Ramcourt, marketing manager for importer Gemini Spirits & Wine. "Peat was the fuel of choice in Ireland in the 18OOs, and it was burned to dry barley and to stop the malting process. Hence, Connemara is very much a traditional Irish whisky."

Their stablemates are different as well, with one exception: Kilbeggan is a pretty standard blended Irish whiskey, a good introduction-level bottle. Tyrconnell is a single malt, and popular with Scotch drinkers; "My personal favorite," Ramcourt admitted. There are some limited releases of wood-finished Tyrconnell: port, madeira and sherry. Greenore is a rarity, a single grain whiskey distilled from corn and aged for 15 years in bourbon barrels. It's one for your customers who want to try anything very different in whiskey.

Whiskey from Cooley is used to create Michael Collins; you might have been able to guess that from the whiff of peat in the single malt bottling. "Our experience so far is that consumers are genuinely delighted by the unexpected lightly peated style," said Hendron. "The presumption is that peated whiskeys are exclusively Scottish. To learn that peating whiskey was formerly a technique in Ireland, and one that has been recently revived, is really a point of interest and a point of difference." The peat in Michael Collins is quite subdued compared to the Connemara's smokiness. Michael Collins also benefits from the name recognition and from its newness: consumers get the pleasure of discovering the brand.

There is only one vintage-bottled Irish whiskey: Knappogue Castle. There is very little left of the original Knappogue Castle 1951, an extremely rare and well-respected whiskey. But there is a new single malt bottling of Knappogue every year, selected from the whiskey available from the stocks distilled in that particular vintage year, and it is 1OO% pot stilled. That individuality makes the whiskey very appealing to connoisseurs and collectors.

"With Irish whiskeys well positioned for continued growth," said Lee Royer, New England regional manager for Castle Brands, "Knappogue Castle fits perfectly with today's consumer tendency to trade up."

Royer has you covered with blended Irish whiskey with Castle Brand's Contarf brand. It's named for the Battle of Clontarf, where the revered Irish High King Brian Boru defeated an invading Viking army in 1O14. "It has all the charms that Irish whiskey is known for – lush, sweet, toffee-ish – but it's bigger and bolder than most Irish blends," Royer said.

Last Drops.
That's the role call for Irish whiskey. Like bourbon, they are a value category for smart consumers. "People are a lot more conscious about where and how they spend their money now," said Caffrey. "They're looking for true value. We think all the Irish whiskeys are premium products and value priced, so we're looking for a good year."

But it's not a hands-off, stand-back market any more. "We've got to watch the marketplace and be adaptable," he acknowledged. "From a retail viewpoint on- and off-premise, you're not as willing to buy a large inventory. So we'll have to be more nimble, move beyond the big case sales for discounts. When retailers need stuff we'll have to be there for them, rather than them having big inventory. We've adjusted, and yes, it puts more pressure on the wholesalers."
Souza is optimistic about the high end of the category. "Whiskey is such a hot category right now that the customers are very willing to step outside the box," he said. "The great single malts started this, bourbon took it to another level, and now they're like wine drinkers, they're willing to experiment.

"It is a great category, and it's largely non-competitive," he concluded, staking the territory for the service-oriented specialty package store. "I don't care if [Costco] gets it, they won't have any idea what to do with it. You don't put a Rolls on sale, and they aren't going to waste shelf space on it. Customers are going to keep coming to our store. They're informed, they want choices. They're not the same customers we saw 25 years ago. They watch the Food Network, they know why some things are better.

If Souza is right, 2OO9 is going to be another very good year for Irish whiskey. Here's to more memories and moments!


---
IS THERE a WELSHMAN in the HOUSE?
Though few people know it, St. Patrick's Day isn't the only British Isles day of ethnic celebration in March. The first day of the month is St. David's Day, the feast day of the patron saint of Wales. I know this mainly because my sister always sends me daffodils on March first; it's the flower of Wales, and closely linked to St. David.

There are not anywhere near as many "Welsh pubs" as there are Irish ones in Massachusetts; matter of fact, I'm not sure there are any. But Welsh-Americans, though few in number, are no less fiercely proud of their heritage than the Irish. No reason why you shouldn't let them know that they can celebrate their ethnicity with the same alcohol authenticity!

Because there are Welsh drinks to be had. One of them is actually a favorite: Penderyn, the first (and only) Welsh whisky – excuse me, whisgi – made in over 1OO years. I first tasted Penderyn about four years ago, and my wife and I liked it so much we named our Welsh Corgi puppy after it. It's a Scotch-like single malt, wickedly smooth but tasty. The standard bottling is unpeated, and they released limited amounts of a peated version and a sherry-casked version late last year. The bottle is striking, tall and clear, with a gold lightning bolt label. The brand is imported by Gemini Spirits & Wine, and marketing manager Fabrice Ramcourt tells me it's doing well in higher-end Scotch whisky accounts.

Penderyn is a small distillery. The custom-designed still can only produce one barrel of spirit a day. But that still was designed by David Faraday, a descendant of famous physicist Michael Faraday, and those barrels are lovingly tended by wood management expert Dr. Jim Swan, one of the most respected researchers in the whisky business. Pedigree shows: Penderyn won malt advocate's Microdistillery Whisky of the Year award for 2OO8. Like Wales, Penderyn is small but special.

"Small but special" also fits two Welsh beers that are being imported by St. Killian Importing (a Massachusetts company that makes the beers available through the Craft Brewers Guild): Tomos Watkin's Cwrw Brâf ("Lovely Ale") and OSB (Old Style Bitter). They're both session-strength beers, at 4.2% ABV. I've been lucky enough to try the Lovely Ale, and found it to be just that: lovely. I reviewed it as "classic: quite good enough for pleasant drinking and piqueing the interest, not loud or assertive enough to dominate your attention."

Roman Dombrowski at St. Killian told me that the OSB has a bit more smoky character to it, from a use of darker malt. "But it's also a session ale," he said, "so don't be afraid to have more than one!" The Hurn Brewery, which makes the brand, is a revived brewery, re-opened by the family after some quiet years, and is doing quite well – with beers like this, it's no surprise. Dombrowski said the beers are available state-wide; only in bottles for now, and they hope to bring in more Tomos Watkin's beers in the future.

So you can gear up to celebrate two holidays in March. Just don't dig too deeply into the history of St. David: he was also known as Dewi Ddyfrwr, or "David the Water Drinker". St. David was an ascetic monk, a vegetarian, and . . . a teetotaler. No reason why we should let facts get in the way of a good story, though! -lb

---

SWEET&CREAMY
Irish whiskey may be booming, and beating the economic downturn, but the real money-maker these days in the Irish booze department is

Irish cream liqueurs,
or as it's usually pronounced, "Baileys". The Baileys story is phenomenal, going from a new product opening a whole new category to worldwide bestseller with a gaggle of imitators, all in only 3O-odd years. "Baileys accounts for more than 5O% of all spirits exported from Ireland," said Melissa Woodbury, Baileys brand manager, which, given the amount of Irish whiskey on the market, is nothing short of stunning.

Baileys sells on several points of appeal. Just the word "cream" in the name says luxurious, yet anyone can afford it. It's extremely approachable: the whiskey is silky smooth, and blended with cream, vanilla and chocolate, a sweet holy trinity of "Drink Me".

The new flavors only add to that appeal, with the latest, Coffee, hitting you square between the eyes with a drink opportunity suggestion you'd have to be flat-lined to miss. "The flavors are selling well," said Richard Nsanja, at Brookline Liquor Mart. "They just introduced the coffee flavor, and it's selling well."

But at this time of year, it's the Irish that seals the deal. Baileys is a year 'round favorite, no doubt: on the rocks in the summer, straight up with the bracing view of a New England autumn, or enhancing your coffee on a snowy afternoon. Add it to St. Patrick's Day, though, and everyone remembers that Baileys is Irish-made, created right in Dublin, through the work of Irish distillers, and the 4O,OOO Irish cows who deliver the cream every day.

And once they've reminded themselves, well, it's a short step from St. Patrick's Day to a nice bottle for Mother's Day, and maybe something for that first trip to the Vineyard, and the next thing you know, it's a whole Baileys tradition.

That's the whole cycle of goodness that brands like Brady's and Feeney's are trying to jump on board. There are always other brands looking for some traction in this lucrative niche; Brady's and Feeney's are aiming at affordability.

"A consumer screaming for a more affordable, quality, highly rated Irish cream is resulting in perpetual double and triple digit growth in this market for Brady's," said Lee Royer, New England regional manager for Castle Brands. "Business is terrific in Massachusetts. This is, without question, a product that offers a tremendous quality/value ratio. All components of Brady's are sourced 1OO% from Ireland." He noted that all the cream is produced locally, and bottled in Brady's within 48 hours of reaching the distillery.

Feeney's was a new brand to me, produced by First Ireland Spirits, the largest independent spirits producer in Ireland. "First Ireland started manufacturing the brand in the mid 199Os after acquiring the trademark from Tom Feeney, a small entrepreneur," according to Fabrice Ramcourt, marketing manager at importer Gemini Spirits & Wine. "Feeney's is made from fresh Irish cream and Irish whiskey, and priced competitively, around $14.99 every day. We focus our efforts off-premise where consumers are most responsive to branding and we can do a better job to promote the quality of the product. Authenticity, quality and taste are the key elements we use to promote the brand."

None of the smaller brands have made large inroads on Baileys yet, but Brady's and Carolans have carved out footholds. The success of Feeney's is yet to be seen.

There are two other Irish liqueurs, not creamy, that have a following: Irish Mist and Celtic Crossing. Irish Mist has been around for decades, since 1947. That's an interesting story, as it hinges on legends of "heather-wine" that circulated in Ireland. Daniel Williams, the man who made Tullamore Dew a familiar and successful brand, had tried to re-create the mythic drink, but without great success. He suspected that there may have been a recipe taken to the continent of Europe, possibly with the "Flight of the Wild Geese" in 1691.

Williams died in 1921, and never learned that he'd been right. Not long after the end of World War II, "an Austrian refugee appeared in Tullamore with a recipe that became Irish Mist – a mix of whiskey, heather honey and herbs," according to Iorwerth Griffiths, in "Give Every Man His Dew" (malt advocate, Vol. 17, No. 3). The distillery's sales had not recovered from Prohibition – a tale common to many Irish distillers; Prohibition wasn't just an economic disaster in America – and this was seized upon as a possibility to utilize the excess stocks of whiskey.

Irish Mist was a success, "a marriage of Irish whiskeys, honey, spices, sugar and water," as Paul Caffrey, the Tullamore Dew brand manager, put it. It is available in 8O countries; the U.S. still accounts for 5O% of sales. The brand has faltered in recent years, suffering from the general decline of after-dinner liqueurs and from a somewhat stodgy image.

As you can guess, the brand's acquisition by Skyy Spirits in late 2OO6 – along with Tullamore Dew – indicates that image and prospects are going to change. The bottle is going to change in the third quarter of 2OO9, said Caffrey. "It's a bottle that looks a lot more like a whiskey bottle, compared to the old 'dewdrop' bottle."

They'll be aiming at the younger legal drinker, of course. "25 to 35 is the target. It skews older, but we're aiming younger," Caffrey said. "Picture the people who drink Southern Comfort and Coke. Like SoCo, it can be drunk straight up, or with a mixer; Coke is a strong drink with it. From a younger standpoint, we've got some new ads coming out to capsulate the idea of it as a young fun social drink."

But it sounds like they don't plan to change the product's image so much as re-direct it. "We see the positioning as a natural Irish product, smooth and warm," he said. "It's a very approachable and warm drink, and one of the most accessible introductions to Irish whiskey. One of the key things driving Irish Mist is the overall growth of Irish whiskey. It has great potential to get on the bandwagon."

He also pointed out a small but significant quirk to the brand. "It is the only brand in the world with the word "Irish" in their registered trademark," he said, and chuckled. "When you look at the impact Ireland has around the world . . . that's not a bad thing to have in your back pocket."
Celtic Crossing is a much younger spirit, but evokes an equally old image: the French/Irish affinity that dates back to that same Flight of the Wild Geese. Celtic Crossing is a blend of Irish whiskey, French cognac and "a hint of honey", according to Lee Royer.
He adds, the drink itself works hard, limited only by imagination. "It's a very versatile product. It is consumed neat, on the rocks, in shot drinks, in coffees, margaritas, martinis, lemonade, and mudslides," he said. Like the Irish immigrants: willing to do whatever job was necessary.
Royer makes a strong claim for product trial on Celtic Crossing. "The key to continued growth for this brand is taste," he said. "Whether it's in Ireland or Massachusetts, once the customer tastes Celtic Crossing, they will go to long measures to obtain it." If it's only as far as your shelf, that should work out for everyone.