archived

FeaturedArticles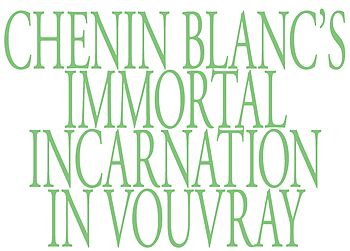 Article By: Harvey Finkel
The Loire flows in beauty for 6OO miles. It heads north from its source deep in the interior of France just to the west of Burgundy, then turns west toward the sea just beyond the first pair of its notable wine-growing areas, Pouilly-sur-Loire and Sancerre. Its mouth is in Brittany, down river from Nantes. The great Loire vineyards of Touraine and Anjou lie along the middle of its course through fruited parklands and past fairytale castles. The country is peaceful and rich, perhaps enchanted, certainly unforgettable.

The charming wines of Anjou, Saumur and Touraine are nearly all white and nearly all from the chenin blanc grape. Some are dry, many are sparkling (mousseux, lately called by some fines bulles, or "fine bubbles") – they can be very good. The great ones, however, are at least off dry, better yet sweet. It seems a little odd that the wines of chenin blanc are bracketed by the uncompromising drys of Pouilly-Fumè and Sancerre to the east and Muscadet to the west.

Before concentrating on the wines of chenin blanc, in particular those of Vouvray, I must note that laudable red wines are produced in the central Loire, chiefly from cabernet franc, and that it is worth exploring the minor appellations up and down the river. Loire wines of any shade tend to be underappreciated, and thus affordable. Their pure fruit and balancing acidity render them graceful and lively.

Chenin blanc reaches its fullest expression in Touraine and Anjou on the Loire, and almost its only distinction. Its growth has been documented in Anjou since the ninth century, in Touraine since the fifteenth. It is known to have been grown at Mont-Chenin, near Vouvray, around 1445, after which it was named. It is probably indigenous to the region, where one of its numerous names is "pineau de la Loire" (but it is unrelated to the pinot family). It is usually called "steen" in South Africa, where it is the most planted grape, and has been referred to as "sèmillon", "sherry", and even "chardonnay" in Australia, and "pinot blanc" in South America. Chenin is used as a blend in the Antipodes. It is abundantly planted in California's Central Valley (whose climate is the antithesis of Touraine's) to be a component of ordinary wines, but its wine is well worth drinking when grown around Clarksburg in the Sacramento Delta. Among Californian Chenin Blancs I have enjoyed are those of Dry Creek Vineyards and Chappellet Winery. In a tryst with the wanton gouais blanc, chenin blanc sired colombard, a grape that is likely a disappointment to its more illustrious parent.

Chenin blanc buds early, grows vigorously and ripens late. It is relatively resistant to disease. Unless controlled, it can yield large crops. In the right setting, with the right balance and type of weather, soil and yield, its wines can take on a honeyed flavor set off by vibrant acidity and, when conditions allow, the treasured enhancement of noble rot. It has been called "France's answer to Germany's riesling".

Vouvray lies on the north bank of the Loire, just east of Tours. Its similar but lesser cousin, Montlouis, is across the river on the south bank. This is a northerly area with capricious climate, so compensating aspect and sheltered exposure are important. The soil is generally clay and gravel over tuffeau, the limestone dug out to provide stone to build the Loire's famous castles. The caves left behind are often used for cellars, sometimes as dwellings. There are also areas of flinty soil (silex). Vouvray is a most versatile wine. It may range from mouth-puckering acidity to syrup-like nectar. It mostly depends on the weather, and whether, having achieved super-ripeness, Botyritis takes hold. Pickings are often done in selective stages (tries). With global warming, there are fewer cool, wet vintages giving unripe fruit. In such cases, more mousseux is made.

The wines tend to be substantial, with admirable levels of acid and fruit. They require no oak flavoring. Malolactic fermentation is suppressed. They benefit from and require considerable bottle aging, sometime to an astonishing degree. (I am not here referring to commercial, mass-produced Vouvrays, which may be adequate for quaffing with lunch.) The flavors of drier Vouvrays (sec and demi-sec) have been likened to greengage plums, with minerally or even earthy background. The sweet versions (moelleux) may evoke honey, quince, pear, peach, but not likely tropical fruits. I don't like to dictate wine-food pairings, but I can't help noting how well sec and, especially, demi-sec Vouvrays go with pork and veal.


---

Over the years, the Vouvrays I have most enjoyed have been those of Foreau, Hu't and Clos de Nouys (though I've not seen the last for sale recently). Always on the lookout for new (to me) wines, I attended the Loire Valley Wine Road Show and Tasting 'O8 – a tasting of 146 wines, many unfamiliar, from all along the Loire – put on in Boston by the Loire Valley Wine Bureau. I concentrated on the still Vouvrays, tasting the thirteen in the order presented in my tasting notes. They reaffirmed their appeal.

Vouvray Vallèe des Jardins 2OO6 Rèmy Pannier
Offered by a large, long-established nègociant.
Fragrant, delicate, balanced, with good finish.

Vouvray Sec 2OO6 Domaine Sylvain Gaudron
A family domaine for three generations.
Earthy, balanced, long, satisfying.

Vouvray Sec 2OO7 Yves Breussin
A five-generation-old family domaine.
Mouth-watering acid bite. Long finish.

Vouvray Sec 2OO6 Yves Breussin
Rounder, riper, fuller (from a warmer, drier vintage).
Long finish.

Vouvray Demi-Sec 2OO6 Yves Breussin
Fuller yet and sweeter, but still with good acidity.

Vouvray Demi-Sec 2OO7 Yves Breussin
Fragrant, balanced, very tasty and long.

Vouvray Rèserve Moelleux 2OO5 Yves Breussin
Luscious, sweet, long. Less acid.

Vouvray Demi-Sec la Lanterne 2OO6 Guilbaud Frëres
Nègociant since 1927, and producer of Muscadet.
From a historic site in Rochecorbon, a respected commune in Vouvray. Vines 2O- to 3O-years-old. I have no tasting notes.

Vouvray les Aumones 2OO6 Domaine Le Capitaine
A family domaine in Rochecorbon.
Odd nose. Toothsome flavors, with balancing acidity.

Vouvray 2OO7 Nicolas Verdier
A nègociant since 1927. Simple and balanced. Abundant fruit.

Vouvray de Gautier 2OO6 Benoit Gautier
This 12-hectare family domaine located in the communes of Rochecorbon and Parcay-Meslay is at least 35O-years-old.
The vines are 25-years-old.
This wine, a demi-sec, is a selection from the vintage.
It has sweetness, but is not complex, intense or long.

Vouvray Argilex 2OO6 Benoit Gautier
A sec grown on a mixture of clay and silex.
Does not have a lot of substance.

Vouvray Sec Clos la Lanterne 2OO5 Benoit Gautier
Probably from the same historic location as the Guilbaud wine. Limestone soil. Matured in oak casks – I'd guess large and not new. Earthy-minerally. Long.
Much more concentrated than the other two.
Is it the site? The vintage?