archived

FeaturedArticles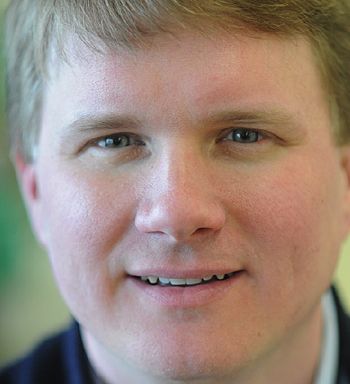 Article By: Fred Bouchard
MIKE CIMINI • 39 • CEO Yankee Spirits Inc. • Sturbridge, South Attleboro and Swansea, MA

Mike Cimini is a forward-looking beverage mogul of easy modesty and resolute conviction. The young owner of Yankee Spirits, the Bay State's largest chain, was recently named beverage dynamics' Retailer of the Year. Mike toured me through his flagship Sturbridge store, oldest of its three 25,OOO square foot rented properties. The others are a former Almacs with a large basement warehouse with built-in racks for documents, in South Attleboro, and a former Sears furniture store in Swansea. Mike shares his history, directions, and assertive views on service, marketing and branding with many a nod to his loyal team.

BERKSHIRE ROOTS I'm third generation Italian; my great-grandfather arrived from Naples and took the train west from Boston. He stopped in Pittsfield, stayed on and married. My grandfather ran a small general provisions store in Springfield. My dad quit Stop & Shop to open a package store with a limited wine selection in Waterbury, Connecticut, then two more in Massachusetts with his brother and another partner. He joined Yankee Spirits as CEO under my predecessor, Mike Muratore, who'd met him when he too owned a package store in Springfield. Mike and dad ran this place together until 2OO2, when I bought Mike out. My father retired last winter.

BITTEN by the BUG I went to Cornell, took one basic wine course, and visited Glenora, Bully Hill, Konstantin Frank, and other wineries. I worked a year in New York for my fraternity, Zeta Beta Tau. Law school looked attractive, but when I started working here, I got bit by the wine bug – and met Paul Provost and Rick Lacasse. Paul was our wine buyer and my first mentor. Rick, a wine salesman for MS Walker, and I worked together on the floor. Meanwhile Mike Muratore bought the Attleboro store, and I went to open it.

FIRST TASTES Domaine Gramenon (Côtes du Rhône) 199O-1991s I loved because I could pick out that green bell pepper. Ruffino's statewide manager introduced me to a couple of classic gold-label riservas – I remember the 1958 in particular. Then, working alongside Paul Provost, Rick and I learned to love wines we couldn't afford. I kept learning and filling the shelves, and it was a lot of fun.

THE PROVOST PALATE Paul is the consummate wine professional who's tasted all the greatest wines. He's very accessible, not at all a snob. He'd say that he wished he liked Carlo Rossi, because it would make his drinking habits much more affordable. He never begrudged anyone their love for Paisano. He knew that wine's a beverage, and everyone had different tastes. He knew palates differed, that he himself was a professed Burgundy freak, without taking anything from those who love Barolos and first-growth Bordeaux. He acknowledged and appreciated them, while adhering to his own palate's dictates. What was encouraging was to learn that there were no wrong answers: if I loved fruit-forward Cabernet, that was fine. We were getting a ton of them in the early '9Os, and I reveled in them. Paul would say, "they can age nicely, but do not transform themselves into other beautiful creatures, but, enjoy!" So I did: red fruit-black fruit, quite jammy, big mouthfuls of tannin – probably not yet ready – but I loved 'em, and cut my teeth on them with Paul's blessing. I'd eventually evolve into appreciating more transformative wines.

TASTING GOOD Our Wine Manager Ed Stacey and Spirits Manager Kelsey Williams like to have people taste lots of products, so we have tastings Thursday through Saturday; often on Sunday, too. For our 4-bottle wine dispensing Eno-matic machines, we give customers a free ATM-type card that allows a limited number of legal pours and then expires. Some of these 'wine barn' specials have last year's vintage on the label, but, as you've noticed, have many years to go. We hold tastings of 2O-plus wines pitched to us every Tuesday with our staff to discuss what's good to carry.

TASTE SPACE We have a small tasting room downstairs, but principally we go off-site for serious tastings. We have thought about expanding the space, especially since the reverse vending machines became financially attractive, which opened up a large chunk of space (like 1O,OOO sq. ft.) where we had to store cans and bottles. We've seriously thought about putting a wine bar in there, but it would cost us to upgrade it, and it's not financially beneficial to do that in a building we don't own.

WINE GUYS Our Attleboro wine man, John Hannum, has owned his own restaurant in Milford, worked in wholesale (Kobrand), retail, and hosts classes for the public here once a month. When we host a Burgundy dinner off-site, we open high-end Burgundies downstairs first for those customers we keep tabs on. Then they can sit down at dinner and drink the $4O to $6O range with everyone at dinner.

KEEPING PROFILES ONLINE We can't offer good customers Club Cards for discount in Massachusetts unless they buy in volume. With no price incentive, it's a card they don't necessarily want to carry for other purchases. We could conceivably track them through the computer, but the way our wine people do it is simply to know who our good customers are. Beyond that, it's self-selection on our email distribution lists; customers simply check boxes for products that interest them.

STORING UP This building was built in the 197Os – with a stream on the north side. With no buildable cellar, the owners had to go up for storage. The concrete is pretty steady for temperature, but we have a large (2OOO sq. ft.) temperature controlled space for all bottles over $1O. Well, Kendall Jackson is over $1O now, but doesn't stay in the warehouse long.

SPACE CHALLENGED We're always looking to make shelf room, an unending challenge in this business. It seems like 3OOO SKUs come in and only 3OO go out! Okay, I'm exaggerating. But we do get 4 or 5 new SKUs a week, and nobody's willing to pull an old one. It's a constant problem, even though we have 25,OOO square feet and more linear space in each of our three stores than any competitor we know about.

HOT SPIRITS We have a larger selection of spirits and sharper pricing than most mom and pop stores. We're trying to stay competitive, and we're training our spirits staff this year. Spirits and wine each account for almost 4O% of our business, and beer's about 15%. One interesting item is our Yankee Spirits 8O proof vodka; it's our number one vodka, priced to move at $1O.99 for the 1.75 liter.

CROSSING the AISLE We are paying attention to sales metrics and transactions. One reporting function on register slips in the office shows whether customers cross-buy between sections. Since we have very low margins on spirits, we really like to see spirits customers crossing over to the wine aisles, where we have better margins. We like to see both wine and spirits buyers crossing over into beer, where it's difficult to maintain a competitive advantage, when costs on a suitcase may run only $29 to $3O to $31. Finally, we notice whether people are making those 'unnecessary' purchases, such as picking up gourmet oils or plastic cups. We have a large selection of gourmet foods (cheeses, crackers) in the Sturbridge store, especially in the fourth quarter; it's more limited in the other two.

STAFF on the ROAD We educate our staff with frequent wine trips; when we don't have a sponsor but a concentrated interest in a certain region, we'll pony up and take a trip on our own nickel. Five of our staff are off to Beaujolais in April, where we'll partner with DuBoeuf and smaller producers (Louis Jadot, Chateau de la Chaize); we'll spend a day with each of them.

BEER DEPTH Beer has always been a more compressed area here; we've opened up the section by relocating counter space. Our walk-in has over 2OOO feet [with gravity feed racks for six-packs and cases]. One of the things we compete on is a wide selection. At last count we had over 8OO packages of beer representing over 4OO unique brews. Here in Sturbridge our beer guy, Dan Demuth, is our store manager; in the other stores we have qualified beer experts on the floor.

CHARITABLE WORKS Synergy with business is easy with beverage people. Each supplier and trade association has its favorite charities, and reaching out to people is easy to do, a win/win. Some of ours are Abbey's House (a local shelter for battered women), and the Attleboro Community Firehouse. It's not hard to ask distributors to come on down with a few experts and a few cases for a charity event. We did a beach volleyball event with Barefoot Wines – perfect! – and gave the entrance fees to Old Sturbridge Village across Route 2O.

DRINKING LOCAL We promote Pioneer Valley Brewery – it used to be Highland Orchard, right here in town. They're very small, but we use them in local charity promotions with Admiral TJ O'Brien's Pub, also across the street. Dave Roberts drives out from the Cape with his Truro Wines and posters. Others are Sakonnet in Westport and West Country Cider in Colrain.

NEWSLETTER Joe Astukewicz, our Strubridge wine manager and newsletter guy, has been around here almost as long as I have. A geography major, Joe was soon aware that you can make wine just about anywhere in the world except the snow-capped places! The strongest writer on our team, he's been all over Europe (as an old-world wine fan) and elsewhere [see his article on Shelf Talkers in beveragebusiness.com's archives]. Joe puts together the ideas and themes our wine staffers contribute and gets it out there to our customers. Each store dedicates racks to current wine picks and specials, and often tastings reflect that theme.

MARKETING and BRANDING We're more into marketing and branding than into advertising and sales. Most beverage retailers really focus on sales-driven pricing, and we really need to do a lot of that, too, because consumers are really looking at costs. On the other hand, since 2OO2 when I bought the business, we have launched several storewide campaigns regarding selections, to differentiate ourselves from the pack, such as Tito's Vodka from Austin Texas and Vox Populi Pinot Noir from Romania.

KEEP IT UPBEAT Service is right up there, too, as a top priority. It's a depressing time out there: lots of our staff have been impacted by friends and family being downsized and losing jobs. So while we've been fortunate to avoid layoffs in our business, we've been retraining our staff to be even more friendly and upbeat to lift everyone's mood while they're here. This is a good place for people to come to unwind, find a bottle, go home and unwind some more.

A CLEAN, WELL-LIT PLACE A lot of the mood has to do with the store, too. Many fine wine boutiques are jam-packed and ill-lit. We keep the lights bright and have plenty of room to move and explore without tripping over other customers. We've laid out facings and racks logically, so you can stand back and take a whole section in at a glance. It helps customer make uninterrupted decisions.

THE HAND SELL Having said that, there's nothing like being able to tell a customer: "I drank this wine with the wine-maker looking at the sun go down over the Dordogne . . ." It's magical when you can do that, or when you've fallen in love with a bottle of wine and have to talk about it. Joe and John and other staffers here can do that about the places they love best.
LAST TRIP On our last trip was to Northern Italy, we went to De Cesare, a few blocks off Bologna's main square. One brother's a restaurateur, the other's a winemaker. Half the winelist was 'De Cesare' – he sourced them in Puglia, Tuscany and Piedmont, put on his label, and brought them home! You lose that personal touch in today's marketplace. We had a fantastic rabbit in Barolo sauce with the De Cesare Barolo. It was a wonderful experience in dining and hospitality.