archived

FeaturedArticles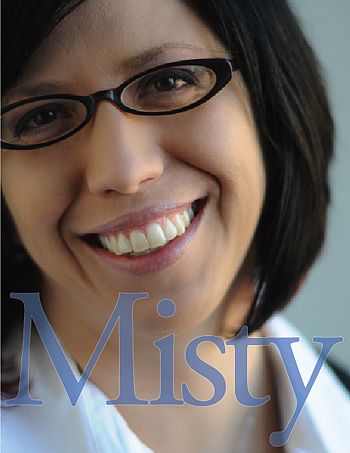 Article By: Liza Weisstuch
Misty Kalkofen's cell phone you might say, is her most valuable bartending tool. She regularly gets text messages from bartenders all around the country asking about recipes, products, and mixology methods. And, of course, she puts out sundry inquiries, too. She's part of an informal but active network of tastemakers, trendsetters and craftspeople, all of whom have earned deserved recognition on the nation's – if not the world's – cocktail scene. They're people that Misty, who presently tends bar at Drink, Barbara Lynch's minimalistic cocktail haven in South Boston, has met on the cocktail competition circuit and various bartender conferences and courses.

Most recently, Misty (no, that's not a nickname) was certified by the BAR. Short for Beverage Alcohol Resource, it's a five-day boot camp-like course for Navy SEAL-caliber bartenders and it's led by some of the industry's most knowledgeable experts and respected pioneers, like Dale "King Cocktail" DeGroff, historian and writer David Wondrich, master taster F. Paul Pacault and Steve "Wine Geek" Olsen, to name a few. BAR certification could be seen as earning a PhD in the field. On its website, it's described as the mixology equivalent to a Masters of Wine. "The amount time it would take to acquire the knowledge that you can acquire in five days in New York at the BAR – they just don't compare," said Misty one day when I met her for lunch at Sportello, the casual Italian restaurant that Barbara Lynch recently opened above Drink. Of course, it's a high-intensity, stressful ordeal. To be certified, participants must pass a written exam, a blind taste test and demonstrate their cocktail making for evaluation. And participants don't find out whether or not they've passed until months later. But its benefits are legion.

Misty was first inspired to take the class, which carries a tuition price tag of several thousand, when she went to New York last June for the finals of the St. Germain Can-Can Classic. The all-star lineup of judges included some of the BAR instructors. The completion also involved a blind tasting, and despite years mixing drinks at some of Boston's and Cambridge's best known Golden Age-style cocktail joints, she realized, she said, there was plenty more to learn. DeGroff and people she knew who'd participated in BAR encouraged her to do it. "It wasn't only all the knowledge I'd receive from the course, but it was an opportunity to meet like-minded people who are interested in learning more and building that community – not just in Boston but in other places," she said, picking at a plate of gnocchi. "I've stayed in touch with those people. I get text messages all the time like, 'I need to redo my tequila list. What's everyone liking right now?' Or, 'I just read about this cocktail. Does anybody know whose it was?' Or, 'Does anyone know anything about this product?' It's a great network to have. It's interesting to see what people are doing in other parts of the country."

Perhaps one of the qualities that makes a superior bartender is an insatiable thirst for learning and a refusal to get too accustomed to your ways. Standing still in this industry, where keeping up with new products and trends can take the endurance of an Olympian, is as detrimental as moving backwards. "It's important for me not to become stagnant. If I get home and I want a drink, I force myself to try something new," Misty said. She taps into what's going on in different parts of the country through a variety of channels. There's the cocktail competition circuit, her most recent feat being a finalist in the St. Germain Can-Can Classic, and there's Tales of the Cocktail, the annual gathering every July in New Orleans that's perhaps best explained as the World Economic Forum in Davos for cocktail aficionados. It's almost five days of seminars, tasting room presentations, competitions and, of course, parties. Also, Drink recently participated in a bartender exchange: one of their mixologists worked in San Francisco while Ryan Fitzgerald, a barman from Baretta in that west coast city, did a guest stint at the Fort Point bar.

"It was amazing to see what they're focusing on out there in San Francisco versus what we focus on here in Boston. It's a different aesthetic, a different style. We both have a lot to learn from one another," she said. "It's funny. I feel like the Boston scene in so many ways is old-school and Puritan in a certain ways. When I create cocktails I try to do it in the tradition of classics. I love that style. If you look at Boston focusing on classics and being very rooted in using gin and whiskies as a base, then go to Ryan and he's all about tequila, infusions, things like that. You see some of that in Boston, but it's very rarely the core of a program. His focus on tequila makes a lot of sense to me in terms of their proximity to where tequila comes from and their ability to go there and study it."

Tequila, in fact, was the very spirit Misty long felt she needed to master. And between BAR and working side-by-side with Ryan, she became more versed. "Tequila is one of those things I was most excited to do a lot of tasting of at the BAR because it's a spirit that's been intimidating to me from a mixology standpoint. In my own mind, I've made it out to be more difficult than it actually is to mix, I think. Being there and just learning more about it and tasting a lot more tequila than I ever had the opportunity to taste side by side opened me up to the diversity of the spirit. Since then I've had a lot of fun playing around with tequila. I love mixing with reposados."

Misty's grounding in old-school mixology can be traced back to her entrée into the cocktail universe. For Misty, who favors vintage clothing, wears narrow dark-rimmed glasses and sports an arm covered in vivid tattoos, the story starts as it does for so many bartenders who first stepped behind a bar in the Cosmopolitan-soaked 199Os: what began as a casual diversion ultimately became her career. Wisconsin-raised and newly graduated from Drake University in Des Moines, she moved to Cambridge in 1994 to pursue a Master of Theological Studies degree at the Harvard Divinity School. She was waiting tables at Christopher's in Cambridge and, like many grad students, was short on cash. She decided to take some time off and boost the cash flow. When the Lizard Lounge opened, she became a manager there, fully intending to return to school in a year. One night, though, the bartender didn't show up. She was asked to pinch hit behind the bar. In retrospect, that was the day her life took a hairpin turn and her focus on spirituality shifted from theological to thirst-quenching. "It's just one of those things. There you go," she said.

Her earliest mentor, to hear her tell it, was the most formative on her style. Brother Cleve, who's widely recognized as a pillar of the classic cocktail renaissance society, was the resident DJ on Saturday nights at Lizard Lounge when they opened. He was an early advocate and ambassador of vintage tipples, largely because he had been a keyboardist with Combustible Edison, which led the rebirth of retro lounge-y Italian soundtrack music. As part of their Las Vegas-esque stylings, they regularly sipped old-school drinks on stage. When Cleve started Saturnalia, his popular Thursday night DJ residency, the neighborhood's hipsters would arrive in droves decked out in thrift shop suits and retro glasses and indulge in drinks from a menu that Cleve created. Just one catch: Lizard Lounge was pretty much a beer bar. So Misty, who was regularly helming the bar there, learned by doing. "I had a bunch of cocktails on the list every week, and Misty had to learn them all," said Cleve, who lives in Boston. "There were a couple of originals, but all were classic in style. She was making them all night long and I learned early on that she was very good at it. She had an aptitude and an interest in it, too. We started hanging out and having drinks when we weren't working. Eventually people started ordering cocktails on other nights out there." Cleve had started collecting vintage cocktail books in the early 198Os in tandem with a number of other people who have gone on to be stalwart figures – experts and authors – on today's mixology scene. He ticks off a few names of his colleagues back then: Byron Werner, a big player as Cocktail Nation emerged, Ted Haigh, a cocktail scholar who went on to be a founder of the Museum of the American Cocktail in New Orleans, and Jeff "Beachbum" Berry, a tiki drinks expert and author.

"We'd sit at his or my house all night and talk about rye whiskey – and that was before anyone was stocking it," Misty recalls. "He presented me with my first bottle of rye and called me his protégé. It was awesome." And so was the timing. Largely due to the Combustible Edison's widespread popularity and relentless touring, Cocktail Nation grew. Misty, you might say, was riding the wave of the zeitgeist. Clive commented, "At the time, it looked like it was spreading. All of a sudden you could get a lot of these drinks in more places than you could three years beforehand. Patrick Lyons approached me and I got hired to do a night at Bill's Bar on Lansdowne Street. I told him I was glad to do the job, but he'd have to hire Misty because she has to come with me. Then the swing thing really took over after that. I was convinced the cocktail thing was taking over the world, and I was caught in maelstrom of it all. Everywhere we were going, people were trying their hardest to try to make the drinks properly. I remember when I was with the band we were on a TV show in New York and the anchorwoman said, 'Kids are drinking martinis again! Unbelievable!'"

Getting a little restless, though, Misty decided to make tracks for Key West. "I hated it," she said, clearly not one who tends to voice her opinions delicately. She returned to Cambridge – Somerville, actually, after a few months. Soon after, Patrick Sullivan, who was bartending at Flat Top Johnny's in Cambridge and knew Cleve, was about to open B-Side Lounge in Cambridge. Misty heard he was looking for a female bartender and the day she flew back he asked her if she'd work for him. "I'll never forget walking into that bar the first night. It was so beautiful with the neon lighting up the back bar and the glasses were sitting chilling on crushed ice. Dylan Black was behind the bar," she said, making no effort to contain her nostalgia. Dylan is a Cambridge native who would later buy Green Street Grill, cut the name down to Green Street and transform the space into an inviting, trendy neighborhood watering hole. She left there to work at Lilli's, a music club in Somerville Patrick opened. From there she did stints back at Christopher's, in Provincetown, and at Tremont 647 in the South End before returning to B-Side. When Dylan opened Green Street in April 2OO6, she split her time between there and B-Side before moving to Green Street full time to manage. Her first night at B-Side Patrick, her new boss, took her downstairs and gave her what could be called training. His instructions immediately became her modus operandi: use fresh juices, make cocktails rooted in the classics, say hello and good bye and thank you to everyone who walks through the door, and since the B-Side was not fine dining, have fun. "If someone walked into your house and handed you 2O dollars, you'd say thank you. That's what we're doing here."

In February 2OO7 Misty was inspired to establish the Boston chapter of Ladies United for the Preservation of Endangered Cocktails (LUPEC), a classic cocktail society. The ten members gather regularly to try out recipes, talk about the role of great women throughout the history and how that relates to cocktail culture and, of course, plan events. The parties are fundraisers, and proceeds are donated to charities that help women. "I've always had a philanthropic interest, but I was never sure how to do anything with it. Then I learned about LUPEC from a friend. It started in Pittsburgh. Each chapter picks a charity and does cocktail parties for it. I got people together to see if anyone else was interested. There were a lot of women in a similar position. Some studied women's history in college, but it's not something you can focus on once you leave," she said. "It's been amazing to watch events come together." A USO-themed dance party that took place in November at a community center in the South End was one of the ladies' massive success stories. About 3OO people turned out in the 194Os costume to sip drinks, schmooze and buy raffle tickets. LUPEC Boston raised $6OOO that night for the New England Center for Homeless Veterans.

A fondness, if not obsession, for period cocktail books is a cornerstone of the drinks of yester-year revival, and it's little surprise that Misty should succumb to the allure of old books. She is, after all, an academic with an MTS from Harvard Divinity School, where she focused on textual studies, particularly the original Koine Greek Old Testament. "I spent a lot of time with my nose in the Greek New Testament and putting it into historical context and studying different words," she said. "My original goal was to stay in academics, but I didn't think I'd be happy. It's silly to give up something I enjoy to go back to doing something I wasn't so happy about. It got to the point where I felt like I was just regurgitating information." She does, however, wax rhapsodic about a red leather-bound bible she still has. She smiles wistfully as she describes the feel of the leather and its smell. "You open it up and there's this beautiful strange script."

Her interest in analysis is evident in the way she enthuses about spirits. "Look at rums. There's Matusalem Platino and then there's Old Monk from India and rhum agricole from Martinique. They're all in the same category and they're all so drastically different. How can you not help but be fascinated by that? Or Scotch – look how different scotches are, but they all start as the exact same thing – 1OO% malted barley. How can that not be fascinating to people? And then you taste it and see how it reflects the location. It's like 'Oh, this tastes like the salt air!' You know?" She pauses to laugh. "It was amazing to learn the difference between highland and lowland tequilas. There are so many words used typically associated with Scotch. This one tastes more like fruit and this one tastes more like truffles and mushrooms."
On a recent wintery Monday, I reached Misty on the phone. She was, as she puts it, recovering from a long weekend of work. While Sunday nights at Drink are significantly slower than Fridays and Saturdays, the past night had been a steady stream of cocktail geeks with requests for labor intensive drinks. She happily revealed that she'd made three Zombie Punches – Don the Beachcomber's 1934 recipe, which was now officially committed to memory. To prove it, she ticked off ingredients: 1.5 ounces of dark rum, 1.5 ounces of gold rum, one ounce of demerera syrup, .75 ounces of lime juice, half ounce of grapefruit juice, half ounce of velvet falernum, quarter ounce of cinnamon syrup, 6 drops of absinthe, a teaspoon of grenadine, dash of Angostura bitters. Just another night in the trenches.