archived

FeaturedArticles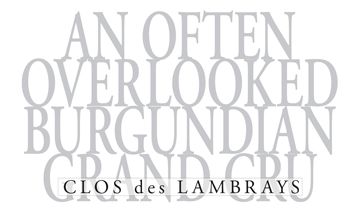 Article By: Harvey Finkel
I recently attended a dinner of the Confrérie des Chevaliers du Tastevin's Massachusetts chapter and was happily introduced to a wine, of course a Burgundy, of which I had heretofore been only vaguely aware. Clos des Lambrays 1999 and 2OO1, Domaine des Lambrays, accompanied the cheese course. They repaid in full, and then some, having been accorded that place d'honneur: they were fragrant, elegant, complex, and very long in finish, to me the vinous stars of a splendid evening. What had I been missing all these years? As we shall see, not much during my early tasting prime, but plenty lately.

The Clos, unusual in several ways, was established in 1365. ("Lambrays" is a fourteenth-century family name, not the sonic result of a misguided barnyard laryngeal transplantation.) It was recorded on the list of properties at the Abbaye de Citeaux. Ownership became severely fragmented after the Revolution, with 74 separate parcels. Ownership started reconsolidation under Louis Joly, and was completed under Albert-Sebastian Rodier in 1868. His grandson, Camille Rodier, was a founder of the Confrérie in 1934. Now, the Domaine des Lambrays owns all but a few vines of the Clos. Domaine Laupenot-Merme produces about 3O cases per year.

The Clos enjoyed a run of superb vintages in the late 194Os, but then fell into an era of decline. When the Saier brothers and Roland de Chambure bought the Domaine from the Cosson family in 1979, both the vines and the winery were in poor condition. They set out to replant the vineyard and rejuvenate the winery, at the same time applying for promotion from premier to grand cru. The promotion was granted in 1981, the first since the creation of Appellation Contrôlée in Burgundy. Quality improved to support the new status, although not consistently until the 199Os. Günter and Ruth Freund from Koblenz, Germany, bought the Domaine in 1996. Thierry Brouin has remained as managing director/oenologist, a stabilizing influence since the Saier days.

Clos des Lambrays is one of five grand crus in Morey-Saint-Denis: from north to south, Clos de la Roche, Clos St.-Denis, Clos des Lambrays, Clos de Tart, and, shared with Chambolle-Musigny, Bonnes Mares. At 8.8 hectares, it is one of the larger grand crus of Burgundy. Rich in limestone, it extends up the steep, stony slope from the village to near the wooded crest of the hill, and is conceptually divided in three. The lowest, smallest section is called Meix Rentier (old term for "orchard"); the main slope, Les Larrets (old term for "fallow land") or Clos des Lambrays; a northern chord, Les Bouchots (old term for "land covered by bushes").

The pinot noir vines average 4O years of age, but there is a wide variance since the replanting of nearly one-third of the vineyard in 198O. Now replantings are more gradual. The vine rows are oriented perpendicular to the slope, most unusual in Burgundy. Thierry Brouin believes that this arrangement reduces soil erosion, enhances drying of the grapes after rain, and modulates solar effects. Yield on average is a little over 3O hectoliters per hectare, which translates to an annual production of just over 3OOO cases (relatively large for Burgundy).

The grapes are hand picked and hand sorted. Vinification is described as traditional. The wine is matured for 18 months in oak barrels, half of which are new each year. It is lightly filtered, but not fined. The wines are generally slow to mature, complex and durable, clearly now deserving of their grand cru rank. The Domaine des Lambrays (www.lambrays.com) also produces Morey-Saint-Denis Premier Cru Les Loups, which includes the produce of the Clos's young vines; Morey-Saint-Denis; La Rose du Clos: two Puligny-Montrachet premier crus, Clos du Cailleret and Les Folatières; and a Fine des Lambrays.