archived

FeaturedArticles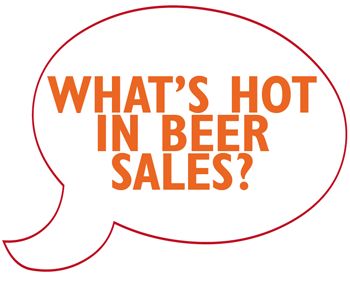 Article By: Lew Bryson
What's hot in beer? A better question this year is what's the hot buzz overall and that's easy: everyone is talking about the economy and how it's affecting their business. There's plenty of conventional wisdom floating around.

They say that when someone you know loses their job, it's a recession, but when you lose your job, that's a depression.

They say that booze sales aren't really recession-proof, they're more like recession-resistant.

They say the hospitality business suffers in a bad economy, but they also say beer is an affordable luxury, and they say you can't go back to Bud Light once you've had craft beer.
They say a lot of things, actually, and some of them may be true. But what's interesting is when package store owners and managers say things like this: "Beer sales are staying strong. You're seeing less hesitation on buying the $8 bottle of beer than the $15 bottle of wine." -Kye McMurney, beer manager, Wine Gallery, Boston
"There's no recession-proof business. But people are still drinking, and people who've become accustomed to better beer are not trading down. There was talk about that, but no one's who become used to big hoppy beers is gonna trade down to Miller Lite. -Josh Witkowski, beer manager, Bauer Wines, Boston.

"They're trading up for quality, down in quantity, for better value. It's an unprecedented time for the beer industry." -Steve Rubin, owner, Huntington Wine & Spirits, Boston.
"Our business has been fantastic. They're buying on sale, on quantity, but they are buying. My beer business across the board is doing well. It's so good I don't understand it. I can't complain." -Gary Park, owner, Gary's Liquors, Chestnut Hill.

"There are different buying patterns. The people who were buying Bud, Miller, Coors, are looking into 3O-packs like Natty Ice or Pabst. But we've actually seen our craft portfolio go through the roof. We get people come in and drop $4OO on beer." -Joe Santos, beer manager, Julio's Liquors, Westborough.
"Not a lot of people are trading down; maybe not buying as much, but not trading down to something cheaper. It's hurt a little. But the crafts, micros, imports are not being hurt. The excitement is still there on the crafts, people are not afraid to spend money on them. The segment's been steadily growing over the years, and it's not stopping." -Tom Gamache, beer manager, Table & Vine, West Springfield.


That's the weird thing this year.
What's hot in beer sales?
You...

...are the off-premise retailer. While the bar and restaurant business is taking it on the chin – sales down, fewer guests – package stores are seeing more people stocking up for at-home drinking, in-home entertaining, and just plain dodging the higher mark-ups at bars. "I just added 35OO square feet to the store," Gary Park said, "put in gourmet foods, high end cheeses, and it's doing better than I'd expected. People are looking for quality, and they're entertaining at home."

Everyone I talked to for this article reported continuing strong beer sales; usually across the board. A few noted drops in the big domestic and imported brands, but everyone said their craft sales have remained strong.

That's in line with the latest figures for 2OO8 beer sales, recently released by beer marketer's insights. Those show the total beer market up only half a percent, while craft was up 5%. That's down quite a bit from 2OO7's 12% growth, but given that quite a few craft brewers are reporting very strong sales in the beginning of 2OO9, it is solid good news.

Steve Rubin, who's seen a few cycles in the industry, isn't surprised that off-premise beer sales are doing well. "We provide something people need," he said, "and it's cheaper than a martini."

MISSING IN THE MIDDLE
"Cheaper" may not be a retailer's favorite word once people are through the door. It means a lower ring, usually for more space on the floor: 3O-packs take up a lot of real estate in the quantities that make them worthwhile. But it isn't all bad; it keeps people in the category.

And they're definitely in the category. Everyone kind of expected the bargain brands to be doing well. Miller CEO Tom Long predicted it last year and said Miller would be gearing up for it, witnessed by the great Miller High Life ads they've been running.

Which bargain brand does well depends on the local market. "The Keystone 3O-pack is on fire," said Rubin, "they're having a great year. That and Natural Light are the choice 3O-packs for the Northeast students. It's easy to see why. It's a $9 difference between Keystone Light and Bud Light, and that means an additional 3O-pack [for the same spend] pretty quickly. It's definitely cutting into the premium 3O-packs."

"Budget beers are through the roof," agreed Gary Park. "Keystone, Busch, Natty Light and Natty Ice: through the roof. The esoteric, high end micros are also doing very well. It's the middle ground that doesn't do so well."

The best anyone could say for most premium mainstream brands was that they were holding steady. Steve Rubin saw some definite problems with imported lagers like Corona and Heineken. "Imports took a major hit." he said, "They lost touch with the marketplace. Heineken has to re-tool and go to work. That's taken a real hit. Our Corona and Heineken sales are off 8 to 1O%, and our craft brews are up 11%. [The import losses] definitely have been taken over by the craft market. The crafts picked it up."

"My domestics are falling, my imports are falling, not as bad, and my craft portfolio is just skyrocketing," said Joe Santos. "The Heinekens, the Amstels are down, Corona's still strong, but they've been more flexible on costs. You just don't see the advertising. The price increases have been so high, that the people who used to buy those beers, maybe people who've lost their jobs, they're cutting back. It's a luxury, not a necessity.

Santos described changing buying patterns other retailers mentioned. "The Heineken drinker will now see Sam Adams at $2 a 12-pack cheaper, and they give it a try," he said. "Once they try it, they're hooked. People are looking to save on beer, people are not buying as many cases. Guys who would buy two cases of Heineken, they might buy a case of Sam Adams. They're scaling back, but they're buying better quality."

The 'downshifting' Tom Long predicted, though, seems to be happening within categories. People are not shifting from one category to another. Take the category Miller broadly defines as "worthmore", which encompasses craft, most imports and up-sell domestic brands like Miller Chill and Bud Light Lime. People may trade to something cheaper within that category, or buy less in that category, but no one's seeing the Harpoon buyer suddenly lugging home 3O-packs of Keystone.

"There are not a lot of people trading down," said Tom Gamache. "Same purchases, maybe not as many, but not trading down. The crafts and imports are not being hurt. Once people know what they like, they have a hard time switching back to macros. They might buy a macro 'for the house', you know, and get some crafts, too. If things get really bad, that might change. But the excitement is still there on the crafts, and they're not afraid to spend money on them."

Not all the more mainstream brands are doing badly, either. The newest addition, Bud Light Lime, was a big question mark going into the winter months after a huge introduction over the summer. It's hanging in pretty nicely, according to Rubin.

"Bud Light Lime is doing quite well," he said, "it has a steady following. It does seem to be stuck in the season a bit, but it had a great intro, and it's a great product, a well-perceived product. It's all about perception."

That perception has helped brands like Stella Artois, according to Rubin, in ways we may not have seen before. "Things have changed," he said. "Perceived value is where it's at. The Bud Light 3O-pack buyer shifted up to a 12-pack of Stella. People want quality, and they'll trade down in quantity to get it. Been seeing that for six months. It's okay: we get a better ring, they get a better beer. Stella is soaring. People, educated people, are picking a Stella over a Heineken. Newcastle is consistently growing." (Newcastle's been quietly growing under the radar for five years or more, consistently; a brand to watch.)

NEW IS THE NEW HOT
But overwhelmingly the hottest brands to watch are the crafts and specialty imports. One of the best places to beer-watch is the Sunset Grill & Tap in Allston, where Mark Kadish has been putting a wide variety of craft beer on tap for 21 years. I asked him what craft brands were on fire, and he had a simple answer.

"Whatever's newest," he said. "The varieties coming in are just crazy, I've never seen anything like it. We get beers from the tiniest little breweries, from Honest Town Brewery in Southbridge. Tröegs is new and exciting here in Boston, Founders, Rogue, flavored stouts, raspberry porter, black chocolate, oak-aged beer, it's all big. It's here if they're looking for it, and even if they're not looking for it, they run into it, which is great! It's a mainstream place and people come in for food and may not even know about the beer. We try to turn them on to something new and exciting. We're the big training place."

It's worth noting that although many restaurants and bars are hurting, the Sunset, with its sharp craft beer focus, is not. "Business is strong," said Kadish. "We have great products, and great value. We've been trying to focus on keeping prices down, getting beers with value."

Even he can't deny the wants of his customers, though. "People are into the extreme beers more than ever," he said, "and sometimes we have to take the pain and price them so people can buy them. People want that extreme beer, and the brewers are trying to out-do each other and jack up their beers.

"There is no brand loyalty with craft drinkers," he noted. "If you're a Scotch drinker, you might not care about the new Scotch, you just drink your brand. But craft drinkers will try the newest, funnest beer out there."

It's all about new. "The only thing that tends to fly is anything that's new," said Josh Witkowski of Bauer Wines. "We just got Tröegs a month ago, and that's been doing very well. But it's more things like their Nugget Nectar, which everyone raves about, and only comes in a little at a time. Selling their regular stuff is tough; 'Oh, I can get Hopback any time.' But every time Nugget Nectar came in, it disappeared.

"Founders just sent Double Trouble here," he continued, "and that's flying. Dann Paquette's Pretty Things brewery just started up, and we've done really well with the Jack D'Or. It wasn't something where people heard about it, came in and got it, and never came back. People are buying it again. Dann's built up a good following. It's a combo of people who know who he is, and new craft drinkers who key in on what other people are talking about."

Not everything new sells. There was a huge wave of interest and beer geek squealing about the beers coming from new Italian craft breweries, for instance, beers that used innovative ingredients and techniques: chestnuts, grape must, odd filtering. "They're very expensive and they don't sell," Witkowski said. "Occasionally someone will try them. I won't stock them if I haven't tried them. People just don't think about Italy as having a beer culture. If you're reading an article about beer in Italy, okay, sounds great, but it's $25 a bottle? Are you going to run out and buy that?"

Some expensive beers do well. "$1O bombers?" asked Santos. "Those are the ones I can't keep on the shelf! Nøgne Ø Dark Horizon, $22 a bottle, gone. Mikkeller Beer Geek Brunch, made with the weasel coffee, gone. I do see a lot more limited editions coming out, funky stuff. People want extreme, they want big hop bombs, roasted coffee.
"Before, you couldn't sell a $1O bottle of beer," he recalled, "that was crazy.

But a $1O bottle of wine was thought mediocre at best. Now $1O bottle of beer is what they're craving." When you look at it that way, Santos is talking about that value theme we've seen before.

BREWERS STILL BITTER
There are strong sub-niches in craft, and of course, as always, one of them is hops, hops, and more hops. "For a while now, the hoppier the better," said Nick Pizzimento, owner/manager at the Horsehoe Pub in Hudson. "Give me the hoppiest you have! They drink the hoppier, higher-alcohol beers, and maybe that's how they're saving money: they don't drink as many! One of our bigger varieties is the IPAs. Out of 8O taps, we have 15 to 2O of them. But it's growing, it's amazing. We sell so much beer here. It's as big as wine, and has as many different flavors.

(Pizzimento said the Horseshoe's escaped the general hospitality turndown as well, by the way: "Honestly, the economy has not affected us at all. No difference at all, knock on wood! It's really kinda crazy; we look at each other and wonder, what's going on here?" Craft beer, probably.)

"We're such extremists," Joe Santos chuckled. "We saw it with wines, too, buying big, bold, California cabs. It's the same thing in beer: people are buying big hoppy bombers from the West Coast. You can't put enough hops in a bottle for these people.

Sour beers are also popular, if on a smaller scale. "I try to sell sour beers every day," said Kye McMurney, "but there's not a huge market for them. Which is maybe good, there isn't a lot of them to sell. If I sold a case a week, I probably couldn't replace it."

Joe Santos feels that way too . . . kind of. "Sour beers are hot," he said, "but there's not enough people on the East Coast making them, and they don't make enough on the West Coast, either. We carry Jolly Pumpkin, Lost Abbey, and people want to know, why don't you have their sours? We get call after call. You've seen the brewers make incredible wild and sour beers, but not enough to get here, and it's driving people nuts. Allagash has done it right, and I think we'll see more of his stuff here. But at the end of the day, it's who makes it good."

THE UPSHOT
That's what people want and get. There are a few beers people want…and can't get. "There is a list of beers people want," said McMurney, "that they've tried and want. There are so many Pennsylvania transplants who want Yuengling, and people ask about Fat Tire all the time. Those are the two biggest ones. Russian River, of course, there are a fair amount of requests for the hyped stuff, and 3 Floyds, and Bells. People go on beerAdvocate and check out the top 1O, and then they come in and ask for Kate the Great! It's only available at the brewery on one day!"

Rubin agreed. "There's a demand for Yuengling, which is not in Massachusetts yet," he said. "We'd love to get that. The pent-up demand is huge. When it comes in, watch out. It's going to take share from everyone."

Still, like I said at the beginning, the really hot buzz is the economy. "The thing on my mind lately," said McMurney, "is how is this recession thing going to play out? What happens in June or July when People are out doing stuff, not sitting at home. How's that going to go?"

That's what worries Rubin, and he's got some advice for producers. "Companies will have to watch out on price increases," he said. "That should be taboo in 2OO9. That's an easy fix for volume losses to keep your money up, but next year the sales will be way down."

Joe Santos sees that already in one case. "We just got in the Sam Adams Imperial lines," he said. "You went from an $8.99 Doublebock six-pack to a $1O four-pack? I think you're going to see a backlash."

McMurney's braced. "I'm still surprised at how infrequently people choose not to buy that $15 sixer," he said. "I've got one customer, young guy, comes in and buys bigger stuff all the time. One day he came in with a buddy, and they bought a six-pack of Green Flash. It was $14, and they split it. Right there at the register, the other guy's saying to him, '$7 for three beers, man, this better be good, this better be worth it.' And my guy tells him, 'It is, don't worry, it's good.' How many times are they going to keep doing that? I don't buy $14 sixpacks all the time myself! I'm glad someone does it, but I wonder how long it's going to keep up."
That is…the hot question. Best of luck to us all.

---

The hottest crafts of all
According to numbers recently released by the Brewers Association, the hottest segment of the hottest category in the beer market is seasonal beers, an agglomeration of all the Oktoberfests, pumpkin beers, winter warmers, spring witbiers, and summer extra pale ales. Data from IRI services shows sales of seasonal craft beers rose 15.7% in 2OO8. Do I need to point out that seasonal beers are essentially new beers every year, that they get customers excited when they come out?

Julia Herz of the Brewers Association noted all of this with well-founded satisfaction. "No longer do light American lagers satisfy every beer lover," she said. "More and more today, people are enjoying different beers at different occasions, and in addition they are interested in enjoying different beer styles at different times of year. Seasonal beers speak to the season and reflect the ingredients or time of year – spring beers make us think of the outdoors, summer beers are light and refreshing and so on."

The Association has grabbed this movement and promoted it with a very useful new website: www.SeasonalBeerandFood.org. Not only does the website have suggestions on food pairing and serving these beers, they have a great feature that will show you the seasonal beers available in your state by month. Used properly, that can generate a lot of customer interest. Seasonal's greetings to you!