archived

FeaturedArticles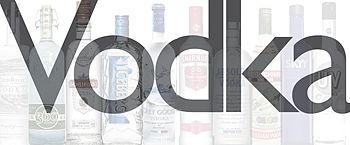 Article By: Gregg Glaser
Vodka. How does one begin to wrap one's mind around the subject of vodka? The simple word "big" is far too small to describe this behemoth of a spirit. Speaking with the people who sell vodka – the producers importers wholesalers retailers, bar and restaurant owners – and those who write about spirits for a living, reveals fascinating and sobering insights into this x-number of times distilled, x-number of times filtered, massively produced, hugely marketed, advertised and promoted, diversely packaged white spirit that is supposedly "tasteless and odorless".

"The category is beyond flooded," exclaimed Allyn Feldman, Regional Sales Manager for 36O Vodka from McCormick Distilling. "Everyone thinks he's still entitled to a piece of the pie." That's putting it in a nutshell. "The competition is tough," said Timo Sutinen, Vice President of Marketing and Business Development for Sobieski Vodka. "There's been one new vodka introduced each week for the last five years. That's 25O new vodkas. It boggles the mind."

"I'm ecstatic about the category," said Mike Brody, Vice President of Sales for MS Walker. "Vodka is what the consumer wants, from the low end domestics to super premiums and imported vodkas. All are growing and price and flavor are not scaring people off. In the near future, one of every three bottles of spirits sold will be vodka. It's amazing to me that with all these products and all these price points, they all do well. It's a fabulous area of the business."

"Vodka is the big gorilla of all spirits," said Wes Narron, General Manager of the Wine Gallery in Boston and Brookline. "It's sixty percent of our spirits sales." Jim Hickey Vice President of the Century Division of United Liquors said, "Vodka continues to be the largest and most important spirits category in the state. It's vitally important to new users because it pulls in all demographics – both pure vodka and the flavors. There's a great mix in sizes and channels, and a tremendous amount of money invested by suppliers in advertising, bottles and new products." Hickey also emphasized that vodka is the "lead" beverage for people coming from beer and wine. Mike Cimini, President of Yankee Spirits, with stores in Attleboro, Sturbridge and Swansea, emphasized what other retailers said: "Vodka is big and still growing and is by far the largest category for us, up nine percent last year. It gobbles up others spirits' market share, taking over our shelves. We have five side aisles and one is just for vodka." And what about all these brand extensions and new vodkas entering the market – each week as Sutinen said? "It's surprising to me that no matter what they make, people will try them," said Kristie Faufaw of Ryan and Casey Liquors in Greenfield. "People find what they like to taste."

"It's all about product innovations and packaging," explained Dan Lasner, Vice President of Sales and Marketing for Iceberg Vodka. Jay Leo, Beverage Director
for Banq Restaurant and Bar in Boston, said that even though the market is ". . . still saturated, many producers continue pushing flavors. However, they're getting creative with sub-categories of flavors such as kaffir, mandarin orange (not just plain old orange) and plum."

"I love it and I hate it," said F. Paul Pacult, spirits writer and rater. "There are some wonderful vodkas out there, but there are just too many. It's ridiculous. Of the 52OO spirits in the US, 9OO are vodkas – this is absurd. Whenever I'm asked by a potential new importer of vodka to consult, I ask 'Why? Haven't you done the market research? There's no more room in retail and bars for more vodkas.'" But Pacult admitted that he sees almost no end to introductions for new vodkas. "Last year it slowed down just a bit," he said, "but I still think marketers see the success of some brands, such as Grey Goose, and they want that success and are certain they can have it. I think, though, there will be an attrition rate in the next five years. That's great, because there are too bloody many vodkas here."


FLAVORS,FLAVORS,FLAVORS,
OH, AND MORE FLAVORS
How many are there? Don't ask. Nobody wants to know (well, the numbers are below for the really curious). How many new flavors will arrive? Does the word "many" mean anything to anybody? The Distilled Spirits Council (DISCUS) has statistics showing that "since 2OO3, the number of vodka brands on the market has increased 18% (classic vodka) and 6O.1% (flavored vodka)." In 2OO7, the last year for which complete numbers were available, there were 484 "classic" vodkas in the US and 357 flavored vodkas. The Smirnoff portfolio currently consists of 13 flavored vodkas. Smirnoff White Grape and Passion Fruit were added in 2OO8, and in March of this year Smirnoff introduced Smirnoff Pomegranate and Smirnoff Melon. In additional to the brand extensions, the Smirnoff Cocktails Collection consists of several ready-to-serve "twist the cap and pour" traditional cocktails. Vodka Mojitio and Grand Cosmopolitan arrived in 2OO7, Pomegranate Martini in 2OO8 and March saw the release of Tuscan Lemonade.

In February, Absolut debuted its tenth flavor, Absolut Mango, and followed with a mid-March advertising campaign. Absolut Mango was already doing well in both the South American market and at Global Travel Retail, so a launch in the US market was the next logical step. As an attention grabber, it has more transparent glass than previous flavors, and the decoration consists of mango fruit contours gathered in groups around the bottle. The colors – shades of green, red and yellow combined – are chosen to reflect all characteristics of the fruit" as written in a press release from Absolut Senior Brand Manager, Clare Kanter.

Absolut is the new jewel in the crown for Pernod Ricard, which acquired the iconic (and huge selling; it's the world's second largest premium vodka brand) from Sweden's V&S Group last July. The acquisition of Absolut makes Pernod Ricard the second-largest spirits company in the US by sales value. To complete the transaction, Pernod Ricard sold off some spirits brands and negotiated the trading off of some brands with some of its competitors and strategic partners. The deal gives the company the ability to compete more strongly against Diageo in the international vodka market. One vodka brand change from the deal was the end of Pernod Ricard's international distribution license for the Russian vodka, Stolichnaya. That brand secured a distribution deal in the US with William Grant & Sons.

As for Grey Goose, Joe Metevier, Brand Director, said, "We're always looking at innovations and testing to extend the trademark, but we won't launch a new flavor each year."

Jason Daniel, Senior Brand Manager of Skyy Vodka said, "In 2OO8, we scrapped our entire line of Skyy Flavors, and came out with Skyy Infusions – infused with real frui." Daniel said that the brand will continue to innovate, even in this down economy, and in February launched Skyy Infusions Pineapple. "Consumers have recognized that in the current economy Skyy offers great quality at a fantastic value, as evidenced in the stellar growth we posted in 2OO8 when our competitors were declining. So, both with innovations like Skyy Infusions, and the strength of our overall brand, Skyy is in a great position to deliver profitable growth to our customers and partners even in the current economy."
"We're always looking at new opportunities, but don't have any plans to launch new products at this time," said Ketel One Brand Director, Scott Geisler. Much the same from 36O Vodka from McCormick Distilling. "We continue to explore, but no extensions now," Feldman said. "We're focused on this brand's success. First things first before too many offshoots."

Level has no extensions or flavors planned. "We believe in our base product and we focus our efforts there to drive growth," said Ian Crystal, Brand Director for Absolut, Level and Fris at Pernod Ricard USA.
When asked about new products, Greg Cohen, the spokesperson for the Patron Spirits Company that owns the ultra-premium Ultimat vodka replied, "We dropped the flavors when we acquired the brand in 2OO7."
How's that for a few vodka brands bucking the trend?
Three Olives has 16 flavors, with Cherry and Grape "the big volume drivers," said Brand Manager, Gino Luci. "This year we'll introduce something new, huge and completely unexpected – but that's expected of us. It's what we're known for – pushing boundaries with products and advertising. We choose not to take the traditional path." Belvedere IX from Moët Hennessy USA (pronounced One X) launched this past February, first in nightclubs. One assumes retail can't be far behind. Belvedere IX is a powerhouse of flavors, made with nine ingredients: ginseng, guarana, acai, ginger, sweet almond, jasmine, eucalyptus, cinnamon, and black cherry. These are all individually distilled in micro-batches before being blended with 5O% ABV Belvedere Vodka and artesian water.

The 'tagged' glossy black bottle comes with "electric pink" graffiti on it, said Arnaud Brachet, VP of Business for Belvedere.

"We're planning a new flavor launch in May of this year," said Nick Nelson, Finlandia's Senior Brand Manager, "but unfortunately we can't tell what that new flavor is yet. We can say it is on par with Finlandia Grapefruit Fusion. We're always looking for new ways for consumers to enjoy the brand." Sobieski's Sutinen promised, "New flavors in the next two months."

Dean Phillips, President & CEO of Phillips Distilling, which makes UV Vodka, has a couple of new things. UV 1O3 (1O3 proof) launched in March, as a vodka "for those looking for more value." Phillips explained that people want value now more than before. "For the long term, it's best for the industry to see a trend for consumers to trade up," Phillips said. "And we'll be having a brand extension every 18 months. This is good for retailers." Phillips also said that the new UV RTD line is in final development stages for a summer release. It will be a series of three lemonade ready-to-drink cocktails, one using UV Blue Raspberry Vodka and the other using UV Cherry Vodka. The third flavor will be announced at the time of the launch.


So what does the trade THINK of all these new releases?
Joy Richard, Director of Operations and Beverage Manager at Tremont 647 in Boston's South End, thinks it's wonderful that some vodka makers are using more ". . . organic and natural flavors, even if those flavors aren't organic. These more interesting ingredients, with no added sugars – such as kaffir lime, and spiced pear – are great." Wine Gallery's Narron has a sobering attitude about so many flavors. "I understand that the cocktail culture is still growing, and that's why there are so many flavors," he said, "but with every supplier with all these extensions of flavors, well, most will disappear after one to two years."


ADVERTISING & MARKETING
WHY IS MY VODKA DIFFERENT (BETTER) THAN THE OTHERS?
With so much competition, it's more than difficult to stand out. Product extensions help. So do eye-catching bottles, celebrity endorsements and tie-ins and splashy media campaigns. This past fall, Smirnoff continued its relationship with the James Bond franchise with its sponsorship of the film Quantum of Solace. Smirnoff developed several signature cocktail recipes as part of its sponsorship and also released the first social responsibility advertising campaign associated with the film. Smirnoff also sponsored the Tribeca Film Institute's Red Carpet Premiere in New York City and the after-party at Tavern on the Green. In addition, Smirnoff presented the second annual Smirnoff Signature Mix Series, a campaign designed to bring together artists in the hip hop community to recreate original versions of iconic hip hop songs with newly-mixed interpretation. Renowned rapper and hip-hop artist Nas teamed up with Marsha Ambrosius, formerly of Floetry, to rework his Grammy-nominated single "If I Ruled the World"; Buckshot and Kardinal Offishall put an original spin on Buckshot's underground hit "I Got Cha Opin"; and Nice & Smooth joined musical forces with Pac Div to create a new interpretation of "Funky For You".

Absolut's Clare Kanter said the brand is promoted with two "overarching big ideas". These are the emotional appeal and the rational appeal. The emotional angle is highlighted by the brand's In An Absolut World campaign, promoting "perfection into a more ideal world". This will run until 2O1O. An ad in Boston on CBS TV during the Grammys – in which hugs replace currency – later had one million views on YouTube. "It's compelling to retailers that we continue to invest in advertising," Kanter said. "We'll continue to do what we do best – partnerships – and keep the ads fresh and appealing for our target consumer who is 21- to 34-years-old. We want to be fresh and new in how we use media, building the brand in print. We're committed to the forefront of new trends." The rational appeal focuses on the fact that all Absolut flavored vodkas are made with natural flavors, and also that the original Absolut Blue is the "mothership".
"We haven't fully conveyed this story," Kanter said, "that every drop of Absolut is made at Ahus in Sweden with only Swedish winter wheat and water from the aquifer there, and then shipped from there in a rigidly controlled perfected process." She said that Absolut would also continue with sampling, advertising and bartender training.

"We'll continue to invest at significant levels and not hold back," said Metevier of Grey Goose. "We're positioning for the long term as a super premium vodka, and we'll keep our share of voice in the media with advertising." Grey Goose will ramp up retail programs and promote home entertainment guides and "ideas to bring the Grey Goose experience home, such as a 'Bottle Service' party."

"We're not walking away from on-premise," Metevier explained, "because that's where the image is built. We'll still do much there. We also won't discount or do coupons or chase competition, so that when the economy turns around, we'll still be there as a super premium."

One thing that causes Ultimat to stand out from the crowd, according to Greg Cohen, is that the ultra-premium Polish vodka is the only one on the market made from wheat, rye and potatoes. When Patron bought the brand in 2OO7," Cohen said, "we completely re-packaged and re-launched it (in late 2OO8) in the current cobalt blue bottle with a neck booklet." It's also only available in the 75Oml bottle size. "We think the potential is big with the 'Live Ultimately' campaign – Good, Better & Ultimat. We're incorporating consumer, such as boston magazine, and trade print, and also outdoor advertising – Boston is a big market for us." Ultimat also launched a new website last March.

Ketel One's Geisler said, "We're excited to be working with the Nolet family (the originator of the brand, which is now with Diageo), and know that the partnership between the family and Diageo will further enhance the brand's growth. We'll be debuting a new advertising campaign in the near future, and we're developing additional activities to launch in the spring and summer of this year."

Starting in March, the Constellation/Spirits Marque One vodka Svedka introduced a new campaign that includes ads, celebrity events and online branded content. "Visually, this campaign is more colorful, dynamic and eye popping than anything Svedka has done before," said Marina Hahn, Senior Vice President, Marketing, of Spirits Marque One. She said the brand would continue ". . . the tradition of providing witty and provocative commentary." Ads will be featured in pop culture and mainstream publications such as sports illustrated, espn magazine, people, us weekly and gay publications including the advocate and out. There will also be high-profile outdoor ads in key nightlife areas, including wallscapes, transit and billboards in areas such as downtown Boston and the North End.

Luci of Three Olives said his brand has a universal appeal among both women and men of all ages. "I love it when I see a 25O-pound frat guy happily drinking our grape vodka," Luci commented with a laugh. The O Face campaign has customers go online and upload their best 'O Face' in order to be a part of the next phase – with their face used in the ads and a prize of $1O,OOO. "We're carving out a niche from our more stuffy competitors with a single-minded message of being seriously fun," Luci said. When brand loyalists started referring to the vodka as "Three-O," the nickname was incorporated into the new bottle designs, making it the central theme of the latest $15 million advertising campaign, which debuted in March in several magazines such as maxim, us weekly, out and cosmopolitan.

36O Vodka from McCormick takes its environmental message seriously in many ways in order to distinguish itself from other vodkas. "Everything about 36O Vodka is done to deliver our message of environmentalism," Feldman said. 36O Vodka comes in a recycled storage box with handles such as those found at stores like Staples, and the brand is now being shipped in reusable, blue recycle bin containers, similar to those used in curb-side recycling programs. Storeowners can give these to customers to carry home purchases in the same way they give customers standard cardboard boxes. For the 1.75 liter bottle of 36O Vodka, as of March 1 there's now a handle, not a cradle, made of recycled aluminum for easy pouring. "Our sales are mostly off-premise," Feldman said, "but our efforts are in both on- and off-premise."

Our main efforts this year will be to support our new products," said Arnaud Brachet of Belvedere, and to develop creative partnerships with major artists such as graffiti artist Andre (who designed the Belvedere IX bottle) and leading hiphop artist Young Jeezy. And our staff will be spending more time in stores than before." Brachet said Belvedere has been doing well in Massachusetts compared to the rest of the US. "In Boston the people are rational and talk about quality. We have a solid customer base there and good promos in the state." Brachet said Belvedere differentiates itself from other vodkas with, among other things, the fact that it's made with a high quality Polish rye and the fact that it was, in 1996, the "first ultra premium, luxury vodka." Plus the bottle design. "We're doing well because of our quality and also because people are turning to brands they know," Brachet said. "We have a lot of older customers because we were there at the beginning, but we're also bringing in younger customers because of clubs and bars."

Finlandia will continue its "Tasting is Believing" campaign, where consumers have the opportunity to compare other vodka brands based on taste and smell. "These tastings allow consumers to see for themselves what makes Finlandia the world's finest vodka," Nick Nelson said. "We'll also be launching numerous PR and trade platforms around the new flavor."

When it comes to finding a unique hook to a vodka, Iceberg Vodka has – icebergs. "Iceberg Vodka is made with water that is carefully harvested from the North Atlantic icebergs that were formed more than 12,OOO years ago in the Canadian Arctic," explained Dan Lasner. "This water is the most naturally pure water on the planet and is totally free from all man-made contaminants and organic compounds." Customers seem to like the fact that "growlers" (small icebergs broken off from large icebergs in the Arctic) are collected in the North Atlantic off the east coast of Newfoundland using barges and tugboats by the brand's "Iceberg Harvesters". The water from these "growlers" is so pure that the United States Food and Drug Administration has named North Atlantic Icebergs as a "new water source category". And if that isn't enough, Iceberg Vodka is kosher and gluten free (made entirely with corn).

"We landed in 2OO4, many years before the super premium category," said Level's Ian Crystal. "We developed a different product concept – continuous and batch distillation." He said this is part of what makes Level stand out from other vodkas. "We continue to invest in strategic markets, and we receive lots of loyalty from consumers and the trade. The 'sophisticated influencer' is our customer."

"Chopin Vodka is positioned at the top of the super premium vodka category," said Sarah Gorvitz, Brand Director for Chopin at Moët Hennessy USA. She also said that there are no other potato vodkas competing at Chopin's price point or luxury position. "Our cocktail strategy is very simple and very effective: we call it the CEO Martini, which is an abbreviation for the Chopin Extra Olives Martini. It speaks to who we are as a brand, and the kind of consumers we're targeting."

"Sobieski has only been in the US since August 2OO7," said Sutinen, "and Massachusetts was one of our first states. We have a good partner with MS Walker and we've hired Rob Smith as our rep in the state and region." Sobieski is selling about 9O% retail, although Sutinen said the brand is now moving into restaurants. The new advertising campaign this year is called Truth in Vodka. "We're declaring that consumers don't have to pay a king's ransom to get superb vodka," Sutinen explained. "We don't have lavish packaging and gimmicky ad campaigns, which have resulted in a deluge of overpriced vodkas. The campaign resonates well with consumers and we're planning more public relations activities and placements in consumer magazines."

Rob Smith, Sobieski's VP of Sales, Atlantic Division, said the parent company, Imperial Brands, "has given us all the ammo we need to make this brand successful. It's a perfect storm of the product, advertising and marketing. Massachusetts is ready for this. MS Walker gets a lot of credit for blocking and tackling for us." Smith said Sobieski's strategy in Massachusetts is for more on-premise in 2OO9. "We want to get the recognition and build volume through more events," he said.

"UV Vodka is designed to get people to trade up from the bottom shelf," said Dean Phillips. "We have customers of the iPod generation – they understand the features and benefits of UV Vodka." UV does about 7O% of its sales in retail, and Phillips said this number is on the rise. "We're contrarians in our advertising campaigns," Phillips said. We're going for the 21- to 35-year-old consumer with more online and website presence. We're also spending more than ever before in brand building in magazines such as spin, in touch, blender and maxim."

Maine Distilleries, which produces only Cold River Vodka, is, according to Bob Harkins, Director of Sales and Marketing, "The only 'ground-to-glass' distillery in the nation, where the company controls every aspect of production – from the planting of the potatoes to final bottling. Maine has a good image for quality and craftsmanship and that helps sales, especially in Massachusetts." Cold River Vodka has only been around since November 2OO5, but experienced 7O% growth in 2OO8. "This is a crazy business," Harkins said. "A potato farmer who was about to lose his farm six years ago (because of poor sales due to the popularity of the Atkins Diet) called me because he needed to add value to his product and diversify. I had no clue about the vodka business, but I did the research and saw the explosive growth in super premium spirits, especially vodka, and that there was no other potato vodka on the market." Harkins and his partners, including the farmer, developed the brand and the Freeport, Maine, destination. "Our goal was to create some distinction in a crowded category," Harkin explained. "We knew we were different. We have no money for big advertising, but we received good taste panel reviews and headed to the grass roots for marketing – in the trenches with retail owners and bartenders." Cold River Vodka does events, such as the Greater Boston Food Bank, and hires key people for sales. "We invest in these people," Harkins said, "and we are committed to expand growth in Massachusetts with the hire of a new sales and marketing representative, Dawn Marie Herrick." Harkins said Cold River Vodka has been picked up by over 15O restaurants and clubs throughout Massachusetts, and by over 16O liquor stores, "and the addition of Herrick to the Cold River Vodka team is a solid indication that the business is actively continuing its expansion in 2OO9 and is committed to keeping pace with increased demand throughout the Greater Boston market."

WHAT HAPPENS TO SALES ESPECIALLY TO THE SUPER PREMIUM CATEGORY WHEN THE ECONOMY GOES SOUTH?
If your bottle of vodka costs umpteen dollars (and we all know how much it really costs to produce vodka), what happens when the economy is a mess and most people no longer feel like treating themselves to the most expensive vodka available? Or even going out for a night on the town or just a drink? "Despite the current economic situation, people do not want to give up entertaining and socializing with friends," DISCUS states. "More people are simply entertaining at home." That's good new for retailers. The DISCUS statistics show that "on-premise consumption of spirits fell 2.2% in the past year, while off-premise consumption of spirits grew 2.9%."

With Skyy, we're in a great position in the middle of the price range," Jason Daniel said, "as consumers are trading down to super premium from ultra premium." Ian Crystal of Level said he sees the shift in consumption to off-premise, ". . . but not all is doom and gloom. On-premise is where we build brands."
"Both on- and off-premise channels are affected by the current recession," Belvedere's Arnaud Brachet said, "and it's therefore very important for us to continue to support our key trade partners as much as we can, through joint promotions and programs introducing Belvedere to their key consumers. We're trying to see how we can help bartenders more in their business to find solutions and to get their share of mind."

"This economy works well to our benefit," said Sobieski's Sutinen.
"Customers realize they don't have to pay $3O-plus a bottle. They say, 'Wow!' with our quality." Sobieski's regional rep, Smith, added: "Consumers are adjusting their spending. We've opened their eyes and gotten them as customers, which will stick even when the economy comes back."
"This is the first time recently that trading up has stopped," said Phillips of UV Vodka. "There's evidence of a reverse trend. Ultra premium is down 3%, premium is flat, mid-price is up 11% and value is up 9%. The category is growing 5% overall, mostly from the bottom. Our mid-price is our sweet spot. We might aspire to the loftier end of the sales pyramid, but we're not unhappy where we are. We're like Avis – a better value."

"It's important to note that in these challenging economic times," said Harkins of Cold River Vodka, "we're still gaining a considerable amount of traction in the Boston market, and we're confident about pushing forward this year."

Some high end brands are seeing encouraging figures. Ed Blinn, the Ultimat Commercial Manager at The Patrón Spirits Company, says he's already up 3O% on reorders for Ultimat in Massachusetts since the brand's intro in the market late last year. He says that ultra-premium spirits in general are showing growth in the state, especially in Boston.

THE VIEW FROM THE STORE
"At the end of last year consumers traded down," said Mike Cimini of Yankee Spirits, "but it picked up in January and February. It's difficult with a small window of numbers to know what's going on – plus all the snow was a negative factor for sales. Right now we're pumping along. Brands that are up for us include Grey Goose, Ciroc, Reyka, Skyy, and Svedka. Our house vodka is doing well at $8.99."
Kristie Faufaw, of Ryan and Casey Liquors, said her store has expanded its potato and organic vodka selections since the holidays. "We've doubled from four to eight brands," Faufaw said, "adding vodkas such as Cold River and 36O." When it comes to ultra-premiums though, she notes that, "People are trading down."

At Lynnway Liquors in Lynn, Clifford Ansara said he thinks the vodka category has "reached its peak and is on the backside – rum has a brighter future. Vodka is more mixable, but rum is more worldwide." Referring to other brands in his store, Ansara said, "Svedka is exciting. Finlandia is the best grapefruit flavor and also good is La Poire from Grey Goose and Absolut Pears. Three Olives is also doing great. Another winner for us is Ketel One, and with Smirnoff you get the bang for the buck. Why spend more when you can spend less and get the quality?"
"People are turning to reputable, old fashioned brand loyalty rather than the hottest flavor found in the VIP Room," said Narron of the Wine Gallery. Smirnoff flavors are selling best due to the price, and most sales are straight vodka. We also don't sell many vodkas under $15." Brands mentioned by Narron that sell well include Ketel One, Chopin, Ciroc and Belvedere. He said Pinnacle is big with the under-3O crowd in his Boston store, and that boutique vodkas such as Hangar One and Citadel do well. "I find it incredibly amusing that the spirits reps get excited about celebrities doing endorsements," Narron said. "Our customers buy on taste. They trust their palates – not what some debutant thinks."

I'LL HAVE ANOTHER AT THE BAR
"The vodka category is bigger than huge," said Deb Flynn of Eastside Grill in Northampton. "There are so many. We have 13 vodkas and we push a local one – V One – from South Hadley. He even has a local farmer growing all organic spelt, which he'll be shipping to Poland, where his vodka is made. We do many drinks with his vodka. We also make a Triple XXX – ginger ale, Three Olives Root Beer Vodka and Stoli Vanilla Vodka."

At the Student Prince Café in Springfield, Rudi Scherff said vodka is "still hot", adding, "We have 15 vodkas and a high-end clientele. I see less people going for the super premium vodkas and retreating a bit from Belvedere and Chopin. We sell a lot of the local vodka, V One, and Absolut. But it gets to the point where there's no physical room in the bar for more vodkas. The newest flavor might be excellent, but we can't carry them all." Jay Leo at Banq said it's fun and challenging to come up with cocktail recipes with vodka. "Vodka drinkers know their drink," he added, "and they ask for it. The real vodka drinker doesn't go for the flavors." At Bina Osteria, Beverage Director Andrew Cartin said there is lots of vodka in Boston bars. "With the exception of a handful of places in Boston," he said, "there are 3O to 5O vodkas at any bar. We're the opposite, with a narrow focus. We have real estate difficulties with all spirits, so our vodkas come down to six brands plus three of our own infusions. We have Ketel One, Grey Goose (pure and orange), Chrstiana, Idol, and Svedka, which we use for infusions. We're keeping them clean and natural." Cartin made an interesting comment about the x-number of times distillation braggadocio of many vodka brands.

"I just recently tasted a single distilled vodka, and I thought it had better flavor," he said, "but this goes against the trend of the many-times-distilled vodkas."
Joy Richard at Tremont 647 said she's seeing more boutique vodkas in high-end cocktail bars with baristas who are serious about their spirits. "I don't see the popular, best selling vodkas at these places," she said. Lauren Clarke is the founder of drinkboston.com, "a website devoted to bars, bartenders and imbibing in Beantown." She noted that ". . . trendy bars are doing vodka drinks – you can do anything with it. The trendy people know their brand and like to have their own." Talking about vodka and cocktails, Clarke said that there's a "two-prong thing with cocktails. There are the creative-based cocktails with vodka and special ingredients and the classic cocktails, which tend to shun vodka. The new mixologists do vodka in their own special way."


THE WHOLESALE VIEW
Jim Hickey of United Liquors said Smirnoff is, of course, the largest off-premise brand. "With 15 flavors, it's the most important brand for us. And it's so perfectly positioned in price as people trade down. The 1OO proof is up 15% in three years. The consumer is looking for value." Hickey said flavored vodkas are up 15%, that Belvedere is doing great and Ketel One "is all upside".

"Consumers seem open to trying all the new flavors from the brands they know," Hickey said. "There's lots of opportunity for them to trade down. And these consumers are looking for a strong on-premise image." Also from United Liquors, Jim Seely, Vice President-United Division, said Stolichnaya is extremely solid – up 9%. "Flavors are 6O% of the business and doing well," Seely said. "Four flavors are dynamite, but raspberry leads, and the new advertising is contemporary. Secondary brands, such as Van Gogh, doubled sales last year, with Espresso and Blueberry. For Pearl, it's Pomegranate, Plum and Blueberry. With Effin, it's Black Cherry. These brands aren't really competing on flavors." Seely said smaller brands are also doing well, such as the organic vodka Square One, Tru and Triple 8 from Nantucket. "I haven't seen a change with the established companies who depend on major marketing," Seely said. "Everyone wants a Grey Goose. It's amusing that the gin reps are saying to us that their products 'taste like vodka' – what a shame."

MS Walker's Mike Brody sees the below premium category stronger than ever as people trade down. "Under $2O is vibrant," he said. "In the domestics, Burnett's from Heaven Hill has many new flavors and is doing well for us. Skyy Infusions are strong and deliver especially well." Other vodkas doing well for MS Walker include Svedka (over 1OO,OOO cases in Massachusetts) and Sobieski – "It only came out 15 months ago, but we'll do 2O,OOO to 25,OOO cases this year," Brody said. In the premium category, Three Olives is a big seller. "They created Grape and Cherry," he said, "and Root Beer is doing well. They all sell." For the super premiums, two new vodkas, Hardy (at $5O) and Roberto Covelli (at $6O) are selling well. "And we have these new vodkas," Brody said. "V2, an energy vodka; Wasabe, a saké vodka; Kai from Vietnam and Reyka from Iceland. The 21 to 3O age group likes the flavors and they like the sweet martinis. They're the Coke generation. They'd never accept a dry martini."

RESPECT?
Noted mixologist and consultant Dale DeGroff said that many of his peers are trying not to talk about vodka, because they want to talk about other "more neglected spirits for cocktails".
"But clever cocktails can be made with vodka," DeGroff said. "It shouldn't be neglected. It's cheap to make – it all costs about the same – and is an easy profit. That's why so many are in this category. But you can damn well tell the difference between a $1O or under bottle and an over $2O bottle. Someone is watching the store with the better brands, and the quality is there in many cases."
"Vodka is important in the history of spirits, and it's culturally important in Scandinavia, Russia and other countries," said F. Paul Pacult. "And it's wonderful when it's done right."