archived

FeaturedArticles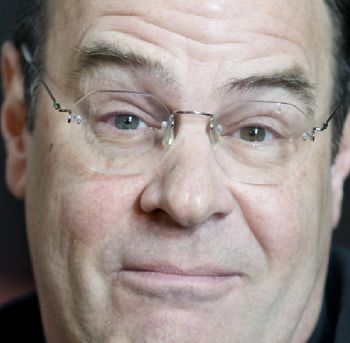 Article By: Fred Bouchard
DAN AYKROYD • 56 • Actor Musician, Importer, Investor / Diamond Estates Winery & Spirits, Ltd.

This upstanding son of Canada has long stood tall as a stalwart champion of bold and worthy causes. First was humor, as Saturday Night Live's Purvis Buckle and Ghostbusters' Ray Stantz; then there was Black American blues, as the no-double harmonica playing Earl in The Blues Brothers. Lately, Aykroyd's stumped for: good wines from Niagara (Ontario) and Sonoma (California); the expurgation of evil spirits and the exaltation of the pure with his newly-launched Crystal Head Vodka; even law enforcement causes. At the calm center of a Beantown media cyclone during February, Aykroyd opened the Boston House of Blues, (relaunching his 1984 Harvard Square original), and patiently sat for dozens of interviews. This one focused on his new vodka and the attendant Legend of the Crystal Skulls.
Let Dan tell it . . .

"Thirteen Crystal Skulls have been found on earth, perfectly formed from single blocks of quartz. They are very old: some from Aztec, Mayan and Navajo [provenance]; the Navajo claim they were crafted by enlightened beings beyond our planet (as Spielberg referenced in his movie, extraterrestrial in origin). Navajos use them for looking into the past, analyzing the present and predicting the future. Seven are in the possession of individuals on the planet; some are in museums such as Smithsonian Institute and Museum of Natural History. The one on which we base our vodka bottle design is in Toronto, found in a Yucatan cave in 1927 by a renowned explorer [Mitchell-Hedges]. Hewlett Packard engineers looked at this Mitchell-Hedges skull and said, 'There's no way craftsman could have cut across the solid block of quartz without shattering it.' The Smithsonian claims they are not ancient, rather the work of a German arts forger of the 184Os. Many insist they have calming and curative properties; when you look upon one of these skulls, you're overcome with a sense of wellbeing, warmth and healing."

HEAD to HEAD VODKA What does the legend mean as we tie it into presenting an alcoholic beverage? Finally once again there is a great story that a bartender can tell a customer, and a great dialogue that can ensue between them. You know, bartenders are more than mixologists, they're kind of psychologists, too. Today so much of our lives are taken up with electronic media, we converse by texts, we communicate by computer. Letters have been kind of out, though email is reviving literacy a little. So this beverage and package provides an opportunity for conversation about substantive matters, whether or not you believe in matters spiritual or not. There's a point of reference to which the bartender can talk about what's inside the bottle.

SPIRITUAL SPIN We want to tell a pure spirits story. [As with the liquid], we've stripped away all the additives. When my friend John Alexander, Smithsonian exhibited sculptor, came up with the head idea, he'd originally pitched it as a tequila idea; but, as Ontario's importer of Patron Tequilas, I proposed we do a beautiful vodka, and replicate the Mitchell-Hedges skull, and go back to the old-style, pure, super-distilled spirit we used to get in Carolina and Georgia, moonshine made with peaches and corn. My partners in this, the Newfoundland/Labrador Liquor Distillers, make screech, a pure white rum, which originally was white lightning. I said 'Let's go back and take out everything they're putting in vodka today, strip it right down.' That super-velvety palate on today's vodkas is achieved by artificial means: glycol (like anti-freeze), citrus oil (a very caustic substance) and raw unrefined sugar (right from the cane fields with lots of bugs and impurities). So distiller Phil Powers made that – it's spectography report was totally flat – and everyone who tasted it was really impressed with how smooth it was for a vodka with more alcoholic punch than most. It has no oily residue.

STAND BEHIND YOUR SKULL The bottle is beautiful, made by Bruni of Milan: it makes every bar look good. Place it along side Grey Goose and Svedka bottles – they look like a family. But a nice bottle and celebrity endorsements will only get you so far. The product must deliver. And people are enjoying it, responding to the taste of pure Newfoundland water, Ontario sunset wheat, and peaches-and-cream corn added for a touch of sweetness, and the pure-spirit aspect. The water is from deep glacial aquifers near St. John's Newfoundland, 1OOO miles away from the acid-rain belt. (It's not organic, because that brings up a shelf-life problem.) The vodka is super-filtered over charcoal; then as a final finish – for mystical and psychic reasons – we filter it a final time over $5OO,OOO of Herkimer diamonds (found at the earth's surface only in upstate New York and Afghanistan's Hindu Kush). It's the last government still in Canada, and the affection that Newfoundlanders have for humankind goes into this bottle.

WHAT'S in a DRINK "Crystal Driver" is the standard 1.5 ounces of Crystal Head Vodka with fresh-squeezed orange juice. "Red Head" is our bloody mary. "Melon Head" is with watermelon juice, a little soda water. "Cranium" is with cranberry juice and soda water. "Crystal Gina" is with Orangina. I'd love to tie in Orangina with a print ad. But right now we aren't doing any advertising. We're spending on point-of-sale merchandizing, because the bar owner loves this.

BAR SERVICE Servicing bar owners and on-premise people is the root of a great business, not doing TV ads alone. The Ciroc brand has done well for Puff Daddy Association, but it's got to be very expensive. Patron has done wonders with billboards, but we don't have those resources. We've just done a Blues Brothers tour of the Southern US in support of the vodka. [Everywhere we go] we've left bar mats, ice buckets, [battery-lit] bottle glorifiers, key chains, tiny skull shot glasses, posters, banners, menu cards – everything to enshrine the skull bottle. This is all reassuring to bar owners, that we're not just ramming the product out there and disappearing. We'll be back with product and service – see how they're doing – to show we're grateful for their taking the product and having faith in it.

HEADY COMPANY We're not competing with other Canadian vodkas because we're in the super-premium category [about $5O retail] with high costs. People like to trade up when they can. We're not marketing to the college set, the Corpus Christi/Daytona Beach spring break crowd. They may discover it on dad's shelf. But we will go on the road with the Headmobile. It's a freightliner with a big camper on it; it'll look like a big box going down the highway, hauling my Harley Davidson behind it. I want to build the Crystal Head Police Interceptor, too. A friend at a Ford dealership in Canada will sell me a blank police car and we'll drill lit-up crystal heads all over the roof, front and back windows, and drive around to raise money for law enforcement causes. My grandfather was a Royal Canadian Mounted Police staff sergeant; I studied criminology and have long been interested in law enforcement. I've been a reserve commander in Callahan, Louisiana for 1O years and have helped support the Blue Line Foundation.

BEHIND the SCENES I'm the importer agent for Patron in Canada. [Patron owner and master entrepreneur] J.P. De Joria got me started up there, partnering me with (and I bought a piece of) the distributor, Diamond Estates. They have Sazerac Whisky, Hpnotiq Vodka and my Niagara line of wines. I asked questions and got behind it and we're now the #1 luxury tequila in Canada and represent 1O% of Patron's foreign sales, with 1OO% growth a year the last three years. We've just taken on Ultimat Vodka, the super-premium in a blue bottle; since that's a Patron product, we're not pushing the Crystal Head in Canada. We're holding it back from the Liquor Control Board of Ontario to favor the Ultimat.

REDS and WHITES . . . My Niagara winery (I'm a shareholder in Niagara Cellars' 25O acres of vineyards) is on the Beamsville Bench, with terrific neighbors like EastDell, Peller, Hillenbrand, Chateau de Charmes. We make Cab-Merlot, Cab-Shiraz, Sauvignon Blanc, Chardonnay; our Cab-Shiraz and Vidal Ice Wine have won medals. The Niagara story is a great one: after 5O years the vines are mature and the wineries know what they're doing. I urge people to go visit via Niagara Falls, New York; the city's a lost gem of art deco architecture. Since import issues will not allow my Canadian wines to be sold in the US, I've started the Dan Aykroyd Discovery Series with American wines. I've hooked up with Jean-Charles Boisset, the Burgundy (Côtes de Nuits) man who took over and repurposed De Loach's Sonoma vineyards. My Chardonnay and Cabernet are out now, with success as premium wines at everyday prices, say a $5O Bordeaux for twenty bucks. The Signature Line will be premium wines for collectors.

. . . and BLUES I've always been fascinated with American Blues. I grew up in Ottawa, which has the distinction of being a government town with highly educated people at the universities (Ottawa, Carleton, Gordon) and sophisticated tastes. A club-owner named Harvey Glatt catered to the intelligentsia by bringing in all the esoteric blues stars being revived in the '6Os. His club, Le Hibou on Sussex Drive, down the street from the Prime Minister's house and Parliament, was a little hole-in-the-wall songbox. As a kid, 13, 14 and 15, every weekend I'd see Chester Burnett (Howlin' Wolf) a dozen times, I jammed with Muddy Waters on drums, saw James Cotton sing out in a swirling snowstorm . . . I saw Otis Spann, S.B. Leary, Paul Butterfield, Albert King, Elvin Bishop, Charlie Musselwhite, Otis Rush, Buddy Guy, Junior Wells, John Lee Hooker. We didn't drink or abuse the privilege, and Harvey winked and looked the other way. I listened to the black radio station in Detroit. I started playing harmonica as a road surveyor in the Northwest Territories. I'm a fair [mouth] harp player, but I need 'cross' harps, and still can't play any harp in any key. But when I watched Big Walter Horton every night in Chicago while filming The Blues Brothers, I learned a lot about sustaining his deep rich tone, and felt more confidence.

TOURING NIGHTLY We keep an active touring schedule with James Belushi for the classic Blues Brothers. We just did a few nights at our new House of Blues on Lansdowne Street in Boston. We have a home in Los Angeles, where my wife and I raised three kids. We spend summers and winter holidays in Ontario, where we live on the North side of the Lake in Kingston, ringed by four federal penitentiaries.

GRIPPING BOOKS Theodore Dreiser captured so much of life in America of his era. His Trilogy of Desire may be the best writing on an American financier ever. I love Tobias Smollett, who wrote Humphrey Clinker, very humorous for its time! Also Esther Forbes' Paul Revere and the World He Lived In brings to life that era of Massachusetts history. I love American history in general, such as David McCullough. I can't put down David Hackett Fischer's book on explorer Samuel de Champlain, it's absolutely gripping.

TV SERIES in FERMENT? When I went to Israel, the Golan Heights has vineyards doing great red wines. I'd like to do a Dan Aykroyd Discovery Israeli wine. I'm crazy about reds from Chile and Argentina, too. I'd love to tour around Napa, Sonoma, Bordeaux, and Niagara, and discover more great wines.