archived

FeaturedArticles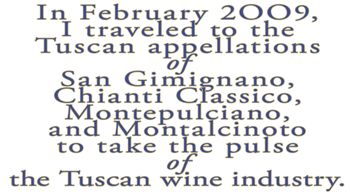 Article By: Bill Nesto, MW
Every third week of February the producer consortiums representing these appellations invite journalists from around the world to experience a full week of in-depth tastings. The Chianti Classico, Montepulciano, and Montalcino events focus on presenting information and tastes of barrel samples of the new vintage as well as samples of wines recently released on the market. The San Gimignano event focuses on exposing and investigating synergies between Vernaccia di San Gimignano and notable white wine types from other countries. To be able to cover so much ground in one week is a great opportunity for any interested journalist.

The producers who are members of the consortiums pay a large percentage of the consortiums' operating expenses. Though, at these events, the consortiums represent the appellation and member producers, such producers pay additional fees that determine the extent of their role in the events. There are some members who chose not to participate – those who pay more, participate more. Hence, during this week, journalists are not exposed to all the wine producers or to all the wines within the relevant appellations. The consortiums understandably control the dissemination of information, particularly about the vintages, in a way that puts a positive spin on harvest conditions. The Montalcino consortium goes so far as to rank the conditions of the most recent harvest based upon scientific and sensorial parameters of the harvested grapes and the infant wines. However, any journalistic overview of harvest/vintage assessments cannot be complete unless supplemented by interviews, visits and tastings beyond the events of the week. At each of the four appellations, I therefore went afield to meet with non-participating producers to get their opinions and to taste other wines.

Because these four appellations are within an hour's drive from Siena, it is logical to compare and contrast their respective harvest and vintage assessments. Harvest conditions for Vernaccia di San Gimignano – white wines – have less impact on the resulting wines because the skins are generally omitted from the alcoholic fermentation. According to Marco Toti of San Gimignano's largest producer, Chianti Geografico, the 2OO8 wines will be slightly more alcoholic but will have better balance than the 2OO7s which suffered from an overly hot summer and rain which began during the harvest on September 15. In 2OO6, rain occurred at the end of September and the beginning of October. Producers who timed their picking to avoid rain-swollen grapes made well-balanced wines with finesse. Harvest/vintage evaluations for San Gimignano red wines will be very similar to Chianti Classico due to its close proximity, only a few miles away.

The 2OO8 vintage conditions for the red wine producers of central Tuscany, particularly those of Chianti Classico, Montepulciano and Montalcino, were characterized by a cold and rainy May and early June. This led to delayed vine growth and a lower crop load. Subsequently the weather was torrid and dry until a heavy rainstorm on August 15 which brought rain to most places and calamitous hail to select spots. The rain jump-started the maturation of the grapes. During the final ripening stage in mid-September, however, a combination of more rain and low temperatures cut short further maturation. In general, the grapes were picked with higher levels of acidity. The phenolic maturity of the skins, which primarily determines the color and texture of the wines, was adequate. My forecast for 2OO8 reds is that the wines will be good, rather than very good or great. Pigment density will be below-average to average. In the mouth, acidity levels may dominate alcohol content. Low levels of astringency may vie for attention in the mouth with bitterness. There may, however, be some producers with vineyards at higher elevations who made better wines because they were able to wait to harvest later during the unusually warm, dry and sunny October which followed.

Ultimately, the assessment of any one vintage is compared to those of previous vintages. 2OO8 follows two more promising vintages, 2OO7 and 2OO6. These two vintages were characterized by unusually warm July and August weather. Though the harvest of 2OO7 was unusually early, both harvests were undertaken under dry conditions. The vintages will give very good and, in some cases, excellent wines. I canvassed producers in Chianti Classico, Montepulciano and Montalcino trying to understand how the wines from the two vintages might differ. In general, producers from Chianti Classico asserted that 2OO6 was the hotter of the two vintages, while those in Montepulciano and Montalcino indicated 2OO7 was the hotter one. One producer in the southern end of Montalcino went so far as to assert that 2OO7 will only be slightly better that the hellish 2OO3 vintage. The 2OO5 vintage, on the other hand, was characterized by rain and cold during August and September, resulting in wines which are generally mid-weight with evident acidity. In 2OO5, Montalcino fared better because August and September harvest conditions were drier than in Chianti Classico and Montepulciano. 2OO4 was a year in which sunny and cool conditions extended the growing season in all three red wine zones. Excellent harvest conditions allowed producers to pick at chosen ripeness levels. The wines have excellent acidity and fine, long lasting astringency. 2OO4 is a great year.

At San Gimignano, I attended a tasting which juxtaposed 2OO6 and several-years-older versions of Riserva or Riserva-styled San Gimignanos with Northern Rhone white wines with similar vintage spreads. The Northern Rhone wines were either Saint Perays or White Hermitagesn – wines featuring Marsanne-Roussanne blends. Although some attending journalists complained about the amount of new oak evident in the Vernaccias, saying that Vernaccia could not support the oak, I heard few complaints about the levels of new oak in the French wines. I, however, found the French wines over-oaked. On the other hand, the use of oak in the Vernaccias was more restrained. At a general tasting that followed, I sampled recently released Vernaccias mostly from the 2OO8, 2OO7 and 2OO6 vintages. These wines were much better made than I had experienced in previous years at this event. The wines had more substance and freshness, and showed more clearly than ever the slight bitter edge for which Vernaccia di San Gimignano is known. San Gimignano has a DOC for several red wine types. This DOC allows for a Sangiovese dominated Rosso, a varietal Sangiovese, a varietal Cabernet Sauvignon, a varietal Merlot, a varietal Syrah, and a varietal Pinot Noir. Giovanni Panizzi's Rosso "Folgore" and Cabernet Sauvignon "Rubente" are among the best.

In the January 2OO8's massachusetts beverage business, I reported that Giuseppe Liberatore, President of the Vino Chianti Classico Consorzio, predicted "that producers will rely more and more on Sangiovese and less and less on supporting 'international' varieties such as Merlot, Cabernet Sauvignon and Syrah." At the 2OO9 Chianti Classico Collection tasting in Florence, I found this to be evident in the style and character of thirty 2OO7 Chianti Classicos which I tasted blind. Gone were overly dark, texturally dense, yet soft, Chianti Classicos, wines that, in style, if not in legal varietal content, swerved wildly away from classic archetype. Gone, too, were any Chianti Classicos that showed any whiff of Cabernet Sauvignon. The 2OO7s signal a new pure style of wine driven by new and better clones of Sangiovese and by better viticultural and vinification techniques. The wines are more evidently Sangiovese, but show more weight and presence than the traditional Chianti Classico styles of years past. At a second tasting where producers directly presented their wines, I sampled more 2OO7s and some 2OO6s and 2OO5s. The 2OO6s were big and rich. At the March 2OO9 Tre Bicchieri tasting in New York City, the elegance of the 2OO5 Chianti Classicos from Castello di Ama and Chianti Geografico "Montegiachi" showed how well in a light vintage, a Sangiovese-dominant wine can resemble a light French red Burgundy. The twenty 2OO4 Riservas I blind tasted in February in Florence showed the class of this vintage and the approaching maturity of the 2OO4 Riserva category.

The third stop on my tasting tour was the Anteprima of the Vino Nobile di Montepulciano consortium. 2OO6 was the most recent vintage of Vino Nobile di Montepulciano available for tasting. It was a stronger and more consistent class than the 2OO5 and 2OO4 vintages. With respect to foreign markets, the German and Swiss markets are more important than the US market for the wines of Montepulciano – the US being much more important for the Chianti Classico and Brunello di Montalcino appellations. Germans and Swiss often vacation in Montepulciano and know the appellation wines well. They prefer wines with more traditional flavors, for the most part with less new oak and more leather aromas than Americans do. A noticeably large number of the wines, particularly in the older vintages I tasted, veered towards this style. At Palazzo Vecchio, an estate not showing its wines at the official event, a 2OO5 single vineyard Vino Nobile called Terrarossa was round and thick, certainly a memorable wine for me for this otherwise difficult vintage.

The tasting hosted by the Brunello di Montalcino consortium, called Benvenuto Brunello 2OO9, was a coming-out party for the long-awaited 2OO4 Brunello di Montalcino vintage. One hundred and forty six producers out of the over 2OO in the consortium were present. I tasted some fifty-four 2OO4 Brunellos blind. The quality and style varied more than in Chianti Classico and less than in Montepulciano. Tasting at the tables of producers, I singled out those that I had followed over the years. The 2OO4 Brunellos of several "modernist" producers, particularly Pian Delle Vigne and Siro Pacenti, were paler in color, more reddish than bluish, with less thickness in the mouth, and with more length and finesse in the finish than I had experienced in previous years. This to me is a sign that this vintage signals a return to Brunellos which more clearly show Sangiovese character. Several 2OO7 Rosso di Montalcinos showed overripe flavors. A group of young producers who launched their first Brunellos in the early 2OOOs had in previous years shown wines that tended to lack the concentration that older vines would give. Or their wines showed too much new wood, or other imbalances. This February their wines stood shoulder-to-shoulder with those of the veterans. One such "newcomer" whose time has arrived is San Polino, an organic-biodynamic operation owned by husband-wife team Katia Nussbaum and Luigi Fabbro. I also went off-site to Poggio di Sotto and met with Piero Palmucci, one of Montalcino's purest traditionalists. The 2OO4 Brunello I tasted there had seen 5 years of maturation in large oak barrels. It was moderate red-ruby in color, smelled like a bowl of ripe cherries, and was very tart, finishing with fine-textured astringency. I also visited a wine-bar called Osticcio in the town of Montalcino. There several organic wine producers, not participating in the Benvenuto tasting, showed their wines. The 2OO4 Salicutti Brunello was another example of a pure traditional style, pale red in color, cherry with orange-peel in the nose, finishing with a long lasting, fine-grit astringency.

Tuscany seems to be at a moment of transition. Several years ago, consumer tastes moved towards less oaked wines made from indigenous grape varieties. This trend overtook the vaunted SuperTuscan marketing category. In addition, the well-chronicled wine scandal in Montalcino in 2OO8 has forced producers to make wine according to the established wine laws. Brunello and Rosso di Montalcino both by law must contain 1OO% Sangiovese grapes. Scores of Montalcino producers are under investigation for having vine varieties other than Sangiovese in vineyards that they have designated for Brunello di Montalcino and Rosso di Montalcino. Authorities impounded the 2OO3 Brunello wines of several prominent producers because they suspected that the wines were not made from 1OO% Sangiovese in accordance with DOCG law. As of the writing of this article, most of these producers have resolved the situation either by declassifying some of these wines or by proving through outside laboratory analysis that the impounded wines are 1OO% Sangiovese. As Montalcino moves away from this scandal and the trend toward less oaky wines made from native grape varieties continues, the wines of Brunello as well as Chianti Classico and Montepulciano will become better reflections of the Tuscan soil and the Tuscan people.