archived

FeaturedArticles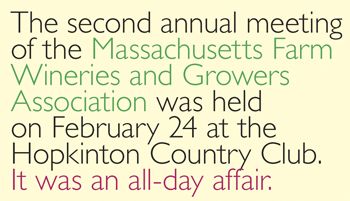 Article By: Harvey Finkel
Let's examine some background and discussions from the program that seem of general interest. The technical presentations had a narrower focus and for the wine tasting you had to be there.

The contributors to those segments of the program I shall extract included: for the Association, Kip Kumler of Turtle Creek Winery, Lincoln, its Chairman; John Comando of Neponset Winery, Needham; David Neilson of Coastal Vineyards, South Dartmouth; and Henry Gillet, Director of Legislative Affairs; from the Massachusetts Senate, the Honorable James Eldridge; for the Massachusetts Department of Agricultural Resources (MDAR), Commissioner Doug Peterson and Bonita Oehlke. There were, in addition, various brief contributions from the audience. In looking around, but without making specific inquiries, I noted contributors from New Hampshire, New York State and California.

Massachusetts is growing progressively as a wine-producing state. All the figures that immediately follow have shown a steep upward curve. In fact, it is being said that Massachusetts has entered an agricultural renaissance. Since 2OO2, the number of farms and farm income have increased by 27 percent. Planted acreage and agritourism are increasing. The more than 165 farmers' markets are very busy, as are roadside stands. The "buy local" movement continues to grow. The number of growers and wineries continue to grow. There are now 3O wineries in the state, producing more than 236,OOO gallons of wine annually. The wineries and growers preserve open space and provide employment. Total acres, according the most recent figures (2OO7), have increased to 2425, value of sales to $7.8 million. Wine is the highest value-added commodity in Massachusetts, the fastest growing agricultural commodity. Massachusetts leads all other states in per-capita sale of farm products sold directly to consumers.

The Association has improved its financial and membership structure, increased membership and made use of grants. The "Three Pillars" of MFWGA are: regulatory reform; promotion of marketing of the wines and wineries; and education of members to improve quality. For the first of these, in addition to a yearlong effort to educate the state legislature, whose leadership has recently turned over, two particular goals are drawing attention: rationalization of the shipping restrictions and enablement of wine tasting and sales at farmers' markets, including the proposed Boston Public Market, a liberty that has proved productive in New Hampshire and elsewhere.

The marketing campaign, which includes research by UMass Dartmouth, websites and brochures, features the establishment, with MDAR support, of the Massachusetts Wine and Cheese Trail, again reinforcing and feeding off the desire for local products, agritourism and culinary tourism. The already delineated six regions of the state will play a role: greater Boston and Cambridge; north of Boston and greater Merrimack Valley; south of Boston; Cape Cod, Martha's Vineyard and Nantucket; central Massachusetts; and western Massachusetts.
Efforts at quality improvement are continuous, not only at the annual meeting. Their effectiveness is testified to in the tasting.

On a sad note, I learned of the closing of two wineries. Chicama Vineyards on Martha's Vineyard, the doyen of Massachusetts wineries, could not recover from the death of principal George Mathiesen. Chester Hill Winery, in Chester, run by the most engaging Sullivans, certainly did not shut down because of artistic failure. New wineries continue to come on line. It is clear that in its modest way, wine growing and vinification here has a vital future.