archived

FeaturedArticles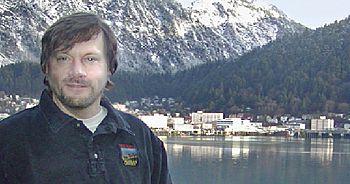 If you were going to choose the ideal place to start a new brewery in the early days of the craft brewing renaissance it's doubtful that Juneau, Alaska, would ever cross your mind. While beautiful and the capital city of the state, the coastal town does not have a road connection to the lower 48 states and is cut off from much of the rest of the state as well. Cargo and supplies arrive by either water or air, and the local weather is not always helpful for either.


But in 1986, Geoff and Marcy Larson decided to make Juneau the home for their new brewery, named after the state. With its first beer, the Alaskan Brewing Company officially became the sixty-seventh operating brewery in the United States and the only one in Alaska. Since its founding, Alaskan has gone on to win dozens of medals at the Great American Beer Festival and it boasts the single most award-winning beer in the event's history – the Alaskan Smoked Porter. The brewery's beers are now available in ten western states.

On a recent trip to Alaska, I stopped in to visit the Alaskan Brewing Company to talk with its founder, Geoff Larson and Communications Manager Ashley Johnston, about the brewery's history, present challenges and its future.

ANDY CROUCH What brought you to Juneau?
GEOFF LARSON I followed my love, my wife Marcy. I had moved to Gustavus, Alaska, population 9O. I was being shifted from one project, working with ethanol dehydration in Baltimore and they were going to a longer project. I didn't want to leave the project mid-stream so I decided to move. Marcy was working in Gustavus doing the books as a night auditor. So I came up here and all the guys in Gustavus were totally bummed when Marcy's boyfriend decided to move there. (Laughs) So I didn't have a lot of male friends when I first got there and then there really wasn't a very good job there for chemical engineering. In the back of our minds we had the idea of starting a brewery, but obviously we needed the capital. We spent the winter in Gustavus and then headed here to Juneau, where I got a job in a goldmine for two years. When the mine failed, it was either pursue the dream or the career and the dream won out. That was 1984. Marcy kept her job at the state and I worked full-time on getting the brewery started. Our first production was 1986.

AC Do you have other investors from Alaska?
GL The company is pretty much one-hundred percent Alaskan owned. We first tried our family and friends but they knew us too well. (Laughs). We started out with stockholders from all over and we pretty much still have all of them. In 1984, it was not the best economy to start a brewery.
AC Well, especially here. With fuel costs, raw material transportation costs, it's a pretty remote place to start a production brewery.
GL We we're pretty naive – there's no question about that. One of my mantras is that it takes a fair amount of ability to withstand the pain, it takes a lot of naivete and a short memory. You're constantly being hit with, "Oh my god, I have to learn that too?" And diving into it and being beat up, trashed, spit out, and it takes that naivete to think, "Ok, we're over the worst of it." Really, the people here were great. One of the things about Alaska is that you leave your friends and family to move here. The vast majority of people who live in Alaska are not from Alaska. In doing that, you end up opening a willingness in your own soul to befriend other people. So you end up finding a lot of very close friends here. And it can just be the mundane things such as you see a boat on the water and you go over and help them get a rope out of the prop. And you don't know them but you just do it. Whereas you'd never make eye contact with someone in Los Angeles or some other metropolitan center because people just don't assume the best. That's what is cool about this place. Anyways, so back in 1984 we had a loan and I remember we we're paying sixteen, seventeen, eighteen percent interest, and that was from a bank. And it was legal! It was a bad time to start a debt-ridden business. I think the people we started with in terms of our investors were pretty excited and they were part of our first bottling crew. And years after the fact I came to learn that Heineken is one of the largest users of shipping services in the world. So being remote doesn't necessarily preclude you from being successful. It just requires a different skill set to meet new challenges. We've been one of the leaders here in controlling green house gases and it also allows us to control one of our main raw materials. It's like drying grain [which is required before the brewery ships it]. I think the next step is to take grain and try to replace our fossil fuel use if we can with steam power.

AC Talk a little about Alaskan's plans for growth in the future.
GL For us, the industry has changed so much in the last ten or fifteen years, it's just been wild. What a roller coaster. Our little craft segment is really the only 'American' brewery(s) left, the big guys are all gone. I never would have thought it would have happened. We have a great staff. As we've grown, we've had a lot of brain power behind all decisions. As we've grown, we've seen an enhancement of the work environment, from ergonomics on the bottling line to improving product quality, which allows us to pay people more. You look back at all of the different stories out there and there are some breweries that grew because they wanted to become a public company or they grew to make money. Now these are not bad things. If you don't make money, you won't be able to produce so that's part of it but it's not the objective. Our business is people based. When we grow, we also want the quality of our products to increase. We're not growing just to grow. We're not growing just to make more profit. Hopefully, we're growing to increase the quality of the work environment, the quality and ability for us to support our staff, the quality of products for the consumer, the individuals who will ultimately support us. That will complete the circle of support.

AC I've been surprised when traveling around Alaska at how integrated craft beer is into the Alaskan lifestyle, at least at bars, where you're seeing not only Alaskan's brands, but Midnight Sun, Silver Gulch and others. I've gone several days without seeing a Budweiser tap handle. Is this just a tourism thing or is it broader than that?
GL There is a certain level of attentiveness to local things here. People here fish and make their own bread. About two-thirds of the state lives in the metropolitan areas, including Juneau. The rest live very much a bush subsistence – living off the land. It's almost like a Slow Food movement in a way for more than a century. It is slow food here. We do think about what we eat and we have a pretty amazing environment. We've eaten King Salmon, locally caught, forever. And we've always loved it. I think there is a sense that people aren't going to be as prone to being marketed into what they like. They're going to like what they like and they moved up here to be a little different. So they're going to search out that unique thing for them. So for one, they're willing to bust out of the norm and they want to search out local things, be they wildberries to crab and fish.
ASHLEY JOHNSTON I think there is an overwhelming sense of ownership in Alaska for people who live here, with our products, our land and the things we create. That is why we have so many breweries. You mentioned tourism and I would say that here craft beer is not really a tourism thing. Craft beer continues to grow all over here. As someone who was born and raised in Alaska before moving out of state for a while, I think that most people elsewhere would say, I'm from Boston or Chicago. Here, people say they are from Alaska. Alaska means ownership and that is what comes to my mine in terms of pride and uniqueness.

AC What percentage of the business is in Alaska versus elsewhere?
GL I'd say a quarter of our business is in-state. Our most important market is here. Back when we started, we were one of the early breweries and it was a crazy idea. Like you said, "In Alaska?". But people were willing to try it. People here are willing to trust you until you prove to them otherwise.

AC One of your most famous beers is the Alaskan Smoked Porter. It was experimental when it was released and remains so to this day. Tell me about the genesis of that beer.
GL Well it started with a neighbor across the street who smoked fish and we'd be having beer in the tour hall on Fridays. Then when we looked at a lot of the historical photos Marcy had amassed from breweries around Alaska, it was pretty common that many had their own malting operations. It started to make sense that around here the only wood that would be used for direct fire heating of a malt kiln would be alder. It's also the wood that my neighbor was using to smoke fish so that was the beginning of the idea. So we started a formulation as a team here. It was bottled in December of 1988 and labeled as a 1989. Later, when we sat down with Michael Jackson, Fred Eckhardt and Charlie Papazian, and we did a vertical tasting over a number of years, we decided to focus a little more on its ageability. So we stopped filtering it and started keeping it around. We have some early vintages around here and it was pretty fun and interesting. This is what they did at the turn of the century. And if you go way back, three hundred years ago, all beer had some smoke in it. For us, it was a chance to talk about the history of beer. And here, a lot of people enjoy the smoke flavor, not necessarily in beer. But it may be in barbeque or in smoked fish. So it seemed like a natural tie-in.
AC Do you think this is something you would have thought would work if you were somewhere else, say in Burlington, Vermont?
GL Greg Noonan, yes. I would think so. It's interesting. When I was writing my book on smoked beers, I went and visited Greg. Someone had sent me his menu and on his smoked porter description it said it was inspired by Alaskan Brewing Company in Juneau, Alaska. When I interviewed him, he's a very passionate character, he said that he first used hickory. And he got sick and tired of saying, 'How'd you get all that ham in there.' So he decided to switch to maple and then people thought he had used sausage, like Jimmy Dean. That's when it really struck me because people here accused us of using fish. It's all flavor association and if you read interviews of people from Schlenkerla in Bamberg, Germany, they are accused of using ham, because it's beechwood smoked ham. A lot of the attributes you might recognize in other food forms are definitely prevalent in your palate. You're tasting one flavor but you're typically associating it with another food.

AC Talk about how you connect with the Alaskan marketplace in particular.
GL A big part of the process has been educating people. For us, we talk about beer and we talk about people and beer. We've held beer dinners, of course, but if you look at our labels – it's a fisherman on the label of our amber; there's a kayaker on the label of our pale ale; there's a cabin on the label of our stout – each of these images of our year 'round products, not as much with our seasonals, relates to man in the environment of Alaska. People often think that Alaska is purely wilderness but it's more than that. It's about the people in the state. So when we talk about beer, we talk about how it is relevant to us as being part of Alaska. Our beers are part of the history of Alaska. Our relevance is that we are from Alaska, being brewed in Alaska, and are brewing beers that are typical of Alaska. So we use the beers on many different planes to talk about our industry and its relevance and importance to the consumer. The quality of our product is something we talk about. But with our participation at the Great American Beer Festival, that's a test. It's a place where hundreds of judges who have no idea what they are consuming and they are going to choose blindly from a hundred of samples of which rises to the top. We didn't participate for the accolades but for the first time in 1988 because we wanted to know how we we're doing. We thought we were doing well, our customers thought we were doing well. But how do our peers and professionals think we are doing. Since the beginning of the GABF until today, the quality of the beer in general has just been skyrocketing. It's great to just be in the hall and try the incredible beers. The slowdown in the nineties was all about consumers being convinced to try craft brands and then being let down with quality. I think with the quality of beers coming out, the diversity of styles and their interpretation, it's great.