archived

FeaturedArticles
MASSACHUSETTS SWEEPS HONORS AT WSWA AWARDS
The Wine & Spirits Wholesalers of America wrapped up its Sixty-Sixth Annual Convention & Exposition
with the presentations of the 2OO9 WSWA Lifetime Leadership Award and the Sidney Frank Award to industry visionaries Robert Epstein and A. Raymond Tye.
Robert Epstein President of Horizon Beverage Group was presented with the WSWA Lifetime Leadership Award, given annually to the wholesaler who displays exemplary characteristics both in business and community work, and who contributes to the overall good of the industry. While announcing the winner – kept secret until the convention General Business Session – WSWA President and CEO Craig Wolf particularly commended Epstein's business innovation. While accepting the award, a surprised Bob declared himself "speechless" but went on to repeat his belief that "WSWA is the best insurance policy that wholesalers have."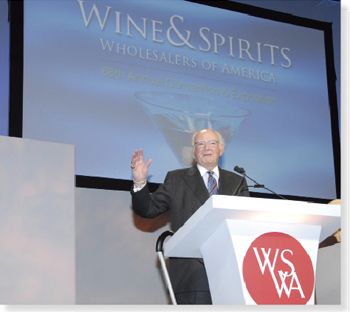 A. Raymond Tye, Chairman Emeritus of United Liquors, a Division of Martignetti Companies, was introduced as the recipient of WSWA's Sidney Frank Award. The award was created by the WSWA Educational Foundation last year, thanks to a generous grant from the Sidney Frank Importing Company. It is presented to a person, brand or entity that is related to the wine and spirits industry and has achieved noteworthy public policy or philanthropic accomplishments, as well as made exceptional contributions to the alcohol beverage industry. A $1O,OOO contribution will be made to the charitable cause of Mr. Tye's choosing. WSWA Chairman Rocky Wirtz commended Mr. Tye for being an astute businessman and extraordinary human being. Ray Tye was "humbled to receive the award after 56 years as a WSWA member" and went on to share the spotlight with several industry peers.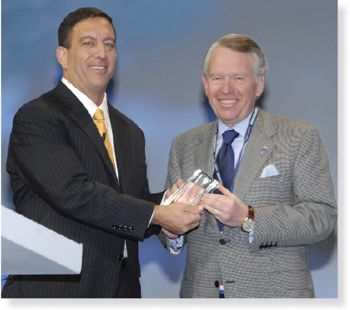 WSWA President and CEO Craig Wolf presents award to Bob Epstein.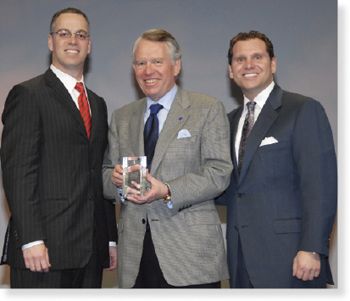 Bob Epstein with his sons Mike on his left and Doug on his right.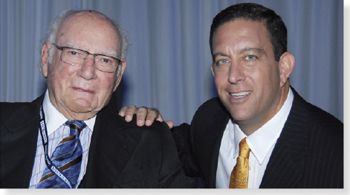 Ray Tye with WSWA's Craig Wolf.

WSWA announced its new members to the Executive Committee for the upcoming year. The new committee includes: Chairman W. Rockwell (Rocky) Wirtz of Wirtz Beverage Group; Vice Chairman John Baker of National Wine & Spirits; Senior Vice President Robert Harmelin of Allied Beverage Group; Vice President Charles Merinoff of The Charmer Sunbelt Group; Secretary Douglas Hertz of United Distributors; and Treasurer Alan Dreeben of Republic National Distributing Company. In addition, Mel Dick of Southern Wine & Spirits was named to the Board of Directors.

Carmine Martignetti of Martignetti Companies was named as a representative to the Executive Committee from the association's Large Member Caucus, joining Todd Epsten of Major Brands Premium Beverage Distributors in that role. WSWA accepted six new member companies to the association. Its new members include: Brand Name Imports of Sarasota, Florida; Carolina Craft Distributing, LLC of Rock Hill, South Carolina; Jumar USA of Glendale, California; Kent Beverage Co., Inc. of Grand Rapids, Michigan; Megawine, Inc. of Van Nuys, California; and Ultimate Distributors of Atlanta, Georgia.