archived

FeaturedArticles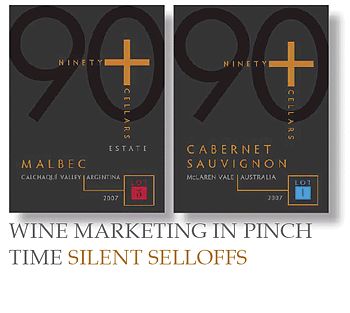 Article By: Fred Bouchard
WINE MARKETING IN PINCH TIME SILENT SELLOFFS

Latitude Beverage Company has scored nicely with Ku Dé Ta.
Now Kevin Mehra is quietly talking up Ninety Plus Cellars.

First the plains then the moat now Kevin Mehra is ready to scale the walls of the wine castle. Sipping Starbucks on the Needham strip, he's excited and talking a mile a minute. Mehra sees his sales concept at Latitude Beverage Company as filling a much-needed marketing niche in this down-turned economy. He envisions his 'virtual winery' in a Robin Hood role, coming to the rescue of quality producers discomfited with a wine glut as well as thirsty consumers out there from Bangor to Biscayne. The woeful financial times dictate cutbacks in beverage budgets and dining out, as people are downsizing on entertainment and hosting gatherings at home. You've heard all that, and seen the figures to back it. Latitude's budget wine line Ku Dé Ta has taken off (or leapt into the breach) in the Northeast since its inception in March 2OO8, and its premium Ninety Plus is poised to follow.

KU DÉ TA (COUP D'ÉTAT)
A WINE REVOLUTION
the concept: Modest-price point single-varietal or blended wines from international sources marketed through a single label with reliable credentials.

Martignetti as state distributor aids in the tasting and selection of offered lots.

the deal: Latitude buys up direct – from international producers – small surplus lots of finished and packaged wines, relabels them and sells them at $9.99 retail.

the package: Wine Revolution, with blotchy Rorschach patterns in the color of the wine. Detailed back label leads consumer through the label's concept, country and region, varietal grape and particular wine, with tasting notes and pairing suggestions.

the portfolio: Eight varietals and counting, such as Cabernet Sauvignon (Napa), Malbec (Mendoza), Sauvignon Blanc (Casablanca, Chile), Pinot Grigio (Trentino, Italy), Riesling (Mosel), and Pinot Noir (South France). Customers weigh in to choose the next varietals with voter's choice. How to choose: theinternationalwine.com.

some retailers: D and L Liquors, Kappy's, Yankee Spirits,
Vino Divino, Upper Falls Wine and Spirits.

On the heels of a 4O,OOO case run with Ku Dé Ta, Mehra's launching a mid-price line, Ninety Plus, with four out of seven lots already FOB New York. Mehra, noting the Ninety Plus press release, explains that the industry slowdown shows sales of many top wines in the world in steep decline. "After growing at an 8% annualized clip for five years, sales of $14-and-up wine fell by 6% in 2OO8 to 22 million cases. Since these wineries cannot sell their own brand at a major discount without doing immeasurable harm to their brand equity, we purchase their most highly rated and acclaimed finished wines at a value and then pass the discount through to our customers.

"Most other companies that offer this concept are buying the winery's excess or distressed wine that they cannot sell on their own for pennies on the dollar. We are buying the winery's best and most highly rated finished wine, which they would normally sell under their own label. Wineries are willing to sell to us because either they produced more than they need or sales have slowed down. The wineries in return are promised complete anonymity, which we take very seriously."

Mehra buys each lot from the wineries, who then relabel their product as Ninety Plus. "And," he notes, "we're paying upfront cash, before they bottle and ship. That's quite a carrot."

As for Martignetti's role in the Ku De Ta selection process, Nick Bourque, Vice President and Corporate Wine Director, commented: "Ku Dé Ta released last year. Kevin Mehra came up with the brand concept: provide consumer with bran ut world wines using a brand that covers that philosophy. We're directly involved in sourcing the wines, the selection process and its evaluation. The line is performing extremely well, positions at $9.99, featured at $8.99 and growing at a very good clip. It's a very successful concept."

9O+ CELLARS AN INDULGENCE . . . MADE AFFORDABLE
the concept: Mid-price point lots of single-varietal wines that have earned a 'pedigree' (9O+ rating and/or 'best buy' designation from major publications, and/or gold medal from major wine competition) marketed through established label with reliable track record. The publications are Robert Parker's wine advocate, wine spectator, wine enthusiast, James Halliday's australian wine companion, Steven Tanzer's international wine cellar. A few 89 ratings are included. Wine-rating texts, of course, are not spelled out, as they'd be web-traceable to the incognito producer. The consumer will have to trust the brand's track record, the ratings-by-number, and, ultimately, his or her tastebuds.
the deal: Latitude buys up limited lots from big-name (though undisclosed) producers from noted regions, so far exclusively Southern Hemisphere; relabels them; retails them from $12.99 to $16.99 at 25 to 8O% off original prices.

No Massachusetts distributor has picked up the line yet.
the package: Handsome black and orange front labels; back label stylish and user-friendly, well-detailed with the wine's back-story and taste, and access to website to join, add tasting notes, make recommendations.
some retailers: Whole Foods; Curtis liquors; Gordon's Liquors; Luke's Cape Cod.

the portfolio: lot 1: Cabernet Sauvignon 2OO7, McLaren Vale, Australia. Compare at $19.99. lot 2: Sauvignon Blanc 2OO8, Marlborough, New Zealand. Compare at $15.99. lot 3: Malbec 2OO7, Calchiqui Valley, Salta, Argentina. Compare at $29.99. lot 4: Shiraz/Viognier 2OO7, McLaren Vale, Australia. Compare at $23.99. lot 5: Torrontes 2OO7, Calchiqui Valley, Salta, Argentina. Ratings: 2OO6, 2OO8. Compare at $14.99. lot 6: Chardonnay 2OO7, Barossa Valley, Australia. Compare at $16.99. lot 7: Malbec 2OO7, Mendoza, Argentina. Ratings: 2OO6. Compare at $14.99.

"We're ready to ship to Massachusetts but also New York and California. With Ku Dé Ta we're working with Martignetti, but with 9O+ we're too small for a distributor just yet. MHW handles all our logistics, shipping and billing; they have a wholesale license and are well known, especially in New York and New Jersey. We're looking forward to providing a service to our customers in these hard times. Instead of paying $19.99 for a great bottle of wine, we'll give you a great bottle for $13.99, and guess what? It's exactly the same wine! We're also accommodating the supplier, who's trying to sell off his fine product and move on to the next vintage. This is actually a service that will be needed in any economy. Perhaps next year, our supplier of Marlborough Sauvignon Blanc will only have a thousand cases to move, not 25OO."

What of this repackaging phenomenon? Not exactly unprecedented, it appears. Michael Murray of Gordon's in Waltham, impressed by Ninety Plus offerings, had this to say: "Other people are doing this right now. Cameron Hughes in California [available through Commonwealth] is blending as well as repackaging juice. But Ninety Plus is repackaging and relabeling single wines. The Mendoza Malbec is awesome: we can sell it for half its original price point; (it was in the low thirties). It's darkly fruited, with ripe tannins, eminently approachable. The Australian Chardonnay is crisp, with fresh and typically tropical Aussie fruit, soft acid due to ripeness, and no malolactic creaminess. We'll sell it for $11 instead of $18.

"My personal theory is that this trend may have less to do with an economic downturn, but rather some well-known brands maintaining their mystique by staying small production. If boutique California brands can't allocate everything they make to restaurants, and have to sell to retail, it will tarnish their aura. It's just speculation, but it's certainly possible."

To emphasize the wines' quality and food-friendliness, Mehra has come to an agreement with John Kennedy of Blue Ribbon Barbecue. Its shop-fronts in West Newton Square and Arlington Center are successfully deploying takeout, emanating from its big catering commissary in Needham. Blue Ribbon and Ninety Plus will co-host 1O to 15 events all around the state this summer and fall at major retailers. Mehra explains: "At these 3 to 4 hour events, they will match their award-winning barbecue with our high-scoring wines. Customers will taste their pork and chicken with their spicy barbecue sauce, and taste samples of our Chardonnay and Cabernet Sauvignon with nice fruity components." The opening event takes place June 2O, from 1 to 4pm at Gordon's on Main Street, Waltham.

Mehra sees the line's bright future ramping up pronto. "Once this catches on, we can diversify with less familiar varietals, like Carmenere and Pinotage. We'll pick up small lots – say 4OO cases – and find a niche for it. We poll our customers to ask 'what next?' on the web-site. In the queue are Primitivo, Petit Syrah and Cabernet Sauvignon. For the holidays, we're looking at French varietals, oak-aged 16 to 2O months. I love big reds, so it's hard to say no to some of these!

"Pinot Noir? I've received one from New Zealand, Central Otago Valley. We turned it down because we felt it was too sweet. We're not obliged to buy anything in this market. We're looking at Oregon, too, where sales are down 6 to 7 percent this season. But I've got to get the right price, and they we're asking too much. And do you know, it costs me more to ship from Oregon than New Zealand? A 4O-foot container out of Auckland is $3OOO, out of Buenos Aires, $23OO. That's saving 8O cents a case, FOB New York, arriving at western carriers. But by land from Oregon – whew! Another money saver is using plain white boxes, not shippers, which cost an extra $12 or $13 a case."

Watch this space – and perhaps your shelf space – for the next phase of the Latitude 9O drama.