archived

FeaturedArticles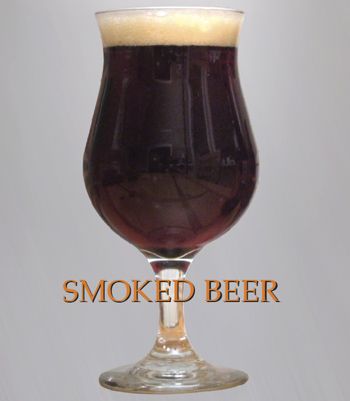 Article By: Lew Bryson
. . . smoked beers are more than likely,every bit as old as smoky whiskey, and were once much more widespread.

The first time I had Victory Brewing's St. Victorious doublebock, I noticed a difference from other doublebocks I'd had. It had an extra dimension to it, a richness that wasn't coming from malt, a certain appealing raunchiness, the origin of which eluded me. What is that, I asked brewmaster Ron Barchet, and he smiled. "Just a little smoked malt," he said.

Maybe The Platters are right about smoke getting in your eyes. But I prefer it in my glass.

Smoke aroma and flavor in beer can be as elusive and enriching as Victory's doublebock, or Harpoon's recent 1OO Barrel entry, Rauchfetzen (a German word meaning "wisp of smoke"). But there are other beers, like the German Schlenkerla Urbock, made with all smoked malt, that fill your mouth like a rack of slow-smoked ribs. Smoked beers – rauchbier, as the Germans say – are a flavor innovation that's been around a lot longer than the stuff we've seen in the past ten years.

Just because they've been around a while doesn't mean there aren't some fresh ideas. For instance . . . most people think smoked beer is a wintertime, rich-flavor beer. Why not sell smoked beers in the summer to complement all the grilling and barbecuing that's going on?

Think of it. I've got a big double handful of hickory chips soaking in water, and in about an hour, they'll be in the smokebox of the grill. It's mixed grill time: chicken legs, Hungarian bratwurst and pork chops. I hit the deli and picked up smoked cheese – Gouda and Bruderbasil – and some smoked mixed nuts (the only way Brazil nuts are edible). They'll make good appetizers with the smoked salmon. Vegetables? You bet: I steamed some asparagus and wrapped it up in thin slices of prosciutto. It's going to be great with the smoked beers I've got chilling.

STARTING the FIRE You might be more familiar with the idea of smoke in whisky. Scotch whiskies like Ardbeg and Lagavulin get their smoky character from malt that is smoked over smoldering peat. Bourbon and Tennessee whiskeys pick up some light touches of smoke from aging in charred oak barrels.

But smoked beers are, more than likely, every bit as old as smoky whiskey, and were once much more widespread. "I assume that at some point most beers around the world had a smoked flavor," Barchet told me recently, "as wood firing was the only method of kilning malt for many years."

That's still how it's done at the Brauerei Heller-Trum in Bamberg, Germany, where they make what is probably the best-known rauchbier in the world, Aecht Schlenkerla Rauchbier. "Yes, they have their own malting equipment," confirms the man who imports Schlenkerla, Matthias Neidhart, President of B.United International. "It has become very rare, a brewery doing its own malting, but they do their own malting, their own smoking. We've had their business for 12 or 13 years, and it's a tremendous family. They're very much aware of their history and would never do anything to jeopardize the flavor or the quality."

He's talking about the Trum family, and Matthias Trum, who is the 6th generation of family ownership; the brewery itself dates farther back, to the 15OOs. I met Trum a few years back; he's a fairly young man, quite passionate and energetic. He took us around the brewery, including the smoking room, where beechwood billets are carefully burned in a small furnace to allow the smoke to rise through the malt above. The smell of smoke was as rich as any barbeque pit.

The main beer is the Schlenkerla Märzen, a very drinkable 5.1%. It is made with 1OO% smoked barley malt, and the smokiness is billowingly huge. Like other great smoked beers, the smoke is in what's a good beer to begin with. "We truly believe that if they used non-smoked malt in the Märzen," says Neidhart, "it would be an incredible classic Märzen beer, the kind you can't find any more. It has the color, the roasted aroma, that made 19th century märzen such a wonderful beer. But it's not happening! The smokiness, in my opinion, is beautifully balanced."

The brewery branched out in recent years, adding a few other beers to the brand. There is the Urbock, a bigger lager at 6.5%, packing a huge body; it is the Märzen turned up to 1O, bigger, chewy and smoked to match. They also do a Weizen, made with 5O% smoked barley malt and 5O% unsmoked wheat malt. "The smokiness is much reduced," Neidhart notes. "They use a traditional Bavarian wheat beer yeast. Again, it's the balance. You have the smoke, the barley sweetness, but you have the banana, the clove, the vanilla in there as well. It's very refreshing."

Schlenkerla also makes a very limited release Fastenbier, draft-only and unfiltered, meant to be poured between Ash Wednesday and Easter. A few kegs make it to the US, including to places like Deep Ellum in Allston. "We poured three kegs of the Fastenbier," said co-owner Max Toste, who likes to keep a smoked beer on one of his tap lines all the time. "Then I got another, the last one in the state, and I'm saving it. We're pouring the Helles right now."

The Helles has a wonderfully subtle smokiness to it; definite but understated. But it's the joker in the pack: there's no smoked malt in it. Neidhart laughs. "We had people who didn't believe us," he says, "so we had Matthias put it in writing that there was no smoked malt in it!" The first time I had the Helles was on a press trip to Bavarian breweries, and the lot of us were stunned by how good this smoky unsmoked beer was.

How does that smoke get in there? "The Helles is 1OO% barley malt, no smoke," Neidhart repeats. "First, it goes through all the same equipment that the smoke beer goes through. Think of it like a coffee machine. If you put spiced coffee through your coffee machine for a time, and then put regular coffee through, even though you wash it, you will get those spiced flavors. When the helles goes in the tanks and equipment, the smoke's sitting in the steel. It imparts that taste. He also uses the same yeast, and the yeast has taken on smoky characteristics over time."

The Helles is smoky, but primarily it's a helles; a smooth drinker that tastes like having more. The first time I had it – on a press trip in Bavaria – my first thought was where I could get another one.

That was the same thought when I stopped at Spezial, Bamberg's oldest rauchbier brewery (brought in by Shelton Brothers). Spezial's base rauchbier, the Lager, uses only 4O% smoked malt, and so it's lighter in the mouth, maybe more drinkable. I know I 'drinkabled' quite a few of them the last time I was at the brewery pub.

Victory (Downingtown, PA) makes more 'rauchy' beers than the smoke-kissed doublebock I mentioned earlier, too. They have a rauchbier, Scarlet Fire, and a smoked weissbier, Scarlet Moon; they also make a Rauch Porter in limited draft distribution. "They are smoky," said Barchet, "but not as smoky as Schlenkerla. They have a similar smokiness to the beers from Spezial. Up to this point we have used only beechwood-smoked malts from Bamberg." That's easy enough; the well-known Weyermann maltings are in Bamberg, so of course, they make smoked malt.

The Bamberg brewers make rauchbier because that's what they do – it's Bamberg, after all. Why do brewers like Victory make rauchbier, if it's such a niche product? "The same reason we brew all of our different beers," Barchet explains. "It's because (co-founder) Bill Covaleski and/or I feel like brewing and drinking one. It only took me a half liter to decide I like smoked beers. At this point, there are a number of us here at Victory who love drinking anything rauch."

Jeff O'Neill, the brewmaster at Ithaca Brewing (Ithaca, NY), makes their Gorges Smoked Porter for roughly the same reason. "We built (smoke) into a porter because that's a style that most people seem familiar with," he says, "and the smoke character really accentuates some of the other components of a Porter. Not to mention that we can't get any smoked beers from most other breweries, so we had to do our own." Gorges is a robust American Porter, brewed with about 2O% Bamberg-made smoked malt. O'Neill describes it as medium-smoky, "not over the top, but it's there."

A WISP of SMOKE "It's there." Smoke in a rauchbier is as evident as hoppiness in an IPA. Smoked beers represent a great example, maybe the best, of beer's directness. If a winemaker wants a smoky character in wine, they use grapes and yeast and oak that have produced wine with hints of smoke before . . . and then they suggest that smoke to the consumer. When a brewer wants smoke in beer, on the other hand, they do just that: they put smoke in the beer. Period. They smoke the malt, just like you smoke fish or cheese or meat, and then brew the beer with it. Smoke is in the beer.

Brewers don't always want the power of a straight-up rauchbier, though. Sometimes, like Victory's smoke-tinged doublebock, they just want a hint, the added depth that smoke will give a beer, like the difference between pork belly and bacon. "There are so many different approaches to smoked beers," notes Greg Koch, CEO and co-founder of Stone Brewing in Escondido, California. "Some are immensely satisfying with their smoke character that they are more 'sipping' beers. Some, and I believe that the Stone Smoked Porter falls into this category, are more 'drinking' beers. The smokiness in Stone Smoked Porter becomes quite mellow and in-the-pocket by the end of the first pint that the smokiness does not overwhelm at all."

That's what Matt Steinberg planned for his porter at Mayflower Brewing (Plymouth). "The beer's called Mayflower Porter," he says. "We decided not to use the word "Smoked". We didn't want to push people away in case they didn't like smoked beer. It's got 2% peated malt from Thos. Fawcett. It's rich stuff; with just 2%, it's there, you can taste it. People drink it, and they say, 'What is that about the beer I really like?' I almost guarantee it's because of that subtle smoke."

Why did Steinberg use peated malt? "I wanted to use something without much weight," he says. "The first batch I made, I used Bamberg smoked malt, and it gave it a kind of lingering meatiness that I didn't like. I got a bag of peated malt, and tried small amounts. I liked it more. I don't do things stylistically, I work backwards from what I want the beer to taste like. It's 5.2%, a pretty rich porter, but actually on the dry side."

Crystal Burlingame, who does beer at Blanchard's in Marshfield, loves the results. "Mayflower Porter is just awesome," she judges. "It's a dry porter, nice and light; you get all the roasty, deep flavors of a big beer, but it's lighter. Sometimes in the middle of the summer, something bigger is too much."

When Charlie Cummings at Harpoon Brewing got his chance to design a beer for their 1OO Barrel series, he took the same kind of tack with the recent Rauchfetzen. "The rough translation is 'Wisp of smoke', he tells me. "That's the concept. It's not a Bamberg-style rauchbier, very smoky. It's a lighter interpretation, drinkable, with the complexity of the smoke. I was kind of consciously trying not to brew to a style. I used Pilsner and munich malt, and a little de-husked roasted malt, with 3O% smoked malt. We used our house yeast, which I like to think has a German feel to it."

Matt Gamble, craft beer manager at Winchester Wine & Spirits, liked the Rauchfetzen while it was out. "It went over very well," he recalls. "It had a lower smoke flavor to it, which appealed to people. We also had the Weyerbacher Fireside, a smoked brown ale. You can definitely tell the difference between the beers. The Fireside's kind of spicy, the Harpoon just has a little kiss of smoke on the end."

Weyerbacher brewmaster Chris Wilson is "not a huge smoked beer fan," according to him, but said he'd had some subtly smoked beers that he really liked. "A little touch of smokiness adds a lot to the beer, some depth," he says. "Fireside had 1O% Weyermann beechwood-smoked malt. It's not too smoky, but it is smokier than I thought it would be. It's almost addictive. Maybe similar to a Scotch ale, because it's on the malty side; it's not a hoppy beer by any means."

Scotch ales, at least as American brewers have interpreted them, have been common subjects for similar small touches of smoke. Whether or not the addition of small amounts of peat-smoked malt is an "authentic" touch or not has been long-debated; it's likely that it's no more so than a lot of other dogma.

Authentic or not, enough people decided they liked it to keep the practice alive. Scotch ales are malt-balanced, sometimes outrageously so, and that maltiness, and caramel notes, blends beautifully with a little smoke. It's entirely possible that folks don't even know they're getting smoked as they enjoy their beer.

Boston Beer puts some in their Samuel Adams Scotch Ale, "a rare peat-smoked malt commonly used by distillers of Scotch malt whiskey. This unique malt gives the beer its distinct, subtle smoky character and deep amber hue."

Sprecher, the long-established Milwaukee craft brewery, is fairly new to the Massachusetts market. But they came in smokin' with Sprecher Pipers Scotch Ale. Pipers is what the Scots call, ironically, a wee heavy; just a tiny little big headthumper. At 8.2%, Pipers calls that tune, with a slight, smoky aroma floating over caramel malts and a very delicate hop finish.

Oskar Blues, the Lyons, Colorado brewery noted for putting real craft beers in cans in a big way, lightly smokes their Old Chub (also a biggy at 8%), but they tip in a bit of Bamberg beechwood smoke rather than peat. "The smoke provides a nice counterpart to the sweetness of the beer," says Marty Jones, brewery spokesman. "It tempers the residual sugars. So it's a very gentle amount of smoke, just a kiss, but it's crucial to the beer's flavor. It's the crucial ingredient for balance.

"Like many craft brewers, we dig smoked beers," Jones affirms. "They make for a completely new realm of beers, otherworldly and wonderful. We dig some of the assertively smoked gems for sure. But we wanted Chub to be on the subtle side, with the smoke adding an extra tickle or two instead of a wallop of wood and smoke."

Stone Smoked Porter wears its smoke up-front . . . at least, up-front on the label. "Stone Smoked Porter is made with just a touch of peat-smoked malt," says Stone Brewing's Greg Koch. "The smoke is an 'element' of the flavor, rather than being 'the' flavor. The smokiness adds a really nice depth and complexity to the robust porter's chocolate, coffee and roasty overtones."

Why did Stone, best-known for assertive beers like Arrogant Bastard, make a beer with "just a touch" of smoke? "Why we make Stone Smoked Porter is really in the 'because we wanted to' range," Koch says. "It was the second beer we ever brewed. Steve (Wagner) and I really liked the idea of a smoked beer that had a very mellow smokiness to it. Most at the time had more aggressive smoke character, and we approached it from the perspective of brewing a great robust porter that had just a touch of smokiness to it, rather than brewing a smoked beer that just-so-happened-to-be a porter."

Matt Nadeau, the founder and brewer at Rock Art Brewery in Morrisville, Vermont, straddles the line with his two smoked beers, Midnight Madness Smoked Porter and Double Porter Smoked. "My first smoked beer, Midnight Madness," he recalls, "was fashioned after the original porters in England, when real wood fires were used to roast grains. I would envision a background smoke character to the beer from that process, although as with everything subjective, I have people with feedback on both sides of the galaxy. 'Too much smoke! Not enough smoke!' I feel an overstated smoke character would take away from the enjoyability and quaff of the beer."

Nadeau's description of why he brews the smoked beers was perhaps the most appealing, the most visceral. "I like the smell and taste of the smoked grains when you open the bag," he says, emphatically. "It's amazing, the mouth-watering smoke smell. I brew it because I like it, plain and simple. It seems like a match: a beer style that is not overrun with mouth feel and unfermented sugars, it benefits from the additional complexity."

SMOKING OUT SALES That's the laundry list of smoke. There's a big difference between having them…and selling them. Deep Ellum's Toste takes a broad view of selling smoked beer. "We have 28 drafts and a cask every day," he says, "and I have a smoked beer year 'round. There's a market, people like that. Everyone's got IPAs and Belgians. I don't want to go to a restaurant that just has 2O different burgers. I'm pretty passionate about the spread."
Toste put me in mind of a piece I did on porter a while back in these pages. I talked to a number of porter brewers in New England, and over half of them used the same word to describe their porter sales: steady. "They have a following," he agrees. "I've got a guy named Art who lives in New Hampshire and works in Boston. He's hip to the smoked beers. He was there every single day I had the Fastenbier on."

Matt Gamble agrees. "One of the other guys who works here tried them in Germany and convinced me to try them," he recalls. "I loved it. I brought some in, and they're doing well. They're steady sellers; don't fly off the shelves, but there are smoked beer customers who will come in pretty regularly."

"The smoke beer customer is a person who's looking for something different," says Crystal Burlingame at Blanchard's, "One guy will order cases of Schlenkerla at a time. That's a bit too much for me! But I love them, so it's usually me hand-selling them. I like to have a diverse selection so when a customer comes in who doesn't know what they want, I can say, hey, how about a beer that tastes like bacon and eggs? I usually carry the whole Stone line-up anyway, and I do very well with the smoked porter, the customers really like it. I'm not setting records, of course, but it gets picked up."

"There's only one way," says Matthias Neidhart, when asked how to get people to try smoked beer, "no, two ways. Many people try it when their friends tell them about this outrageous smoky beer. We still hear from people who just cannot believe there is such a thing as a smoked beer. The other thing is that you have to allow people to taste it. If you really want to get it selling, you have to sample. That person will either hate it – 'This isn't beer, I can't drink that!' – or they'll be amazed. It's an incredible experience. There are people who love it at first sip, but most people need a second sip to think about it. Just allow your customers to taste it. A small glass, and that's all it takes."

What everyone, the retailers and brewers alike, agrees on is that people aren't so-so about smoked beer. "You get people who can't stand the smell, and the guys who just love them," says Gamble, laughing. "I never met anyone who kinda likes them. I love 'em. The best barbecue beers in the world."

"We make our own sausage," says Toste, "and a charcuterie plate we make in house: terrines, galatines, prosciutto, you name it, anything made of meat – smoked beer goes with it."

That's why summer – grill season – is really a natural time for smoked beers. Tailor your approach – there are lighter smoked beers, just as there are lighter dark beers – and you'll have some smokin' sales this summer.

SMOKED to a TEA
Pick up a glass of Cape Ann Brewing's barleywine, Fisherman's Tea Party, and smell the smoke. Taste it, and there's smoke. But when it's brewed . . . there's no smoked malt. Schlenkerla's Helles pulls off that trick by virtue of years of steeped-in smoke from their other beers; how does Cape Ann's Jeremy Goldberg do it?
You only have to look as far as the name of the beer. "We use three types of tea in the Tea Party," he explains, "one of which is Lapsang Souchang, a very smoky tea that imparts the smokiness. Originally I used just the Lapsang – and far too much – and the result was the smokiest beer you could imagine. First sip, for the smoke-ophile, was absolute ecstasy. The third or fourth sip unfortunately ended up being about all you could handle; the fifth sip never came."
Technically, there is smoke in the Fisherman's. Lapsang Souchang is dried by smoking it over pine embers, the same kind of direct smoking used in malts. But getting the tea-smokiness into the beer sounds more like hopping.
"I have two tea additions," Goldberg says. "Due to the potency of the Souchang, I add it directly to the mash, getting a bit of a more subdued smokiness. The other two teas, a Young Hyson Green tea and a China Keemum are added in the whirlpool. These two teas add to the smooth finish of the beer and are just as important, if more subtle, as the Souchang. Just as I would when making a cup of tea, the Hyson and Keemum are steeped for five minutes in the whirlpool and then removed."
There are coffee beers on the market, but not many tea beers, and that's why Goldberg tried this one. "When trying to come up with a new beer," he says, "I like to think about what hasn't been done or over-done. But instead of just picking ingredients out of thin air and saying, 'I wonder how pineapple would taste in an alt-bier?', I try to find the 'why the heck hasn't this been done before' beer. Tea and barley-wine seemed to be a very righteous combination."
That doesn't mean he's averse to a more conventional wood-smoked beer . . . but don't expect him to do that like everyone else does, either. "We have a local smokehouse here in Gloucester," he muses. "I'd be interested in trying to get a set-up where we blow smoke through the wort during the knock-out. Different types of wood might be very interesting."
I don't think he's just blowing smoke.