archived

FeaturedArticles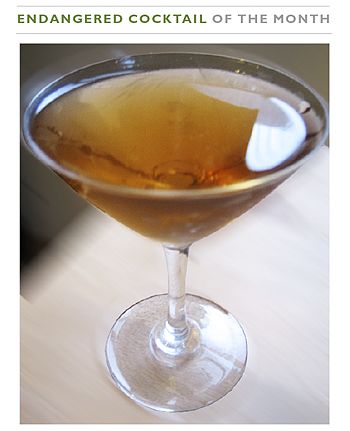 Article By: Pink Lady
Last month we discussed vodka a spirit overlooked in the states until the 1950s, when it took the nation by storm. Tequila suffered a similar fate – didn't gain notoriety here until the "Great Experiment", when any liquor was good liquor. Surely you've tried a Tequila Sunrise or a Margarita, both of which first date back to the 193Os or thereabouts and seem to be variations on the Tequila Daisy ("margarita" being the Spanish term for the flower). Also from that era is the Mexican Eagle, an exceptionally pleasing drink that appeared first – and perhaps, last – in the café royal cocktail book (Coronation edition) published in 1937 by the UK Bartender's Guild. We're not sure if this dry, complex concoction was invented in the States and migrated during Prohibition, like its namesake bird, or vice versa. But we are certainly thankful to blogger Frederic Yarm of www.cocktailvirgin.blogspot.com, who brought The Mexican Eagle to our attention.

THE Mexican Eagle

1.5 ounces of Reposado tequila
1 ounce of Jamaican rum
.75 ounces of French Vermouth

stir with ice.
strain into a chilled martini glass.
garnish with a lime twist.


Cin cin!