archived

FeaturedArticles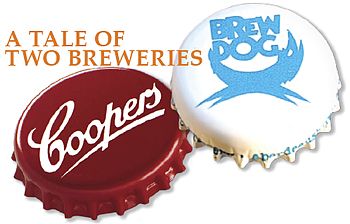 Article By: Andy Crouch
The culture and influence of American craft brewing is quietly moving across the world. From upstart Danish micro brewers to quirky Japanese extreme ale producers subtle changes are taking place in the way we all think about beer. These operations are often run by beverage alcohol industry veterans who are now looking to take a different track in their business lives. But sometimes even a few novices are trying to change the way their respective countrymen think about beer.

A mere twenty-four-years-old and with a little savings in their bank accounts friends Martin Dickie and James Watt of Scotland decided the time was right to put their joint passions to work brewing and selling boldly flavored beers in a place where tradition long ruled. After nearly a year of planning the pair opened the BrewDog Brewery in Fraserburgh on Scotland's northeast coast line. Dickie brought the knowledge of beer to the venture, having studied brewing and distilling at Heriot Watt University in Edinburgh and spent two years as head brewer for the upstart Thornbridge Brewery in Derbyshire. A long-time home brewer, Dickie now heads the company's brewing operation.

On the opposite end of the ledger, Watt brings the passion for marketing, sales and promotion to BrewDog's operation. Watt has a curious background for someone in his position as Managing Director, having studied law and economics at Edinburgh University, followed by a lengthy stint working on a herring and mackerel trawler run by his father.

Mainly self-financed, but with some backing from the local Aberdeenshire Council, BrewDog is a curious operation on many levels. The brewery seemingly appeared from the Scottish mist and with the help of the internet, its reputation grew exponentially even before its beers hit American shores.

BrewDog's beers first started rolling of the lines in early 2OO7, but within a few months the brewery was already selling bottles in Japan, Denmark and North America. At a glance, this might appear to be a curious marketing and sales strategy. Welcome to the new age of beer, one where a combination of electronic discussion boards, passionate beer enthusiasts and extra discretionary cash fuels a global clamor for niche better beers. Like many American brewers, BrewDog is finding that the world is no longer a series of isolated beverage markets but that beer geeks across the planet constitute a profitable, viable market.

Since BrewDog started distributing to the United States, Watt has already visited markets from Boston to San Diego twice. In a recent trip, I met Watt at Deep Ellum in Allston where he presided over a tasting of the brewery's line for a group of enthusiasts. From a light strawberry ale to potent barrel aged offerings, BrewDog's lineup impressed many attendees. Watt and his partners are grappling with growing pains and remain responsive to the marketplace and their consumers, with whom they communicate through email and beer websites. After consumers complained that BrewDog's beers, served in 11.2 and 22.4 ounce bottles, were priced too high, often in the ten to fourteen dollar range at retail, the brewery responded by lowering the price of its next shipment.

During his first trip to the states, Watt hit the nation's major beer markets before heading to the Stone Brewing Company in San Diego, California, where he collaborated with a group of breweries on a new beer.

According to its website, when it came time to plan Stone's next collaboration, founder Greg Koch and Production Manager and Head Brewer Mitch Steele turned to BrewDog, whose beers had impressed them during a trip to Europe. "Greg and I were introduced to James' and Martin's beers about a year ago, when we traveled through Scotland," said Steele. "We were blown away by their ability to brew hoppy, assertive beers and get away with it in the UK." Steele then turned to a friend, Will Meyers of the Cambridge Brewing Company, from his days brewing in New England, to join in the collaborative effort. "I was familiar with BrewDog as I'd stumbled across their beer in England last June, and was psyched to be offered the opportunity to work with two other forward-thinking, ballsy brewers," said Meyers. Due to the distance between them, the brewers initially collaborated via email to design the recipe for the pilot batches.

The resulting beer, a black pilsner called Juxtaposition, achieved two records for the Stone Brewing Company: its hoppiest beer ever brewed and the first lager produced by the brewery. The brewers used 1O,OOO pounds of malt and ten separate kettle hop additions of Japanese Sorachi Ace and Motueka hops from New Zealand, with 326 pounds total used, for a rate of three pounds per barrel. The brewers also employed mash-hopping and mash-wort hopping, both firsts for the brewery. In June, Watt traveled back to Stone to test samples from the batch the team brewed. The brewers decided to tweak the beer with some additional dry hopping. The final beer will achieve 1O percent alcohol. No release date has yet been set.

The Stone collaboration was a bit of a fait-accompli for BrewDog as it has clearly modeled its operation on the in-your-face promotional philosophy employed by Stone Brewing. Stone has long attempted to court controversy or achieve public attention by setting its efforts apart from other breweries through bold and boisterous bravado. Its provocatively worded labels, written by Koch, stand as a testament to the brewery's public relations effort. In comparison, BrewDog's radical and boastful labels appear to largely mimic the Stone operation. On the label of its Punk IPA, deemed a post modern classic pale ale, Watt writes: "This is not a lowest common denominator beer. We don't care if you like it . . . This beer is in no way mainstream or commercial, it is proud to be the alternative . . . You probably don't even care that this rebellious little beer contains no preservatives or additives and uses only the finest fresh natural ingredients. Just go back to drinking your mass marketed, bland, cheaply made watered down lager, and close the door behind you." Compare this to the wording on Stone's popular Arrogant Bastard Ale bottle, which reads: This is an aggressive beer. You probably won't like it. It is quite doubtful that you have the taste or sophistication to be able to appreciate an ale of this quality and depth. We would suggest that you stick to safer and more familiar territory – maybe something with a multi-million dollar ad campaign aimed at convincing you it's made in a little brewery, or one that implies that their tasteless fizzy yellow beer will give you more sex appeal."

BrewDog has wholeheartedly adopted the Stone Brewing method of promotions and has even extended the extreme nature of it a few extra paces, to some controversial ends. The brewery's beer, Tokyo, a 12 percent imperial stout brewed with jasmine and cranberries and aged for four weeks on toasted vanilla French oak chips, launched a firestorm of criticism in the British press upon its release. Newspapers such as the Financial Times, the Daily Mail and others quoted individuals such as Jack Law, Chief Executive of Alcohol Focus Scotland, a group promoting responsible drinking, who complained about the beer's alcohol level. "What justification can there possibly be to bring an extra strong beer on to the market?" he asked.

"Super-strength drinks are often favoured by young people and problem drinkers – is this really who the brewery wants to target?" The criticism was mirrored by several other individuals, including Dr. Bruce Ritson, the chairman of Scottish Health Action on Alcohol Problems. "It is the last thing we need. It is absolutely the wrong direction to be going as far as Scotland's health problems are concerned. If it became popular it would have devastating consequences for health as well as social order and violence on the streets." The Times ran similar quotes criticizing the brewery when it released a honey beer brewed with poppy seeds called Speedball, a reference to a drug cocktail of heroin and cocaine. The beer, which has been renamed Dogma, caused a stir in the brewery's hometown of Fraserburgh, which the Times called the "smack" capital of Britain. In response, Watt told the Times, "Sure, calling a beer Speedball is provocative but the public health campaigners, as they did with Tokyo, will generate hysteria to conceal their own shortfalls in failing to educate drinkers properly. I agree with what these campaigners are doing, but what we're about is getting drinkers to enjoy a quality drink. The industry continually has a go at us, but they're
too short-sighted to see that we are the one company with precisely the same objectives."

The irony here is, for all of the bravado and boastfulness, BrewDog actually makes very simple, approachable and traditional beers that do not push the envelope of taste or flavor. The Punk IPA is indeed a classic pale ale with a dull hazy orange hue and appearance and a light, wispy head. The beer's aroma offers a light herbal and minty note with a slight touch of wheat.

The flavor itself, while traditional, has a little steeped tea-like influence, with a pleasant texture and consistency, and quick, light bursts of citrus and hop bitterness. The Dogma (formerly Speedball) pours with a nice amber color and offers a pleasant pale malt aroma mixed with light fruit notes. Despite its near 8 percent alcohol, the medium bodied beer remains quite drinkable, with a light cotton candy sweetness, a touch of molasses and biscuity malt notes, and a slight hop and yeast bite in the finish to balance everything. The listed ingredients, honey, kola nut, poppy seed, and guarana, make little to no impression on this very traditional English ale.

The brewery's Paradox series involves aging its ales in a series of different barrels. The Paradox Isle of Arran is a stout aged in whisky barrels and is 1O percent alcohol. Pours with a deep, ark black color and a light, fizzy, and unsustained head. The aroma is a bit chalky, like mocha at times, with a light, passive smoky aroma akin to a distant camp fire, throughout the beer. The medium-bodied beer has a light, sustained richness mixed with touches of roasted malt and a bit of woody flavor from the barrels but is quite mild overall. In contrast, the Paradox aged in Islay Scotch whisky casks possesses an almost overpowering belt of peaty smokiness representative of the nation's under-appreciated Scotch offering. There is a big alcohol heat here as well in both the aroma and flavor, which results in an unusual molasses and mint flavor, light tobacco notes, and an underlying sweetness that balances the whole package. This beer is an interesting suggestion for your Scotch whisky customers who prefer the aggressive, peaty, smoky versions common in Islay varieties.

---
ON THE OTHER SIDE OF THE WORLD
In contrast to the upstart and tradition breaking efforts of the BrewDog operation, the family-run Coopers Brewery in South Australia has a long history dating back to 1862. Founded by Thomas Cooper in the colony's early days, the brewery has long produced its signature Sparkling Ale and Best Extra Stout for local and international consumption. When Thomas Cooper died in 1897, he left the brewing operation to his sons, John, Christopher, Samuel, and Stanley, who continued the operation and extended the family's traditional efforts. The family is now on its fifth generation of brewers, run by Tim and Glenn Cooper, who operate a new $45 million brewery opened in Regency Park in 2OO1.
The brewery's flagship beer, the Sparkling Ale, pours with a dull golden amber color and a slight white head. The aroma is lightly wheaty, with some fresh, zesty notes. The beer's tight carbonation gives it a slight bite, which works with its light citrus notes, to produce a very drinkable and quenching beer. The Best Extra Stout, in contrast, is ink black in color with a full off-tan head. The aroma is powerfully aromatic, with touches of coffee, roasted malt and even darker fruits. Brewed to style, one that is under-serviced in the present marketplace, the flavor includes an appropriate level of creamy malt that balances the full bodied notes of vanilla, coffee, and roasted bitterness. The beer never overpowers but instead remains very drinkable despite its proportion.