archived

FeaturedArticles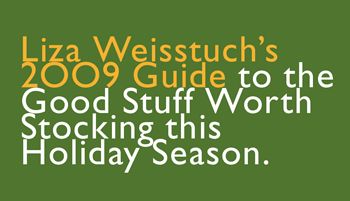 Article By: Liza Weisstuch
The season of perpetual celebrations is finally upon us, which means chances are high that you'll be seeing more and more unfamiliar faces appearing in your store. Whether they're hosting a party or attending a friend's, you'll soon have lots of opportunities to interact with clients as they are soliciting recommendations: "Can you suggest a single malt for a bourbon lover who wants to learn more about Scotch?"

"Cava or Prosecco?" "Which Burgundy is best?" Time always seems in even shorter supply during the holiday season, so just think how appreciative your gift-seeking customers will be if you can point them to a clever stocking stuffer, gourmet goodie or well-designed decorative object while they're browsing your store. Here's a sampling of drink-related accessories, edible treats and books available this season. Your customers can check another name off their gift list as they check out, and in the spirit of giving back, while you offer convenience, they'll help you ramp up revenue at the register.
---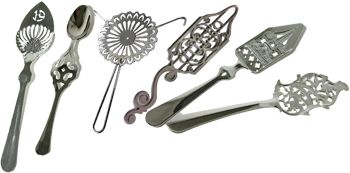 OF BELLE EPOQUE PROPORTIONS
By now, unless a person has just tumbled off the proverbial turnip truck, consumers know that absinthe is back – big time. The favored elixir of artists and thinkers like Van Gogh, Toulouse-Lautrec and Arthur Rimbaud, long banned in the US, is now as accessible as Milwaukee beer. "Is it really a hallucinogen?" your customers may have asked. (No.) "Didn't it make van Gogh cut his ear off?" (No. Some might call that a conspiracy theory.) "Don't you need all kinds of paraphernalia to drink it?" (Well, yes and no.) While plenty of mixologists have demonstrated that absinthe works perfectly well in cocktails, back in the day on Paris's Left Bank, legendary Bohemians dripped water from ornate fountains over a sugar cube set on a slotted spoon perched on a glass of absinthe. Curious shoppers have probably asked you where they can buy the spoons. Thanks to the Brooklyn-based DrinkUpNY.com, you can point them right to a counter in your store. The company, which operates a bricks and mortar shop, Borisal Liquors and Wine, in Brooklyn's Park Slope, has nine styles of old-school spoons on offer ($11 to $47). The utensils, most of which are stainless steel, range from simple scalloped-edged numbers to the intricately detailed. There are also stylish glasses ($11 to $2O). For more information, visit drinkupny.com or call 8OO.658.8149.
---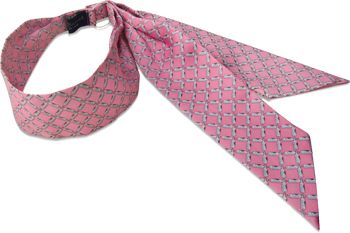 FOR THE FASHION-FORWARD OENOPHILE
Most people are careful to keep wine from spilling on their Saturday evening best. When it comes to Little Barrel (littlebarrel.com), wine is the focal point of the finery. Newswoman Lesley Stahl's daughter, Taylor Latham, launched the company in 2OO8 with her husband, Andrew Major, after they couldn't find any favors to give out at their wedding, which took place at – yep, you guessed it – a winery. Today Little Barrel is the go-to small business for anyone seeking to add an oenophile's flare to their wardrobe. Their lines of silk ties ($68), headbands ($22 to $26) and scarf belts ($58) are all made in the USA and come in up to 19 colorful patterns of attractively rendered wine bottles, glasses or grapevines. We'll call each design a varietal. They also offer wide-bottomed tote bags in two sizes – for uses as purses or picnics sacks ($74.5O to $89.5O) – with a wide swatch of wine bottle or glass patterned silk trim. For more information or to place an order contact Liz Stahl at 617.794.32O9 or email sales@littlebarrel.com.
---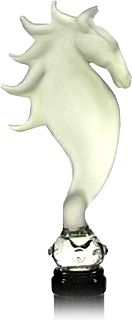 UNEQUALED EQUINE ELEGANCE
There are very few glass artists in the country that can call themselves master flamethrowers, but Mark Payton of Payton Flameworks is one of them. His workshop is based in Louisville, Kentucky, so it's little surprise that several of his exquisite, one-of-a-kind artifacts are equine-inspired. Each of his horse head bottle stoppers ($4O to $88) is – like his other, large scale pieces – individually sculpted through a distinctive process of heating rods of "hard" glass and shaping them from there. (Traditional glassblowers use a method that involves "soft" glass.) Each stunning horse bust is affixed to a high-grade silicone stopper that seals the entire neck of a wine bottle, so the bottle can be laid on its side in a refrigerator and not leak. Also, the glass is fastened to the stopper with a piece that goes all the way through the stopper, so it's tough to break off, unlike the decorations often attached to chrome cones that are commonly found on the market. For information, contact Mark at info@paytonflameworks.com, visit paytonflameworks.com or call 5O2.992.3O62.
---
HISTORIC READS
Since the inception of eBay, cocktail enthusiasts have engaged in fierce bidding wars whenever a vintage cocktail book appeared on the site. Greg Boehm, whose family had been in the publishing business for generations, took it upon himself to make these rare volumes more accessible to the masses. He established Mud Puddle Books and, working intensely with art directors and scanning technology, has created facsimiles of old-school cocktail books ($19.95 to $34.95). Selecting from his personal library, which is over 2OOO volumes large, there are more than a dozen reproductions – the initial six were launched in the summer of 2OO8 and the rest were unveiled this year. In addition to era-appropriate advice and guidance on service and etiquette for bartenders, many contain the first appearances of now classic recipes. William Boothby's The World's Drinks and How to Mix Them, for instance, includes the earliest Sazerac and the Bronx cocktail recipes. The book dating back the furthest is the legendary Jerry Thomas's 1862 edition of How to Mix Drinks; A Bon Vivant's Companion. The facsimiles were developed with scrupulous attention to historical detail, from the binding to the cut of the paper edges, making each an object worthy of display, and each features introductions penned by today's leading cocktail experts. For information, visit cocktailkingdom.com or call 212.647.9168.
This has been a good year for historically-curious drinkers. Rutgers University Press recently published journalist Garrett Peck's The Prohibition Hangover: Alcohol in America from Demon Rum to Cult Cabernet, a chronicle of America's pastime of drinking in the aftermath of the "Noble Experiment". It's an engaging read that gives just as much attention to social trends as it does legislation. For more information visit rutgerspress.rutgers.edu. Orders can be placed through the warehouse. Call 8OO.848.6224. A complete discount schedule is available for wholesale orders.
---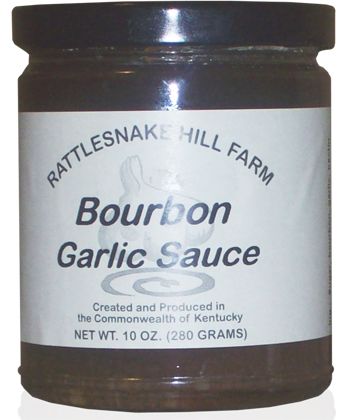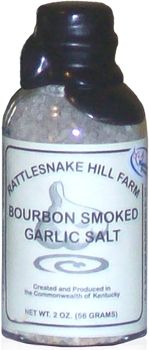 IF IT'S FROM KENTUCKY, IT MAY AS WELL HAVE BOURBON IN IT
Sustainable agriculture is a strong focus for Jim and Megan Alexander, who own Rattlesnake Hill Farm, a 2O-acre family farm in Bloomfield, Kentucky, where everything is certified naturally grown. Apparently, a sense of regional pride is just as important. Varietal garlic makes up a majority of the crops. Some of the garlic they grow is used in their gourmet food products, many of which count bourbon as an ingredient. Whiskey lovers will want to try the Bourbon Garlic Sauce ($7.5O SRP), which can be used in a baste for meat or a straight dipping sauce. There are other varieties, too, like straight roasted garlic and chipotle garlic, not to mention several styles of mustards. According to Megan, given that their farm is in Nelson County, the self-proclaimed bourbon capital of the world, using bourbon in their artisanal, small batch products seemed a natural fit. They make the bourbon-spiked products with Heaven Hill's Evan Williams Black Label. Rattlesnake Hill's goods have been a hit the annual Bourbon Fest in Bardstown. For information on ordering, call 5O2.673.943 or visit rattlesnakehillfarm.com/products
---

SWEET SPOT
Lecia Duke, an architect by training, started making chocolates 25 years ago in her home state of Texas using a vintage method she learned from a Swiss chocolatier at Lindt. She started Quintessential Chocolates, which uses the unique Lindt moisture barrier process of creating a paper-thin sugar shell to encapsulate liquid, which is then enveloped in chocolate. She produces countless varieties of liquor, wine and coffee filled candies, but due to an arcane Massachusetts law, the liquor-filled chocolates, which clock in at 2.6% alcohol by weight, cannot be sold in this state. The great news, however, is that she makes tasty wine-filled chocolates ($7.45 for box of 6) that Bay Staters can indulge in legally. For information on ordering, visit the chocolat-tx.us or call 8OO.842.3382.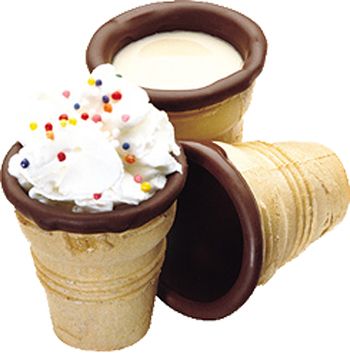 While Duke's confections seem the perfect fixture for the drawing room, Big Shott's Edible Shooters are more fitting for a basement blowout – not to mention a creative vessel for a leisurely after-dinner sip. The mini chocolate-lined wafer once-ounce cups ($4.99 to $8.95) can be used as a shot glass for, say, Kahlua, or an ice cream cone, of sorts, that's sure to spark conversation. Visit edibleshooters.com for information.