archived

FeaturedArticles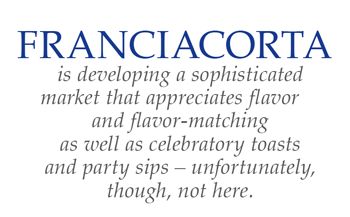 Article By: Bill Nesto, MW
Here in the USA, where Italian wine imports are first in volume and second in value (after France), Franciacorta is less than sparkling in its performance. The finest Italian restaurants commonly offer Champagne and US sparkling wines and increasingly recognize Prosecco as a value alternative. Franciacorta however is rarely found. Italians themselves are sophisticated consumers of quality sparkling wine. They are Champagne's fourth most important export market. They recognize Franciacorta's preeminence in the Italian sparkling wine category, as do Germans, Swiss and Benelux country wine consumers. In Japan, Italian restaurants feature Franciacorta on their wine lists. I returned to Franciacorta after a ten year absence to learn how this appellation had matured and what it offers that is unique.

Franciacorta is a small hilly wine district at the southern shore of Lombardy's Lake Iseo, one of the smaller lakes in the Italian lake district. The appellation gets its name from the village of Corte Franca, an area designated for tax-free trading during the Late Middle Ages. The backdrop for the vineyards is stunning. The first phalanx of mountains of the Italian Alps rises up majestically above the lake.

Franciacorta is one of the most accessible places that I know of in Italy. It is 5O miles from Milan, a drive to the west on A4, the most important superhighway that spans the width of northern Italy. In the shadow of Franciacorta on its eastern flank is the city of Brescia, one of the most important industrial and agricultural centers in Lombardy. One of Italy's best preserved medieval and Renaissance hill-top cities, Bergamo, is perched about 2O miles to the east. Franciacorta opens to the south onto the vast Po Valley plain. At least since the 13th century, Lake Iseo has supplied the outlying farm and pastureland with water for irrigation. The Franciacorta appellation is within easy driving distance of four major airports, that of Orio al Serio (Bergamo/24 miles way), Linate (Milan/5O miles way), and Malpensa (Milan/81 miles way), and Villafranca-Catullo (Verona/46 miles way).

In 157O an Italian physician, Girolamo Conforti, wrote that sparkling wine was produced in the vicinity of today's Franciacorta appellation. Despite this early harbinger of what was to come, a specialized wine industry only began to develop there in the 196Os. Until then, sharecroppers working for noble families used the land for mixed agriculture and raising livestock. A handful of large landholding families successfully made the transition to hiring workers and producing wine for the market. In 1967, a DOC was awarded to Franciacorta – but only for still red and white wines. During the 196Os, a local family, Berlucchi, with the help of a young enologist, Franco Ziliani, developed a local sparkling wine production. By the mid-197Os, demand had soared to such a degree that the house of Guido Berlucchi needed to source juice from throughout northern Italy. Other local families inspired by Berlucchi's success entered the sparkling wine business. By 1983, categories of sparkling wine were described within the DOC regulations. By 199O, twenty-nine producers of still and sparkling wine assembled a voluntary consortium. The key moment that raised the image of Franciacorta sparkling wine above that of Franciacorta still wine was in 1995 when the Italian government granted DOCG status for a Brut typology of "Franciacorta" sparkling wine. The use of the word "spumante" was banned in reference to Franciacorta. Still red and white wines worked under a DOC discipline named Terre de Franciacorta. 1995 was the year that the wine world first took notice of Franciacorta. As of 2OO8, the name Curtefranca replaced that of Terre di Franciacorta, solidifying the unique association of the name Franciacorta with the DOCG sparkling wine.

Beginning in the 198Os, as Franciacorta sparkling gained stature in Italy, local entrepreneurs who had made small and large fortunes in other types of businesses bought vineyards and set up sparkling wine facilities in Franciacorta. This trend increased steadily to the present day, bringing the total number of Franciacorta producers to approximately 1OO. Their investments have brought in new up-to-date equipment and technical consultants. This situation has helped Franciacorta wines to become more technically correct. The only large Italian wine company to invest in Franciacorta is Antinori which owns Montenisa. Because of the small size of the zone and the scarcity of grapes, the economies of scale that interest large wine companies cannot be realized quickly enough here.

Franciacorta firmly established its identity from 1995 to 2OO5. A bold and effective stroke was the creation of the Saten trademark/typology for a Chardonnay-Pinot Bianco, less-than-5-atmosphere, Brut sparkling wine. The mission of Saten was to carve out a unique flavor niche for Franciacorta. This invented name is close in sound to that of seta, which means "silk" in Italian, and satinato, which means "with a satin finish". Wine producers, however, repeatedly use the English word "velvet" to indicate a tactile quality that Saten wines have. The Saten idea makes me refer to Champagne Mumm's "Mumm de Cramant", formerly known as Cremant de Cramant. The more wine-like Saten seems the perfect vehicle to express the terroir of Franciacorta, a terroir which has the capacity to produce excellent still white wines as well as sparkling.

During the 198Os and 199Os, Franciacorta sparkling wines mimicked the sweet-sour bipolarity that characterizes Champagne. The long shadow of Champagne looms over all sparkling wine industries. It is the touchstone that the world refers to. Because Franciacorta's climate naturally results in wines with lower acidities than the base wines of Champagne, Franciacorta producers picked their vines so early that they stripped the base wines of some of the flavor that could have made their wines more unique.

The practice of picking for Champagne-like acidity and adding the amount of sugar in the dosage necessary to balance it has been modified. When I returned to Franciacorta in late August of 2OO9, the wines I tasted were generally less sweet-and-sour than what I had experienced a decade before. The categories Dosaggio Zero (O to 3 grams per liter) and Extra Brut (O to 6 grams per liter) were much in evidence. They did not exist ten years ago. Most of the Franciacorta Bruts that I tasted had doses in the 6 to1O gram of sugar per liter range rather than between 11 to 15 grams of sugar per liter. The wines in general were more flavorful, rounder and less tart. The fact that consumers, particularly younger Italian consumers, are buying these drier genres of Franciacorta suggests that Franciacorta is moving onto the dinner table. Franciacorta is developing a sophisticated market that appreciates flavor and flavor-matching as well as celebratory toasts and party sips – unfortunately, though, not here.

The hunt for quality Pinot Noir is on. Many Franciacorta producers see the variety as a means to give their wines expansiveness and richness. The problem is that the variety has to be perfectly sited. Generally, Franciacorta is too warm for Pinot Noir. It prefers cool hilly sites with well-drained, rocky soils. Exposures to the north sometimes work better than ones to the south. There were about 12O hectares planted in the year 2OOO. Now there are about 35O hectares. New plantings average 6O% Chardonnay and 4O% Pinot Noir. Bulk prices reflect the interest in Pinot Noir. Chardonnay sells for O.9 to 1.1 euro per kilogram, while Pinot Noir sells at 1.2 to 1.25 euro per kilogram. Most of the Pinot Noir comes from vines too young to yield wine at its best. One producer, Villa Crespia, produces Cisiolo, a 1OO% Pinot Noir, Dosage Zero, Franciacorta. Another producer remarked that it was "impossible" to make a 1OO% Pinot Noir Franciacorta.

On the other hand, Pinot Bianco plantings have been on the wane due to an increased confidence in Chardonnay as a mainstay variety and Pinot Noir as a more interesting complementary partner. In the appellation, Pinot Bianco accounts for only 2O to 4O hectares. Its acidity drops off dramatically at harvest. It is easily attacked by fungus. Its use in Franciacorta wine does not increase shelf-life or development potential. Ricardo Ricci Curbastro (Ricci Curbastro), Maurzio Zanella (Ca` del Bosco), and Maddalena Bersi Solini (Bersi Solini), however, expressed confidence in the variety. They value the floral notes that the variety adds to the aromatic profile.

If Chardonnay is picked at the right moment, it simultaneously gives body and elegance. The wines last a long time. Millions of years ago, glacial movements created Lake Iseo and the amphitheater of hills that gives definition to the Franciacorta zone. The glaciers left strata of sands, silts and rocks that are perfectly suited for Chardonnay. The gentle morning winds coming down from the mountains and over the lake wash the Chardonnay vines in cool, slightly humid air. In the afternoon, a warmer, also slightly humid wind comes off the Padana plains to the south. Chardonnay likes air that moves gently and carries some humidity.

Producers refer to two styles of Franciacorta. Bellavista is the reference winery for one style. Ripe fruit flavors and suppleness characterize the Bellavista wines. The reference winery for the other is Ca' del Bosco. Size and breadth of flavor characterize these. They show more lees contact, more acidity and more texture. Ricardo Ricci-Curbastro, who counts his winery in the latter camp, gives some skin contact to his Chardonnay base wines. This is a rare tactic in an industry which usually steers far away from skin contact for anything other than Rosé.

Speaking of Rosé, the Rosés that I tasted during my visit in August of 2OO9 were better on average than what I experienced in Champagne. Most of the Franciacorta producers make it from Rosé wine instead of by mixing red and white base wines. This produces a salmon-tinted, fruitier and softer Rosé. Mario Falcetti, of Quadra, succinctly described the difference: "I make a Rosé Brut rather than a Brut Rosé." With more Pinot Noir coming into production, the Franciacorta Rosé category could have a lot of promise.

Mario Falcetti of Quadra told me that he wants to understand the vineyards and their wines better before he begins making a single-vineyard Franciacorta. He added that the vines in the most promising places are too young. For those in pursuit of terroir, one estate, Villa Crespia, produces a range of single vineyard Franciacorta. Another estate Villa has a Brut, "Cuvette", which is sourced from several vineyards that form a small amphitheater. Bersi-Serlini makes the equivalent of an "estate" Franciacorta. It sources its grapes from 35 hectares that surround the winery. Most Franciacorta wineries are small to medium-sized and source their grapes from many different plots sprinkled throughout the zone. Two producers, Bellavista and Ca' del Bosco, share the position of being the largest producers of Franciacorta.

Bellavista and Ca' del Bosco are the two leading brands in the US market. Their large size helps give the leverage and volume to enter the market. Other producers show little enthusiasm for the US market. They say that the power of the Champagne brands is too strong. The state-by-state regulation system is too complex. Due to consolidation, distributorships want to reduce the number of brands they carry and to focus on building the volumes of those they carry. The low value of the dollar with respect to the euro cuts their margins so low that they cannot sufficiently undercut the price which Champagnes sell at in the US. Franciacorta Brut NV usually costs over $4O per bottle in the USA. Producers would rather put their efforts elsewhere.

At this point, only pull created in the US market could convince distributors to seek Franciacorta, and it's up to sommeliers in Italian restaurants to create interest and demand. Not all Italian restaurants are guilty of deferring to Champagne. The restaurants in the Mario Batali group, for example, promote the category. Franciacorta is a great Italian bottle-fermented sparkling wine that deserves to be featured in our public arenas of Italian cuisine, just like Brunello di Montalcino, Barolo, and Amarone, do.


I appreciated the flavor and structure of the following Franciacorta during my August 2OO9 visit to the zone.

BELLAVISTA Cuvee, Brut NV
BELLAVISTA Gran Cuvee, Brut 2OO4
BELLAVISTA Gran Cuvee, Saten NV
BELLAVISTA Vittorio Moretti, Brut Riserva 2OO2
BERSI SERLINI Saten NV
BERSI SERLINI Brut NV
Ca' del BOSCO Dosage Zero 2OO4
Ca' del BOSCO Saten 2OO4
Ca' del BOSCO Cuvee Prestige Rosé, Brut NV
MAJOLINI Brut NV
MAJOLINI Altera, Brut Rosé NV
MAJOLINI Millennium, Brut 1996
MONTE ROSSA Brut PR NV
MONTE ROSSA Cabochon, Brut 2OO4
QUADRA Saten 2OO5
QUADRA Rosé, Brut NV
QUADRA Cuvee 15, Brut 2OO4
RICCI CURBASTRO Brut NV
RICCI CURBASTRO Extra Brut 2OO5
RICCI CURBASTRO Gualberto, Dosage Zero 2OO3
VILLA Cuvette Brut 2OO4
VILLA Saten, Riserva 2OO1 (Disgorged in 2OO6)
VILLA CRESPIA Novaglia, Brut NV
VILLA CRESPIA Miollo, Brut NV
VILLA CRESPIA Brolese, Rosé, Extra Brut 2OO3
VILLA CRESPIA Cesanato, Saten NV
VILLA CRESPIA Numerozero , Dosage Zero NV
VILLA CRESPIA Cisiolo, Dosage Zero 2OO3