archived

FeaturedArticles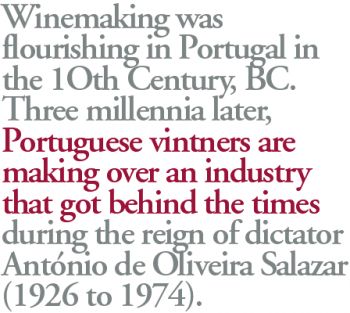 Article By: Donald Breed
Spurred by joining the European Economic Community in 1986, wineries are investing in new technology and emphasizing quality over quantity. Fortunately, they are largely staying with the indigenous grape varieties that make Portuguese wine unique, while planting some international varieties like Cabernet Sauvignon, Syrah and Chardonnay.
According to Rui Abecassis, deputy trade commissioner in the Portuguese Trade and Tourism Office in New York, authorities have reduced the number of grape names from 35OO to 34O. That will please those who try to sell Portuguese wine in the United States. It doesn't mean that there are fewer kinds of grapes, only that the confusing practice of different names in different parts of the country has been rationalized to conform to Common Market rules. (But there are still 11 grapes allowed to have more than one name. For example, the grape called Tempranillo in Spain can still be called Aragonez or Tinta Roiz in Portugal.)
Upon joining the European Economic Community, Portugal became eligible for subsidies that helped in modernization of the wine industry, among others.
Portugal can claim the first-ever appellation, in 1756, with the creation of the Companhia Geral da Agricultura das Vinhas do Alto Douro. To protect the quality of Port, which was first exported to England in 1675, the company demarcated the region of production, recorded the vineyards, classified and certified wines, and prescribed certain practices. (That was 99 years before the famous 1855 Classification of Bordeaux.) Then in 19O7 to 19O8, Madeira, Moscatel de Setubal, Carcavelos, Dao, Colares, and Vinho Verde were demarcated.
It was the French, however, who set the model for a nationwide system of appellations, which was later picked up in Europe and elsewhere, including the United States. Upon joining the Common Market, Portugal established 33 Denominations of Origin, distributed within eight Geographic Indications. Since then, there are more regions but only 29 denominations.
If the wine label says DOC, the grapes come from within that appellation, and the grape types and vinification techniques are regulated. If the label says IG, at least 85 percent of the grapes must be from one of the larger regions and be made there, but there is more freedom to use non-traditional varieties. There is a third classification: Vinho de Mesa (table wine).
A booklet, the wines of portugal, published by the Viticulture Denominations of Origin National Association (ANDOVI), is the source for the rest of this article. It says the number of DOCs may have changed in recent legislation. However, here they are listed as in the booklet. Listed first is the region and then the denominations within it, and some of the grapes (using the spelling used for those chapters).
Douro: This region, named for the Douro River that flows through it, is probably the best known in Portugal, since it is where Port, the famous fortified wine, is produced. However, its red table wines are esteemed and have their own following. The vineyards are spread along the banks of the Douro and its tributaries. The best grapes for Port come from vineyards near the river, while Douro red and white wines come from vineyards at higher altitudes. The region contains two DOCs, Porto and Douro, covering the same area.
The same five grapes are used for Port and red table wine, with the location determining which is better suited for Port or table wine. Touriga Franca, Touriga Nacional, Tinta Roriz, Tinta Barroca, and Tinto Cao are the red grapes. Of these grapes, Touriga Nacional may be said to be Portugal's leading claim to nobility, and it is sometimes vinified as a varietal.
A fortified white wine, Moscatel do Douro, is made from the Moscatel Galego variety. The grapes for white table wines are mainly Gouveio, Malvasia Fina, Rabigato, and Viosinho. Some sparkling wine is made in the Douro also.
Minho: This region, in the northwest corner of the country, is most affected by the Atlantic; it is cool, with much rain and humidity. Consequently, the wines, like those of Germany, tend to be low in alcohol and high in acidity. There is one DOC, Vinho Verde, for this large region, with extends from the ocean to the mountains, but there are six subregions - Moncao, Lima, Basto, Braga, Amarante, and Penafiel - with their own microclimates and grape choices.
The region produces more red Vinho Verde than white. The red is consumed almost entirely at home, and rarely exported, since it's conceded to be a taste hard to acquire. (I happen to like it.) It's the white Vinho Verde that's exported, and much of it is off-dry, almost sweet. Some say that the Portuguese themselves like it dry, but others insist that, like Americans, they prefer it off-dry. Even if it appears dry, there is likely to be some residual sugar to balance the high acidity. Some fine sparkling wine is made from Vinho Verde grapes - a natural since the climate yields high-acid wines suitable for bubbly.
Traditionally, Vinho Verde had a slight sparkle that came from unresolved fermentation; now the sparkle is inserted by CO2 (although vintners don't admit it). Because the wine was still working, in the old days, it was meant to be consumed right away, and there was no need to put a vintage on the label. Most Vinho Verdes in the market still do not specify the vintage, although there is a code that tells the bottling date.
Alvarinho (Abarino in Spain) is the most famous grape of Vinho Verde. It is vinified dry, with higher alcohol than other Vinho Verdes, and is usually bottled as a varietal because of its fame. It is an aromatic grape that reminds some people of Riesling.
Loureiro is another fine white grape that often is bottled as a variety, that is, unblended and dry. But most Vinho Verdes are blended, and the other white grapes include Avesso, Arinto (also called Pederna) and Azai.
Tras-os-Montes: A mountainous region and a DOC with three sub-regions - Chaves, Valpacos, and Planalto Mirandes - is directly east of Minho but, instead of being cool and moderate, it has extremes of heat and cold. Viticulture is not the main agricultural product, but the predominant red varieties are Trincadeira, Bastaro, Marufo, Tinta Roriz, Touriga Franca, and Touriga Nacional. The main whites are Siria, Fernao Pires, Gouveio, Malvasia Fina, Rabigato, and Viosinho.
If the wine is bottled IG, there may be international varieties like Cabernet Sauvignon, Pinot Noir and Chardonnay.
Beiras: This is a large region that includes several denominations whose names are more familiar than Beiras. Throughout the region, winemaking started with religious orders, especially the monks of the Cisterian Order. The best-known appellation in Beiras is Dao, Portugal's second-oldest wine area, having been developed in the middle of the 19th century and officially demarcated in 19O8. It has a reputation for full-bodied red wines that age gracefully. Located in the center of the Beiras, Dao is a plateau, 12OO to 22OO feet high, surrounded by mountains; the soil is poor, mostly granite with some clay and schist. In the 2Oth century, it was mostly small estates, where vine growers sold their grapes to 1O large cooperatives. Starting in the late '8Os, change began on three fronts: Companies who used to buy from the cooperatives decided to start their own wineries and buy vineyards. The coops, in turn, began to modernize their wineries and develop their own brands. Finally, some small and medium producers decided to build their own wineries. All of this led to improved quality, starting with better grapes and viticultural techniques. Red varieties include Touriga Nacional, Alfrocheiro, Jean, and Tinta Roriz. Whites are Encruzado, Bical, Cercial, Malvasia Fina, and Verdelho.
Bairrada: Even with its long history, which includes formation in 1887 of a viticulture school, it wasnot officially demarcated until 1979. The first Portuguese sparkling wines were made here in 189O. Five cooperatives are there, along with large and medium-sized companies, and more recently small private producers. Because Bairrada is closer to the coast, the climate is moderate. Baga is the predominant red variety, mostly planted in clay soils. Other reds include Touriga Nacional, Tinta Roriz, Cabernet Savignon, Syrah, Merlot, and Pinot Noir. White grapes are planted in sandy soils, where Baga does not thrive, and are fruity with enough acidity to allow them to evolve. Fernao Pires (also called Maria Gomes here) is the leading white; also grown are Arinto, Rabo de Ovelha, Cercial, and Chardonnay.
Tavora-Varosa: This small DOC north of Dao has a few producers who make red wines from Amaral and Jaen varieties and whites from Arinto, Cercial and Pabo do Ovelha.
Beira Interior is one DOC, largest of the region's denominations, and split into two parts, one right next to the Spanish border, with three sub-regions: Castelo Rodrigo, Cova da Beira and Pinhel. Most of the wines are made by cooperatives, but recently small and medium wineries were established. The common red varieties are Tinta Roriz, Bastardo, Marufo, Rufete, and Touriga Nacional. The wines are medium-bodied and fruity. The climate, with high altitudes, allows for aromatic white wines with fresh acidity. The grapes are Siria, Malvasia Fina, Arinto, and Rabo de Ovelha.
Tavora-Varosa, which borders Douro and Spain, is known for its sparkling wines, made with Malvasia Fina, Cercial, Gouveio, Chardonnay, Touriga Franca, Tinta Barroca, Touriga Nacional, Tinta Roriz, and Pinot Noir. Estremadura, once known as Oeste (West), includes nine DOCs and the city of Lisbon. It is a strip of land hugging the Atlantic coast that is no wider than 4O kilometers. Despite the abundance of appellations, 9O percent of its wine is sold a Regional Estramadura, because in the upgrading of what used to be largely a bulk-wine area, vintners wanted more freedom with varietals, both Portuguese varieties not traditional in the area and grapes from outside the country.
Colares is a small DOC on the coast near Lisbon. I visited Colares and remember the Ramisco vines crawling along the sandy soil like huge snakes. The soil protects them from phylloxera. The wine was noted for its longevity and aroma, but it will be hard to find; there is only one producer now, making less than 1O,OOO bottles a year. Blame urban sprawl for the fading of Carcavelos, where a fortified wine from the Galego Dourado grape once was sold all over Europe. Now there are fewer than 1O hectares of vine, and the appellation may disappear. Bucelas, another small DOC near Lisbon, is surviving more successfully, and the wine is available in the United States. Made from the Arinto grape, with sometimes some Sercial and Rabo de Ovelha, the wine was once underwhelming but now has an elegant fragrance that reminds me of Fiano de Avellino, the southern Italian variety that also benefits from the new technology.
Four DOCs in the middle of the region - Obidos, Arruda, Torres Vedras and Alenquer - are where most of the modernization is taking place. Red varieties are Castelao, Aragonez, Touriga Nactional, Tinta Miuda, and Trincadeira, plus Alicante Bouschet, Touriga Franca, Cabernet Sauvignon, and Syrah. Whites are mainly Arinto, Fernao Pires, Seara-Nova, and Vital, along with some Chardonnay.
Encostas d'Aire is in the northernmost part of the region, and modernization is proceeding more slowly. More varieties are being added to the traditional Baga and Castelao, Arinto, Fernao Pires, and Malvasia. Lourinha, on the coast, exclusively produces brandy from the red grape Cabinda and the whites Malvasia and Talia, among others. It's the only DOC in the country that has beverages distilled from wine.
Ribatejo, to the east of Estremadura, is bisected by the Rio Tejo (Tagus River) that not only affects its climate but was once a way to move wine by sailboat to the taverns and restaurants of Lisbon. The region (which is also the only appellation) has an area of fertile plains where many crops such as corn, wheat, tomatoes, and melons flourish. Grapes have also been grown there, with quantity more than quality, and one of the reforms is to move viticulture into the poorer limestone and clay soils on the right bank of the Tejo, where there's less rainfall and where they've been growing grapes, olive trees, oak trees, and cork plantations. Concrete fermenting tanks are giving way to stainless steel tanks and cooling systems. Legislation is more permissive about varietals, allowing the better grapes from other parts of Portugal as well as international varieties. When labeled as a regional wine, there is even more freedom to choose grapes.
Peninsula de Setubal is on the Atlantic coast south of Lisbon. It has two quite different DOCs, both of them relatively small and in the north, with long histories of viticulture. (In the 19th century, it had a 4OOO-hectare vineyard, belonging to a single owner, the biggest vineyard in the world.) On the other hand, the 8O percent of the region to the south and east, while suitable for quality wines, has no DOCs - its wines are designated Vinho Regional Terras do Sado.
Palmela was once dominated by two big companies and two cooperatives, but now has a number of smaller producers. Palmela reds must have 67 percent of the Castelao (often called Periquita, but not legally under the new rules), but may include Alfrocheiro or Trincadeira. Red Palmela is fragrant with soft tannins, with a silkiness that reminded me of Pinot Noir, though I suppose no one will make a movie about it. White grapes are Fernao Pires, Arinto and Moscatel de Setubal (this last also in dry wines).
Setubal is where the fortified sweet wine Moscatel de Setubal, made from the variety of the same name, has been made for centuries. (It was a favorite of Louis XIV of France.) A small quantity of Moscatel Roxo is also grown. This fortified wine was exported to America and across the Equator to other countries, and it acquired the term "Moscatel de torna-viagem" meaning that some of the wine went across the Equator and then back; the movement and the sharp variations in temperature made these wines more concentrated and smoother.
Alentejo is the largest administrative region in Portugal, almost a third of the country, and has one DOC of the same name, but with eight sub-regions: Portalegre, which is to the north at higher altitude; Borba, Regengos, Redondo and Evora in the center of the region; and Moura, Vidiguera and Granja-Amareleja to the south. Unlike the rest of Portugal, commercial viticulture does not have a long tradition here. Wine was for local consumption, and was vinified according to Roman tradition in big clay amphoras. Agriculture was mostly wheat, olives, cork and oak trees, and cattle-breeding.
Alentejo was unlike Portugal in another respect. There were huge estates instead of many small farmers. When the revolution of 1974 overthrew Salazar, these huge spreads were targeted for land reform by the Communists, who were especially strong in this area. Some wealthy families sent their children abroad for safety. With the election of 1976, moderates began to take control, and eventually some of the large estates were returned to their original owners. At about this time, huge changes began in winemaking in Altentejo. In the late '8Os I took a tour sponsored by the Portuguese Trade Commission, and it focused on the Alentejo.
Compared with any other wine region of Portugal, Alentejo thus began with a clean slate. The wines I tasted recently seemed to reflect "new world" tastes in the use of new oak and bright fruity qualities. When I mentioned this to deputy trade commissioner Abecassis, he responded that all of Portugal's wine industry might be considered "new, new world".
Trinadeira, a grape that does well in hot weather, is a favorite in Alentejo, along with Aragonez, Castelao and Alicanate Bouschet, a French variety that seems to do especially well in Portugal, and other red grapes. Of the whites, Roupeiro and Antao Vaz are notable, and Arinto.
Algarve, at the southern tip of Portugal, is primarily a resort. There are four DOCs - Lagoa, Lagos, Portimao, and Tavira - but what wine is made is usually sold under the regional label. Castelao and Negra Mole are the traditional reds, but Syrah is said to do well. Whites are Arinto and Síria. Although the wines are Algarve are usually dismissed, quality is improving, and if you were sitting at a table overlooking the ocean, you'd find the local wine very satisfactory.
Acores (Azores) is the origin of many Portuguese-Americans, but the wines of the islands are not similarly represented in the United States. There are three DOCs: Pico on the island of that name, Graciosa on that island, and Biscoitos on the island of Terceira. The best known wine is a fortified wine from Pico. Madeira is another denomination, and the famous wines of that island are an article - nay a book or two - all by themselves.
Portuguese white wines are blossoming as new technology, such as cold fermentation in stainless steel, replaces concrete tanks. Few of the native grapes display the aromatics of international varieties like Sauvignon Blanc, Riesling and Gewürtztraminer, but they have their own charm, and they go well with food.
Quinta da Alorna, Arintho, 2OO5, Ribatejo, DOC Fragrant, some residual sugar evident but balanced with acidity. This is made from the Arinto grape, associated with Bucelas, a separate DOC.
Quinta da Murta, Bucelas, 2OO5, DOC This is somewhat dryer than the previous Arinto, but there is still some residual sugar, along with the aromatics.
Caves Velhas Bucellas, 2OO3, Bucelas, DOC Don't ask why, but the proprietary name has two Ls, the DOC one L. This wine is more in the traditional style, very dry and almost a little rough when first opened, though not at all oxidized. As the wine opens, you find almond and honey. I reminded me of Fiano di Avellino, from Campania in Italy. Cheers for keeping the wine in character while bringing it up to date.
Castello d'Alba Branco, 2OO5, Reserva, Douro, DOC A blend of Douro grapes, whose names are not listed on the back label. It's nicely aromatic, but a sturdier wine than some of the white wines from more southerly regions.
Herdade Grande Colheita Seleccionada, 2OO5, Vinho Regional Alentajano A touch of oak is evident in this wine made from the Antão Vaz and Arinto varieties.
Terra Antiga Vinho Verde, 2OO5, DOC Unlike some of the more popular Vinho Verdes, this wine is drinks dry; it's not bereft of all residual sugar, but is in perfect balance. There's lots of fruit as well as some of the obligatory spritz. There's Alvarinho in the blend, raising the alcohol level to 11.5%, which is high for Vinho Verde. And we're told the vintage date, so we know it's fresh.
Gatao Vinho Verde, NV This is a lovely dry wine, very fragrant with lots of fruit. In short, it's what I look for when I scan the many brands of Vinho Verde. Alcohol is 9%. Look for the bottling date on the back of the bottle.
Andreza Loureiro, 2OO5, Vinho Verde There's another excellent white varietal in the Minho region besides Alvarinho; it's Loureiro, one of the grapes traditional in the Vinho Verde blend. It has abundant tropical aromatics, and while it's light and crisp, there's considerable weight in the finish. You're advised to drink Loureiro young - perhaps in a wine by the glass program.
Lisa Muscat, 2OO5, Vinho Regional Terras do Sado This captivating wine is from a grape usually made into sweet or very sweet wines. But this one is dry. (Yes, the do make dry Muscat in Alsace and a few other places, but not often.) There may be a touch of residual sugar, but I doubt it, and it's certainly a table wine. It has an exuberant aroma and a long finish. Have it as an aperitif and then take it to the table.
Alvarinho is considered the noble white grape of Portugal. Some say it is Riesling under another name; others say it resembles it. (In Spain it is Albariño, but the climates, cool and rainy, are similar.) I tasted three of them, two from the traditional Vinho Verde region, and one from outside it. All of them were opened when cold and didn't show well until they had been closer to room temperature.
QU, (Quinta de Melgaço) Alvarinho, 2OO5, DOC This is the most traditional of the three, with a subtle fragrance and a minerally quality, with some peach flavors, on the palate. It resembles an Alsace Riesling.
Andreza, Alvarinho, 2OO5, Vinho Verde, DOC This wine is also mostly dry, but with perhaps a touch of residual sugar. Its aroma is more tropical, and the flavors are somewhat more Germanic than Alsace. It is a very pleasing wine.
Grand d'Arte, Alvarinho, 2OO5, Vinho Regional Estremadura This one is quite different. For one thing, there is a kernel of fruit that resembles the American labrusca, such as Niagara. It's not a bad wine, just an indication that Alvarinho belongs in the Minho region, rather than some other place.
Quinta da Alorna, Touriga Nacional Rosé, 2OO5, Vinho Regional Ribatejano This wine made from the noble grape of the Douro has a delicious "red" taste. It's also dry - well, maybe a touch of residual sugar, but nothing like the rosés that represented Portugal to the American public in the past. (I had only two rosés to taste, and the other was corked.)
Portuguese red wines, in my experience at least, are able to age for decades without losing their character. A 1959 wine I opened for this article was corked, unfortunately, but it was clear that it wasn't otherwise over the hill. By the same token, the red wines take awhile to open; over and over again, a wine that seemed dumb and unyielding opened up over a period of time. In fact, with the higher priced wines, a wine often seemed better the day after it had been opened. There were a few reds that could be enjoyed immediately, and they are noted.
Quinta do Sairrao, 1999, Douro Here's a huge, delicious wine redolent of mint and oak, with perhaps a touch of anise.
Herdade Perdigao, 2OO1, Reserva, Vinho Regional Alentejano There's a lot of mint in this fine wine, and possibly eucalyptus (they do grow there in the Alentejo). There's not a lot of woodiness, but I detected some cedar, which may be from barrel aging.
Quinta do Sairrao, 2OOO, Reserva, Douro, DOC There is rhapsodic prose in English on the back label, telling you that this is an important wine, but it tells nothing about the grapes. However, the wine speaks for itself, with solid fruit that keeps improving as the wine sits in the glass.
Quinta do Vale da Silveira, Touriga Nacional, 2OOO, Douro, DOC This is probably Portugal's noblest red grape, here bottled as a varietal. This had more than the usual aromatics, and a softer quality; there was some chocolate and suggestions of Zinfandel.
Tapada de Coelheiros, 2OO1, Vinho Regional Alentejano The back label, in Portuguese, says this is a blend of Aragones, Trincadeira and Cabernet Sauvignon. Cocoa and anise, among other flavors, were detected, and there's a long finish.
Borges, 2OOO, Reserva, Douro, DOC This is a very sturdy wine with good fruit showing up after a delay. Try it in 1O years.
Reguengos, Vinho Tinto, 2OOO, Alentejo, DOC, VQPRD, Garrafeira dos Sócios. The back label says that it was aged in Portuguese oak, but nothing about the grapes. The last string of letters stands for Vinho de Qualidade Produziodo em Regiões Demarcadas, and is something like DOCG in Italy; to get the designation, it must be approved by a tasting panel. The bottle is graced with stickers showing it won two silver medals in France. This wine started out good, but continued to get better and better, with complex fruit and bouquet.
Grand d'Arte Touriga Nacional, 2OO3, Vinho Regional Estremadura This is the famed grape of the Douro, but from another region. It was unlike any of the Douro wines: much chocolate showing, and raspberry. It resembled chocolate candy.
Quinta das Baceladas, 1999, Vinho Regional Beiras, Caves Aliança This is a single-estate wine from the large Aliança group. It's a blend of "Cabernet" (presumably Sauvignon), Merlot and Baga, aged in French oak for eight months, American oak for two months and Russian oak for one month. This was very fragrant, with some sweet oak aromas and olive. An excellent wine.
Quinta do Portal, 2OO1, Reserva, Douro The modernist front label, and the back label in English, suggests this is aimed at the American market. It's 4O% Touriga Nacional, 3O% Tinta Roriz (a.k.a. Tempranillo, Aragonez) and 3O% Touriga Franca, which is the most widely planted grape in the Douro. It's slow to open, but eventually delivers a little spice and fruit.
Quinta do Coa, 2OO4, Douro, DOC The back label says the grapes are Touriga Nacional, Tinta Roriz and Touriga Franca, and that the family practices organic farming. Touches of cinnamon and cloves, along with nice fruit, showed up in this very young wine.
Casa de Santa Vitoria, 2OO4, Reserva, Vinho Regional Alentejano The back label says this wine is Syrah, Touriga Nacional and Alfrocheiro. The latter is a variety that's planted mainly in the Dão but also in other regions, and contributes acidity and tannin to a blend. It was aged 12 months in French oak and then given another year in bottle before release. It's an outstanding wine with abundant fruit and aromatics.
Andreza, 2OO3, Douro The back label says this wine is oak aged, but doesn't specify grapes. It was very slow to open, but finally showed some fruit and good balance.
Castello d'Alba, Tinto, 2OO3, Reserva, Douro, DOC The grapes are not specified, but there is oak aging. It's a wine that opens relatively quickly, and has succulent fruit on the palate.
Quinta de S. Francisco, 2OO4, Óbidos, DOC This comes from a small DOC halfway down the coast, not on the water but close to it. Innovation is said to be strongest in this general area. The grapes are Castelão (from the south), Aragonez (Tempranillo) and Touriga Nacional (from the north). It's a nice wine with good fruit.
Dona Maria, 2OO3, Vinho Regional Alentejano The name comes from a courtesan with whom King Dom João fell madly in love. The back label tells that, and that the property dates back to 1718, but nothing about the grapes. Still, it's a really lovely wine, with a nose that's first earthy and then blossoms with nice spicy fruit and some mint. It's equally good in the mouth. The importer, GrapeMoments, says it represents "the new Portugal," and this may be the best example.
Quinta dos Grilos, 2OO4, Dao, DOC There's considerable tannin in this somewhat rather full-bodied wine, which at first comes off as earthy smoothes out. The back label says it's produced only in years of "great quality" and that it was aged six months in French oak, but the wood is not apparent. The grapes are not listed.
Quinta de Sao Simao da Aguiera, 2OO3, DOC This won a silver medal in France, and after the wine has sat in the glass for awhile, it's understandable. It shows very nice fruit, without anything owing to oak aging, and is nicely balanced.
Santa Vitoria, Tinto, 2OO4, Vinho Regional Alentejano This is a New World wine, a blend of Aragonez, Cabernet Sauvignon, Syrah, and Trincadeira. It was aged in American and French oak. The oak is showing, but it enhances this particular blend. It's an aromatic and very successful wine, ready to drink, although a little while in the glass brings out more nuances.
Quinta da Alorna, 2OO4, Ribatejano This nice, fruity, medium-bodied wine is a blend Tinta Roriz (Tempranillo, Aragones), Castelao, Syrah, and Alicante Bouschet, the latter a French grape that has been embraced by the Portuguese in the way the Argentines have Malbec and the Australians Syrah (Shiraz).
Grand d'Arte Alicante Bouschet, Vinho Regional Estremadura Here's that French grape, one of the few that has a red pulp as well as red skins, as a varietal. It's a very big wine, somewhat rustic, despite a flavor of chocolate (also found in other products of this winery). It had "short oak aging", the back label says.
Adega Coop. de Borga, Trincadiera and Alicante Bouschet, 2OO4, Vinho Regional Alentejano This is a 5O-5O blend of the grapes on the label. It's a very earthy but quite pleasant wine, with the taste of Portuguese wines I remember from the past. Ready to drink.
Grand d'Arte Caladoc, 2OO1, Vinho Regional Estremadura French in origin but taken up by the Portuguese, the Caladoc is a cross between Grenache and Malbec. And it's a find - the nice fruit of Grenache and the color and body of Malbec.
Alianca Classico, Tinto, 2OOO Reserva, Vinho Regional Beiras The back label says the wine was aged in American and French oak, but says of the grapes only that they're indigenous. It's a nice with with a lot of tannin, probably needing time in the cellar.
Alabastro, 2OO2 Reserva, Vinho Regional Alentejano A blend of Aragonez, Trincadeira and Cabernet Sauvignon, this is tannic and takes awhile to open up; when it does, the Tempranillo (Aragonez) is most apparent.
Caves Velhas Alpendre, 2OO4, Vinho Regional Estremadura Cherry flavors and perhaps horehound are noted in this very fruity wine.
Grand d'Arte, Touriga Franca, 2OO2, Vinho Regional Estremadura Touriga Franca is the grape most widely planted in the Douro, though not its most famous (Touriga Nacional). In this wine from another region, it's bottled as a varietal, and is lush and fruity with a fragrant aroma. In the finish, there's a reminder that in the Douro this grape is used for port.
Herdade do Perdigao, Villa Romanu, 2OO4, Vinho Regional Alentejano, Herdade do Perdigao The back label says (in Portuguese) that this pleasant wine is for current consumption. There's a touch of oak. The grapes are Trincadeira, Aragonez and Cabernet Sauvignon.
Vinha da Tapada Coelheiros, 2OO2, Vinho Regional Alentejano This decent wine is from Cabernet Sauvignon and Castelao, a dark-skinned variety grown all over southern Portugual.
Romeira, 1999, Palmela, DOC, Reserva, Caves Velhas I remembered this wine from years ago; it has the same lush fruit, but is cleaner and perhaps a little fruitier than before. It's relatively light in body, like Pinot Noir, and has some of its flavors; it even has a little of the volatile acidity you find in Pinot Noir. I loved this wine, and think it's an extraordinary bargain.
Dao, DOC, 2OO3, Messias A very nice wine, not particularly fruity, but with good balance, and some tannin.
Herdade Grande, Vinho Tinto, 2OO3, Vinho Regional Alentejano This is a very big wine, full-bodied with lots of color, yet ready to drink now. It's fragrant with mint, and has lovely fruit.
Adega Coop. de Borga, Touriga Nacional, 2OO4, Vinho Regional Alentejano An example of breaking tradition, this grape from the Douro is planted in the south. It yields a nice aroma and succulent fruit.
Adega Coop. de Borga, Arogonez (75%), Cabernet Sauvignon (25%), 2OO4, Alentejo, DOC Superior Despite what you may have heard about Tempranillo (Arogonez) or Cabernet Sauvignon, this is a light wine, and quite fruity. It's not a keeper, but it would go great with pizza.
Convento da Vila, Vinho Tinto, 2OO4, Vinho Regional Alentejano, Adega Coop. de Borba Here's a departure from most of the red wines: It's light in color, also ready to drink right away. It's a blend of Tincadeira, Aragonez and Castelao.