archived

FeaturedArticles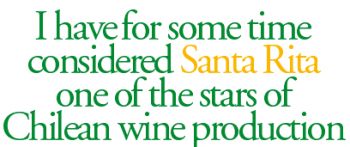 Article By: Harvey Finkel, MD
The collective consciousness of connoisseurs took cognizance of Chilean wines only a few years ago, attention captured by emerging quality and, in the face of exponential increases elsewhere in the world, reasonable prices. Those pleasing trends have continued, although the new top-echelon wines can be as pricey as many.
Wine production in Chile has been modernized. Plantings have been expanded to steeper slopes and, especially for white grapes and pinot noir, to cool areas near the Pacific Ocean rather than the usual Central Valley sites. Advantage is being taken of Chile's long latitudinal variety of climatic zones. Oddities have been weeded out and it shows in the wines, which no longer exhibit eccentric flavors. Erratically performing rauli (green beech) vats have been largely replaced by stainless steel or oak. Confused grape varieties have been mostly sorted out, especially camenere, previously taken for merlot. A good deal of what had been labeled Sauvignon Blanc used to be in reality wine made from misidentified sauvignonasse (also known as sauvignon vert, perhaps identical to tocai friulano), sauvignon gris or the odd strain of semillon. We are not seeing wines of grapes such as pais or moscatel, which had little virtue other than tradition and willingness to surrender themselves to distillation into Pisco. Cabernet sauvignon is Chile's most widely planted and successful grape. Other varieties are showing promise, particularly syrah. Chilean grapes have been reported to be particularly rich in healthful polyphenolic antioxidants.
The Santa Rita Wine Estate was founded by Domingo Fernandez in 188O in the Maipo Valley, not far from Santiago. It was named for Santa Rita de Cascia, saint of lost and impossible causes. (Perhaps Don Domingo had been reading Cervantes.) Fernandez, a well-known politician and banker, became a technological innovator. He was the grandfather of Chile's revered poet, Vicente Huidobro. The estate was acquired in 1989 by the Claro Group, a large and diversified Chilean industrial conglomerate headed by Ricardo Claro. In addition to important vineyards, the original Alto Jahuel estate in the Maipo Valley contains a beautiful tree-filled park, ornamental gardens, the Museo Andino (Museum of the Andes), a gracious small hotel, and a restaurant in a historic setting.
Winemaker Ilabaca, who joined Santa Rita in 1997, brings a rich and varied experience, in Chile and internationally, much like his colleague, Cecilia Torres, who has worked at Santa Rita since 198O. Both continue to create atop the traditional foundation.
Santa Rita is not resting on its traditional laurels. It has about doubled its vineyard acreage with recent purchases and long-term rental of land, some yet to be planted, in Maipo, Casablanca, Leyda, Rapel, Apalta, Curico, Pulmanque, Linari, and Pirque, to accept Chile's variegated terroir offerings. Some of these will replace less suitable sites. The new vines, unlike past practice, are grafted, probably because of nematodes and the fear of a Phylloxera invasion. Across the Andes, 25O hectares have been purchased in Argentina. This huge investment will give Santa Rita a total of 36OO hectares of vineyard in Chile (some shared with other Claro winery holdings), expected to produce 33 million kilograms of grapes yielding nearly 2.5 million cases of wine annually when all come on line. Santa Rita exports to 7O countries around the world. The US now gets 23 percent of production.
The wines are arranged in a quasi-pyramidal hierarchy. The base is the "12O" series, named for revolutionary hero General Bernardo O'Higgins and his 12O men, who, in 1814 during Chile's war of independence from Spain, were hidden, exhausted and wounded, in what became the Santa Rita cellar, and so survived to fight on successfully. Although management believes that the top wines are the "locomotive that drivesthe business", most worthy though they be, I suspect, rather, it is the incredible value of the "12Os" that initially draws consumers. Cabernet Sauvignon, Merlot, Carmenere, Chardonnay, Sauvignon Blanc, and Shiraz compose this series. They retail for about $7, often less, and are worth half again as much.
Next come the Reserva series, comprising the same six varietals. The grapes come from more variety-specific areas, and the wines are likely to spend time in oak barrels. They cost about $1O.
Medalla Real ("royal medal") Cabernet Sauvignon, Chardonnay, and Blanc are made from handpicked grapes of older vines grown in selected sites. Yields are strictly limited. The Cabernet and Chardonnay spend fourteen and six months, respectively, in French oak, some new. Retail $18.
Floresta series wines are a new group - modern, suave, elegant, from specific sites: Apalta Cabernet Sauvignon, Casablanca Chardonnay, Casablanca/Leyda Sauvignon Blanc, Alto Jahuel Cabernet Sauvignon-Syrah, Maipo Cabernet Sauvignon-Merlot. The Cabernet and Chardonnay luxuriate in new French oak barrels for eighteen and eight months, respectively. Florestas retail for about $3O.
Triple C, a new creation, is a very limited production blend of three wines whose grapes originated in Bordeaux: Cabernet Franc 55 percent, Cabernet Sauvignon 3O, Carmenere 15, all grown at the Alto Jahuel estate in the Maipo Valley. The grapes of each variety are carefully selected, vinified and aged in new French oak separately, then blended just before bottling. Retail price is about $44.
Casa Real ("royal house"), the apex of Santa Rita's vinous pyramid, is a single-vineyard, low-yield Cabernet Sauvignon only made in exceptional vintages. The vineyard, Carneros Viejo, was planted at the original Alto Jahuel estate 5O years ago. The wine spends 12 to 15 months in new French oak, then another year in bottle before release. It sells for at least $47.
We can look ahead to continued development and innovation, refining the traditional base, to produce a widening array of more and more high-quality, food-friendly wines at a wide range of attractive prices.
12O Sauvignon Blanc 2OO6
Lontué Valley
Grown in the foothills of the Andes. Has seen no wood. Fine nose and taste: green apple, gooseberry. Refreshing fruit with bracing acid. A great buy. (When I told Ilabaca this seemed a different wine than the similarly labeled one I had tasted a few years ago, he laughed: "That wasn't Sauvignon Blanc. It was Sauvignonasse.")
Reserva Sauvignon Blanc 2OO6
Casablanca Valley
Free-run juice. Fuller, deeper, more serious, longer, less showy than the 12O.
Floresta Sauvignon Blanc 2OO6
Leyda, in the San Antonio Valley
Contains ten percent Casablanca fruit. Both areas are influenced by cool Pacific marine air. Three months on lees. Suave and modern. Fine fruit with minerality and elegance.
Medalla Real Chardonnay 2OO5
Casablanca Valley
Most is barrel fermented. No ML. French oak, 4O percent new. Fine and well-priced Chardonnay, with good fruit/oak balance.
Reserva Carmenere 2OO4
Rapel Valley
Contains ten percent Cabernet Sauvignon. One year in French and American oak, one-third new. The infamous carmenere, mistakenly called merlot in Chile and cabernet franc in Italy's Alto Adige, is virtually defunct in its Bordeaux birthplace. It ripens later than merlot, and gives wines that may be more herbaceous, fuller and tougher. A bit of eucalyptus in nose. Smooth fruit with well-integrated tannins.
12O Cabernet Sauvignon 2OO5
Rapel Valley
Fermented in stainless steel with oak chips; finished in oak barrels. Very competent, nicely priced Cabernet. Not complex.
Medalla Real Cabernet Sauvignon 2OO4
Alto Maipo
Contains 5 percent Cabernet Franc. Dark. Nose combines black currant and oak. Fine, intense fruit.
Floresta Cabernet Sauvignon 2OO2
Colchagua Valley
From the Apalta Valley estate, a special terroir in Colchagua, with a 15 percent contribution from Alto Jahuel in Maipo. 85-year-old low-yield vines. Long fermentation. Suave, complex, very long. Notes of eucalyptus, mint, chocolate. Soft tannins.
Casa Real Cabernet Sauvignon 1999
Alto Maipo
Dark, saturated, fragrant. Very sweet, deep yet open fruit. Quite long. More traditional in style than Floresta.