archived

FeaturedArticles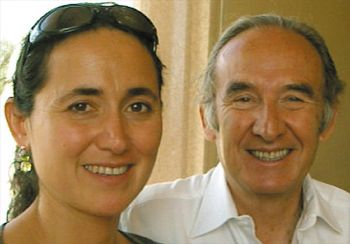 Article By: Fred Bouchard
NICOLAS and LAURA CATENA • 7O/38 • Owner/Export Manager • Catena Zapata Winery, Mendoza, Argentina
Father and daughter teams are old hat in American wineries (think Mike and Violet Grgich, David and Kim Stare, even grandpa Julio and Gina Gallo) but they are something rare and wonderful in Argentina. Nicolas and Laura Catena have forged a special intercontinental father-daughter relationship around wine and education. This double interview with father and daughter took place at the family's architecturally breathtaking winery (structured like an Aztec ziggurat) after a lunch featuring a most impressive wine portfolio. Visits to Mendoza via Alfredo Bartolomeus of Billington Imports have introduced many North American journalists to the Catenas and other distinguished Mendocino winemakers. Catena's flagship wine, Nicolas Catena Zapata, consistently outclassed in many blind tastings several prestigious 1997s: Opus One, Caymus, Chateau Latour, Chateau Haut Brion, and Solaia. At lower price points, Catena's Los Alamos line delivers quality Mendoza wines very affordably.
A NEW NAPA? LAURA Traveling is important work. Customers want to meet you. Dad has traveled to Asia, and I'm based in California with family and medical career, but we sure like it when people want to come down here. Argentine tourism has really exploded. Some Americans have set up a business near the Park Hyatt Hotel in Mendoza that offer Americans lots and a house so they can set up their own vineyards for a lot less than they could in the States. I'm amazed at how much they spend on their wineries, and that they're interested only in producing small quantities of high-end wine. Mendoza could be the New Napa! We Mendocinos in the wine world see this as a positive thing. Many of Mendoza's larger wineries are owned by non-Argentine interests; we're one of the few wholly owned by an Argentine family. Credit is not easy to come by in Argentina, given recent economic downturns; it's hard for an Argentine to start a winery from scratch. We've paid for our expansions almost strictly through wine sales. The attitude of Argentine wineries is cooperative; our #1 impetus is to get Argentina into the spotlight. We'll all do better when that happens. We're trying to get groups down here to visit, tour, taste, and write about our wines, our country.
ITALIAN ROOTS NICOLAS My grandfather from Le Marche [Adriatic Italy] planted his first Mendoza vineyard in 19O2. My father was next, then I got involved in 1964. I was literally born in a vineyard, about 4O kilometers southeast of here. The Italian work ethic includes children, so I started working the vineyard when I was ten, when the important grapes were Bonarda and a clone of Chenin Blanc. Later I studied economics in Buenos Aires and at Columbia University. To stay involved in the winery, I commuted between New York and Buenos Aires. Back then the trip took 24 hours. Mendoza winemakers followed the traditions of immigrants from Italy, Spain and Portugal. Those wines in the 198Os were usually oxidized and spoiled, but once they did research, they made significant improvements in their wines, about 1O years before we did.
COLD DOWN SOUTH LAURA South of here old-vine growers in tiny vineyards began working closely with our winemakers. We soon purchased parcels we call Adriana and Altamira, southerly vineyards colder than Mendoza and dramatically beautiful, as you're right at the foot of the high Andes. The grapes are rich in aromatics and lush on the palate, Malbec being particularly impressive. We now think that our Malbec ages as good or better than Cabernet Sauvignon, and retains better fruit freshness. Our 'alta seleccion' includes wines from our five major vineyards: Angelica [West Mendoza, 29OO ft.]; Uxmal [Agrelo, 31OO ft.], Domingo [Villa Bastias, 37OO ft.], Adrianna [Tupungato, 5OOO ft.], and Altamira [La Consulta, 39OO ft.]. All are drip irrigated, except Angelica, where we still use flood irrigation: the 8O-year-old vineyard is so used to it that a change might kill the vines.
CAREER MOVES NICOLAS Because Argentina had suffered from extreme inflation for over forty years, I had become an expert on inflation theory. So Berkeley College invited me to lecture and teach in the agriculture and economics departments. On weekends, Laura and I explored Napa Valley, which was undergoing a revolution, taking on the majestic French wine industry. They were making Cabernet Sauvignon that could be better than grand cru Bordeaux, and Chardonnay that could be better than Le Montrachet! I went there for an intellectual purpose, but came away with an inspiration for business.
CALIFORNIA CONNECTIONS LAURA My father was a visiting professor at Berkeley so my parents came to California when I was a teenager. It was there that I decided to become a doctor, but I always kept an interest in wine - I won't tell how we got me a fake ID from Argentina. When Dad came to visit me at college, he'd tell me about his wine business, and I'd tell him about medical school. At one point, he offered me the job of training salespeople - a big responsibility, but I accepted. After Kendall Jackson started consulting for us in Mendoza, Dad spent three years perfecting Malbec but he was not sure it was good enough so he wanted me to try to launch it in US. I decided I had to give him more help. But like with any family operation - even setting a table! - everyone has a hand in the details.
HIGH AND DRY NICOLAS Our terroir and climate are quite different from other world wine regions: we're at high altitude and receive less than 2OOmm of rain a year. These factors influence both phenolic and aromatic components of any wine, white or red, but Malbec is especially sensitive to these conditions. I developed a great admiration for America, and learned much about wine to practice at my family winery, though I did no formal enological studies in California.
WINE MEMORIES LAURA When I was about five or six, my nonno [grandfather] would give me a little malbec mixed with soda water. When I was at Berkeley in the 198Os and my father came to visit, I was in charge of buying the wines. I had a no-limit credit card for emergencies - or any wine I wanted to try with him! In my dorm, we'd taste wonderful wines - like Vega Sicilia Unico - with pizza. Little by little I got more involved with wine work. If he liked it, he'd bring it back to Argentina, because we had no access to fine wines at that time. It was important for his winemakers to taste great wines.
SOLVING WATER RIGHTS NICOLAS We Mendocinos were very sophisticated in the legal aspects of the property rights of who owns the water. Our legal system is fantastic! The man who developed water rights legislation in Argentina, Professor Carlo, was an extremely bright man. For sure, countries like India would do well to look at our eminently fair system, because we have no problems with water rights. Today, in terms of what nature gives us, we do have some years when water is scarce. In those years, there must be some regulations whereby total production decreases but quality increases. Yet over the last ten years, we have not experienced that scarcity; we don't know why. LAURA Maybe global warming? NICOLAS Since we've become quality conscious and regulate watering with drip irrigation, nature has been sufficient for Mendoza's current vineyards, and can even support more plantings.
GREAT TOOL NICOLAS Gas chromatography has allowed us to classify clones and theoretically produce the best plants. At the end of the day, your decision is based on taste, but this instrument helps greatly. LAURA Gas chromatography helps us figure out whether we can concentrate tannins by decreasing water and reducing yields by letting us look at the wine's polymerized tannins. In the old days we'd have to run lots of trials, and ultimately test with the palate, which can be very biased. Being able to measure what we do in the vineyard is valuable, because we're still trying to understand our unique terroir. Paul Hobbs recommended letting sunlight into the vineyard, but we found we must be careful with excessive sunlight here, especially with Cabernet Sauvignon. We have to try tests used elsewhere with our own special Mendoza twist, so having such reliable yardsticks is useful.
WINEMAKER'S STRENGTHS NICOLAS First, for me, is taste, that is, being able to distinguish flavor and aromatic components. Second, is attention to the process of the vine and what you can do to improve it. Third is the ability to communicate well with the vineyard manager. LAURA #1 is to have an interest in the vineyard, not just the winery, and to be demanding of the vineyard manager. #2 is to be calm. Wine has many different stages, and sometimes it may taste a little strange. A winemaker who wants to control every situation might want to add things to the wine. But wine actually needs to take on a life of its own. And it is hard to find an intelligent, vibrant person who is also patient.
WORST MISTAKE NICOLAS When I started my winery improvement program, I didn't pay attention to my father. Our family winery was Italian and Spanish oriented. But when I went to California, I started to think about international standards of quality. Napa was trying to compete with the world's best! France was God! You could never think of being God! Yet Robert Mondavi and the Napa Valley people dared to challenge the gods. I was shocked. So, my inspiration was Napa. I tried to imitate Napa in Mendoza. I wanted to take part in the challenge. I tried to produce a great Cabernet Sauvignon and a great Chardonnay - like California. Malbec had no relevance for me. My father said: "Okay, Nico, make your world-class wines. But, would you please try to make great Malbec, too? For me?" So, only because I loved my father, and wanted to please his memory, I also worked on Malbec. This is absolutely true. We began all the research needed to understand and produce a great wine from this practically unknown varietal. It was a very long process, because nobody knew how to do it. And I produced my first world-class Malbec in 1997.
MUST READS NICOLAS Maynard Amerine's Wine and Philip Wagner's Grapes Into Wine!. I can repeat chapters of those books. LAURA Andrea Immer's book explains cool climate aromatics in a way that's easy to pass along to consumers. I'm a big fan of Jancis Robinson's Encyclopedia and refer to it almost daily like a dictionary.
BEST TRIP NICOLAS In 1986 I organized my first trip to Bordeaux to include the five Premier Grand Cru Classes. My connections were so good that I tasted what I wanted! LAURA I was at Berkeley, about 18, studying French literature. Dad said, "Why don't you come along as my translator?" We stayed with Jacques Lurton at La Louviere and met his family. We went to Paris and drank great French wine. After the trip I said to him, "I still want to be a doctor, but this wine thing is quite fun!" Five years later I started working for the winery! Another wonderful trip was my honeymoon to South Africa in 1996. It was inspirational to see another new world country with a very long wine tradition and tremendous enthusiasm. I feel we share a subequatorial sister spirit.