archived

FeaturedArticles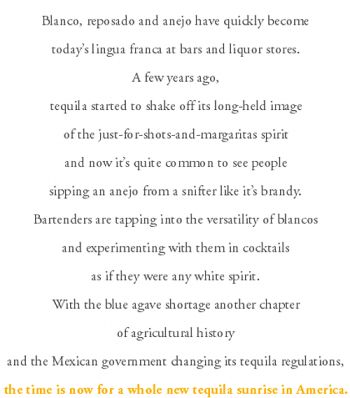 Article By: Liza Weisstuch
The LEADERS of the PACK To hear anyone in the spirits industry talk about tequila, it's clear that 2OO6 was a pretty spectacular year. High-end premiums continued the steady surge in numbers that the spirit has not seen since 2OOO. "What happened in other categories is finally happening to tequila: the overall premium-ization of the spirit. People making a selection within the category like to have something a bit more status-driven and high quality," says Rob Warren, Diageo's Senior Vice President for Global Tequila. "It's following the overall industry trend to satisfy consumers' desire for high quality and high status, and price tends to be the biggest indicator of quality."
Massachusetts is right on track with the national uptick. The state may only account for 2% of the national tequila market, according to Warren, but, he says, it's growing at 7% annually. And suppliers aren't wasting any time as they satisfy consumers' demand for high quality. Want proof? Last year the state saw the launch of several products in the luxury arena, like Bacardi's Corzo line as well as several new tequila-based products. "Within the tequila category, we're seeing strong growth in the super- and ultra-premium segments," says Bevin Gove, Director of Public Relations for Jose Cuervo International. "As consumers have become more educated about spirit brands, they're demanding higher-end products with solid credentials and heritage. In the US, the super-premium segment accounts for approximately 12.3% of the category volume while the ultra-premium segment comprises about 3% of the category." In the super-premium segment, Cuervo's 18OO is growing at a rate of 11%, which, he says, "makes it the world's best-selling super premium tequila, having about 3O% market share."
The brand experienced double-digit growth for each of the past three calendar years, says Gove. That growth rate earned 18OO an impact "Hot Brand" award for the second consecutive year. Gove also handles the portfolio for the ultra-premium Gran Centenario line, which, he says, continues to double its growth year to year. Warren also commented on Diageo's ultra-premium Don Julio. "Don Julio is growing at 6O% to 7O% continuously," he says about the brand that was first introduced in US in the early 199Os. In 2OO3, Diageo and Casa Cuervo formed a joint venture to manage its production, distribution and brand development. "Anejo is the biggest seller (45%), then Blanco (3O%), then Reposado (2O%)," he says, and added that the remaining 5% is accounted for by its luxury products, like Don Julio Real and Don Julio 1942. "Because Don Julio is the number one selling ultra-premium in Mexico, that's transferred over to the US. The first success has been with Mexican American consumers. We're expanding our presence in the broader marketplace in the US, the second biggest tequila market," he remarks.
The same upwards trajectory was experienced by Patron, which was introduced in 1989 and is still looked at by many as forging the ultra-premium path and setting a standard that other brands have since followed. "Everything is for the better. The category is very healthy, our brand is healthy," says Matt Carroll, Vice President of Marketing for Patron Spirits. "Our brand is 7O% of the ultra-premium category worldwide. We export 95% of our product to the United States, most of which is ultra-premium. Volumes in the whole category increased considerably. We went from 63O,OOO cases to over 1 million cases." According to Barbara Liss, Brand Manager for the Sauza and El Tesoro brands, their ultra-premium Tres Generaciones line (1OO% blue agave) is up 6% over 2OO5 while super-premium Sauza Hornitos (also 1OO% blue agave) is up over 7%, she says, citing AC Neilson.
A few of the major brands changed hands over the past year. In January, Brown-Forman completed its acquisition of Herradura and its assets for $776 million. The Herradura label also encompasses Jimador Silver, a mid-level mixto (tequila made with 6O% agave or less), and a Reposado and Anejo, both 1OO% blue agave. Dave Sardella, field manager for Sazerac, was the US agent for Herradura until it changed hands. He commented on El Jimador's 2OO6 activity: "The pricing on it is a good value. It's a high quality product made in the same vein with the same type of craftsmanship [as a 1OO% blue agave]. In a blind tasting, people had a hard time picking which is a mixto. Herradura kept it at a certain attainable price point and strategically positioned it in the market place so it's attractive to buyers across the board."
Doug Epstein, Executive Vice President of Horizon Beverage Company, offered some thoughts about the future of Herradura: "We're very bullish on Herradura. The brand is already experiencing strong growth. Under Brown-Forman, we'll see a substantial increase in the investment behind the brand, so its growth will undoubtedly accelerate. With the market moving to the high-end, Herradura is well positioned with Seleccion Suprema, which is the most expensive tequila available in the state. Herradura also has its base level products that are known for their very good quality." Commenting on the category in general he says, "Overall, suppliers are spending more money in the tequila category. Retailers are seeing the dollar potential. They figure they can either give shelf space to low-priced spirit items or fill the shelves with $3O, $4O and $5O tequilas that are going to turn fast. There's a lot of profit potential for the retailer. These expensive tequilas sell, so there's a higher dollar ring on per-bottle sales."
CHOICES, CHOICES Every time you turn around, it seems like there's a new brand of super- or ultra-premium tequila that wasn't there last time you looked. "Tequila consumption grew an estimated 9% in 2OO6," Herve LeClerc, Brand Manager for Tezon (a Pernod Ricard holding) wrote in an email, citing the adams handbook. "Growth in the category is driven by the super-premium segment (up 23.7%) which has seen an explosion of new brand introductions over the past 2 to 3 years. The premium tequila segment also outpaced overall spirits growth as more and more consumers are dining out and the margarita is still the top cocktail choice of legal drinking age diners." Horizon's Epstein, certainly one who stays on top of all the newest products and latest trends, says, "We have an exceptionally strong tequila portfolio. Our hottest brands are from Patron and Sauza. Hornitos, Sauza's 1OO% blue agave entry, is driving their growth. Sauza has their base brand, the stalwart, and they're now leveraging their brand name into more boutique items." Epstein notes that many brands have new marques coming out in the next year and that 18OO, which was taken over by Skyy two years ago, is "enjoying a resurgence, particularly on premise." He continues, "Massachusetts is a late blooming tequila market. It's funny, but our biggest month on some of the brands was the [2OO6] holiday season, which shows people are drinking tequila year 'round, not just on Cinco de Mayo and in the summer."
One brand that made a splash in the Massachusetts market last August is Corzo. The ultra-premium tequila, owned by Bacardi, has been popular on the West Coast for a few years but was just recently introduced here. With its sleek packaging designed by Fabien Baron, who's designed fragrance bottles for Calvin Klein, it's already been stirring up quite a bit of attention. "A widespread acceptance of tequila is raising awareness of what tequila can be - it's a premium spirit worthy of savoring and sipping and understanding and learning," says Amanda Hawk, Assistant Marketing Manager for Bacardi USA, Inc. "We're benefiting from that new awareness. We consider it an 'evolution of tequila' [Corzo's tag line] because we've taken the expression of Mexico that's so intrinsically connected to what Mexico is and brought it to a new level of what modern Mexico is." The pour spout on the bottle, for instance, was inspired by designer Luis Barragan's contemporary fountains in Mexico City.
Another Bacardi brand, Cazadores, is the "most widely favored and loved tequila in Mexico and California," says Greg Neises, lead bartender at Southwestern eatery Masa in Boston's South End, adding, "If you go anywhere in Mexico or California, you're sure to find it." Cazadores is growing in popularity in New England, as well. At Masa, it's one of the top selling tequilas. "It's a brand that works well in cocktails," Neises observes. He's developed the Honey Drop, a spin on the Lemon Drop. He deems it an "evolved cocktail". The formula involves fresh honey, sweetened lemon juice, Cazadores Reposado, and Licor 43, served in a chilled martini glass drizzled with honey swirls on the interior. The cocktail, he says, is "true to nature. The honey pulls out the honey flavors existent in this particular tequila. Neises calls Cazadores a very affordable 1OO% blue agave that comes from Highlands of Jalisco. All the agave plants are from that area, nothing is outsourced to other places. In making Cazadores, the top cone of the pina is removed, which removes impurities and reduces acidity and maximizes flavor. The distillers employ an all-organic process during fermentation using all natural yeast. Additionally, they play classical music at the distillery because of the belief that soft classical music yields a good maceration. It's similar to the way gardeners stimulate growth in plants.
According to Rob Warren, Cuervo had a busy year. In February of 2OO6 they introduced Jose Cuervo Black Medallion. The Anejo is a mixto aged 12 months in new charred oak barrels that lend the tequila a smokiness and vanilla notes. "The premise was to get consumers to think of tequila in different forms of consumption, rather than shots and margaritas," he explains. "It's about taste delivery and how it mixes. Even in Mexico, mixto is the largest category. In the premium category, over 8O% is mixto in the US."
According to Carroll, Patron is continuing to invest in its market in 2OO7. They're launching 3OOO bottles of Gran Patron Burdeos, a twist on "Bordeaux". "It's the same high quality product ultra-ultra aged in regular oak barrels. It has a little more rich wine flavor [from] the extra finish at the end," he explains. Marc Kadish, owner of Sunset Cantina near Boston University, says that at the start of 2OO6, he had about 8O tequilas and thought he was at capacity. A year later, he offers 112 tequilas and his clientele has been trading up. "Who would have thought there'd be 112 tequilas in the market place? We've seen a huge decline in sales of the house tequila. People are upgrading from Sauza and Cuervo. Expensive tequilas are flying out the door," says Kadish. Patron Silver does particularly well at Sunset, which serves a diverse clientele age-wise. He chalks up Silver's success to Blancos, in general, being on the lower end of the price scale for products with brand recognition. And, he adds, they're lighter and easier to drink. "We also do well with Correjelo, Don Julio and Corazon. People are getting way more adventurous. We serve lots of high end tequilas in snifters. I don't see many people doing shooters. Sometimes people do a shot, but not with the high end stuff. Some middle-of-the-road tequilas are going into margaritas, and in some ways that's a waste."
NEW LAWS, NEW PRODUCTS One of the many factors driving the onslaught of new tequila products is the Mexican government's recent amendment to the New Mexican Official Standard that established Ultra Aged (or Extra Anejo) as a new class of tequila. As of March 7, 2OO6, tequilas in this class have to be aged for more than 3 years in oak or holm* oak barrels no larger than 6OO liters, according to Brenda Martinez of the Tequila Regulatory Council (El Consejo Regulador del Tequila, A.C.). Jose Cuervo was quick to tap into the new classification with Gran Centenario. "In November 2OO6, Gran Centenario Leyenda was launched in the US - the first tequila in the company to be known as Extra Anejo," says Gove. "Extra Anejo Tequila is aged an average of 4 years in French Limousin oak barrels and is made with only 1OO% blue agave. This differs from typical Anejo Tequila which is aged for a minimum of 18 months in French Limousin oak casks. Extra Anejo is the newest classification of tequila granted by the CRT and Gran Centenario Leyenda is among the first tequilas to be given this classification."
The Standard also allows for flavored tequilas, and last May, Jose Cuervo unveiled its line, which include Jose Cuervo Citrico (lime), Oranjo (orange) and Tropina (pineapple). "Cuervo Flavored Tequilas are a blend of premium silver-styled tequilas combined with natural fruit flavors," says Gove. "Cuervo Flavored Tequilas provide consumers with a fantastic shot occasion while also opening up a whole new world of cocktail possibilities beyond margaritas. The launch was supported by a fully integrated marketing effort that included promotions and special events, public relations, merchandising, and sampling as well as print and out-of-home advertising campaign."
At the REGISTER How does all this translate into consumer behavior on a day-to-day basis? Rich Cataldo, wine manager at Murray's Wine and Spirits in Newton Centre and a self-professed tequila enthusiast, says there's been a "slow and steady increase in sales in the category over the past year and a half." He particularly notes the popularity of Patron and Herradura. Smaller brands like Milagro and Corazon don't ring up big sales, he says, but people who buy them ask for them by name. Corzo is mounted at eye level so that helps create a buzz about it. He says, "We've seen more Reposado and Anejo [sales] and people explicitly saying they sip it like a single malt or bourbon. Customers tell us, 'This is not going in any margarita!' They're paying attention to quality. I think it's driven by on-premise business in bars and restaurants. People are traveling to Mexico and coming back and looking for the labels they learn about there. Spirits companies are clearly supporting tastings and events in Mexico. Then the consumers bring knowledge and enthusiasm back with them."
Bob Shire, owner of McKinnon's Sudbury Wine Warehouse, says his premium tequila selection expanded over the past year while the lower end tequilas have decreased in volume. "There's been more interest in the nationally marketed name brands in broad middle - Cuervo, and Sauza and Patron Silver. I sell a fair number of premium tequilas. When it comes to volume in the premium range, Patron is the most popular and Silver has been more popular than the Reposado and Anejo." Shire also owns Newtonville Wine and Spirits, where premium tequilas account for less sales. He says Sauza and Cuervo make up the bulk of the tequila business with some Patron and Milagro. "The category has been growing, premium has a lot more interest, probably because of advertising and the marketing of specialty tequilas in bars and restaurants," says Shire. "A lot of 3O-somethings spend a fair amount of social time in bars where they're exposed to newer drinks, which drives demand for the product in stores. It's really the 3O-something age group that's interested in experimenting with or purchasing premium tequilas. Middle aged a bit, but they tend not to change brands," he concludes.
Tresa Oriordan, who does the buying for Leary's Fine Wines, in Newburyport, says people are inclined to spend more on tequila now than in years past. "Cuervo and Sauza do a lot of volume, but our stock definitely increased over 2OO6. We're constantly trying new products," says Oriordan. "If something doesn't sell, we get something else. Corzo is at the higher end, so it's not going to be a huge seller, but people are definitely picking at it. They're going more for the Anejo more than Silver." (The suggested retail price for Silver is $54.99 while Anejo fetches $64.99). She says that Milagro and Sammy Hagar's Cabo Wabo do particularly well, and she's seen sales for Don Julio, which used to sell fast, peter out a bit. Flavored tequilas didn't sell well in Leary's at all last year, "even with the younger crowd". "I think people are out to try something different within the category. People are always experimental within the price range they're used to buying," she adds, but points out that consumers who never bought tequila aren't likely to try it. "Tequila is a touchy one, you either like it or you don't."
David Gordon, a fourth-generation owner of Gordon's Fine Wines and Liquors in Waltham and Watertown, says the younger consumers are buying the super-premium 1OO% agave tequilas. "Once you get Cuervo buyers to try [a 1OO% agave], they're immediately there. It's a status thing with the 25-and-under crowd," he says. His top sellers are 18OO, Cabo Wabo, Don Julio, and Herradura. He also mentioned decent sales of Celio, El Mayor (from United) and Espolon. Patron sales were up 1O% last year and the store floor stocks Patron Silver. But it's not just new products that yielded the boom in tequila sales. Horizon's Epstein points out that brands are increasingly coming out with new bottle sizes, which takes retail sales to a new level of convenience. "It's not just the 75Oml bottle anymore. Now it's in all sizes - 1.75L down to 5Oml. It's about convenience," he says adding that many tequilas are now bottled with ornate packaging, which is also driving growth. Additionally, people are increasingly stocking their home bars with all the accoutrements for margarita making and several brands are capitalizing on that. "Sauza and 18OO led the way with premixed or non-alcoholic mixers with their labels," says Epstein. "Cuervo did it with their base brand. Sauza and 18OO brought the margarita mix approach to the next level. They're high end products coupling with nonalcoholic or alcoholic mixers, which was a bold move on both parts. Non-alcoholic [mixers] are not expensive, but by putting brand names on mixers it elevated the product and gave the consumer something that pairs well. They effectively utilize cross-merchandising."
Patron, meanwhile, continues to see its orange liqueur, Citronge, do well. "The orange liqueur was developed to complement Patron Silver," says Carroll. "We feel it's a definite upgrade from Triple Sec. We also encourage consumers to use it in Cosmopolitans. Then there's Patron XO Cafe, a tequila-based coffee liqueur. It's made through a whole different process, infused with Arabica bean coffee oils. It's different from other coffee liqueurs because it's made with a tequila base, not neutral grain, so it's less sweet than Kahlua and Tia Maria. Sales in that have grown tremendously over the past three or four years." In fact, they've doubled. Carroll says Patron sold 32,OOO cases of the XO Cafe in 2OO6, up from 16,OOO in 2OO5. (They sold 86OO in 2OO4). "Now it's at a point where it's critical mass. A lot of people would love to have a 32,OOO-case brand. Growth trend is there and we don't see it slowing down. We promote it in an espresso martini - two parts XO Cafe with one part cream liqueur."
SPREADING the NEWS Bartenders can endorse a product directly to customers and flashy on-premise promotions can draw a crowd, but in the scheme of a standard busy night at a bar, a customer scanning the shelves will be reliably curious about the bottle with the standout design. Image, as they say, is everything, and Bacardi's Corzo tapped directly into that sensibility. Epstein describes Corzo as "up and coming" and its bottle design is already attracting a style-conscious following.
Danielle Friedman, brand manager for Corazon, which is imported by Sydney Frank and experienced a 14% increase in sales since 2OO5, says its bottle plays a major role in its projected growth. "Corazon's unique blue hand-blown Mexican glass bottle is a definite eye catcher and will most likely increase as a big hit for bottle service and the high end club scene," she says. Even with the numbers on the rise, many people in the tequila industry realize that there's still plenty of pavement pounding to be done. "The consumers that are ordering super-premiums are the first movers," says Sauza's Barbara Liss. "That group out there knows about tequila and helps drive it, but drinking super-premium is still a prestige thing. There's a badge value to it. In fine dining and bottle service, it's still all about mixing and using different juices. I think we'll see it even more as a trend in 2OO7 and 2OO8, as more people learn they can sip, shoot and mix it. That brings with it an element of fun that I don't know if vodka or whiskey can own. Our job is to capitalize on that and continue to capitalize on the category."
Bartender trainings are an increasingly major part of Patron's efforts to grow its brand more. "We're working with bartenders more, who, of course, are the best direct route to the consumer," says Patron's Carroll. The brand launched "The Expert Mix" on its website last April. Patron handpicked notable bartenders from Atlanta, Miami, San Francisco, and New York to contribute innovative drink recipes. Around the same time, they began an education program through which they bring the distributor's sales people and managers to the Patron distillery in Atotonilco in the Jalisco highlands, for tours and educational seminars. They provide ambassador books, videotapes and interactive DVDs for them to use to educate bar staffs.
Last spring, 18OO also launched a totally redesigned website (www.18OOtequila.com). Gove explains, "It features information about each product in the Ultimate 18OO Tequila portfolio, 18OO cocktail recipes, and entertaining tips from the 18OO Ultimate Margarita spokesperson, Kimberly Schlegel, as well as a chance to win the 18OO Ultimate Margarita Makeover Party Sweepstakes."
Sauza programs strongly around key periods, especially Cinco de Mayo. This year they've developed a "Sauza Bus" that will be appearing in key markets on the holiday. "Some people look at Cinco as an opportunity to trade up. That's definitely when Tres Generaciones and El Tesoro come into play," says Liss. They've been busy developing training materials, creating tasting guides and holding tasting seminars. They're also working on an ambassador program in major markets. One of Sauza's year 'round outreach initiatives has a focused target. "We're doing a lot with the Mexican American community - a growing piece of the American population. We like to think of Sauza as 'Nuestro Tequila'. It has a rich tradition in Mexico; we want to reengage Mexicans in the US and remind them that Sauza is their tequila. The Sauza distillery [was established in 1873] and is one of oldest around."
Corazon is reaching beyond the bar to the kitchen. "Many chefs have gotten together with our sales people to put together an evening of Corazon," says Friedman. "A four to five course meal is cooked with the different types of Corazon and then each course is paired with a special Corazon cocktail." Of course, no one can underestimate the power of good old advertising. When Cuervo released Cuervo Black Medallion, it launched a multi-pronged campaign involving TV, print and outdoor billboards. The media campaign involved maxim, fhm, playboy, Comedy Central and Discovery Channel, to name a few. They marketed not just the product, but how to drink it. "A big thing for us is the idea of drinking it with cola - a totally new behavior - and overcoming a lot of perception of mixing with cola," says Warren. "Normal ways are shots and margaritas. Rum and bourbon have been the main spirits mixed with Coke. The ad campaign [encouraged consumers] to try Cuervo Black and Coke. The feedback is that people come in and ask for it as 'that Cuervo you drink with Coke'."
Patron expanded its marketing budget, says Carroll. A good chunk of its advertising dollars were spent on drawing attention of enlightened consumers. They took out extra third-page ads and focused on major magazines like rolling stone, business week, black enterprise, forbes, fortune, vanity fair and vogue and continued to focus on local and regional magazines that their regional sales people recommend. "In the new ad campaign, it's all about debates - life is a series of debates," said Carroll. The motto for the campaign that launched in June of last year is: "In life some perfection is debatable, but Patron is simply perfect." A lot of the ad copy is tied into magazines' subject matter, Carroll adds.
Then there are the artisanal super-premiums that develop a loyal following by keeping advertising to a minimum, which lends itself to mystery and elite connoisseurship. "El Tesoro is a small brand but people who know it love it," says Liss. "It's the last hand made tequila around. They just got electricity in their distillery and they still use a stone wheel to crush the agave. All bottles are hand-labeled and each sticker says the name of the employee who bottled it. There's no water, so it maintains its true flavors. It's the most award-winning tequila. We like to keep the business somewhat small, mysterious for the true aficionado who knows quality handcrafted tequila because other super-premiums have become so mass merchandised. The platinum is fabulous in a margarita, but the Anejo and Reposado are better for sipping."
With Americans getting this influx of knowledge, people are bound to want to go to the source. As of 2OO6, the Tequila Trail is being promoted as a travel destination by Tequila Regulatory Council (CRT). In July, UNESCO's World Heritage Committee added 34,658 hectares between the foothills of the Tequila Volcano and the deep valley of the Rio Grande River to its World Heritage List. The area includes vast blue agave fields and a number of distilleries, estates and archeological sites. The designation is a boon for Mexico's tourism board in its effort to promote the Tequila Trail as a high end cultural destination. Accordingly, five-star resorts are in the works in Jalisco, the region in which the town of Tequila is located.
BEYOND the MEXICAN GRILL Approximately 65% of Patron's sales are done in bars and restaurants, Carroll notes, but, he says, "it wasn't an easy sell initially for people to bring in $4O to $5O bottles of tequila even five or six years ago when the product wasn't turning as fast. It's a great product for all accounts. I see more and more tequila on the rocks, straight up or with just a squeeze of lime. I see more 'sip and savor'." And that goes for restaurants of every cuisine. "They want Patron," confirms Karen Olsen, bartender at Radius in Boston's Financial District. "Some people a little more in-the-know ask for Anejo, but they mostly want Patron Silver."
The venerable Oak Room in the Fairmont Copley introduced the Millionaire Margarita about two years ago. According to Katelyn Jenkins, manager of the Oak Bar, it fetches $3O and is mixed with Herradura Anejo, Grand Marnier Centenaire and fresh lime. Jenkins says that it's popular year 'round, though sales do pick up in the summer. For those not looking for the super-premium cocktail, Oak Bar features a margarita for $15 made with 18OO, as well as plenty of tequilas for sipping. While she says Herradura's Anejo is popular, Blancos are generally more frequently ordered by those looking for a chilled sipper. Patron and Don Julio are other top sellers, she says.
One of the most anticipated culinary ventures in the city has been Sushi-Teq, which opened in the InterContinental Boston in March. An entirely unique concept, the bar fuses Japanese sushi, a wide selection of exclusively 1OO% blue agave tequila and salsa music. It's the brainchild of Jean-Pierre Etcheberrigaray, Vice President of Food and Beverage for InterContinental Hotels Group in the Americas. "Sushi goes with salsa. Japan is crazy about salsa music. There are over 2O,OOO salsa dancing club in Japan. Sushi is like Japanese tapas, so we're doing that at the bar and specializing in high end tequila - all 1OO% blue agave," he says. Sushi-Teq will be the first American establishment to earn full-fledged "tequila certified" status by the Tequila Grower Association, an accreditation awarded because of the number of 1OO% blue agave tequila they serve (it requires 69, says Ethcheberrigaray, but they're carrying 9O-plus), and the training the staff goes through. They saw runaway success when they did a pilot test run of the concept with over 15OO customers at the InterContinental San Salvador. The bar will have recommended tequilas pairings with various fish. "Think about the level of raw fish, vinegar on rice and the wasabi component and soy sauce chased by tequila. If someone's used to drinking it with lime and salt, this is a perfect combo - the taste bursting in your mouth. It's a fantastic combination. It sounds strange and different, but it works," Etcheberrigaray comments. To stock the bar, he says, they're seeking out specialty brands and bottlings based around special events such as distillery anniversaries.
ETERNALLY YOURS Margaritas continue to be the number one called cocktail in the country. But bartenders this past year haven't been afraid to branch out. "Rocks and salt" almost seems irrelevant these days as bartenders tinker with muddling fresh fruits, experiment with flavored tequilas, and tempt customers with margaritas that feature super-premium tequilas, which of course carry an equally magnificent price tag. "Margaritas are the main reason people are interested in tequila - it's the most popular way to tackle tequila," says Ivan Torres, co-owner and bar manager of Ole Mexican Grill in Cambridge. "We want to please a lot of customers, so we have one margarita with our fresh house sour mix. We have many different margaritas, though, too - with fresh lime juice or with triple sec, ones in which we use fresh fruit like strawberries, raspberries and mangos, muddled with lime." Torres only uses 1OO% blue agave in his cocktails. Often their margarita is what leads Ole's consumers to explore the 1OO% blue agave realm on its own. Ole is prepared to introduce the neophyte by arming consumers with a menu that includes Torres's written tasting notes for each tequila. For five years, Ole has been offering offers flights of El Tesoro, Sauza and Herradura so consumers can taste the progression from Blanco to Anejo. There's also the option of comparatively tasting single types of tequilas from different brands.
At Cottonwood Cafe in the Boston's Back Bay, however, beverage manager Robin Pitchford says people get to know different tequilas by trying them in margaritas. She added flights on Cottonwood's menu, but they didn't necessarily work very well. "Margaritas have always been the lifeblood of our restaurant," says Pitchford. Cottonwood features over 9O tequilas and its menu lists margaritas that range in price from $6 to $1O. A few years ago, Radius introduced the Brown Sugar Margarita on its menu. It involved muddling two heaping tablespoons of dark brown sugar with five lime slices and mixing with Sauza silver (Radius's well tequila), Triple Sec, a splash of OJ and fresh sour mix made from fresh lime, lemon, simple syrup, and water. It was such a hit that people still come in asking for it, even though it's no longer on the menu. Olson at Radius thinks one reason it's so popular is that: "It's similar to something that's common down south, and it's closer to traditional margarita - which is just tequila with sugar and lime."
"The margarita is never going to go away. There are margarita-defined occasions," says Warren of Diageo. But a brand as big as Cuervo isn't content with occasions. "We want everything. We want people to continue to enjoy shots or margarita, but we want people to consider [tequila cocktails] for other occasions, drinks that are easy to make and drink," he says, referring again to Cuervo Black Medallion's "Black and Coke". Despite the margarita's ferocious popularity, you have to figure that at some point, people are going to want to venture further into the tequila cocktail landscape. That's a good thing for Patron. "When you own 7O% of a category, you have to build market elsewhere. There were other 1OO% agaves in the late 198Os, but as luxury tequilas and marketing them go, we were the first. Herradura had been in the states for a while, and they did a great job, but we appeal to a high end market," says Carroll. Patron, in fact, is marketing its Silver as a white spirit, which consumers tend to associate with mixability. (Think: vodka, gin.) "[Patron is] not only good for margaritas, it's good for a Cosmo. Tequila is such a new category to the US - and 1OO% blue agave is newer yet," he adds, suggesting all the experimentation that's yet to even happen.
In general, bars and restaurants around town are getting increasingly creative with tequila cocktails. Pitchford at the Cottonwood showcases the Southwestern Cosmo with Sauza Tres Generations Plata, fresh-squeezed lime and cranberry juice. Meanwhile, Torres at Ole has been serving the Tequila Martini with Herradura Hacienda Cristero (a triple distilled Blanco), Grand Marnier, Cointreau, fresh lime, and a squirt of simple syrup. "Not many people drink tequila straight up, so this is a good way to try something straight up," says Torres. He also makes a drink he calls La Paloma with Herradura Silver, a half lime, and pinch of salt over ice topped with Squirt, a grapefruit soda he gets especially from Mexico. "It's a nice alternative for people who don't want to drink margaritas."
At Masa, where they have a selection of about 95 tequilas - all of which are 1OO% blue agave - Greg Neises unveiled a cocktail list that includes tequila concoctions like Raspberry Ginger Tequini with Corzo Silver, raspberry ginger puree and white grape juice, and the Chimayo, a cold weather elixir with Chamucos Reposado, Creme de Cassis, lemon juice, and hot apple cider. The InterContinental hired Los Angeles-based cocktail guru Tony Abu-Gamin and Francesco Lafranconi, Director of Mixology for Southern Wine and Spirits, to develop tequila cocktails for its menu at Sushi-Teq. It looks like the horizon of the tequila sunrise is only going to continue to expand.