archived

FeaturedArticles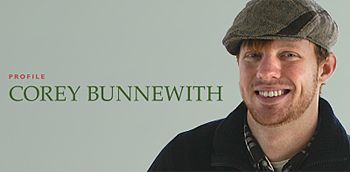 Article By: Liza Weisstuch
On a Sunday night in January, Corey Bunnewith explained his Vin Brulé. He developed the mulled spiced wine for the inaugural drink list at Coppa, the neighborhood Italian enoteca that James Beard Award-winning chef Ken Oringer opened with Jamie Bissonnette in Boston's South End in December. He offered me the drink, freshly steamed. With language that blended logical, scientific precision and fanciful whimsy, he spoke of his elaborate mulled wine in the blow-by-blow fashion of a football coach explaining a triumphant sequence of passes. "It's a play on Italian mulled wine. I took a more intellectual approach," he said, explaining how he reduces the Barbera d'Asti wine with raisins and roasted Marcona almonds. While the nuts are hot, he cracks them open to get the oils out. "I love the aromatics of it," he said with a grin – but quickly resumed his matter-of-fact tone. "Then the wine simmers and I add the rest of the spices, like grains of paradise, cinnamon, nutmeg, cloves, and a little juniper berry."

Welcome to one of the more intricately constructed cocktail lists to be found in the Bay State. Not only do most of the mixed drinks, like the Vin Brulé, have an intellectual and innovative slant, they're executed behind a snug 1O-seat bar where a hulking Berkel slicer sits like an unlikely set piece on the middle of the back bar. And there's one other factor that compounds the complexity quotient: Coppa has a cordials license, the quirky only-in-Massachusetts permit that allows the sale of wine, beer, cordials and spirits of a specified sugar content. Hence, as assistant bar manager, Bunnewith is tasked with what is arguably one of the more challenging roles for a mixologist: create engaging, curiosity-generating drinks that can attract and hold guests' attention as reliably as the menu the stellar kitchen staff turns out nightly. So far, he seems to be taking up the gauntlet with grace.

"He has a kitchen background, which is such a hard thing to find in bartenders. He almost automatically understands flavors a lot more quickly," said Courtney Bissonnette, General Manager at Coppa. She first encountered Bunnewith when he applied for a bartending job at Toro, where she managed the bar. While he interviewed there, she thought he could make a good fit for Coppa. "We looked at a bunch of different people, and if we had hired any of them the cocktail program would not be what it is right now – and it's pretty awesome. Much of what I did at Toro at the bar has a lot to do with discussions Jamie and I had about flavors and looking through his cookbooks. Corey has a technical background that takes it to another level. He's always one step beyond what somebody always behind a bar would do."

And, she's found, that makes the entire dining experience more exciting. "People might not be thinking: 'Let's go to Coppa for drinks', but they walk in the door and see we have a full program. It's nice to see the cocktails moving, especially when discussion happens. Someone will ask for a gin and tonic and we tell them we can't make that, but check out the list. People aren't switching to wine or beer, they're still ordering drinks. The menu piques curiosity."

If one thing can be said for sure, it's that Bunnewith dislikes wasting time. Still in his early twenties, he has arrived on the regional – and national – scene, making a stealthy yet elegant entrance and leaving his proverbial mark throughout the industry, a Zoro-esque figure of libations. His presence is evident on-premise and off, and he displays a deft hand with wine, beer and spirits without discrimination. He's worked at Barbara Lynch's Drink; developed the drink program at the Cliffside Beach Club's bar, Bob's Bar, on Nantucket; and served as an apprentice at Tales of the Cocktail, the annual national drinks conference in New Orleans. There he met Matti Anttila, Founder of Cabana Cachaça who was looking for a brand ambassador for Boston, where he launched the Brazilian sugar cane rum in October. He asked Bunnewith to do the job. Now he's tasked with education around the brand, working on events and helping with sales and press. But wait – there's more. He was one of the ten finalists for the 4th annual Vinos de Jerez Cocktail Competition. He was up against others who came from a sampling of the country's top tier bars and restaurants, like Mayahuel in New York, the Drawing Room in Chicago, Cure in New Orleans and Restaurant Eve in Alexandria, Virginia. The showdown was held in mid-December at The Clover Club in Brooklyn, New York. Bunnewith's Balao Swizzle was the only cocktail to use sherry as the drink's base. "I wanted to showcase the sherry and use everything else as an accent to its flavors," he said.

Bunnewith can wax rhapsodic about the alluring elegance of a swizzle stick or the versatility of amaros as willingly as he can turn most conversations into a discussion about "knowledge, marketability and profitability", concepts perpetually on the forefront of his mind. Mixology and bartending, however, isn't quite the career path the Worcester native planned to follow when he enrolled in the Culinary Institute of America in Hyde Park, New York, in 2OO7. He had just graduated from Blackstone Valley Tech, a vocational school in Upton where he focused on culinary arts. At the CIA, he set off on a track to an associate's degree in baking and pastry arts, but suffice it to say, he got distracted. Two weeks into the first semester, he landed a job at Glorie Farm Winery, in Marlborough in the Hudson Valley. At the family-owned winery, he spent five mornings a week working the tasting room as well as harvesting and crushing grapes in the vineyards. To fulfill his school program's requirements he took up an externship at what was then the brand new Graffiti Food and Wine Bar in the East Village. Meanwhile, he also started working an internship at Keith McNally's acclaimed bistro, Balthazar. He was quickly noticed by McNally, who decided to entrust the student with more responsibility. Before long he was doing tableside service, decanting and pulling bottles from the cellar.

Relatively fresh out of high school, he had an epiphany: "At that point, I knew I was going into wine. I knew pastry wasn't for me. Going back to school didn't seem right to me," he said. He did return, but only until January. Unable to ignore the beverage industry's calling, he returned to Massachusetts at the beginning of 2OO8 and landed a stage term with Cat Sirilie, the wine director for the Barbara Lynch Gruppo. At that time, the company was planning the opening of its trifecta in the FP3 Building in South Boston – the cocktail bar Drink, the cafeteria-styled Sportello and Menton, the fine dining restaurant and Fort Port project's crowning jewel.

"I admired his enthusiasm and drive," said Sirilie. "The idea was he'd do a wine internship with an eye to the future to maybe work with Menton. He'd been on the floor at Balthazar and came with a general background on how to run a floor. He'd unpack wine, prep lessons on wine regions for the staff, receive deliveries." But while working with Sirilie, Bunnewith got to know John Gertsen, the longtime bartender at Number 9 Park who, at the time, was developing Drink, where he now bartends and manages. "Corey certainly loves the craft of the cocktail as much as he loves wine. He ended up going the cocktail route and getting hired at Drink."

"I was always interested in cocktails, I just didn't realize what I was doing," Bunnewith said in retrospect. He took a position at Drink when it opened in October, 2OO8 – spending half the time bar-backing and half the time as a mid-bartender. At work one winter evening, he met the family team that owned and operated the longstanding Cliffside Beach Club in Nantucket. They wanted to set up a top notch beverage program at the new veranda bar they were building, so they offered Bunnewith a consulting position to get it off the ground. As consulting bar manager, he split his time between Nantucket and the bustling Fort Point bar throughout the summer of 2OO9. He developed the layout of the bar beachside as it was being constructed as well as the cocktail list.

"The idea was to see what it's like to design a restaurant based on limitations and parameters while keeping in mind what the clientele wants," Bunnewith said. "We tried to do stuff at the bar that was really the epitome of Nantucket." The end result included drinks like a fresh blueberry rickey and a Pimm's Cup-styled number with cucumber-sage lemonade.

All the while, though, his home base was Worcester. He introduced himself to Katie Krock, who owns KJ Baaron's, the wine and spirits shop in town. Soon thereafter, he was working on growing the store's inventory and developing and leading workshops and seminars for consumers. Through the winter, at each session he'd hone in on cocktails, be it a specific recipe and its history or a drink style, like tiki. This spring, he's planning a series on building a home bar and learning to master it.

"He came into the store one day and we started talking, then we were talking about collaboration. I had been wanting to take KJ Baaron's to the next level in terms of cocktail paraphernalia and bitters. I knew they do some wild and crazy stuff at Drink and I was interested in that," said Krock. "We decided to do a monthly cocktail tasting at the store that he would lead the first Monday of the month. We sent out email blasts, put it on the radio. We had a theme for each event, and people would come in to see him. He also started a blog for us. He helped me set up a selection of bar tools, mixers and syrups, and bitters, which really helped make KJ's a destination and one-stop shop. I'm huge on education. If people don't understand a product or how to use it, they're not gonna buy it. That's why we have him blogging. There aren't many places in this area to find quality education and that's what he's all about. He has really good ideas – and he's conscious of pricing and everything else."

From those forays into the consulting world, a new project was spawned: Beverage Influential, which just launched in February. For the venture, Bunnewith has teamed up with Aaron Butler, who works at Drink, and Steve Bowman, wine buyer at V. Cirace & Son, the North End retail institution. "Beverage Influential will focus on brand management and development and consult with restaurants and retail, in addition to doing events. Consumer and professional education is another component," he explained.

Meantime, industry insiders and consumers alike can get a casual crash course in culinary-driven drink inventions – not to mention clever christenings – just by sitting at his bar at Coppa. Ask him about the Pavarotti, a musky Cherry Heering-spiked affair with a Lambrusco base, named for the singer who hails from the same region as the wine. Or the Lenny e Joan, a Plymouth Sloe Gin, Cinzano Vermouth and Cynar concoction named as an homage to the classic 197Os Cinzano advertisements that featured Joan Collins and actor Leonard Rossiter. What's in a name? A lot if it can trigger conversation. And given that he's only at the dawn of his career, Bunnewith's name is sure to be prompting discussion for a long time to come.