archived

FeaturedArticles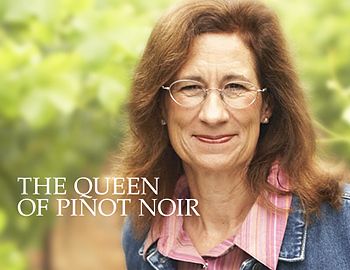 Article By: Harvey Finkel
Her Majesty, the Queen of Pinot Noir, otherwise known as Merry Edwards, was born right here in Newton. I learned the story of how Merry got from eastern Massachusetts to be royalty in California's Russian River Valley during a recent visit.

Meredith Edwards, daughter of an MIT-educated engineer, was taken west at age five, apparently willingly, first to Michigan, later to California. Although her family didn't drink, food was important, and Merry took up cooking at a young age. When she was about 14, she was using cookbooks published by the Wine Institute. While in college at Berkeley studying physiology and nutrition, she began making beer and wine at home. She then entered a master's program at UC Davis, receiving her degree in 1973.

Despite what Merry recalls as the lack of practical hands-on experience and of women in the profession, she then went right to work in 1974 as winemaker under primitive conditions at the near-fabled Mount Eden Vineyards (winemakers were few then). It was here that she fell in love with Pinot Noir. In 1977, she moved to Sonoma as founding winemaker at Matanzas Creek Winery, remaining until 1984. After several years of consulting for wineries in California and Oregon, with brief stops at Merry Vintners, known for Chardonnay, and Laurier Vineyards, Merry and her husband, Ken Coopersmith, established the Meredith Estate in 1996. She made its first wine in 1997, and they planted their first pinot noir in 1998, applying what had been learned along the way: new devigorative rootstocks, clonal selections, close spacing of vines, vertical trellis configuration. The pinot noir clones in the various wines include Joseph Swan, Pommard, Dijon, Martini, and UCD 37, the last selected by Merry from Mount Eden in 1975 and heat treated at Davis to eliminate viruses. It is also called Meredith Edwards selection. Merry's mentors include Harold Olmo and Joseph Swan, with contributions from her days at Mount Eden and her educational trip to Burgundy while at Matanzas.

Merry and Ken now manage five estate vineyards, where they practice sustainable viticulture, and collaborate with several other growers in the cool Russian River Valley and Sonoma Coast AVAs. They are very attentive to the matching of the most suitable pinot noir clones to particular vineyard sites, and to artful assemblage of finished wine lots. The single-vineyard Pinot Noirs are made according to what Merry calls Méthode de l'Ancienne: small open-top tanks; hand punching down thrice daily to gentle the tannins; purging of the head space of air using dry-ice pellets; adding 25 to 3O percent whole clusters of clones including Pommard, Joseph Swan and Martini, but not the too-tannic Dijon.

The Pinots spend ten months in Burgundian oak barrels, 5O to 6O percent new for the Sonoma Coast and Russian River Valley bottlings, 6O to 75 for most of the single-vineyard wines, 82 percent new for Olivet Lane. Nine distinct Pinot Noirs are offered these days. The Sonoma Coast and Russian River Valley blends retail for $35 and $42, respectively. The single-vineyard Pinots, Meredith Estate, Flax Vineyard, Tobias Glen, Klopp Ranch, and Coopersmith Vineyard, cost $54 per bottle. Olivet Lane is $6O. Angel Wing, a special bottling of Meredith Estate grapes honoring Merry's late son, Waren Miller, is $9O. (Details are available at merryedwards.com.) In all, 13,OOO to 14,OOO cases of Pinot Noir are produced, in bottles and magnums, mostly the Sonoma Coast and Russian River Valley. The wines are sold mostly at the winery and at restaurants, but some make their way into retail channels. Merry's son, Ben Miller, her sister, Marcia Edwards, and Ken's daughter, Leslie, work at the winery.

To set off the Pinots, 46OO cases of Sauvignon Blanc are also produced, 7O to 8O percent from the Musqué clone grown in the Russian River Valley. An increase to 6OOO cases is expected.

After tasting her wines, one can see why a partner gave Merry the license plate 'REINEPN' and why she come to be known, not unwillingly, I'd guess, as Reine de Pinot, one who artistically selects from nature and sculpts, in vineyard and winery, memorable works in that most difficult of media, Pinot Noir.

SAUVIGNON BLANC
RUSSIAN RIVER VALLEY 2OO8
All barrel fermented, 18 percent in new oak. Aromatically fragrant.
Fine peachy ripe delicate fruit, complex with nice texture and very long finish.
No grassiness.

PINOT NOIR
SONOMA COAST 2OO7
High-toned bouquet jumps right out.
Delicious open fruit, with ample acidity and long finish.

PINOT NOIR
RUSSIAN RIVER VALLEY 2OO7
Light yet intense fruit.
Utterly delicious.
Deeper and longer than preceding.
Later, develops raspberry notes.

PINOT NOIR
OLIVET LANE 2OO7
From 35-year-old wines of the Martini clone grown in well-drained gravelly, clay loam soil.
A prized single-vineyard site located, like all the others, in the Russian River Valley's cooler zone. Starts out tart, with fine tannins and long finish. Clearly very young.
With exposure to air in the glass, it sweetens and knits together, becoming intense, finely focused, even elegant.
Has a great future.