archived

FeaturedArticles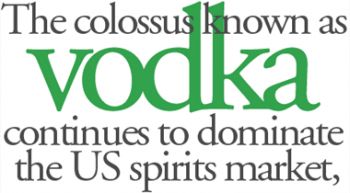 Article By: Ken Sternberg
but subtle signs of a pending shakeout appear to be looming. Perhaps more expectation than signs, really, especially as vodka is still the most consumed spirit in the market and goes into nearly one out of four cocktails ordered. Overall, vodka is expected to grow by another two million cases when data for 2OO6 are complete, bringing sales to 48 million cases. Nothing is likely to happen in less than two to five years, say some industry insiders, but given the sheer number of brand rollouts in the last 12 to 18 months, a change is inevitable. "Last year there were over 3O new vodka entries. Based on that I still have not seen a slowdown, but it has to come eventually," says Aleco Azqueta, Group Marketing Manager for Grey Goose Vodkas at Bacardi USA. "The success rate of launching a new product is not high. It requires a long-term commitment on both the financial side and being incredibly passionate about what you're selling," he says.
"Vodka is the largest and fastest growing category within all of the spirits. While there is no sign of a slow down, there does seem to be a shakeout of brands," observes Adam Rosen, Senior Brand Manager of Stolichnaya at Pernod-Ricard. "The vodka shelf has gotten too large and the smaller players are being replaced with additional SKUs and new flavors from brand leaders such as Stolichnaya," he says. "The market will shake itself out at some point, but now it's still on a huge growth trend. It's not going to be like a bubble bursting. As new vodkas are launched, others will disappear," predicts Tim Murphy, Senior Brand Director for Absolut and Level at Absolut Spirits. "It's hard to maintain consumer and bartender attention. If you don't have the resources to do that you're going to lose out," he remarks, saying, "I'd love to tell you there's a magic formula, but it's a lot of blood, sweat and tears. Driving awareness, working almost on an account by account basis, programming the brand, getting it on menus and where retailers are ordering the brand."
While it's important to advertise, says Murphy, "You also have to get [your vodka] into peoples' mouths and into the hearts and minds of bartenders. A bartender has to understand what makes your brand different and better than others out there." Adds Mark McKethan, President of Soyuz Victan USA, which launched SV The Silk Vodka last fall, "It takes very sustained marketing. Don't count on seeing profits before revenue for a long time." Some estimate that it takes a minimum of $2O-million to launch a new vodka brand successfully in the US, which helps weed out the wannabes from brands that grow and thrive.
Along those lines, one notable and growing trend is the number of Russian vodkas being launched or re-launched in the super premium and ultra-premium categories. Among these are SV, Zyr, The Jewel of Russia, Russian Standard and Imperia. Of course, Stolichnaya was the Russian vodka that started this trend in America long ago, and the brand is still strong. "Part of our research says 'smooth.' People are looking for a very smooth taste in a vodka and there's not necessarily an association with smoothness in a Russian vodka. They're perceived as a bit rough," says McKethan, noting that smoothness is one of SV's key selling points. "If we could create our own niche and image, there's enough new volume coming into the category that we could enter without having a negative effect on any other vodka out there. We believe there's a big enough pie for anyone willing to do it correctly," he says.
The Jewel of Russia's two vodkas, Classic (about $32 retail) and Ultra ($7O), have been in the market for a few years, says Art Saguirian, President of BMC Imports, which imports and markets the brand in the US. The brand also has cranberry infused and bilberry vodkas. "We targeted mostly American of non-Russian descent in their 3Os and 4Os with high disposable income. These people can make their own judgments and are not worried about looking cool or being hip," he says, adding, "We don't want to play those hip games. Just taste this without prejudging it." Saguirian says he will increase advertising this year, while focusing on the Russian population, as well as visiting markets and high end restaurants.
New vodka brands must have two things to survive, says Drew Beaver, US Communications Director for Russian Standard, which imports the Imperia and Russian Standard Original brands to the US. The brands launched last year in New York, Florida and other major markets, and launched in Massachusetts in April. "First, the scale and cash investment needed to compete in an incredibly competitive category. To try to crack this they need the resources. And two, they need the ability to stay the course. You're not going to become number one overnight. You need to make investments for the long term, an ability to invest year in and year out to build a brand and slowly creep up to critical mass volume," he says, noting that, "some of the larger, public companies have a short term mentality." Also, he stresses, "If you're going to compete in a luxury category, you better have a luxury product. American consumers aren't going to gravitate away from vodka, they'll just get more sophisticated about vodka."
Russian Standard, founded by Russian billionaire Roustam Tariko, is also that country's largest credit card company and spirits importer. This, notes Beaver, positions Russian Standard's US portfolio with these two critical elements. "We are absolutely in this business to be the number one premium and number one ultra premium vodkas. We're intent on doing in the US what we did in Russia. As long as it takes, whatever investment it takes, we're willing to do that because there's a significant prize. "Our vodkas are made and sold in Russia, and Russian Standard Original is the leading premium vodka sold in Russia. Consumers intuitively believe vodka comes from Russia. Scotch and tequila are married with the authenticity story. If you go in and say 'This is the number one premium vodka in Russia,' bartenders say 'Oh, that's interesting,'" he observes.
While Russian vodkas are looking to control an ever wider swath on back bars and store shelves, some less traditional vodka producing countries are looking for a place at the table. Ireland may be known for its stout, whiskies and creams, but Boru, named after Brian Boru, the last great High King of Ireland, is looking to add vodka to the list of products with an Irish heritage. "Straight forward and true, the way vodka was meant to be" is how Bob Battipaglia, Eastern Region Vice President of Sales for Castle Brands, describes Boru. Massachusetts is Boru's #1 market and Battipaglia attributes this to the strength of the vodka category here and the fact that Irish products have always done well in the state. In order to highlight these qualities, Boru has introduced a new package, featuring a clear bottle and painted label.
Price doesn't seem to be a detriment, either, as vodkas priced at $33 and above are the fastest growing part of the category, says Sarah Gorvitz, US Brand Manager for Chopin at Moet Hennessy USA. "The luxury consumer is generally not sensitive to price. If you change the price, they're going to still keep buying your brand because it's the brand they like to have in their house or call for. A lot of people stick with Chopin and become true brand loyalists because it's so different from other vodkas in the market," she says. One new approach she is introducing this year to restaurants is the idea of cocktail and food pairings, along the same lines as wine pairings. "Last year we had a huge event in New York to introduce this concept. We saw it as a genuine opportunity to talk about Chopin in a different way," she recalls.
Grey Goose certainly proves the point that luxury vodkas sell as the brand continued its remarkable surge growing almost 26% from 2OO4 to 2OO5 and reaching the number two import spot, according to the 2OO6 adams liquor handbook. Azqueta comments, "Our consumers have made up their minds that Grey Goose is indeed the world's best tasting vodka. Our advertising serves as a reinforcement of the quality of the brand, but is not the driver for the success of Grey Goose. In the end the success of Grey Goose can be attributed to the discerning taste of our sophisticated consumers." He adds, "Grey Goose can stand on its own. It has the perfect composition of taste, quality, and image. There are numerous super premium vodkas that have been very well supported entering the vodka category and are unable to occupy the same space with sophisticated consumers as Grey Goose." In addition to introducing their newest flavor, La Poire, this winter, Grey Goose launched a Social Responsibility program in February. Azqueta explains: "Grey Goose worked with Rolls-Royce to create two customized Grey Goose branded Extended Wheelbase Phantoms which will serve as a platform to promote the social responsibility message. Throughout the course of the program, the chauffeured Grey Goose Rolls-Royce Extended Phantoms will make appearances at charity and key media events where celebrities will ride in the vehicles and serve as role models, delivering testimonials and endorsing the idea of social responsibility. We will also continue our sponsorship of two time US Open winner Retief Goosen, further solidifying our association with the world of golf. From a trade standpoint we will be bringing the creator of Grey Goose, Francois Thibault, to give trainings throughout the year."
Not to be left behind, Pernod-Ricard is planning a major new advertising program for Stolichnaya, according to Rosen. "Stolichnaya is going to launch our new advertising campaign in Spring 2OO7. The campaign, consisting of TV, print, out of home and internet will focus on Stoli's brand proposition - a pioneering authentic vodka from Russia. We will be spending 2O percent more in media than we have in the past year and look to take our Stoli message of 'authenticity' through the line via event marketing and PR," he describes. "Stolichnaya is a genuine authentic Russian vodka. The mother of all vodkas, from the motherland of vodka. All of the new vodka brands lack the heritage and tradition which Stolichnaya possesses and we are excited to continue to build awareness on Stoli, the first imported vodka ever to be sold in the US," Rosen continues. "Pernod-Ricard continues its focus on the Stoli mother brand and our flavor franchise including Blueberi. Elit, Stolichnaya's ultra-luxury offering, will continue to see investment as demand for the most expensive and best tasting vodka grows throughout the country. FY 2OO8 will see Elit's investment in advertising and below the line activity double," he says.
"It's not just about marketing. It's hard to fool the consumer about quality," echoes William Eldien, President and CEO of Nolet Spirits USA, the owner and importer of Ketel One. "Nowadays, with $9 to $11 for a martini, you want to be sure you're getting a quality product," he says, adding "We sell Ketel One more like a fine wine than a spirit. We conduct seminars for wait and bar staff about how Ketel One is made and how to tell a potato vodka from a wheat vodka." In 2OO6, Ketel One sales volume grew 11 percent with cases sales of 1.7 million, he says, with Ketel One Citron growing at 18 percent and selling more than 1OO,OOO cases. Still, Eldien says, even while on-premise vodka consumption continues to grow, "The size of their bars is becoming smaller. And at retail level, there's no doubt they're just not going to carry 25 or 3O vodkas on their shelves. I think we're starting to see some leveling off from the six to eight vodka brand accounts." Once again, "People are saying it's ok to have a cocktail or a couple of drinks at a restaurant with friends," he says. "The young people coming into drinking age are a little more sophisticated. I see the spirits industry growing two to five percent," Eldien remarks, emphasizing that, "Over the long run, you've got to get the consumer base that says: This is the real deal. It's not just about a magazine ad or a famous person."
"It's important that consumers have a brand they can trust. The cobalt blue bottle made us instantly recognizable and a simple name to call," says Kirsten Van Sickle, Brand Manager for Skyy vodka. Reflecting on the category's overall 27 percent market share of distilled spirits, she says, "We continue to see dollar sales grow faster than volume. This shows consumers are paying a little more for something that's good." Skyy has formed a "new luxury team" to focus on educating certain accounts about Skyy 9O, the company's new super premium vodka launched nationally last January. It retails for about $35 a 75Oml bottle, versus $18 for Skyy. "The trade is incredibly important to Skyy, as to everyone in the category," she says. "We feel the outlook is really good for vodka and will be for the next five years. Flavors continue to play a role and create excitement. Growth trends are starting to slow down from a couple of years ago, but they're still positive and I don't see anything that signifies a shakeout," says Van Sickle.
Addressing Skyy 9O, Brand Manager Christa McNally says the product took 1O years to develop and is geared toward satisfying two divergent vodka markets. "We have some very loyal fans with Skyy. They really love its neutral taste profile, since it makes for a great base spirit to the most popular cocktails. It's a prestigious brand at a reasonable price. But we identified a consumer who is a little older, they have more disposable income and they're drinking less, but higher priced vodka, typically as a martini. So these two distinct consumer groups have different occasion-based needs. While there is an overlap, of course, we see these as totally separate product offerings. Eighty percent of vodka cocktails should be poured with Skyy, while 2O percent of the mix will be Skyy 9O martinis. Skyy 9O was designed for vodka drinkers with a more sophisticated palate. Martini drinkers seeking a modern martini experience, with an appreciation for modern design and luxury, will enjoy Skyy 9O," McNally says. "There are different vodka consumers who are seeking different drinking occasions. That's one advantage of our portfolio. We have a quality leader with super-premium Skyy, variety in the flavors and a luxury offering for martini connoisseurs. Skyy 9O is part of a cultural trend of premiumization," she comments. "Skyy 9O and Skyy are two completely different products, made at different distilleries with different ingredients and different processes," she explains, noting, "Skyy is quadruple distilled and triple filtered, and Skyy 9O uses the world's most advanced vodka-making process."
McKethan, of SV Vodka, agrees that most of the category's growth will continue to be in the super and ultra premium segments. "One of our first strategies was to place market managers in major markets to work with key accounts, bar and retail staff and make sure they know everything about our products," he says. Two such managers are already working the Boston area, and he plans to have 25 placed nationally by June, he says. If Beaver of Russian Standard is correct about needing cavernous pockets to finance a marketing campaign, then Soyuz Victan USA, SV's owner, is also in a good position since it's Russia's third largest vodka producer.
"It's hard to maintain consumer and bartender attention. If you don't have the resources to do it you're going to lose out," warns Murphy of Absolut. Another significant aspect to success is having vodka that's more than just smooth, he says. "A lot of vodkas have gone so far down the smoothness route that vodkas have no taste. Most of the other vodkas are just trying to be smooth, smooth, smooth. We wanted a delicious taste." As for trends, he observes, "There's definitely a trend to trading up, spending a little more money. This has benefited us on Level and Absolut. People are also choosing a brand based on quality and taste, one that gives you a delicious cocktail." As for the flavored vodka segment, "Flavor proliferation is working its way throughout the category at every price level. In terms of consumption, the flavored vodkas skew younger, for more vibrant and colorful occasions, such as beach, summer and barbecue," says Murphy. Differentiating between the brands, Murphy states, "Absolut is an exceptional product, but not priced at $3O. Consumers switch brands depending on occasion. In a restaurant, they may want to pull out all the stops and get Level. Loose and casual, still want a quality drink? That's the space Absolut occupies."
Svedka is a brand that's particularly on fire in the marketplace. It was purchased in March for $384 million by Constellation Brands. In 2OO5, M.S. Walker sold over 5O,OOO cases of Svedka. This year, sales are expected to reach around 1OO,OOO cases in Massachusetts alone, says Michael Brody, Vice President of General Sales at Walker. In five years, he predicts it will sell four million cases nationally. "In the last two years Svedka's become an unbelievable brand. It will be our largest selling spirit within two years," he says. The key to Svedka's success is it was positioned as a high quality import brand from the start with a winning advertising theme of the Svedka Girl, instead of as a value brand driven just by price, he says. Its triple panache of being imported, Swedish and reasonably priced resonates with a large segment of consumers, he remarks, noting that all sizes and flavors are doing well. A 75Oml bottle retails for $12, a 1.75 for $2O. "What's the difference between Svedka and domestic vodkas such as what Walker produces? They're all good products, it's how you project the brand image. It's all marketing and packaging," he comments. Brody disagrees that an end is remotely near to the vodka and white spirits surge. Vodka, together with rum, tequila and gin are more versatile than brown spirits, he says, observing that "Stores are reducing their brown goods and adding more space for vodkas."
"When I launched Svedka in 1998 I saw a huge opportunity in the premium vodka segment, where everybody was focusing on the super premium segment. Nobody was looking at $12 bottles of vodka, where 8O percent of the volume was," says Guillaume Cuvelier, Managing Director of Spirits Marque One, now a subsidiary of Constellation Brands. "Everybody was talking about $3O vodkas. I thought we could attract the standard vodka drinker to upgrade to a premium product imported from Sweden for maybe a couple of dollars more." The brand's white-hot performance hinges on its easy purchase price, plus the buzz generated by retailers, he continues. "When there is a premium product at an accessible price on which retailers can make decent money, it works."
About 2O percent of each brand's sales comes from flavored vodkas, estimates John Higgins, Brand Manager for Finlandia at Brown Forman. Finlandia sells lime, cranberry, mango and wildberry flavors, as well as its unflavored version. "The brand is well in the midst of growth," he notes. "You always read about new products coming in, never about how many have failed," he reflects. About a year ago, "We started communicating though print a clear message about Finlandia centered around purity, from a country known for environmental quality. We wanted to get across that the brand stands for something, is unfiltered and made from pure water," he says, stressing, "We're focusing on what's inside the bottle." This approach, he says, puts Finlandia well within various macro trends, such as environmental awareness and sensitivity. "Our research found that a core group is concerned about what they're buying and that they research products on the Internet."
"Flavors continue to be popular vodka options - they allow all consumers to be expert mixologists, paralleling the drinking experience they have in a bar as they mix their favorite cocktails at home," says Jamie Herbsman, Brand Manager for Ciroc with Diageo. "Flavors continue to be an important part of vodka category growth. As people are looking for easy entertaining solutions and something new, flavors will continue to be important and continue to drive growth for our key brands. We know it's important that we help consumers understand the versatility of flavored vodkas and that's why all of Diageo's Smirnoff flavored vodka ads include a simple drink recipe that anyone can easily make at home," he comments. "Ciroc is competing in an ultra-premium category. So regardless of the flavor trend, Ciroc remains relevant to the consumer who is looking for ultra-premium vodka and who enjoys more uncommon cocktail experiences."
A new print advertising campaign for Ciroc began in February, and encourages consumers to enjoy it by drinking it from a Champagne flute. "The print ad highlights the sensuality associated with Ciroc by leveraging the sleek graphic design of its bottle, a striking image and unique color palette. Ciroc's French heritage, as well as its grape origin, is harnessed to position it as a luxury spirit well suited for those seeking an uncommon experience," says Herbsman. The ads appear in outlets such as Vogue, Vanity Fair, Food & Wine, and W magazines. Smirnoff, another leading Diageo vodka and the leading distilled spirit brand in the world, also continues to thrive with its flavors, notes Brand Director, Kate Price. "Smirnoff flavors continue to do well and lead among flavored vodkas. In the last year we have significantly increased support against this sub-set of our business in order to help consumers understand the versatility of the different flavors."
Price continues: "One of the great things about the typical Smirnoff consumer is that there is no such thing as a typical Smirnoff customer. The brand appeals equally to 21- to 29- year-olds and 4O- to 5O-year-olds. At either end of the spectrum, once consumers are introduced to Smirnoff, they stay with it because it is, quite simply, great quality at a fantastic value. Consumers may choose different vodkas for different occasions. Different brands may appeal to the same consumer in a different occasion or in a different mindset. Smirnoff is a great product for a variety of occasions and drinks, but for a more uncommon experience, a consumer may choose Ciroc."
Asked about Smirnoff's astounding position despite being a domestic vodka, Price gets to the point: "Over the last 1O or 15 years, consumers have become accustomed to the high style of imported vodka brands. What is interesting about the vodka category is that unlike scotch or wine, it is rare to come across a consumer who is a true vodka connoisseur. The high style brands have made themselves aspirational, while some of the domestic brands have been left behind. Those American-made brands that have done well have embraced this consumer trend. As with all businesses, market conditions are continually changing and brands and businesses that survive are those that understand their consumer and customer needs and react accordingly. Investing in meaningful product benefits has kept Smirnoff at the top of the pack."
"I would say that probably the biggest trend is the use of more exotic fruits, like pomegranate and pear. Also, I know some distributors have approached me about guava or plum vodkas," notes Bill Fortune, Bar Manager at Boston's 28 Degrees. "I don't see consumers leaving [vodka]. I have 32 vodkas, including flavors. Ninety-five percent of our martinis are made with vodka, the rest with gin or rum. We tried making a raspberry martini with gin but when people learned it had gin they turned it down. We switched over to making it with vodka and it sells well," he says. "Whenever anyone comes out they definitely go for higher end vodka," Fortune remarks, adding his best-selling vodka is Russian-made Zyr. "My bar staff loves talking about it." At Julien Bar in Boston's Langham Hotel, bartender Eddie McGuire says, "We've cut down on some vodkas recently because we have a space issue here. We sell Chopin, Grey Goose, Belvedere and Stolichnaya flavors, among others," he says.
"While certain flavors have reached a saturation point, flavored vodka in general continues to excel based on the introduction of new flavors," says Pernod's Rosen. "As the pioneer of flavored vodka, Stolichnaya will continue to introduce new, interesting, and unique flavors, such as Blueberi, which will aid in growing the flavor category and attracting interest from consumers and bartenders alike. This is the philosophy Stoli has utilized since the brand was the first ever to launch a flavored vodka in the US back in 1971," he says.
Flavored vodka's growth is certainly dominated by, but not limited to, fruit flavors. "Our Van Gogh Espresso and Double Espresso vodkas are on fire", says David van de Velde, President of Luctor International, which imports Vincent Van Gogh vodka. "Coffee is the second most consumed liquid in the country after water. Thanks to Starbucks, coffee consumption has moved upscale. Today you have people waiting in line for their espressos, lattes and cappuccinos. Van Gogh Espresso and Van Gogh Double Espresso benefit from the upscale perception of these coffee drinks." According to van de Velde, these are the only naturally infused espresso-flavored vodkas on the market. "Our Espresso contains no caffeine but still possesses an incredible espresso taste, and because it's clear, is very mixable. The Double Espresso, with its added caffeine, delivers on the promise with a flavorful and caffeinated vodka for the true coffee aficionado."
"If you want to sell a brand in the US you must have a good story. Why is this a special product," says van de Velde. "To just say 'I'm from Russia, buy me' won't work. If you don't have a good story you can throw all the ad money in the world at it and people won't buy it." Instead of the traditional industry method of pushing a brand from the top down through wholesalers to bars to consumers, "My philosophy is bottom up. You make that consumer go out and ask for Van Gogh vodka. Demand from consumers is third party endorsement. It creates buzz," he remarks, noting, "If a friend mentions a vodka he loved, it's a true story. You're willing to go into a bar and try this."
To sell bartenders and other decision makers on Van Gogh's Dutch Chocolate flavored vodka, van de Velde will often taste them first on a piece of ultra premium chocolate. Then they try the vodka and see how similarly good it tastes. After this, "I have a believer," and selling pineapple and other flavors is much simpler, he says.
Following van de Velde's lead is Snow Leopard, a vodka with one of the most interesting stories ever seen on the market. Created by Stephen Sparrow, a former global vice president for Allied Domecq who lives in London, Snow Leopard is a super premium vodka distilled in Poland from spelt, an ancient wheat-like grain. The brand is tentatively set to launch in Boston and a few other US markets in September with a retail price of about $4O. Sparrow says his goal is to help save the snow leopard, a highly endangered species living in the mountain ranges of Central Asia. He will donate 15 percent of all his vodka's profits to wildlife charities working to save such endangered animals. Sparrow is banking on Americans' love for animals, the environment and their generous record of donating to charities.
"I had absolutely zero interest in making a vodka. I'd worked as a safari guide in East Africa and have always been passionate about conservation. When Allied Domecq was taken over by Pernod Ricard I went traveling and spent time in Argentina and Nepal, where I learned about the snow leopard," he says. "When I got back I thought this would make a fantastic super premium vodka trademark. I set up a company with a strong ethical element to it. The right thing to do is to give something back, give a significant proportion of profits to a good cause. This just ticks all the boxes: A super premium vodka, a rare and elusive endangered species, beautiful mountains," he explains. "A luxury good has got to be top tier. That was important for me. I'm a stickler for quality and getting it right. The cut-through for Snow Leopard comes principally from the fact that it has the potential to do amazing things."
Another new vodka trying to attract environmentally aware consumers is Siku Glacier Ice, priced at $3O retail. Siku starts life as part of the 6O,OOO year-old Qalerallit Sermia Glacier in Greenland, formed from compressed snow over thousands of years at a time when there was no man-made pollution. The glacier's ice is harvested, crushed and shipped frozen to the distillery in the Netherlands.
While ice most often finds its way into a cocktail, it is at the heart of the production of Siku. A proprietary "ice blending" process marries the crushed glacial ice and the premium spirit in an exacting proportion. As the blend becomes liquid at -25.9 degrees C, it is charcoal filtered for clarity and bottled as the final 8O proof vodka. "Our family has been in the ice business in Canada for years," states Peggy Johnson, Premium Glacier's CEO. "We bring this unique expertise to the production of vodka."
"The response from vodka drinkers has been excellent," say Johnson. At a recent vodka tasting, conducted at the Waldorf Astoria for Steinway piano owners, Siku was rated as the "Best of the Best" out of 28 vodkas. "This was a very discerning group that is used to the finer things in life. To come out on top in this tasting is a testament to the quality of the vodka in the bottle. Our plan is to make Siku number one. We have super high quality at the Grey Goose level. With the right connections and a little luck we can be a major brand," she notes.
Like a huge comet hurtling through space, the vodka market continues to streak across the spirits market leaving profits on fire. There are still tremendous opportunities for new and existing vodkas, and for the accounts that sell them. Perhaps one day it will burn out, but for now the vodka category remains bright and powerful.