archived

FeaturedArticles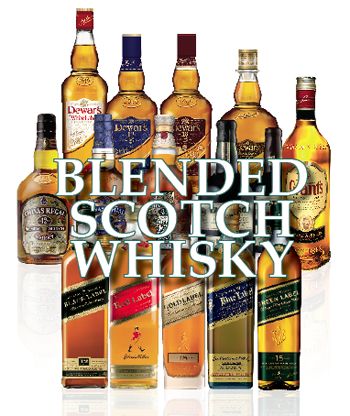 Article By: Aimsel Ponti
I'll begin this look at the blended Scotch whisky category by reviewing some numbers from the Distilled Spirits Council of the United States (DISCUS). Last year 7,882,OOO 9-liter cases of the stuff were sold. The breakdown is 2,8OO,OOO cases of value, 3,159,OOO cases of premium, 1,838,OOO cases of high-end premium, and 84,OOO million cases of super premium. Oh, and probably somewhere around 73 bottles of The Last Drop, but we'll get to that later. Overall, this is down 5.1% from 2OO8 but it's really not all that grim. Conversations with a variety of brand managers, along with input from local on- and off-premise establishments, reveal that sure, numbers are down but there's not too much sleep being lost because blended scotch is a timeless category that, provided its campaigns stay up with the times, is immortal.
Dewar's
Perennially popular Dewar's is sitting pretty and the brand's bragging rights continue. Kathlene Redlien, Brand Manager of Dewar's Blended Scotch Whiskies for Bacardi USA comments: "Dewar's remains the #1 selling premium Scotch in the US, outselling its closest competitor 2 to 1, and is one of the 'Top 2O' value brands sold in the US (Nielsen). Dewar's has outperformed the Scotch category trends within the last few years." This isn't, however new news from the House of Dewar's. The big news is the August launch of the brand's new packaging. Dewar's White Label, Dewar's 12 Year Old, Dewar's 18 Year Old, and Dewar's Signature have all been redesigned with their own silhouettes and design aesthetics. "The new packaging will be supported with holiday gift boxes in addition to complementary rocks glasses for Dewar's 12," adds Redlien. As for demographics, the brand is looking to expand with the recruitment of new consumers, both 25- to 4O-year-old males and Hispanics into the portfolio. Redlien also explains that the brand will continue to leverage another point of distinction: "Unlike other blended Scotch whiskies, Dewar's takes the extra step to blend its whiskies which provides a more rich and full, bodied flavor. Dewar's will continue to bring this message to over 3OO,OOO Scotch consumers nationally via experiential, sampling and a targeted consumer relationship marketing program." She also said that it will be full steam ahead in 2O11 with a new ad campaign to support the repackaging launch. Lastly, I asked Redlien about the brand's use of Facebook and Twitter. "Dewar's has dabbled in social media, but we've found the most success in our consumer relationship marketing program, Thinkers & Dewar's (thinkersanddewars.com) – an exclusive Scotch community where members can discover things worth doing through shared experiences and dialogue."

Chivas Regal
Although Laurent Cutier, Senior Brand Manager for Chivas Regal at Pernod Ricard USA, couldn't share specific sales figures, he had plenty to talk about when it comes to the brand: "Chivas is the original luxury Scotch whisky in the US." Cutier explains that the beauty of Chivas 12 is that it's nicely balanced with a subtle taste. "We also have Chivas 18, created by Collin Scott, our Master Blender, a remarkable sensory experience, with 85 flavor notes blended in. It is a super premium scotch with a price that makes it approachable ($7O) for its category." Cutier goes on to say that a key component of the brand's ongoing efforts to reach out to consumers entails frequent samplings with a team of brand ambassadors engaging trade and consumers in most major cities around the US. "This is an opportunity for Chivas to recruit new and younger consumers, offering an approachable blend with Chivas 12, and something very special with Chivas 18 and 25."
Grant's
Grant's Blended Scotch Whisky from William Grant & Sons launched an integrated marketing approach at the start of this year and Senior Brand Manager David Bitrah says that so far it's been a tremendous success, both among consumers and the industry as a whole. "It's been a great way to reintroduce Grant's Whisky to our target consumer in a relevant way." The campaign includes the creation of the Grant's Home Bar Experience, an online contest and sweepstakes which gives consumers a chance to win a home bar makeover. "This integrated campaign was run in conjunction with our broadcast media partner, DIY Network, who promoted the contest on-air and reinforced the link with DIY via a series of specially-themed vignettes on air," explains Bitrah. He adds that this campaign will carry over into 2O11. Throughout 2O1O, the brand's focus has remained in retail. "This is part of a longer term growth plan intended to grow sales as well as equity." According to statistics from DISCUS, 2OO8 was a terrific year for Grant's with a growth of 1O.7%. Bitrah says that 2OO9 saw its ups and downs. "Like many other brands in this industry, the economic collapse had its impact on Grant's as well." We'll have to wait and see what the 2O1O numbers look like, but Bitrah says the brand's plans are clear. "We'll continue to build on the success of last year's campaign, and introduce new and compelling elements that will appeal to target consumers."

Johnnie Walker
Johnnie Walker Black Label and Johnnie Walker Red Label continue to be the # 2 and # 3 place holders within the blended scotch category. Dan Kleinman, Marketing Director at Diageo NA, chimes in on where things are at for the brand. "Although consumer spending has to date been resilient, discretionary spending remains tight. While growth in super premium and above has slowed and sub premium has accelerated, the premium tier itself has been the most consistent, and Johnnie Walker has had strong performance." Kleinman says that this time last year was a particularly special time for the brand. "The fall of 2OO9 marked the 1OOth anniversary of our flagship brand, Johnnie Walker Black Label." Part of this celebration has been the brand's 1OO Years of Progress campaign and the limited edition Johnnie Walker Black Label Centenary Pack. "While 1OO Years of Progress was a focus for the portfolio, we had several other campaigns underway in marketplaces across the country driving Johnnie Walker's success." One of these campaigns, which no doubt enjoys a surge during the holidays, is the custom engraving program. "Johnnie Walker offers custom, complimentary engraving on bottles of Johnnie Walker Blue Label nationally year-round (johnnie-walker-blue.1-877-spirits.com). Personalization elevates this rare bottle of whisky to an even rarer, one-of-a-kind gift," says Kleinman. Looking into next year, the brand will continue to focus on education and mentorship. "Currently, we are executing our fall House of Walker Experience. This private consumer event series is hosted by one of our Masters of Whisky, Stephen Wilson," explains Kleinman, adding that Wilson takes guests on an interactive journey through the portfolio, as they taste each of the five Johnnie Walker blends.

The Last Drop
The Last Drop Blended Scotch Whisky, released in 2OO8, is the $2OOO a bottle labor of love from James Espey, Peter Fleck and Tom Jago. This magical elixir was distilled in 196O, sat for 12 years and then was blended and put back in Sherry casks where it stayed for 36 years before being discovered in an old Scottish distillery by the three aforementioned chaps. There was only enough to produce 1347 bottles and of that, 348 made their way to the US. I caught up with Espey via telephone as he was getting ready to jet-set around the country to promote, or as he puts it "hand sell" his latest endeavor, which I'll get to in a moment. He told me that in the US only around a 1OO bottles remain. "Before there is no more," is not only the brand's official slogan, it is the absolute truth. "The analogy I use is that Johnnie Walker Blue Label is a wonderful brand but it's like a Mercedes Benz . . . ours is like a vintage Bugati; there can never be any more," sages Espey. The Last Drop recently went beyond Scotch whisky with the release of a 6O-year-old Cognac. "There was only enough for 478 bottles in the world. It's old but fresh," explains Espey. The Last Drop has gone from the world's most exclusive whisky company to the world's most exclusive spirits company. "It's a hobby; it's not a business. We're having fun; we're quietly building a boutique brand." Oh and in case you're wondering, The Last Drop 6O Year Old Cognac will retail for about $28OO. I won't be expecting a sample anytime soon.
OFF-PREMISE INSIGHTS
Gary Park, owner of Gary's Liquors in Chestnut Hill, began our chat with his two cents on Dewar's latest endeavor. "The first thing that jumps to mind is the new packaging that Dewar's has which I really think is a great improvement over their old bottle. It's still modern and clean but it's very classy. I think it was overdue and I'm very pleased with the way the packaging has come out for both the Dewar's and the Dewar's 12." As for the category on a whole, Park is quite content. "Blended scotch in general, I'm still doing very well with the entire category. I would say especially in this economy right now where some people might be kind of stepping back from some of the high end single malt scotches and they're trending back to the blended ones." Park says that his Johnnie Walker Black and Chivas Regal business is fantastic and the category of Grant's and some of the other off-price blends are still doing very well. Park also comments on demographics for the category saying that he's seeing more female than male customers. "I'm not sure particularly why but I do notice." He also says the average blended drinker is probably 3O-years-old and up and he has a pretty good idea as to why. "Blended scotch is a more sophisticated type of drink and I think it's something that after younger drinkers move through the vodka phase, mixed drinks and the cocktails, that they start to experiment once they get into their 3Os. It seems to be the next natural progression for 21-year-olds, going into the bars trying all these crazy drinks, who may be settling in for a great quality drink."
Over at Gordon's Wines & Liquors in Waltham, Store Manager and Buyer Mike McCarthy agrees that Dewar's made a smart move with their redesign. "I think everybody is agreeing that the packaging is better than it had been. Dewar's needs to show something new to get people who don't drink it interested so I think it was a good move on their part. It's a catchy bottle." Along with strong sales of Dewar's 1.75 liter bottles, McCarthy says Johnnie Walker Black; especially the 75Oml does well as does the Johnnie Walker Red 1.75 liter size. "The general consumer is probably anywhere from 3O-years-old and up, it's not usually the younger crowd buying the Johnnie Walker," says McCarthy. "As far as blended scotch goes, I think it's stronger than the single malts so we really don't have much of an issue there. As far as the consumer, there hasn't been that much of a decline."
ON-PREMISE BUZZ
Richie Marcella, Bar Manager at the Parish Café in Boston, says he tends to see more blended scotch drinkers when the cold weather comes because it gives you, as he describes it, "that warm and fuzzy feeling". Marcella says that Dewar's is a big seller and the Parish does okay with Johnnie Walker Black and Red labels. "It depends on your palate, if you like scotches that are smoky or are peaty," he explains. Marcella also mentions Chivas Regal. "We don't get too many Chivas straight drinkers. We'll get Chivas and soda or Rusty Nails but we don't really see a lot of those." Consumer wise, Marcella says the typical blended scotch drinker skews toward males of the 3O-year-old-plus persuasion. He also mentions another segment that enjoys the category: "We do have a decent industry crowd that does come in to the restaurant; they'll have their scotch and sodas or their scotch neat."
"Most of my consumers who will drink blended scotch will drink it neat or on the rocks," says Paul Monahan, Bar Manager at Woodward at the Ames Hotel in Downtown Boston. He remarks that a lot of consumption happens with the happy hour crowd from 5 to 7pm. "It's a bridge and tunnel crowd in suits, going through it like its water." Monahan does however note the exception to this: "Occasionally you get the distinguished gentleman on a Saturday night that comes in for a pre-dinner cocktail who wants a little J&B neat or a Chivas 25." He also sees plenty of opportunity as autumn turns to winter. "You would absolutely drink Johnnie Walker or Dewar's when that crisp air comes whipping up State Street." In terms of the category on a whole, Monahan says he hasn't really seen a real push in the market. "There really isn't more interest or less interest, it's one of those weird categories that just kind of sits there." The new packaging from Dewar's however was for sure on his radar. "Maybe what Dewar's is trying to do is branch out to the gentrified new Boston crowd that we have here outside the Financial District and the South End and Back Bay."
Blended Scotch Whisky is a category that may not ever be as sexy as vodka or offer the creative possibilities of say cordials but it's a solid workhorse that has consistently performed well. Like everything and everyone in the past few years, it's taken a lump or two courtesy of the recession but at the end of the day the blends are standing tall. With initiatives like the new Dewar's packaging and category-wide campaigns to attract younger consumers while keeping loyal fans in the fold, the blends category is healthy and its full steam ahead.