archived

FeaturedArticles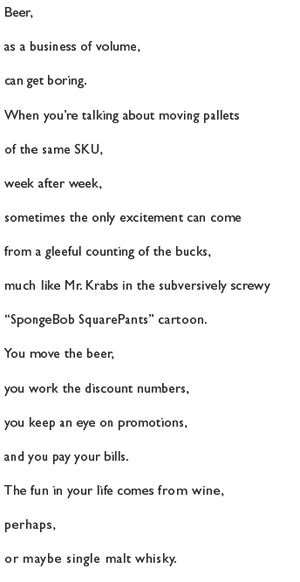 Article By: Lew Bryson
Get out of your beer rut!
While the money that pays most of your bills still comes from moving those pallets, there are some real opportunities for fun - and profit - in beer these days. Heineken Premium Light has put new spark in the light beer market, Mexican beer continues to boom, craft beers are growing faster than they have since the go-go days of the mid-199Os, and local heroes like Samuel Adams, Harpoon, Wachusett, and Berkshire are tearing up the shelves.
Beer has new respect in restaurants, in the press, on television. An ever-widening segment of consumers is looking at beer in a whole new light, and they're willing to spend more for that look. If you haven't already made the move to expand your beer selection, now is the time. Don't walk away from that volume just yet, though: As Willie Sutton was supposed to have said about why he robbed banks, that's where the money is.
Frank Anzalotti, Executive Director of the Massachusetts Package Stores Association, sees that new excitement as the most positive thing in the retail business. "We're moving into a new generation of drinkers who are willing, and have the cash, to try new drinks," he says, "and I think that's going to open a whole new market area. We are in an age where people are willing to branch out and try new products. These are products that have decent profit margins for the retailers. While there aren't as many sales for craft beers, the growth is significant."
That opens up opportunities to be different, to be a focused retailer, to specialize. "The days are gone where you need to compete with every other store," Anzalotti explains. "We don't all need to be selling the same things that we don't really make any money on. Everyone feels a need to offer every product, that everyone has to compete for every customer. But now people are looking to create a niche with different products."
Craft beers grow organically
One of those niches is organic beers (see the companion article in this issue), and "organic" is a word that you'll hear from a lot of craft brewers today, even if they're not making organic beer. They're talking about organic growth, sales increases from existing territories and existing products. Craft beer was the fastest growing segment of the alcohol beverage market - again - at 11.7% growth in 2OO6, and that's one of the big stories. Craft brewers are digging deep in their existing markets and coming up with gobs of organic growth.
That's what Harpoon Brewery's Charles Storey, Senior VP of Marketing, saw last year. "Primarily general organic growth," he says, modestly not mentioning that Harpoon saw 18% growth, handily beating the craft category's overall growth and breaking the 1OO,OOO bbl. annual production mark for the first time.
"We did add a product, the Raspberry Hefeweizen," he acknowledges. "And we were very pleased with the results of that launch. It exceeded expectations. But our flagship IPA grew, all our brands and seasonals grew. That was great to see."
Ned LaFortune at Wachusett Brewing had the same kind of story to report. "We had our best year in ten years, really," he says, meaning that it's hard to count the growth in the first couple years. "We saw 25% growth. That's good growth, that's pretty much all we want to handle. Oh, we'd take more, but that's great."
Like Harpoon, Wachusett did it almost all without expanding products or territories. "No new packages, no new products," agrees LaFortune. "We did finally announce officially that we were selling beer in New York, but that was a couple hundred barrels, tops."
Ask any brewer, small craft or mighty national, why their sales grew, and they'll tell you it's the quality of their beer. LaFortune does, but adds that "the true national success of the category is a lot of it." Consumers see craft beer in an increasing number of on-premise outlets, and when they do, they try it, and when they try it, they want to get some to take home.
That's not really ground-breaking, which seems to indicate that craft beer is entering an evolutionary phase of steady growth, after the initial revolutionary phase of explosive, erratic growth. Joe Salois, President of Atlas Distributing in Auburn, sees that. "I don't see this period as about change, but about continuation. The craft segment is still growing, 8 to 1O to 11% this year, and similar growth in 2OO6. We're continuing to see strong growth with Wachusett, Samuel Adams is doing well, with continued growth. Harpoon's trends are very strong; it's a great portfolio."
Keep it steady
The only change Nick Pizzimento sees at the Horseshoe Pub in Hudson is seasonal change. "Things are warming up, so we'll get into the Belgians now, and the fruit beers: Seadog Apricot, Wachusett Blueberry, #9. The IPAs are hot, too, and the hoppier the better. People want them, and they want them hoppy. First they have Victory HopDevil, then Victory Hop Wallop; Wachusett IPA, then the Green Monsta. Everyone's stepping it up. Beer in general is huge right now. I haven't seen it fall at all. Beer is moving."
That's music to the ears of Joe Stasiowski, President of the Beer Distributors of Massachusetts organization. "We're just trying to maintain the business climate in Massachusetts, especially for beer, and keep things going as they've been going. We don't want to see change."
But there is one discordant note in that harmony of smooth business, and Stasiowski hears it loud and clear. "We've seen changes at the supplier level, and there's always concern about change of suppliers. That's when you'll see them picking up one [wholesaler] and firing others."
There have been some shakeups right at the top on that front. January 1 of 2OO7 marked a new regime for Corona and the Grupo Modelo portfolio, as long-time east coast importer Gambrinus stepped aside - not willingly - and all of the United States became the territory of Crown Imports, the newly expanded Barton Brands import company.
Crown or Barton, the company is still based in Chicago, and their voice is still Bill Ligas, spreading a very Corona-esque message of relaxation and no worries. The change, he says, is "in many respects transparent for retail accounts. The products will still be available. And there will be lots of improvements that retailers will notice, like a single ad campaign. We're excited that we're offering the most well-developed ad campaign in Corona's history. We're speaking with one voice on these brands. We'll be able to be more responsive to wholesaler and retailer needs."
It's not just Corona, of course. Corona Light continues to soar, and the often-overlooked Modelo Especial has squeezed into the number three imported beer slot. "Expecial's doing great with the Hispanic market," says Ligas, "and also doing well in the mainstream. It's crossing over, growing within the general market. People are discovering it and realizing it's a great brand. Retailers are giving Modelo Especial a chance to see what it can do."
That makes it more of a concern over who's handling the brands. Like Stasiowski notes, this is when one gets picked up and another gets fired. The Crown shift has been pretty smooth, all things considered.
Funnel strategy
The other major shift has been a bit more abrupt. Anheuser-Busch has adopted what some people have referred to as a "funnel" strategy. They have in essence become an importer, "funneling" such diverse brands as Tiger, Harbin, Czechvar (more on that shortly), and the InBev portfolio: Stella Artois, Hoegaarden, Leffe, Beck's, and Bass.
Those of you who follow the politics of the business will recognize that Czechvar is Budejovicy Budvar, also known as the "Czech Budweiser", which Anheuser-Busch has spent millions fighting in trademark battles around the world. InBev is Anheuser-Busch's chief rival for the "world's largest brewer" title. What's A-B doing helping them get established in the lucrative US market?
Making money, what else? As Anheuser-Busch's Vice President of Business Operations, Dave Peacock, puts it, "The US beer market is large and competitive, and our recent import agreements have enhanced our portfolio by offering more choices for beer drinkers. Through our agreements with InBev and others, we have added to our portfolio highly-valued brands that appeal to beer drinkers looking for sophisticated imports in their beer choices. These well-known import brands . . . enable us to better compete. This is consistent with our stated strategy of enhancing our participation in the US high-end beer segment."
By all reports, they've moved swiftly with money and legal muscle to re-align those brands, too. A lot of money has changed hands as rights to the affected labels shifted to A-B houses. "We are very pleased with the pace of the transition and are ahead of where we thought we would be," notes Peacock.
Heineken Premium Light is ahead of where importer Heineken USA thought it would be, too. "We planned to do 5-plus million cases [of Heineken Premium Light] in 2OO6," states Dan Tearno, VP of Corporate Communications for the company. "We did seven and a half. We're the number six imported beer brand [nationally] in dollar sales, from only nine months business, the number nine imported beer in terms of volume. From a standing start, that's pretty amazing."
The good thing is that they're not abandoning it to float on its own. That's a lesson that's been learned. Heineken USA is actually increasing the promotional budget for Heineken Premium Light by about 5O% over 2OO6. You'll also see cans this year, a slim can, taller and sleeker, like the bottles.
The core brand, Heineken, picked up a nice halo effect from the launch as well, probably a combination of more "Heineken" in front of peoples' eyes and pumped-up sales reps. "Heineken had its best growth year since 2OOO," Tearno says proudly.
It's a little quieter when you ask about Amstel Light, where the sales were down 5% in 2OO6. Still, that's less than the sales of Heineken Premium Light, so it's not a clear-cut case of cannibalization. The brand will still be supported, as a more flavorful light beer, accenting its affinity for food pairing.
Room for improvement
Trading up, the basic idea behind Heineken Premium Light, is driving sales of Sam Adams Light, too. Even though light beer is the biggest part of the beer market, just shy of half of total sales, it's largely a pared down, commodity-priced segment.
But as Boston Beer founder Jim Koch explains, there's room for improvement. "Until recently, [light beer] was a big piece of business that was all at domestic pricing. The success of [beers like] Sam Adams Light and Heineken Premium Light shows that the consumers are willing to trade up for more image, or more flavor. That's a big profit opportunity that's now available.
"Sam Adams Light has been out five years now, and it's still growing," Koch notes. "When we introduced it five years ago, I knew it was ahead of its time, and its time would come. As consumers trade up to more flavor in craft beer, they're going to look for that same opportunity when they're having a light beer. Virtually all the light beers out there are pale, crisp and dry. SAL is none of those: it's amber, malty and smooth. It's a completely different way of making a light beer, a lower-calorie beer."
'Amber, malty and smooth' describes another beer that's been quietly building growth and really exploded in 2OO6: Newcastle Brown Ale. Information Resources Inc. (IRI) just released their Top 3O Beer Brand Performers, and Newcastle topped the list.
"To have Newcastle Brown Ale be ranked as the top-performing brand in supermarkets by IRI is just an unbelievable achievement," said Kevin Moodie, President of Scottish & Newcastle Importers, Co. "The off-trade, specifically chain grocery, has exploded for us in the past few years and for the first time is now more than 5O percent of our business. It's an incredibly competitive environment, and we're immensely proud that for the past several years we've enjoyed the success we have."
Bill Wetmore, S&N's marketing director, promises the continuation of the sampling campaign that has worked so well for Newcastle, and more: "We're running national press ads for the first time this year, in magazines like espn magazine, men's health, wired, outside, and rolling stone."
When asked about the possibility of a Newcastle Light, Wetmore doesn't rule it out. "We don't have anything currently in development. It's certainly something we talk about at a concept level. As we get stronger nationally, that will become more and more a consideration."
That's what can be seen in the rearview mirror, but what's coming up?
"People are asking more and more for wheat beers, hefeweizens and wits, which makes me very happy," says Nick Blakey, at Bauer's Wines in Boston. "Southampton Double White, Hoegaarden, UFO, Schneider, Ayinger, Julius Echter, Franziskaner: they're all selling. And I wish I had a bigger German section. I think it's some of the best beer in the world, and more people are discovering it. Something else . . . on St. Patrick's Day I sold a lot less Guinness, not nearly as much as usual, but a lot of other stuff: Smithwick's, Stella, other things."
The main challenge Blakey sees is "keeping the level up [with craft beer]. I feel it has dropped a bit. It was almost like punk rock for a while, like seeing the Ramonesor Talking Heads in the 197Os. Now it's like we're into New Wave; everyone's getting smooth and commercial. It's an issue of not doing what happened the first time around, when things got all Pete's Wicked Ale and collapsed. We have to keep it flowing, keep the beers happening. Don't shoot our wad with triple-hopped barleywines made of organic rye, filtered through Thomas Jefferson's corpse. We need to keep watching the show. We want long-term success."
Joe Salois just has the usual concerns - "fuel costs, insurance costs: it's an expensive business to operate" - but keeps an eye on a current one: "Consolidation: whether it's good or bad depends on which side of the fence you're on, like with the InBev/A-B consolidation."
Ned LaFortune's got a rosy crystal ball. "I expect double-digit growth [for the craft category] for five years, and I don't see why it shouldn't happen. Everyone's making great beer. Mass Bay's making their new raspberry hefe, and there's plenty of people that want that. I'm confident for the next ten years really. The Massachusetts market last year was 4,OOO,OOO bbls. We had O.26% of that, as the second-largest in-state brewer. That's plenty of room to grow."
Charlie Storey agrees. "There's still plenty of room to grow. I don't know when it will begin to flatten out. But there are a lot of people out there who enjoy drinking craft beers, and always wanted craft beers, but just didn't know about them, maybe didn't even know they wanted them. It's like sushi, 2O years ago. People didn't know they wanted to eat raw fish, and now you can get sushi in the supermarket. It's always been out there, but people just didn't know it was there. It had to be presented by a trustworthy industry.
"Now, think of a beer drinker 2O years ago," Storey continues. "They really couldn't visualize what's out there today. If they were looking for a variety of tastes and drinking experiences, they would have had to leave the beer category. Now they can find it, and the industry is increasingly effective at communicating the availability of those tastes and experiences. Now people see that they can find those experiences, and they do, and they like it. People are discovering craft beer every day, and there's still a lot of them out there - a lot."
"There's still an awful lot of Budweiser drinkers; they're not going away," Koch says, being realistic. "There are trade-up opportunities in vodkas, but Smirnoff didn't go away. Trade-up opportunities . . . are good for everybody. If someone wants a light beer, they can trade up over a mass domestic to a Heineken or Michelob or a Sam Adams Light . . . and it keeps them in the beer category."
Brewer, wholesaler, retailer: that's something everyone can get along on. Keeping the customer in the beer category is a good goal, and one that's getting easier as beer gains respect and becomes more fun.