archived

FeaturedArticles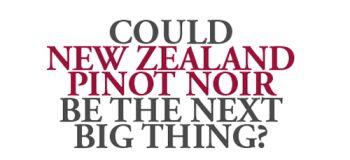 Article By: Sandy Block, MW
Conceivably, but there's hardly enough to go around. This, however, shouldn't prove a major deterrent to the true Pinot devotee. Anywhere in the world that it grows the finest examples of this now ultra-trendy wine are produced in limited quantities. Longtime fans have come to accept the concept of rarity since mass production is probably less compatible with quality in Pinot Noir than it is with any other noble grape.
If we ever collectively get beyond our automatic association of New Zealand with Marlborough district Sauvignon Blanc and explore the full array of wines the country produces, chances are the first revelation would be how many delicious Pinot Noirs now originate there. Many of the ones I've tasted lately are inspiring and some show true star potential, yet they remain a small fraction of the now 1.6 million cases of New Zealand wine we currently import. Even though the best are not bargains, pound for pound and dollar for dollar the country's leading Pinots compare very favorably to those from Burgundy, Oregon or California.
The main problem in understanding Pinot Noir from New Zealand, however, is identity. For one thing, the whole phenomenon is very recent. Plantings today total only 95OO acres throughout the country, which is an increase of 843% from the 1O65 vineyard acres existing ten years ago. Still Pinot Noir has now become the country's most widely planted red variety, covering about an eighth of the total acreage. This means the vines are mostly all young, which augurs well for things to come as they sink deeper roots and impart more vivid flavors. In the last six years exports have increased dramatically, but Pinot Noir exports have skyrocketed over 12OO%, meaning that the vast majority of consumers who buy these wines are encountering them for the first time.
The picture is complicated further by how many different distinctive styles of Pinot Noir are made. Despite New Zealand's small size, the country's varied microclimates provide quite a range of taste profiles depending on the vineyard region. This means you have to look closely at the geographical information on the label to understand the particular kind of pleasure it will provide. Comparative tastings demonstrate this quite clearly. What? Flavor plus terroir? For a Pinot Noir hound, and it seems we've all become one lately, the possibilities are almost too good to be true.
Despite the geographic and topographical diversity among and within its many wine producing regions, which span nearly a thousand miles north to south, one element that all New Zealand vineyard areas growing Pinot Noir share is a temperate climate with unusually long hours of sunshine during the ripening cycle. Flavor development therefore takes place slowly over an extended period in cool conditions, but with an abundance of sunshine. Soils tend to hold onto the generally meager solar heat radiated well into the evening. These are exactly the conditions favoring Pinot quality.
In terms of the overall picture, Marlborough is the magic name and over 4O% of the vines are planted there, but they tend to cluster further south than the central Wairau Valley where the greatest concentration of Sauvignon Blanc grows. The sub-zones of most interest are Omaka, Brancott and Waihopai. Martinborough, on the southern tip of the North Island a sub-region of Wellington, is actually a touch warmer and, although less densely planted than Marlborough, remains the center of some of the finest Pinot plantings. It was the first area to plant the grape in any commercial quantities - the first harvests occurring as recently as 1984. Now, together with the other vineyards of Wairarapa, which encompass Martinborough, just over 1O% of the country's total Pinot Noir plantings are located there. The most up and coming region that appears to be generating the greatest buzz is Central Otago, where a fifth of all New Zealand's Pinot Noir is now planted. This inland zone is unique in the country for being the one district not exposed to maritime influence. Sheltered by mountains and separated from the nearest other vineyard districts by hundreds of miles, it is also situated the furthest from the equator of any viticultural district in the world. There were virtually no vines of any kind planted there fifteen years ago, and now some of the most sought after Pinot Noirs outside of Burgundy are being produced. Two smaller South Island zones, Nelson (which is near Marlborough) and Waipara (which is considerably further south, about halfway between Marlborough and Central Otago) also produce Pinot Noirs that are regionally distinctive, and within each of these major areas there are also sub-regional variations based on soil and micro-climate differences.
The following Pinot NoirS were tasted most recently, not in a blind context, but I feel confident that they represent outstanding quality and value in their respective categories. They are listed in ascending order of preference.
Waimea Nelson, 2OO5
From a zone that grows less than 5% of New Zealand's Pinot Noir and is overshadowed by neighboring Marlborough at the northern tip of the South Island, but a bit warmer in climate, this wine shows quite a fragrant herbal aroma mingling tarragon, thyme, mint, and wild flowers. It's a bit on the light, elegant side, with fresh cherry flavors, understated subtle spice and a delicate texture. A softly textured Pinot Noir for milder fish or poultry dishes. $2O
Wild Earth Central Otago, 2OO5
This wine originates in the warmer Bannockburn sub-district and it shows clearly a gamey, earthy, leathery edge, with pungent boysenberry, brambly aromas and ripe, almost sweet fruit. There is a bit of tannin and dried herb. In short, it has a somewhat contradictory flavor profile, holding in tension Old World and New World elements, warm climate and cool climate flavors. The vibrant acids reflect the region's quite cool overnight temperatures. $3O
Kim Crawford Marlborough, 2OO6
This wine was tasted twice, once blind among a group of predominantly California Pinot Noirs, and it blew away the competition. Like many of its Marlborough peers it had a distinctively cherry-like aroma, but with a sensation of tree bark and sweet leafy herbs. It is relatively full in body, with a nice creamy texture, but firm balancing cherry-like acidity. Smooth and spicy, it has an added dimension of flavor that by contrast makes many of the brashly fruity, straightforward Pinots from this region taste simple and candy-like. $16
Quartz Reef Central Otago, 2OO5
This is the first in a series of "wow" wines with all the complexity and flavor development you would expect from the finest Pinots produced anywhere. A powerhouse of concentrated black cherry and savory allspice, but with a velvety texture, this wine originates primarily from grapes grown in the warmer Bendigo zone of Central Otago. It oozes class, with undertones of vanilla from the French oak aging and a mineral flavor undertones. $4O
Martinborough Martinborough Terrace, 2OO4
This winery traditionally has been the gold standard among New Zealand Pinot. With the country's oldest vines, it is always made very traditionally, and shows the most thorough-going "Old World" Burgundian features of any that I've tasted. The grapes are planted on old stony, alluvial soils, and there is a distinctive cool climate feel to the fruit. Acidity levels are substantial, matching the succulent highly concentrated red fruit and spice tones beautifully. Full and lavish, with slightly smoky scents, ripe tannins and a very lingering finish, it is a classic match for roasted lamb with rosemary. $7O
Pegasus Bay Waipara, 2OO4
Located within the Canterbury district, Waipara, is a sub-zone with limestone outcroppings that impart a firm structure to the grapes. This beauty is produced from 15-year-old vines in a warm part of the region. Layered with mushroomy, meaty, subtly mineral scents that are grace notes for the melodious blackberry, plummy fruit. The fruit is dark and rich, the flavors spicy, with pepper, thyme and exotic tea-like undertones. It's a very polished wine that is incredibly well balanced. Miles would be speechless. $5O