archived

FeaturedArticles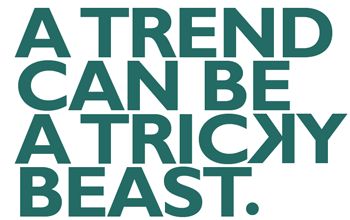 Article By: Liza Weisstuch
Once it gains traction and attention, a trend can just keep steamrolling – snowballing, even – to the point where it's impossible to ignore. Everyone starts talking about it. Everyone wants to witness it for themselves. But as quickly as it appears, another beast (stick with me on the analogy) is waiting in the shadows, ready to pounce on the public's consciousness. There are countless determining factors that can set a trend in motion: pop culture, visibility/high profile marketing or even the economy. Nevertheless, trend tracking is a popular sport. Herein I'll tell you about some of the competitors that are going in for the win.

THE TITAN VODKA HOLDS ON TO ITS SOVEREIGNTY
Numbers don't lie, and when it comes to an uncomplicated truth, Rich Cataldo, Manager at Murray's Liquors in Newton, put it into perspective best when he called vodka "the 8OO-pound gorilla" and said it outsells each spirit at least two to one in his store. But with the ever-increasing volume and variety of vodka brands and flavors on the shelves, a cohort of thoughtful consumers has emerged and their considerations are more sophisticated than price when it comes to purchasing the once simple spirit. Provenance, for instance, can be a determining factor. "There's a genuine interest Cisco's Triple Eight vodkas from Cape Cod. Before there were oddities, but now there are artisan things that people ask about, like vodkas from Maine and the Berkshires," Cataldo said.

That's not to say the giants' stronghold is loosening. Peter Nelson is Manager and Buyer at Bottles in the North End; he also oversees inventory for the sister store, Wild Duck (also in the North End). At his shops, mainstream brands leave the craft vodkas in the dust. For the most part, the standards remain standard, not least because the economy is a little less grim. Nelson finds that people are willing to spend a few extra dollars for marquee named vodkas, like Absolut and Grey Goose. And even with all the chatter and buzz about the increasing influence of the classic cocktails, vodka, which was merely a spec on the industry's radar before the 195Os, continues to reign supreme at the bar. Some bartenders, however, are dressing it up in guises far more elaborate than the martini and its variations. Vincent Stipo, Beverage Director and Assistant GM at Deuxave in the Back Bay, uses vodka as a means to showcase seasonality. Their "Mother's Pick" is a vodka cocktail that changes every few weeks to highlight a seasonal ingredient, like a puree of heirloom fresh cranberries, burnt cinnamon and orange.

BOTANICALS ABOUND FOR GIN
Enough new gins have been released in the last few years to warrant the christening of an unofficial subset of the category. It's being called "new world" gins or "new moderns" and you can chalk up the sea of all these brands to the American craft distilling movement. It should be noted, however, that plenty of new gins are distilled in other parts of the world. In fact, some say that Hendrick's heralded the deluge of releases. "Flavored gins and the 'new moderns' have taken off. Hendrick's has done well, but now there are others – Bulldog, Greylock," said Cataldo at Murray's, referring to gins from England and the Berkshires, respectively. "Companies are trying new botanicals and that's spurred a big interest in gin in the younger demographic. They've re-jiggered the category – many are still looking for classic mixing, but now there are others to choose from."

The botanical revolution has induced so much curiosity that consumers are starting to break out of long-held buying patterns. "When people buy liquor, price is simply the underlying factor. But with gin, the artisanal factor overrides price," said James Katz, owner and operator at Brookline Liquor Mart, who specified that Cascade out of Bendistillery in Oregon and Damrak from Holland are two that have particularly thrived. When people want a gin for making classic drinks, they reach for the standards, he said, but theorizes that the otherwise perceptible interest in newer brands can be chalked up to the overall tendency for high-toned flavors and a compelling nose. "When someone comes in for a mixing gin, they just want Beefeater – they don't need something high-fragrant and high-floral," he said. "They either want gin for the heavy aroma, or they want it for mixing beverages. With the St. Germain craze, American consumers now appreciate more fragrant, floral spirits."

The botanical movement has also staked its claim on-premise. Many would argue that it started there, in fact, as most trends do. (No point in buying a bottle if you haven't sampled it first.) "People are definitely getting more into gin," said Asher Karnes, bartender at KO Prime in Boston's Nine Zero Hotel, who noted that when he first started tending bar there, drinks like a Gummy Bear Martini were on the menu. "Now gin cocktails are more popular than before. It used to be gin and tonic or a gin martini, now people are more open, calling for different gins; they're diversifying." Kevin Martin, Bar Manager at the infamous Eastern Standard, says people seem more informed about the spirit of late. "They're more open to gin because they realize there are different styles," he said, noting that Old Tom has raised eyebrows. The rich, rounded vintage style gin has a hearty nose and flavor and was a mixology staple in the eighteen century, but it's made a comeback behind the bar and is showing up on cocktail menus.

At Deuxave, Stipo credits gin's popularity to the fact that the growing range of new moderns' use of proprietary blends of botanicals to tune down the juniper and bring others flavors to the fore. "When people ask for vodka I say, 'What about gin?' and they're pretty open to it. Every time I turn around, there's another one of these new moderns," he said. Those gins tend to shy away from rich, oily profiles, thus making them cleaner, crisper. Also, there are subtle but discernable citrus and floral notes, which Stipo sees as qualities that "make a gin beautiful to drink on its own." He also notes that they mix well with very herbal ingredients, like Chartreuse.

RUM GROWS UP
It's just about time to fold up those beach towels – rum's new dawn is not rising over the tropical horizon. The spirit has arrived in classy, sophisticated quarters, the kind that have long been thought to be the domain of single malts and brandies, and like those spirits, many consumers are gaining an awareness that a rum's individual provenance matters. And that things get better with age.

"There's a sophistication about rum," said Cataldo of Murray's. "People are fine with the clear spirits for everyday use, but they're fascinated by the different array." He said that on the impetus of customers he's added several brands to the inventory, like Ron Zacapa from Guatemala and The Kraken, a relatively new spiced rum from Trinidad and Tobago. "Having the variety of rums from different countries – Colombia, Venezuela, the islands – shows the connoisseurship around rums has grown. It's following the lead of bourbon and Scotch." But that's not to say rum can't still play well with others. The Rum & Coke will always be a loud call year-round at bars of every sort.

At Eastern Standard, Kevin Martin affirms that consumers are fast developing an appreciation for rums that are distinguished by where they come from. Perhaps that interest and curiosity is a carry-over effect of the long developing awareness that tequila's derivation matters. Or perhaps, as is most often the case, a drink style serves as the introduction to a spirit's diversity, history and so on. You can chalk up the contemporary interest in rum to a Polynesian fashion. "Tiki is definitely on the rise," said Martin, speaking of the rum-centric class of highly wrought drinks popularized in the 193Os. As many studied bartenders will tell you, tiki as a category fell into demise in the 197Os and '8Os but, on the coattails of the vintage cocktail revival, has been resurrected. Karnes said his rum portfolio doubled in last three years. He estimates he has 12 rums, including agricole, the style specific to Martinique. These days, he turns to the classic daiquiri to pique customers' interest in the spirit.

ELSEWHERE IN COCKTAIL NEWS
Many spirits boast organic standing, but more than that, rumblings of an appreciation for farm-to-bar products can be heard. Death's Door, Martin points out, is distilling gin from the grain they grow in Wisconsin. The bottle is marked with the harvest date and the grains' provenance. "A lot of people forget that alcohol is distilled from something that grows in the earth – it doesn't just appear," said Martin. "It's like the farm-to-glass idea that comes from wine: people want to know where their wine comes from, how the grapes were treated. It makes sense, since distilleries are popping up in almost every state across the US."

Now that the bitters craze has proliferated in the mixology world, it looks like vermouth isn't far behind. The key indicator is that in addition to brands extending their lines, like Martini & Rossi's release of a rosé, some bars have started to make vermouth in-house. And as an extension of the garden-to-glass trend that years ago inspired bartenders to dump out their bottled lime juice in favor of fresh sour mix, bartenders have been taking their house-made ingredient knowledge to a new level. Syrups, tinctures and shrubs are just a few ingredients that have become more available to consumers. Syrups are often developed with a single cocktail in mind, like Karnes's kumquat syrup, an ingredient in his Caipiroska. Alex Homans at Temple Bar in Cambridge has been making lavender syrup from lavender tea, lemon chamomile syrup (tea, fresh lemongrass, Bittermens Boston Bittahs) and strawberry shrub. A shrub, by the way, is essentially a rich, vinegar-based syrup. The formulation gives the naturally flavored syrup a longer shelf life. With tasty ingredients like shrub, said Homans, you can "sneak new ideas into people's heads." Witness: Oxley Gin with strawberry shrub, St. Germain, lemon juice, and berry bitters.

Many bars have scaled down on the size of their cocktails to classic proportions, serving them in vintage glassware much smaller than fishbowl sized martini glasses. In tandem with that trend, punch has arrived. After the release of Punch: The Delights (and Dangers) of the Flowing Bowl by spirits writer David Wondrich, bartenders started getting inspired and that spurred an increased availability of large format beverages. Russell House Tavern in Cambridge offers the St. Germain cocktail in a pitcher; Tremont 647 does margarita pitchers and Citizen in the Fenway features a punch of the week.

While it hasn't taken off yet in the Boston area as it has in cities like San Francisco, Portland, Oregon, and New York City, some bartenders are experimenting with the avant gard concept of barrel-aged cocktails. That is: mixing batches of a standard cocktail, like a Manhattan or Negroni, and putting it in a wood barrel for a few weeks. The theory is that the aging rounds out and softens the drink's flavor profile as it picks up subtle qualities of the wood.

BEER IS HOPPING
Cataldo estimates that craft beers account for 8 or 9% of sales in the country, but they occupy 8O% of the attention. "There's no end of interest in what's new," he said. Meanwhile, macro-brews that extend their line with ideas inspired by the craft movement are not taking hold. As far as what's new on the shelves, Peter Nelson at Bottles and Wild Duck in the North End, says sour beers (not necessarily Belgian, though) are on the up, particularly domestic beers made in the sour style, like products from Jolly Pumpkin in Michigan, and Cisco's Wood Series.

"God bless the craft beer revolution. Allston + hipsters + craft beers means we're doing big business with locals," said Katz. And the locals, it seems, like locals. Brookline Liquor Mart has solid relationships with brewers like Berkshire Brewing and People's Pint in Greenfield, Massachusetts. "It's nothing flashy, but people like the local factor." That comes across loud and clear at Eastern Standard. "The local beer guys make their name known so well, it's amazing," said Martin, referring to Dann (CQ) Paquette of Pretty Things and Chris Lohring, who makes Notch Session Ale. Session beers, a fast growing trend in its own right, have huge flavor and lower alcohol than standard beers. Notch's pilsner, for instance, is only 4% ABV.

A few other beer buzz words were mentioned by on- and off-premise folks. Customers are getting curious about aging their own beers in cellars, like they would a wine. Others await the explosion of smoked beers. But Cataldo might have put his finger on beer lovers' pulse when he said: "the biggest trend is down-pricing."

THROUGH THE GRAPEVINE
Many retailers reported the interest in organic and biodynamic wines is continuing to grow. But there are other, more specific trends that can be tracked. Nelson of Bottles and Wild Duck predicts that rosé is "really going to boom this year." The first nice day in Boston, the case and a half he had at Bottles flew out the door. And that makes perfect sense given the increasing tendency to shy away from big, oaky, buttery wines. Nelson said Sauvignon Blanc is his fastest mover, not least because it's a reasonably medium-priced alternative to Chardonnay. With the economic downturn, Katz of Brookline Liquor Mart has seen interest in the wines of négociants surge, particularly wines of brands like 9O+ Cellars.

After a lengthy stretch of sluggish sales, sherry is on the up. And we have cocktails to thank. Eastern Standard's Martin appreciates the "salty-sour-briny flavor" that dry sherry lends to a cocktail. "It's vermouth-y and fun to play with. It plays well with a pinch of salt," he said. His Ponce de Leon concoction puts sherry to use quintessentially: Berkshire Mountain rum mixed with Lustau East India sherry, Licor 43, orange bitters, and topped with a flamed orange twist. The Bamboo (dry vermouth, sherry, orange bitters, Angostura, lemon oil, olive garnish) is an old-timey drink that's getting noticed, but he also maintains that the Manhattan is amenable to forward-thinking variations using sherry as a vermouth substitute.

Stipo at Deuxave likes pitting sherry against chocolate. He says that rye, Pedro Ximénez sherry and Aztec chocolate bitters play well together. Also on the wine front, he's discovered that pinot noir's flavors can be appropriated for cocktail use: it's a surprisingly good sweetening agent when combined with sugar to make a syrup. Alex Homans calls it a versatile ingredient, as it "adds wide, diverse range of flavors – from light and briny to nutty to sweet/raisiny," he said. "It's a great opportunity to reintroduce a product that's been good forever but forgotten, and that it's for people under age 75."

AMERICAN WHISKEYS: RYE'S RISE
"Bourbon is still king," said Brookline Liquor Mart's Katz. "Scotch tends to sell itself, but rye is coming up." And what's more, when it comes to bourbon, an increased availability – including re-releases of long forgotten brands like Colonel E.H. Taylor Jr. Old Fashioned Sour Mash Bourbon Whiskey – means more competitive pricing. "People are realizing there's good enough stuff at an inexpensive price point. They don't have to pay the mega-brand's prices. There are many great bourbons, like Elmer T. Lee, around $3O." Many, like Cataldo, declare that rye's comeback goes hand-in-hand with the cocktail explosion. He has six ryes on the shelf, whereas before he had one. When the boom started, American distilleries stocks were depleted relatively quickly. For a long time, Rittenhouse from Heaven Hill and Sazerac were highly sought after rarities, but now that the high demand is a norm, new brands have come onto the scene, like Bulleit Rye from the longtime bourbon distillers. The craft distillers have, of course, also broadened the category. High West, an adventurous brand from Utah, has quickly developed a cult following with products like a double rye. And Tuthilltown Spirits, the Hudson Valley distillery that was recently acquired by William Grant, produces both a rye and a bourbon commonly spotted on popular bars' shelves.

As bartenders see it, one brown spirit seems to follow the next in an evolutionary manner as far as the surge in interest. "About 1O years ago, Scotch blew up and people started getting into the extraordinary variety. Bourbons have been big in the last five years. Now it's the rye explosion," said Karnes. "There's a ton of stuff do with it, like making classics that are closer to what original recipes tasted like." But American whiskey is expanding its territory beyond the brown spirits realm. White whiskeys, or unaged whiskeys, have begun to capture attention. While most are released by craft distillers, like Tuthilltown's Hudson New York Corn Whiskey and Berkshire Mountain Distillers' White Whiskey, a few bigger producers have ventured into the category. Buffalo Trace offers White Dog and Heaven Hill recently unveiled the Trybox Searies, which includes rye and bourbon New Make. "White whiskey: it's delicious," said Stipo of Deuxave. "It's something people are talking about more. ∫s of production, it's not really anything new, of course, but it's quicker and easier to make. What I like is when you talk about the cut, you know the master distiller has incredible skill. They have to be really exact to cut heads and tails and just get the meat because there's no covering it up. White whiskey goes hand and hand with the small batch distillers popping up everywhere."

"More people are talking about white whiskeys and people are calling for them – on the rocks, or as a 'white Manhattan'," said Homans, referring to the spin on the classic drink made with Lillet or Cocchi Americano. "People are intrigued by the moonshine element – it's like getting back to drinking like our ancestors."

THERE IS NOTHING NEW UNDER THE SUN
So it is written in the book of Ecclesiastes. Clearly, Ecclesiastes never worked in the liquor or beer industry. To be sure, the old warhorses will never fade from the picture, but the more important fact is that the picture is always growing and expanding. Whether it's a new product based on or inspired by a longstanding product – from white whiskey to rhubarb bitters to new world gins – or the active reintroduction of a long forgotten standard – like rye or tiki cocktails – the lure of the new has a strong pull. There's no telling which among the newcomers will disappear from the public consciousness as fast as it arrived, and which will develop into the warhorse of tomorrow. The best anyone can do today is to keep consumers in the know. They'll be back to thank you. And to buy more.