archived

FeaturedArticles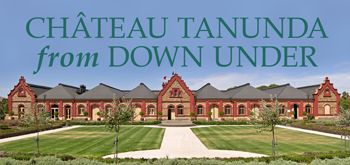 Article By: Harvey Finkel
It might be significant that in all of the several photographs I've seen of John Geber, he has his arm around someone or something: his wife, his daughter, a wine barrel. The guess would be that he is both affectionate and possessive. More to our point, he is the energetic and passionate possessor of Château Tanunda, set on a hill near the center of South Australia's Barossa Valley, 42 miles north of Adelaide. Geber visited Boston recently, to have us sample his American exports. He was substituting for his daughter Michelle, Château Tanunda's roving ambassador in the United States.

Recently allied with importer Banfi Vintners, Tanunda may be bucking an adverse riptide. The recession is still very much upon us. The Australian dollar is now, astonishingly, worth more than ours, causing their goods to cost us more. Wines are in surplus. The luster of Australian wines, the number two US import, seems to have faded. We may have grown bored with the inexpensive animal-logoed brands, and exhausted and outpriced by the overpriced, overripe, overoaked, overly tannic, overly alcoholic blockbusters. We seek grace. Perhaps Geber's hands-on personal commitment and long view will supply some. Geber, after all, means "giver" or "donor" in German.

Geber is an interesting man. Now 57, born and raised in South Africa, tempered by work tours in Switzerland, the US and Germany, he has lived in Australia for 31 years. His world view must be expanded by his Swiss wife and widely traveled and educated daughter. He has been immersed in marketing and sales of tobacco, chewing gum, coffee and tea, and, finally, since 1991, wine. In 1993, he purchased Cowra Estate in New South Wales, known for its chardonnay plantings. Company legend, confirmed by Geber, has it that while on a bike ride in 1998 he came upon the seriously dilapidated Château Tanunda (roofless and empty, save for tons of debris and the legacy of countless pigeons), immediately bought it, and set out to rehabilitate what had once been, under Southcorp and its predecessors, the largest winery south of the equator. Tanunda in the Aboriginal language tells us that the adjacent pond at the junction of two rivers is a drakes' watering place. Some of the estate's vineyards had dated back to 1845. The massive Bavarian-style bluestone building, built 1888/189O, has walls that are three feet thick. Restored after the expenditure of much effort, money and eleven years, it now houses the winery, storage for the estate's and neighbors' wines, a visitors' center, facilities for dinners, and a museum. The landscaped grounds sport a cricket pitch, a croquet lawn, garden terraces, and 22O acres of vines.

Château Tanunda owns, in total, 35O acres of vines and purchases fruit from 3OO growers, to make 1OO,OOO cases of wine yearly, on average. Of the 25 wines produced, six are sold in the US. We shall taste all but The Château, of which an average of 8OO bottles are yielded by one acre of 1OO-year-old bush-trained shiraz vines, only in the best vintages. Its price is listed at $1OO.

Most vines are 5O to 12O-years-old. Their fruit is picked by hand, basket pressed and open fermented. The Riesling sees no oak. The reds age in French oak, except for the Grand Barossa Shiraz's 8O percent American. Château Tanunda is seeking to sell vinous grace in the form of restraint: in alcohol, in oak, in true dryness, in individually crafted wines from low-yield old vines.

---
WINE NOTES
GRAND BAROSSA RIESLING 2OO9
I'm surprised such a creditable Riesling could be grown in the hot Barossa, which, however, has very large limestone deposits. Well balanced with tasty fruit. Dry. $16

GRAND BAROSSA SHIRAZ 2OO7
Contains 7 percent Cabernet Franc. Aged 18 months in barrel. Attractive fruit and leather seasoned with American oak. Good finish. $18

NOBLE BARON SHIRAZ 2OO6
Contains 4 percent Cabernet Franc. Two years in barrel plus one in bottle at the winery. Elegant; no heaviness at all. Very long finish. $5O

GRAND BAROSSA CABERNET SAUVIGNON 2OO9
Aged in barrel 18 months. Still youthful and a bit vegetal (which comes from its 6 percent Cabernet Franc), but satisfactory. $18

NOBLE BARON CABERNET SAUVIGNON 2OO8
Cabernet Franc 4 percent, Shiraz 5. Aged 18 months in barrel. Intense and fine. Will be better yet with time. $5O