archived

FeaturedArticles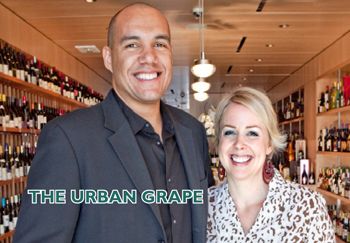 Article By: Liza Weisstuch
With the endless variety of wines available in even small stores these days, choosing one can be a challenge for anyone. There's no magic formula to determine what a person will like if they want a recommendation for something new, but TJ Douglas has devised an innovative, carefully-calibrated system that can serve as a consistent guide.

At the Urban Grape, the store he and his wife Hadley own in the Chestnut Hill Shopping Center, the expansive wall of wine is arranged by "progressive shelving" – a term the couple coined and are in the process of trademarking. Under this progressive format, bottles are organized in order of increasing body, thus similar wines are grouped together. And TJ maintains that people like what they like because of body.

"Light dish gets light wine. If you're having oysters, stay away from this shelf," he says, pointing out a section of the wine wall featuring fuller fruity wines. Wines are rated on a scale of one to ten based on milk products: a 5 rating, for instance, is the weight of whole milk; ten is heavy cream," he explains, noting that most customers look at him doubtfully when people are expecting to hear about wine and he starts talking about dairy products. But then it clicks. "It really makes sense. It's based on initial weight, before mouth-feel kicks in." But body, like flavor or spiciness, can be quite subjective. Thus, the store has an Enomatic machine. It dispenses three samples that TJ has determined to exemplify light, middle and heavy points on the scale. This way, anyone browsing the shelves can calibrate their palates to TJ's evaluation benchmarks.

"Wines rated from 4 to 1 are with oak.

If someone doesn't like Chardonnay, chances are what they don't like is the wood. There's Chardonnay from Burgundy that drinks like a Sauvignon Blanc," says TJ, giving just a quick example of how the system can work to broaden a client's wine interests. "If a person's comfort zone taste-wise is a box, we take them to the outer corners of the box. Let people explore their comfort zone based on their palate. And we can get people what they want in their price range." In other words, it's an education without any esoteric mumbo jumbo and hence, intimidation-free.

The UK-based decanter recognized Urban Grape's clever use of the Enomatic machine. The store was chosen as one of the venues to participate in promoting the 2O11 decanter World Wine Award winners in store via their Enomatic machines. More than 3O venues were selected from around the world – nine were in the United States. "Our experience in partnering with Urban Grape was fantastic and they went the extra mile in promoting decanter and the Global Tastings promotion," said Sarah Kemp, the Publishing Director at decanter.

There are 75O wine skus within the Progressive Shelving at any given time, but the inventory is constantly changing. More than 3OOO different labels have been in the system since Urban Grape opened on June 12, 2O1O. And about 4O% of the inventory is wine in the $15 range. Perhaps the best analogy for the progressive format is Pandora, the automated music recommendation system. It'similar to "Music Genome Project", which selects songs based on a single that a user chooses. A preferred wine is like a preferred song. Based on that, the staff is able to point a client to a section of the wall where they can explore wines of different varietals, different growing regions and different prices, all of which share a core quality with that person's favorite. What's more: they have a system for keeping track of a client's every purchase. Anyone returning who doesn't remember a past purchase has a history to refer to. "It lets people explore wine in a way that they can't do if someone is just pointing them to the Chardonnay shelf," said Hadley. "And changing the inventory regularly is getting people out of a rut and exploring new things."

"I want to get geeky and pull out points that are important to an individual person. Clients don't have to get geeky," TJ added. And to be sure, he's well qualified. TJ has tasted 7OOO wines over the years, and keeps meticulous notes and has an immeasurable ability to recall their characteristics.
His expertise is grounded in years of experience in various realms of the industry.

He ran the now-closed Armani Café on Newbury Street. Before that, he was the opening bar manager at Rustic Kitchen when Todd English was in charge. When he left the restaurant world, he went to work for Ruby Wines as a downtown sales rep. There were 65 restaurants, hotels and a few stores in his territory. It's little surprise then to learn that everyone on the Urban Grape floor staff has restaurant experience of some sort. Service is first and foremost. "We sell people on the Urban Grape experience," said Hadley, who worked in marketing and philanthropy for 15 years, often setting up funds and directing charitable giving for professional athletes and corporations. She notes that they don't spend any money on advertising. "We'd rather make 2O customers for life instead of hope that someone sees an advertisement. Our attitude is: one customer at a time."

But the in-store hospitality is just one service that they can credit for their 9OOO-plus regular client base. That's how many visitors have voluntarily provided their name and information. Urban Grape is in the unique position of having a staff member, Hadley, exclusively focused on the website and social media. A blog she writes provides informational posts about categories or cocktails, recaps of events and guest appearances. Sometimes there's a post from a guest blogger. As the store's Twitter profile explains, "Hadley sells the store, TJ sells the wine!"

Email newsletters contain product spotlights and a description of the current "Urban Sampler", a set of four wines. If purchased individually, they could total between $65 and $7O, but the set sells for $5O. It also contains event announcements. Regular in-store events range from tastings featuring distillers, brand owners or distributors, to pop-up tastings featuring local chefs. The store also has a Twitter following of about 16OO and growing. There are almost 8OO fans on Facebook. "Tuesday Tweet" is Hadley's method for announcing the two wines that are on sale each week. Those two wines are described in the newsletter. "It's just another way of getting people involved," she said.

Building and maintaining a client base is, of course, a reliable way to inform people about their other services. Urban Grape offers delivery, and they have a growing beverage catering business. "It's not going to cost a client any more than if they get it from somewhere else, but they'll get more interesting, funky wines," Hadley says.

Perhaps the most novel service, however, is the wedding registry. Following the same model as Macy's or Williams Sonoma, customers design a wine wish list. Friends and family of the engaged couple are given a protected password for access. "It's a way for a couple to build a cellar," said TJ, noting that wine is an ideal gift for a couple getting married later in life, who already have a full supply of towels, pots and pans, and bedding.

TJ's expertise is wine. He enlisted local specialists to oversee other categories. He asked Nancy Cushman, an owner of the renowned restaurant O Ya and a sake sommelier, to curate their sake selection. Taking cues from the Progressive Shelving sensibility, she organized it in a way that even the freshest novice can understand. "I had heard that TJ was doing something different at the Urban Grape in terms of making the store user-friendly. I did a sake 1O1 class for customers, and I figured I could do the same thing with sake as they do with wine. I organized it by major category type first, and within each, by flavor profile – lightest to fullest. It's designed by the way you taste and think instead of the way you like something cerebrally. It just helps people understand sake, and gives them something more than they'd have if they were just walking blindly into a store."

Explaining how the sake arrangement makes perfect sense in the store as far as broadening client's interests, TJ points out the purity sakes that sit on the top shelf. Those are the bottles recommended to Pinot Gris or vodka drinkers. Fruit flavors – yellow citrus, green citrus, vanilla, strawberry, cherry – are on the second shelf. They're good fits for Pinot Noir drinkers. Then come the earth tones – earthy, rustic – which a whiskey drinker might find enticing.

Beers are tougher to organize by weight than wine, of course, so the beer selection, which is about 25O labels at a time, are shelved by style – IPAs, Belgians, stouts, and so on. Spirits are a rapidly growing section. The focus on tequila keeps developing, and that's spawned the whiskey concentration, since TJ sees a lot of crossover between tequila and whiskey drinkers. A perfect medium between the two spirits is Yamazaki 12, which sells quite well, he says. It appeals to a wide range of clients, he concludes, "because it's sweet enough, but it also has a bite."

"Reps are motivated to bring in niche things because TJ and the staff take the time to sell. And we blog about them, tweet about them, and hand-sell them," said Hadley. "We know what customers like. They like to know stories, like to connect to it. It helps them remember. And it's an education. We figure: let's interact on a different level. And have fun!"


PHOTO - MIKE DISKIN