archived

FeaturedArticles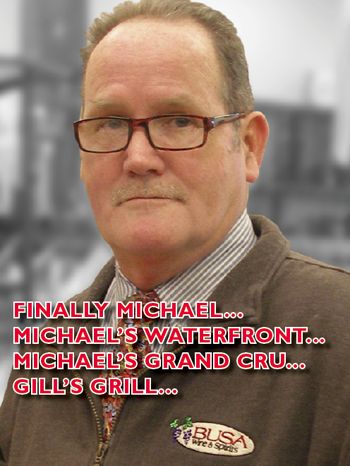 Article By: Fred Bouchard
MICHAEL GILLEN
63 • Wine Buyer/Wine Director
Busa Wine & Spirits, Salem

THERE'S A PATTERN, a ring to this series of once-well-known restaurants for Greater Boston wine-lovers. Michael Gillen, the man behind that name, is still a hardworking, forthright, practical guy. Passionate about wine. Devoted Francophile, now with family connections. Funny, quick, good host. Opinionated, crusty, down-to-earth. Wine in his blood. Always his mantra has been 'food for wine' and now 'wine for food'. For this veteran restaurateur and sommelier, the combination is natural, enticing, unbeatable. Gillen puts out food aplenty at weekly tastings at his shop on Salem's Highland Avenue. 'When folks taste flank steak with gorgonzola cheese and olive oil,' he laughs, 'automatically the wines taste twice as good.'

DIVIDE AND CONQUER I've always been interested in the ways restaurants list their wine and shops lay out their sections. Remember Les Zygomates in South Boston? Their wine list was an old speedometer, from light pink to dark red. When people ask for Chardonnay, I respond: 'Well, do you want Chablis? Napa? Australian?' Similarly, people ask for Cabernet Sauvignon, and when you bring them to Bordeaux they look puzzled. 'Guess where Cabernet came from?'
It's hard to figure out which way to slice it. I laid it out by country first. For US we divide by grape; for France, by region. For small countries, we toss all the grapes together.

BANNERS HIGH I go for the Flags of the World solution. Since so many like US wines, we start with Old Glory, then go Old World, New World. We have 2O flags up, from Argentina to Spain. The tricouleur of France is missing just now; I loaned it to my local clay-court tennis club for a wine tasting and haven't retrieved it yet. Typically, we keep beer coolers in back, liquors on the left, jugs and sales wines in the middle. We all want to sell the $4O bottles, but since the recession, this middle became an important part of the store. Surprisingly enough, there are bargain wines and inexpensive wines.

WHAT'S THE POINT? I don't like the point system: too many stores buy based only on points. When you read how wine spectator judges wine, all brown bagged, you'll see a 9O-point wine for $11.99 and a 91-point wine for $1OO. I'd make the 9O-pointer a 92 for producing such a quality wine for such low dough. I wish the spectator would bring price to the consumer into the equation.

BIN FINDS Our bin wines are great values. I tell customers, 'If you want Robert Mondavi Napa Cabernet, rated 92 points, buy it on your own. But if you'd try a really nice Pedro Ximenes, light clean white, from Chile for $7.99, here we are!' We challenge our customers to taste the difference between Borgo M and Santa M. Pinot Grigio, one $11 the other $22+. So much of the latter's cost goes into a huge ad budget. Some cult wines from California do as much with advertising.

TIRED SCRIPT French is my first love, but I love the terroir of most Med Reds. But California hires focus panels to do public tastings and let "the man in the street" pick the blend. These wines come out middle-of-the-road, offending no one, drawing no raves, either. This is how Hollywood makes movies, with a pre-screening theater full of Joes and Janes, and asking them 'which ending do you like best for this movie?' Look at The Help: token blacks, token gay, cookie-cutter characters, lame script . . .

TAKE THE BUSA I coordinate wine sales for three Busa Wine & Spirits stores – Salem, Woburn, Lexington – all independently owned. While GM Barry Eberly constantly negotiates 'corporate' buys of mainstream products (say, Kendall Jackson, Clos du Bois) to keep us competitive with bigger stores, I help coordinate the esoteric, fine wine buying for two other Busa stores. Along with Belinda Morgan (who has seriously fine wine chops!) in Lexington, we put together buys at fantastic prices for our customers. The Busas are kind of unique in that they allow plenty of latitude. I exercise that freedom by choosing wines not stocked in your everyday shop.

NAME THAT GRAPE! What I like most about wine is that there's always more to learn, particularly with lesser known varietals. There's a sense of discovery in tasting a wine I've never tried before, more so when it's made from a grape that I've never even heard of. It's even more fun to present these "discoveries" to our customers – wines from grapes like Negroamaro from Sicily.

I just recently brought in Mionetto's sparkling rosé made from two of Italy's extraordinary indigenous grapes: Raboso and Lagrein. I'm extremely fond of Mencia from the Valdeorras region of Spain, and Bauer Zweigelt from Austria. One of my favorite Italian wines is a Nebbiolo blended with two obscure grapes named Vespolina and Croatina. Tannat, originally from the Madiran region of France, has become the national grape of Uruguay. Who knows? It may soon emulate the phenomenal success of Malbec (a rare Bordeaux blending grape until 15 years ago) that's now the toast of Argentina! A common thread with these "unknown" wines is they're usually far less costly than their better-known brethren Merlot and Chardonnay.

RESTAURATEUR YEARS My restaurant history goes back to my 2Os when I managed The Barnsider, a chain from Albany. The owner had me open a new spot in Montreal because my French was good. Eventually the chain spread to The Hardcover in Danvers and the Beverly Depot.

My own places, the 'Michaels' were, consecutively, Finally ('79-'99), Waterfront ('81-'98), Grand Cru ('83-'95), and Gill's Grill ('86-'93). When the big chains came rolling into Massachusetts (always last) by the '9Os, Route 9's 5OO dinner seats grew to 25OO. Hey, that's life. My dad, a history professor, wisely opted for renting over purchasing property. I loved his historic tales, but didn't take his advice.

TRANSITION TIME At the end of my restaurant career, this was a natural segue into retail. We closed Finally Michael's in October, 1999, and I started working for the Busas by April, 2OOO. When Michael Tye [of United's wine family] held one of those 6am power breakfasts at Four Seasons, I told him I can't retire yet, I need to work. He recommended the Busas to me, saying, 'Mike, you've worked for yourself too long. Working as a wine salesman is brutal, it will kill you. It's a ton of work and can be very discouraging.'

LOVE MY CAB Back in the day, when I made a wine-list of American Cabs, you made sure they were at least 1O-years-old. Could you afford a 1999 Cab on your list now? No way! Now we're drinking the babies. The wineries did it on purpose with super-maceration, pick too ripe, They make them with too much alcohol and almost zero acidity. At Michael's Waterfront, we bought one of Boston's first cruvinets and were selling Château Mouton Rothschild for $8.5O a 2-ounce pour. I drink tea because I love the tannins. To find what kind of Cab beginners like, I ask them, 'Do you drink coffee or tea?' 'Tea.' 'Do you put milk and sugar in it.' 'No, black.' 'Well, do you leave the bag in overnight and drink it cold in the morning – and you love it?! Then you like real Cabernet.'

CALIFORNIA SWEETIES You can't have a serious dinner with certain California wines. You're gonna get tired of it halfway through the meal. Cal Cabs nowadays remind me of Cherry Cola or Robitussin. When pairing American and French Cabs, better to show the Americans first because they have lots of sugar and little acidity, and they appear really sweet.

SMART SHOPPERS We've been here 12 years and our sales have risen every year, thank God. Every year, people come in better educated, well-traveled, looking for interesting wines – especially white wines. 'I want a chardonnay, but without the oak. No Toasted Head hitting me on the head. I'm not loony for Smoking Loon. I'll try a Macon, I'll try white Beaujolais.' They'll like the crispness rather than the fatness of all that oak. People going to Italy come back after a Tuscan holiday loving Trebbiano, Grechetto, Gavi, Arneis.

CONSUMER EDUCATION We send out weekly mailings and emails. Every Saturday 2 to 5 you'll have wine to taste, no need to buy, but we discount purchases you buy that day. At my Friday night classes at North Shore (see northshore.edu) people learn about wines of the Iberian Peninsula, France, Italy. People ask me, 'Mike, you ARE an American, aren't you?' 'Yes,' I tell them, 'but that's not the point! It's the flavors and the stories.'

HISTORY BUFF I'm selling wine because my two great interests are history and wine. And history of wine? Fabulous! I want to tell them the story about Albariño, the sexton who wrote 'Est! Est! Est!' on the wall of the winery for his trebbiano-loving Bishop. In two weeks it's Louisiana Purchase. So I give them a few good quotes and we'll have French Bordeaux vs. American Cabs, Merlots, Sauvignon Blanc, Semillon. It's not a contest! There are no winners! What do your taste-buds tell you? Me? I'm a fan of tannin and acidity. If it's a rack of lamb – go Cab.

LIPSMACKER The grape that really makes me think about food, that's Sangiovese. First of all you can recognize the smell blind; I can be fooled but not with Sangiovese. The smell is enticing. Then take the tiniest sip, and a pool of saliva forms in your mouth.
It's saying, 'Feed me! Bring on the food!'

SHELF TALKERS I do like personal shelf-talkers, too. You'll see some handwritten ones here, and they have some good effect. It helps when people are in a hurry. On a Saturday I might walk around with a guy for 2O minutes, that seems like a personal tour! Most people come in, say, 'Roast chicken for tonight! Whaddaya got?' If the guy looks interesting I might steer him to a French rosé; if not, maybe to a more 'normal' choice. If it's salmon, I might beg him to try a Pinot Noir, even though he's been taught white wine with fish. If it's swordfish, like eating a steak, you might even go for a Cab.

HOT HOT HOT For women, Moscato has got to be the hottest wine of the year. Some are good, some are terrible. I love Oregon's Foris Muscat frizzante, no cloying taste, beautiful for big dinners, low alcohol. Provence rosés are huge, the volume to the US in 2OO9/1O jumped 85%. Incredibly good and flexible food wine is America's new discovery, delivering quality for under $15. During the recession, lightbulbs went off. But it wasn't just the values; people got smarter, too. They don't buy just big names. Blind tastings are great: when you brown bag famous wines, a $16.99 Alexander Valley Cab blows away $55 big boys.

ROSY SUMMER TALE My summer love is rosé and roast chicken – I could eat it all summer long. Tavels cost too much money, just those SW babies from Languedoc. Paler ones somehow I like better. Bargemore (bricky orange, mostly Grenache) near Carcassonne, was the former HQ of the Knights Templar. It's dripping in history, with a better back-story than Beringer White Zin! I love those rosés from Navarre and Rioja (Muga! Muga!) The picnic test is: pour it out, take a sip, put the glass down to grab a shrimp, come back, your sweating glass is no longer cold – but the wine still tastes good!

GREEN PARTY Saint Patrick's weekend we do the Irish holiday proud. Our local rep from Seaboard Distributors shows people how to make Black & Tans. We taste wines from Irish-American wineries (McManis, O'Reilly's) and Irish-owned Bordeaux Chateaux, Cantenac-Brown, Phélan-Segur. I buy pounds and pounds of succulent corned beef and cabbage from Henry's Market in Beverly. We pour tiny sips of Michael Collins' Whisky. We add some great Irish music to the mix: Kirsty MacColl & the Pogues. It's quite the celebration – we've been doing for 1O years.

RHÔNE EPIPHANY On a trip to visit my daughter Danielle in France, we met her at Beaucastel winery. First at La Vieille Ferme, we talked with the Perrins, who were impressed with her ability with the French language. They poured us a white Châteauneuf du Pape; I didn't know they existed, then their big red, and I've been in love with Rhône wines every since. Rhônes deliver flavor and value even better than Bordeaux.

FAVORITE TRIPS The Canal du Midi, starts in Bordeaux near Carcassonne and ends in Sete on the Mediterranean. The 2OO-mile barge cruise, with bike stops, is nicer than the high end and highfalutin Rhone or Rhine cruises. You really see the countryside. And history? Drenched in blood! The Papal legate of Bezier, after crusades of Louis IX, when North of France took over South, killed off everybody – Catholics and Cathars. Skiing with my daughter's family in Les Trois Vallées was a delight. And Burgundy! All those hard-working villagers in their tiny vineyard plots. Doug Shaw of MS Walker set up our visit to La Cep Hotel; in ten minutes we were down in the cellar with the owner, tasting his old bottles. At La Rotisserie de Chambertin, the Coq au Vin was purple; my son and I were sucking the marrow bones of the lucky chicken that died in a vat of Chambertin!