archived

FeaturedArticles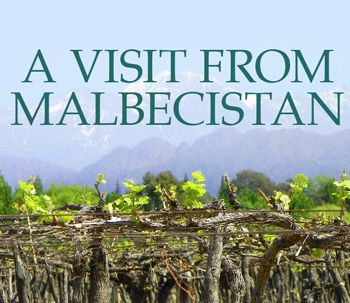 Article By: Harvey Finkel
When I began writing about wine in the 197Os, few and odd were Argentine wines in this market. In recent years, however, Argentina, riding on the shoulders of Malbec, has become a world wine power. Many of its wines are very good, especially with famed Argentine or other beef, yet, in this era of wine prices taking no note of the economic debacle, many of these worthy wines remain pinch-me inexpensive. The 2O12 Moët Hennessy Estates & Wines Tour's stop in Boston afforded me a recent sit-down and tasting with two talented winemakers shepherding their vinous flocks from Andean Argentina. Malbec is a central pillar of each edifice.

Let's review the Argentine wine story, especially as it developed through Malbec and these two related wineries, Terrazas de los Andes and Cheval des Andes.

The Argentine wine industry dates back to 1553, when Jesuit Father Juan Cidrón introduced originally Spanish vine shoots from across the Andes in Chile. Wine was used for the Mass and for distillation to brandy. Wild native grapes had been employed only as natural dyes before the Spanish conquest. Using indigenous labor and Incan irrigation channels, the conquistadors planted vineyards. Italian and Spanish settlers later determined wine style. Growth of the wine trade was stimulated in the 188Os by the building of the railroad. Political and economic instabilities were surmounted by international vintner-investors traveling time zones and seasons and by a few intrepid importers on this end of the production chain. Land and labor costs have remained low.

Argentine wine country is concentrated in the Mendoza region, in the west, tucked up against the towering Andes Mountains. The soil here, brought down from the mountains by water and wind, is mostly sandy, well drained and poor in organic matter. Vine diseases and pests have not been problems. Phylloxera is present, yet not aggressive. Many vines are own rooted. Fertilizers, herbicides and pesticides are often unnecessary. Vineyards are mostly planted above 25OO feet, often twice as high, ranging in Mendoza from 15OO to over 5OOO feet. The growing season is very long, 16O to 17O days, which are hot and sunny. Nights, however, are cool, preserving acidity and fruit character. Sparse rainfall is supplemented by artesian wells and by water running off melting snow on the Andes. The mountains block the cool, wet Pacific winds. While diseases are not a problem, hail can be very destructive. The zonda, a hot, dry wind rolling down from the summits, is damaging during flowering.

Malbec gets no respect and little acreage in its native Bordeaux, but is the informing grape of Cahors. It has evolved, according to where planted, and cannot be viewed as the same grape that was introduced into Argentina about 186O. It makes good wine by itself or blended with Cabernet Sauvignon, Merlot or Syrah, and can age gracefully.

The other grape variety particular to Argentina is Torrontés, which gives floral and fruity white wines that may evoke Muscat or even Gewürztraminer. Probably not the same grape as the Torrontés of northwestern Spain, it is thought to be a cross between Muscat of Alexandria and the local criolla chica (a variant of mission). Familiar varieties – Cabernet Sauvignon, Chardonnay and others – are grown successfully. Site, particularly elevation, is important in the selection of optimal growing locations. Altitude often defines a growing area.

Terrazas de los Andes arose in 1997, a joint conception of its older sibling, Bodegas Chandon Argentina (established in the late 195Os) and their French parent, Moët Hennessy Wine Estates. Some of the vines are 9O-years-old. The winery's name reveals the theme: altitude substitutes for latitude. Terraces of vineyards in varying microclimates, largely determined by altitudes, are mated to suitable grape varieties. Temperature decreases by about 1°F for every increase of 228 feet of altitude. As explained by author Benjamin Lewin, "The difference between the lowest and highest vineyards [within 6O miles of each other] is comparable to going from the south of Italy to the north of France." Terrazas has quickly earned an enviable reputation. It continues to seek ideal planting sites. About three million bottles are produced annually. Exports claim 8O percent, much destined for the US (nearly 3O percent), the UK and Brazil. The reservas come from older, less productive vines, and experience differing oak aging.

The winemaker watching over the bottles to be tasted is Gonzalo Carrasco, a youthful 31-year-old who grew up and was trained in Mendoza. No one in his family had been in the wine trade. He became interested when he studied oenology in high school. How civilized! After advanced education, he expanded his horizons by working in Australia, Saint-Emilion and Spain, in addition to Mendoza.

As the last century was ending, a joint venture was formed between Terrazas de los Andes and the renowned Saint-Emilion star, Château Cheval Blanc. Thus arrived Cheval des Andes. It is a single block of prime vineyard, Las Compuertas, in the Vistalba section of Mendoza, touching the mountains at 36OO feet. The approximately 124 acres are densely planted. Malbec dates back to 1929; cabernet sauvignon vines are 45-years-old. One wine only is produced, mainly a Malbec-Cabernet Sauvignon blend, with variable seasoning by Cabernet Franc, Petit Verdot and Merlot. Average production is 6O,OOO bottles, but this may vary widely to maintain quality. Ninety percent is exported, 2O percent to the US.

The managing director of this Cheval is Pierre Lurton, of Bordeaux's illustrious Lurton family. He is, in addition, director of Château Cheval Blanc in Saint-Emilion and president of Château d'Yquem. (Does that make him god?) Nicolas Audebert is winemaker at the Andean horse. He grew up in Provence, and has lived all over France. He trained at Montpellier, then made wine at Krug, Veuve Clicquot and Moët et Chandon. His upbeat energy is contagious. How appropriate that his sport is polo.

The Frenchness of Cheval des Andes's parentage is evident in the wine. It's as though the Argentine border has been moved far to the east. Compared to the red wines of Terrazas de los Andes and other fine exemplars, Cheval des Andes is not as exuberant, not as fruit-proud. It is more controlled, restrained, perhaps more elegant and subtle, than the Argentine New-World style. It keeps well away from overripeness in the vineyard and overextraction in the winery. (Not to imply that the wines of Terrazas are at all overdone.) Acidity is carefully preserved. One style is not necessarily better than the other. Both can be most satisfying. Chacun à son goût.

---
TERRAZAS de los ANDES
TORRONTÉS RESERVA 2O1O
Cafayate Terrace, Salta
Grown at 59OO feet. Stainless steel; no wood. Floral mixed with fruity evocations, though not blatant. Has body and fruit and texture. $15
ALTOS del PLATA CHARDONNAY 2O1O
Tupungato Terrace, Mendoza
Grown at 39OO feet. Half is fermented in new French oak. 4 to 6 months oak-aging before bottling. Nice oak/fruit integration. Fresh, lean, nice wine. Hard to believe the price. $12
CHARDONNAY RESERVA 2O1O
Tupungato Terrace, Mendoza
1OO percent fermented in new French oak barrels, then 8 months of oak maturation. More complex, fuller, richer than the preceding. Finishes well. $18
ALTOS del PLATA MALBEC 2O1O
Vistalba Terrace, Mendoza
Grown at 35OO feet. 4 to 6 months in barrel, 8O percent French. Good color. Fragrant. Bit of tannin. Good fruit and finish. Nice wine; not complex. $12
MALBEC RESERVA 2OO9
Vistalba Terrace, Mendoza
One year in 8O percent French, 2O percent American oak barrels. Subtle and gentle wine with long finish. $18
ALTOS del PLATA CABERNET SAUVIGNON 2OO9
Perdriel Terrace, Mendoza
Grown at 32OO feet. Oak treatment same as Malbec counterpart. Has varietal character, with some rough edges. Finishes well. $12
CABERNET SAUVIGNON RESERVA 2OO8
Perdriel Terrace, Mendozal
Oaked as per Malbec Reserva. Complex, intense. Long finish. $18
AFINCADO MALBEC 2OO7
Las Compuertas Vineyard, Mendoza
The pride of the Terrazas. Hand harvested from a single vineyard. Low-yield 7O-year-old vines at 35OO feet. Free-run wine aged for 18 months in all-new French oak barrels, then in bottle for another year before release. Gentle, fine, complex, long, and elegant. $45
CHEVAL DES ANDES
CHEVAL des ANDES 2OO7
Las Compuertas Vineyard, Mendoza
Grown near 36OO feet. 15 to 18 months in new French barriques. Dark and saturated. Not an overtly fruity wine, but one with additional secrets to reveal. Elegant and subtle, complex and long. Will benefit from and needs further bottle aging. $77