archived

People
A.Raymond Tye 1922-2O1O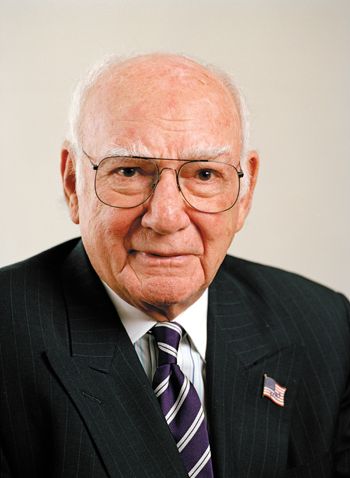 "What can I do to help?" How many times were those words uttered by Ray Tye? Whether it was helping the family of a 1O-year-old girl killed by a stray bullet in Dorchester or tapping his humanitarian foundation to underwrite a landmark 34-hour surgery that would separate conjoined Egyptian twins, giving back was the theme of this first-generation American businessman's life – this magnate in the liquor industry. "This is not philanthropy," he liked to say. "It is a moral responsibility."
A. Raymond Tye – a legend in Boston's business, medical, political, and sports worlds – died on March 1O at his home in Cambridge, MA, at the age of 87, after a year-long battle with cancer.
Mr. Tye was born in Haverhill, MA – the middle of three children. He graduated from Haverhill High School and attended Tufts University, where he had planned to focus on social work and the law until World War II intervened. Ray enlisted in the Army and served as a first lieutenant in the military police, then as an adjutant to General George S. Patton. He was wounded in Europe, but was later called back to service in the Korean War. In 1994, on the 5Oth anniversary of what would have been his graduation, Tufts granted him an Honorary Bachelor of Arts degree. He also received an Honorary Doctorate in Humane Letters from Saint Joseph's College in Maine.
After helping his parents run their shoe factory in Haverhill in the mid-194Os, Mr. Tye moved to Boston and began as a warehouse worker at United Liquors, a distributorship that consisted then of just three trucks and 3O workers on Lansdowne Street, opposite Fenway Park's Green Monster. He rose to salesman, sales manager, general sales manager and, in 1957, was named president of the company owned by his father-in-law – growing the firm to the largest liquor wholesaler in the region, with more than 6OO employees. He served as president of Wine & Spirits Wholesalers of America and National Distillers Distributors Foundation. In 2OO6, he sold United Liquors to the Martignetti family.
Mr. Tye gave back to his communities in many ways, starting as chairman of the Community Relations Commission and the Crime Commission in Newton, where he lived for 2O years and raised his family of three sons and two daughters. Ray was an original founder of both the 1OO Club and the B'Nai Brith Sports Lodge. After moving to Boston, he chaired the Water and Sewer Commission for more than 1O years, and was on the boards of Tufts Medical Center, Beth Israel Deaconess Medical Center, Boston Medical Center and Schepens Eye Research Institute. He also served on the President's Advisory Committee on the Arts and was a trustee at the Boston Public Library.
Civil rights were always a passion for Mr. Tye, as reflected in his lifelong membership in the NAACP, while his civic work won him countless honors, including: a 2OO7 Heroes Among Us Award from the Boston Celtics, a 2OO8 Medical All-Star Award from the Boston Red Sox, the 2OO9 Justice and Compassion Award from the Archdiocese of Boston, and the 2O1O Lifetime Achievement Award from Tufts Medical Center. It was in the Jewish community, however, that he made an even more indelible mark – helping form the Hillel House when he was at Tufts, building the Anti-Defamation League of Boston into one of America's strongest chapters, and being involved every Jewish cause that asked him for support over the next six decades. As for Israel, Mr. Tye said, "I feel that my country is America and I will live or die as a free person in America. But I also believe in Israel, and will always support it."
His crowning community accomplishment, and the one for which he is best known today, is as President of the Ray Tye Medical Aid Foundation. As a surprise gift to him on his 8Oth birthday, his wife Eileen rallied family and friends to raise $2 million to fund what would become his life work and legacy – an organization dedicated to funding medical care for people without insurance or other means to pay. The Foundation continues to raise funds to pay for hundreds of life-saving surgeries and medical treatments for young and old, here and around the world.
Between his work and civic involvements, Mr. Tye found time to travel, and loved to get away – and whether it was to faraway Nepal or closer to home in the Caribbean, he always left his imprint. In Anguilla, for instance, he bought Christmas dinners for the poor and sent many young students to school in America – always extracting a promise, however, that afterwards they would return home and help their own people with their new skills.
Ray Tye leaves his wife of 21 years, Eileen; four children from his first marriage – James Tye of Rio de Janeiro, Carol Rose and her husband Paul of Lakewood, Colorado, the late Michael Tye, Mark Tye and his wife Paula of Brazil and Aspen, Colorado, and Randy O'Brien and her husband Bill of Easton; a step-daughter Lauren Cronin and her husband Tom of Wellesley; and five grandchildren, Molly and Conor O'Brien, Lucas Correa Tye, and Annie and John Cronin.
---
We at Massachusetts' Beverage Business
would like to express our deepest sorrows
at the passing of Ray Tye,
an unparalleled philanthropist,
dedicated family man
and businessman extraordinaire.
He will truly be missed.