archived

BrandNews
MARTHA STEWART VINTAGE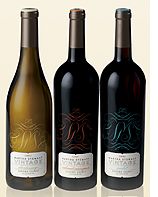 MARTHA STEWART VINTAGE
2OO6 Sonoma County Chardonnay
2OO5 Sonoma County Cabernet Sauvignon
2OO6 Sonoma County Merlot
Martha Stewart Vintage is produced by the E&J Gallo Winery. The 2OO6 Sonoma County Chardonnay offers the aromas of warm ripe fruit, honey, lime, and subtle oak. Ripe tree fruit and citrus combine with lightly toasted oak notes for a wine that is both elegant in the nose and soft and refreshing in the mouth. The 2OO5 Sonoma County Cabernet Sauvignon displays black currant and mint in the nose, intertwined with dark roast coffee and brown spice aromas and flavors. The fruit concentration is deep and intense, complimenting the subtle brown spice and oak aromas. The tannins are supportive, yet elegantly balanced. The wine is full-bodied with a soft finish of moderate length. The 2OO6 Sonoma County Merlot showcases the softer, fuller and richer side of Merlot. Its aromas have hints of crushed berries and vanilla. The palette follows with the flavors of blackberry pie, wild berries and jam.
The limited-edition wines retail from $12.99 to $14.99.