archived

BrandNews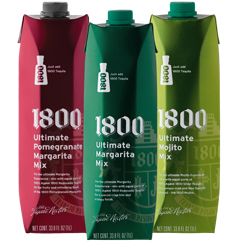 18OO TEQUILA ULTIMATE MARGARITA, MOJITO and
POMEGRANATE MARGARITA MIXES
These three new flavored cocktail mixes are available in Tetra Pak cartons, featuring eco-friendly packaging. Each is made with natural sweeteners including Agave nectar. A "green" alternative to traditional beverage packaging, the mixes are contained in a light, carton-based package, mainly made from paper, a renewable resource that is responsibly replenished. The Tetra Pak carton is also recyclable. Suggested retail is $4.99 per 1L carton. Available from Horizon Beverage Company.