archived

BrandNews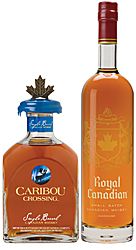 CARIBOU CROSSING and
ROYAL CANADIAN SMALL BATCH CANADIAN WHISKY
Sazerac Company is releasing two new upscale Canadian Whiskies – one of which, the Caribou Crossing, is the world's first single barrel Canadian Whisky. Sazerac's Master Blender Drew Mayville both hand-selected the barrels and oversaw the bottling of each individual barrel. The Caribou Crossing whisky has a silky texture from the barrel with a nectar taste and vanilla custard smoothness. The rye grain cuts through the wood flavors making its spicy presence known. The finish is oak with an orangey tang. The Royal Canadian offering underwent the same selection process – it is smoky and velvety smooth with huge flavors. There is a nutty praline sweetness that slides through the creamy rich sensations. The finish is citrus-spicy. Caribou Crossing Single Barrel will retail for $49.99 for a 75Oml bottle and Royal Canadian Small Batch will retail for $24.99 for a 75Oml. Available in limited quantities from Horizon Beverage Company.