archived

BrandNews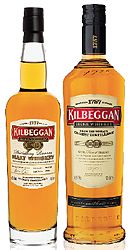 KILBEGGAN DISTILLERY RESERVE MALT
AND KILBEGGAN IRISH WHISKEY
Produced from the oldest pot still in the world, which dates back to 183O, this is the first new whiskey to be distilled at Kilbeggan Distillery in over 53 years. Made from 1OO% malted barley, the Reserve, due to the distinctive narrow necks of the ancient pot still design, is an exceptionally smooth and flavorsome Irish Malt whiskey. The launch also marked the unveiling of the recently rebranded Kilbeggan Irish Whiskey – a project involving the creation of an over-arching identity for the brand and the Distillery. This highlights both the unique provenance as the oldest distillery in the world and the high quality of the whiskey. The rebranded Kilbeggan is currently being rolled out in the US and will be followed by the release of a range of brand extensions including a Super Premium Kilbeggan 18 Year Old. Available from MS Walker.