archived

BrandNews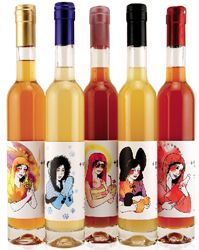 BITTERMENS LIQUEURS

The Bittermens Liqueurs lineup includes Amère Nouvelle, an Alsatian-style bitter orange liqueur; Amère Sauvage, a strong, earthy Alpine gentian liqueur; Citron Sauvage, a bitter, grapefruit liqueur; Commonwealth, a tonic cordial and Hiver Amer, a limited edition cinnamon liqueur. Available in 375ml bottles from Burke Distributing.


BITTERMENS EXTRACTS

The Bittermens portfolio of extracts includes Orange Cream Citrate, Orchard Street Celery Shrub and Hellfire Habanero Shrub. For the Orange Cream Citrate, five different types of orange, vanilla and citric acid combine to create a fresh and tart alternative to a typical orange bitters. Orchard Street Celery Shrub is infused into an apple cider vinegar brine. It's a natural complement to aquavit and blanco tequila and works well in a martini or Bloody Mary. The Hellfire Habanero Shrub is a blend of peppers, spices and red wine vinegar. All three are 44% ABV. Available from Burke Distributing.


BITTERMENS BITTERS

There are five bitters in Bittermens winter portfolio: Xocolatl Mole, Hopped Grapefruit, 'Elemakule Tiki, Boston Bittahs, and Burlesque. Inspired by the Mole sauces of Mexico, the Xocolatl bitter was originally designed to pair with aged tequila but it also works well with aged rum, bourbon and rye. The Hopped Grapefruit can enhance young (silver) rums, tequilas and mezcal. Ideal in a daiquiri, gimlet or gin and tonic (with a splash of maraschino). The 'Elemakule Tiki Bitters were created for complex tiki drinks, bringing familiar flavors to the mix without dominating the overall profile. Cinnamon, clove, allspice, and a variety of citrus flavors are supported by cardamom and bitter herbs. It can also be used in warm drinks, toddies and mulled wine. Boston Bittahs is packed with citrus and supported with a heavy dose of chamomile. A mélange of hibiscus, açai berry and long pepper, the Burlesque Bitters is sweet, spicy and a bit tart. It pairs well with amari, Mexican tequila, gin, and Caribbean rum. Available in 4-ounce bottles from Burke Distributing.