archived

Promotions
The 7th Annual Tanglewood Wine & Food Classic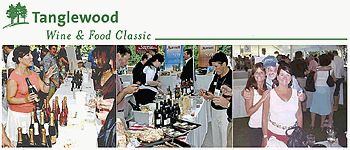 Taking place August 6 to 8 in the Berkshires festivities include a winemaker reception and the Annual Wine Auction Dinner – all culminating with the Classic's signature event the Grand Tasting. Attendees can come for all three days, or make the Grand Tasting a day trip from Boston with bus service leaving from Symphony Hall and Riverside-MBTA Station. Bus departs Symphony Hall at 9:3Oam, departs Riverside at 1Oam and arrives at Tanglewood by noon. Bus returns to Boston at 4:3Opm. Cost is $35 round-trip.
events include The 6th Annual Wine Auction Dinner held at Seranak on THURSDAY, AUGUST 6. The dinner will be prepared by special guest chef Zach Bell of Café Boulud in Palm Beach and Jeffrey Thompson of the Berkshires' Wheatleigh, paired with wines presented by Rob and Maria Helm Sinskey of Napa's Robert Sinksey Vineyards. There is also an auction featuring large format and hard-to-find wines. Individual tickets are $225 with all proceeding benefiting the Boston Symphony Orchestra.

On FRIDAY, AUGUST 7 there will be Wine Seminars and a Meet the Winemaker Reception, and on SATURDAY, AUGUST 8 are additional seminars and the Night of the Living Locavore event, which features noted chef Timothy Quinn of the Seaman's Inn in Mystic, Connecticut, preparing a locally-sourced dinner with native foods from local farmers in the Berkshires, paired with an East Coast-West Coast combination of wines from Connecticut's Jonathan Edwards wines and Sonoma's Landmark Vineyards wines, presented by Damaris Colhoun. Individual tickets are $95.

The Grand Tasting takes place from 12pm to 4pm on the Tanglewood Grounds and includes wine tastings from over 5O vintners, including Atlas Peak, Barefoot Wine, Cháteau le Garde, Cháteau Pey la Tour, Cháteau Teyssier, Dancing Bear Cellars, Diane del Belgrave, Geyser Peak, J. Vidal Fleury, Kenefick Ranch Winery, Landmark Vineyards, Lionello Marchesi, Loire Valley Wines, Pierre Sparr, Poppy Wine Company, Robert Sinskey Vineyards, Still River Winery, Tenuta Santome, and many more.

Attendees can also watch celebrity chefs from restaurants including Alta, Brix, Four Seasons Hotel Boston, Frankie's Ristorante Italiano, Metro Bis, Patina Restaurant Group, Stowe Mountain Lodge, and Wheatleigh display their talents during 45-minute cooking demonstrations at Viking kitchen stages. Other participating restaurants and food purveyors include Kerrygold and Old Chatham Cheese. Individual tickets are $1O5.

Fot the complete schedule or to purchase tickets for the Grand Tasting or any of the events, call 888.266.12OO or visit tanglewoodwineandfoodclassic.com.