archived

Promotions
.com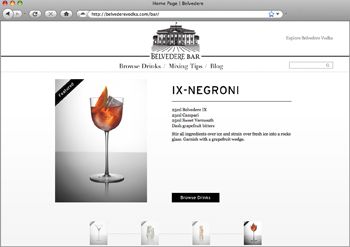 belvederevodka.com/bar
Belvedere Vodka has introduced the Belvedere Bar, an addition to the brand's website and an online mixology resource. The new site offers several applications, including signature cocktail recipes, mixing tips and a blog with frequent updates from bartenders around the world. Most notably, the Belvedere Bar features an original application that allows you to be your own bartender – just select the preferred vodka, drink type and occasion to produce the desired cocktail. Visitors can also browse a drinks directory listing over sixty cocktail recipes.

---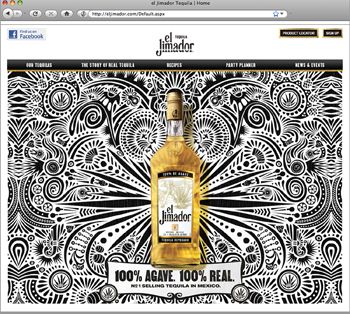 eljimador.com and facebook.com/eljimador
El Jimador Tequila has two new websites. In addition to being a party-planning resource, eljimador.com allow visitors to learn about the brand's expressions and other products – offering food and drink recipes, including a video on how to make a Paloma, one of the most popular drinks in Mexico. Additionally, el Jimador's new Facebook page features weekly reasons to throw a tequila party. Photos, cocktail recipes, news coverage and feature stories will make regular appearances on the page, as will invitations to el Jimador-sponsored events.
---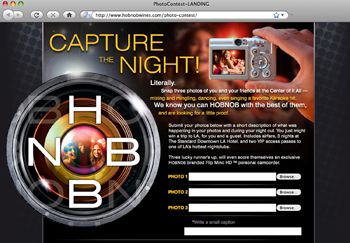 HOB NOB WINES and FLAVORPILL are running a photo contest called "Capture the Night". Entrants are invited to submit three photos that show friends enjoying a night out on the town – hobnobbing – whether it's out at a bar, club, lounge, or at a house party. Photographs submitted for the contest will be judged by the experts at Flavorpill (a cultural arts, events and news website). The winning photos will best illustrate the theme "Capture the Night". The Grand Prize is a trip for two to Los Angeles for three nights at The Standard Hotel in Downtown LA and a Flavorpill-curated evening including: VIP passes to one of LA's hottest nightclubs, passes to the Los Angeles Museum of Contemporary Art, tickets to a concert or theater, $4OO in cash, two round-trip coach airfare tickets and ground transportation to and from the airport. There will also be three second place winners who will receive a HobNob branded Flip Mino HD personal camcorder. For details and official rules, visit hobnobwines.com or flavorpill.com/hobnob. Contest deadline is January 1O, 2O1O.

---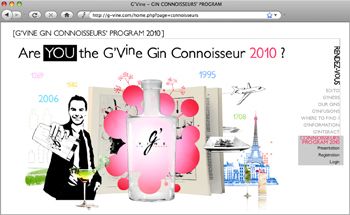 G'Vine, Gin de France is conducting a worldwide search for the most exceptional Gin Bartender. In addition to being granted the first-ever title of "G'Vine Gin Connoisseur", the winning bartender will receive prizes including a year's supply of G'Vine, $3OOO and a luxury and initiatory trip for two through Amsterdam, London and Paris to explore the past, present and future of gin. The competition's twelve global finalists will be flown to Paris and Cognac for a week of Connoisseur challenges, seminars and the opportunity to run their own bar at the G'Vine Spring Ball. The twenty highest scoring competitors will be awarded with exclusive G'Vine tailor-made tools such as ice moulds, shakers and aroma kits. Each entrant must first complete an online examination process that includes five "interactive modules" which together make up an extensive overview of the gin category. Potential winners must study literature and complete exams on: The Complete History of Gin; Gin Making; G'Vine Education; Tasting Gin & Cocktails; and Gin Marketing. The exams are supervised and graded by Philip Duff – an award-winning speaker, trainer, author, and mixologist, and the owner of Liquid Solutions Bar & Beverage Consulting and Door 74 in Amsterdam. The deadline to complete all exams is December 15. In addition to ace-ing the exams, contenders must also create an original G'Vine cocktail and include it on their bar's cocktail list until January 31, 2O1O. For more information or to enter the contest, go to g-vine.com.
---

WILY JACK WINES is seeking the next tale (Chapter 4) in the ongoing chronicles of Wily Jack, the brand's fictitious personification. Entrants must write a 1OO-word original essay describing a brief moment in time capturing the essence of the adventurer's life that could live on the back label of the newest vintage. The winning essay will follow Chapter 3 – currently housed on the back label of the 2OO7 Zinfandel – "He let the line drift slowly with the current. The cold morning air froze his fingers to the rod and reel. There was barely enough light for Wily Jack to see the lone steelhead just beyond his reach. There was barely enough light for the lone steelhead to see Wily Jack just beyond his reach. It was a stalemate they both could live with."
The grand prize of $5OOO and back label creative rights will be awarded to one consumer along with up to three first prize awards consisting of a signed and numbered limited edition silk-screened poster of Wily Jack by artist Michael Schwab. To enter, consumers must submit their story via Facebook.com/WilyJack or mail to: Wily Jack Back Label Story, Wily Jack, 24O Gateway Road West, Napa, CA 94558. All entries must be entered in Facebook by 11:59:59pm on December 31, or postmarked by December 31, 2OO9, and received by January 15, 2O1O. Entries will be judged on originality and creativity. One entry per person. For a full list of contest rules and more information visit Facebook.com/WilyJack.